CedCommerce partners with BigCommerce and Mercado Libre to help merchants sell in LATAM
Running short of time? Get PDF of the blog in your mail.

Play Now
Helping BigCommerce merchants master selling in LATAM, CedCommerce launches another leading marketplace integration – The Mercado Libre integration solution. CedCommerce is extremely proud to take another big step in the direction by partnering with the two most significant eCommerce giants – Mercado Libre and BigCommerce.
And speaking of the app, it is an all-in-one integrated solution that will help sellers establish a perfect synchronization between the store and the marketplace while facilitating an effortless selling experience in no time.
Quoting in response to the partnership, the founder and director of CedCommerce, Mr. Abhishek Jaiswal, remarked, "We at CedCommerce, believe in growing together. As preferred partners of BigCommerce and Mercado Libre, it is exciting to see our collaboration take a new turn in empowering merchants with a best-in-class integration solution that can help them achieve their business goals faster."
Being one of the fastest-growing eCommerce platforms, BigCommerce and Mercado Libre focus on providing a robust eCommerce solution for sellers seeking ways to explore all possible mediums. And CedCommerce, by teaming up with the two leading giants, on the other hand, is enabling merchants to manage everything related to online selling from a single place.
How can Mercado Libre – BigCommerce integration app help you?
Adding convenience to sell effortlessly on Mercado Libre marketplace, the integration app makes it easier for sellers to connect and sync their Bigcommerce store with the marketplace in real-time.
For selling on Mercado Libre through CedCommerce integration solution, sellers no longer need to manually upload products or update any information about their store and inventory.
"The integration app comes with a premium assortment of robust features that aims to help sellers find efficient ways to sell on Mercado Libre marketplace.
By accessing our Mercado Libre integration app, sellers will spend less time switching between the store and the marketplace. Everything can be automated from one centralized location.
Now below are a few highlights that you can expect from the Mercado Libre BigCommerce integration app. Let's discuss!
What are the exclusive features of the Mercado Libre Integration App?
Benefits of the CedCommerce's Mercado Libre – BigCommerce Integration include:
Sell with confidence in a new market: Mercado Libre will provide all BigCommerce merchants with free currency and language conversions so that merchants can focus on what they do best – selling their products.
Start selling quickly. Applying for Mercado Libre through BigCommerce will guarantee your access to a Key Account Manager, who will help you onboard onto Mercado Libre quickly and easily.
Simplify order management: Mercado Libre's preferred integrator will automatically keep your products synced directly from BigCommerce, making it easy to track products, orders, and inventory. In addition, you'll also be able to print out shipping labels from Mercado Libre through the integrator as well.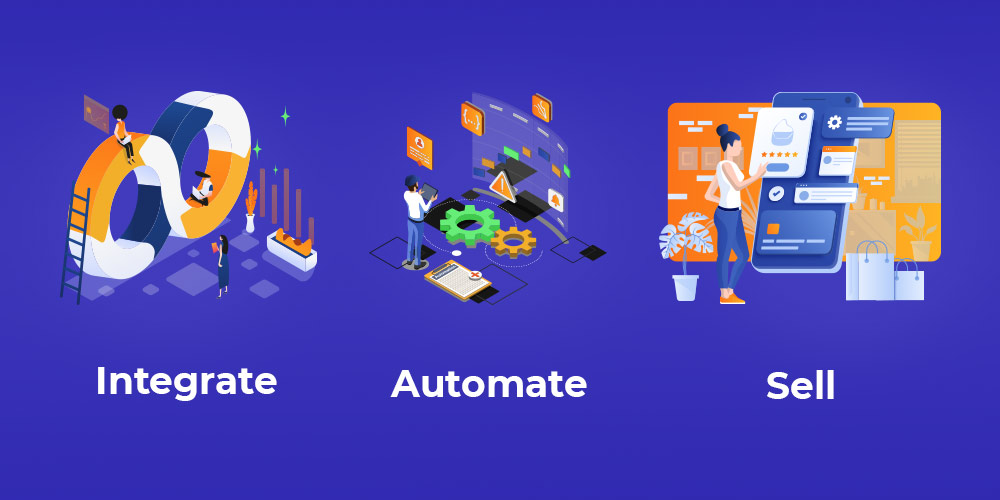 Benefits to CedCommerce's Mercado Libre integration for BigCommerce
Providing the ease to sell on leading marketplaces, retailers can also enjoy the following benefits:
Well-researched and tested API integration solutions to cater to their business needs.
Quick, hassle-free app installation and dedicated after-sales support services.
24/7, 365 days of assistance and real-time support
Constant availability to hear your queries on all mediums: you can connect with us over Skype, Emails, Live Chat, or a call
Experience highly advanced yet cost-effective Mercado Libre integration app in the industry.
Why should BigCommerce merchants choose to sell on Mercado Libre?
With a more than 76 million active user base, it holds expertise in providing a robust online trading environment to buyers and sellers worldwide. Hence, it makes a perfect choice for sellers to try their hand on cross-border trading.
Catering to more than 65 million customers, Mercado Libre enables international merchants to find huge exposure in Latin American countries. A single Mercado Libre seller account can help you sell in countries like Chile, Brazil, Mexico, Ecuador, Peru, and more.
Furthermore, it is the 1st tech company that develops sophisticated fintech and eCommerce solutions.
Other major highlights of selling on Mercado Libre
No international boundaries – Cover the whole of Latin America
Most-preferred choice of 550 million native Latin American
12 million sellers joined the so far
No language barrier
300+ million items listed
533+ visitors per sec
Still, confused about whether to sell on Mercado Libre? Read our blog here!
To learn more about the partnership or sell on the Mercado Libre Marketplace, merchants can visit bigcommerce.com/essentials/mercado-libre. To learn more on how to sell into the top U.S. marketplaces, visit our blog.
About Mercado Libre
Founded in 1999, Mercado Libre is Latin America's leading e-commerce technology company. Through its primary platforms, Mercado Libre.com and Mercado Pago.com, provides solutions to individuals and companies buying, selling, advertising, and paying for goods and services online.
Mercado Libre.com serves millions of users and creates a market for a wide variety of goods and services in an easy, safe, and efficient way. The site is among the top 30 in the world in terms of page views and is the leading retail platform in unique visitors in the major countries in which it operates according to metrics provided by comScore Networks. The Company is listed on NASDAQ (Nasdaq: MELI) following its initial public offering in 2007.
About BigCommerce
BigCommerce (Nasdaq: BIGC) is a leading software-as-a-service (SaaS) ecommerce platform that empowers merchants of all sizes to build, innovate and grow their businesses online. As a leading open SaaS solution, BigCommerce provides merchants sophisticated enterprise-grade functionality, customization, and performance with simplicity and ease of use. Tens of thousands of B2B and B2C companies across 150 countries and numerous industries use BigCommerce to create beautiful, engaging online stores, including Ben & Jerry's, Molton Brown, S.C. Johnson, Skullcandy, Sony, and Vodafone. Headquartered in Austin, BigCommerce has offices in San Francisco, Sydney, and London. Please visit www.bigcommerce.com or follow us on Twitter, LinkedIn, Instagram, and Facebook.
BigCommerce® is a registered trademark of BigCommerce Pty. Ltd. Third-party trademarks and service marks are the property of their respective owners.
About CedCommerce
With over a decade of experience, CedCommerce is the fastest growing eCommerce solution provider that delivers best-in-class services to businesses of all sizes. Some of its services include multi-channel selling, dropshipping, expertise in digital marketing solutions, and so on.
So far, it has served over 30,000 sellers to sell across 100+ marketplaces worldwide through top frameworks such as BigCommerce, Shopify, Magento, Prestashop, OpenCart, WooCommerce, etc. CedCommerce is the official partner of Walmart, Buy on Google, Facebook Marketplace, and Etsy, and other 50+ eCommerce leaders.
Visit CedCommerce or follow us on YouTube, Facebook, Twitter, and LinkedIn for more information.