The Ultimate Guide To Sell On Top U.S. Marketplaces
Running short of time? Get PDF of the blog in your mail.

Play Now
Did you just make up your mind to sell your products on one of the outranked markets? Well, if not yet then these remunerative benefits would compel you to sell on Top U.S. Marketplaces for sure- Keep scrolling and do not miss any piece of information- Since you might end up changing your mind by the end of the article!  
The American Marketplaces are the second largest eCommerce market across the globe. However, the eCommerce sales of the U.S.A. is projected to be on hike every year. Hence, urging you to sell on top U.S. Marketplaces.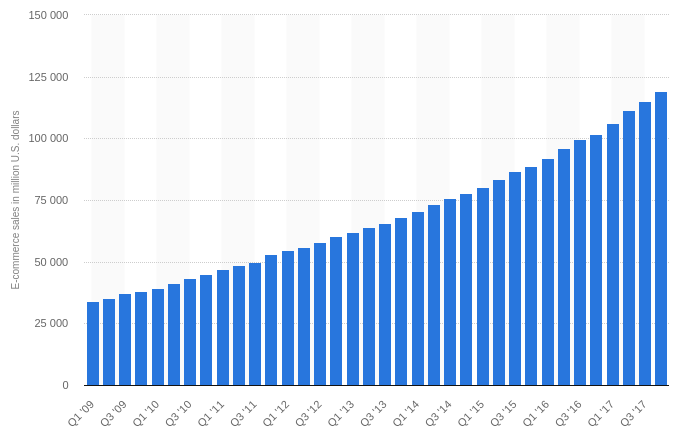 Image Source: Statista
The U.S. online market, no doubt is an exceptionally remunerative market for retailers looking to sell overseas. Having been anticipated to bring over 600 billion dollars, by the year 2019. The U.S. eCommerce market is said to induce over 100 billion U.S. dollars when dealing with the apparels and accessories.
Fast Facts
Why selling in the U.S. Market desirable for you?
Procuring a GDP of $18 trillion and 325 million masses, the United States offers the maximal consumer market.
With that said, the U.S.A. market also brings along FREE trade agreements with 20 other countries.
Thus, catering sophisticated access to hundreds of millions of superfluous consumers.
The United States endures to function with foreign partners in order to enlarge opportunities for the U.S. traders as well the ones who are finding their way to enter in the U.S market.
Something that's very common with commercing online is that it has got nothing to do if you are a newbie or an accustomed vet. For, the U.S. Online market brings hoards of Marketplaces to sell on.
No matter, it gets arduous in opting the platform that would bring you with best ROI, in the least effort possible. To assist you with the same, we have brought a list of all the profitable Top marketplaces to sell on in the U.S.. Since, it is one of the lucrative market for merchants looking to sell overseas.
However, there is no denying the fact that eBay and Amazon holds the prime spot when it comes to selling on the top U.S. marketplaces. Yet below we have mustered a few other top marketplaces you must consider selling on.  
Let's get on to each one of them one by one-
Walmart
Walmart Marketplace is one of the eminent U.S. marketplaces to sell on. You would be pleased to know that the giant Marketplace successfully turned up with a revenue amounting to 481.32 billion U.S. dollars in the year 2017.   
Get your FREE demo to Walmart WoocommerceMarketplace Integration- HERE
Hit in for more frameworks viz. Magento, Shopify, BigCommerce, and more- HERE.
Furthermore, Walmart Marketplace endeavors to add more than one million items per month.
The fact that Walmart Marketplace does NOT ask for any monthly or setup fees would compel you to sell on Walmart.
PRO TIP
Walmart Marketplace enables you to sell your products to over 260 million customers worldwide. The giant Marketplace also witnesses over 88 million unique visitors per month.
That said, Walmart Marketplace is the second most visited eCommerce website across the globe.
Does Walmart Marketplace help you in soaring your ROI?
With more than 100 million unique visits per month, Walmart.com is one of the most trafficked eCommerce site in the U.S.. Walmart Marketplace continues to be a global leader in sustainability and engages approximately 2.3 million associates worldwide.
Not only does Walmart Marketplace helps in driving huge traffic to your website. Instead, it prevents scams and counterfeiting associated with other marketplaces as the Marketplace drives a strict pre-approval process.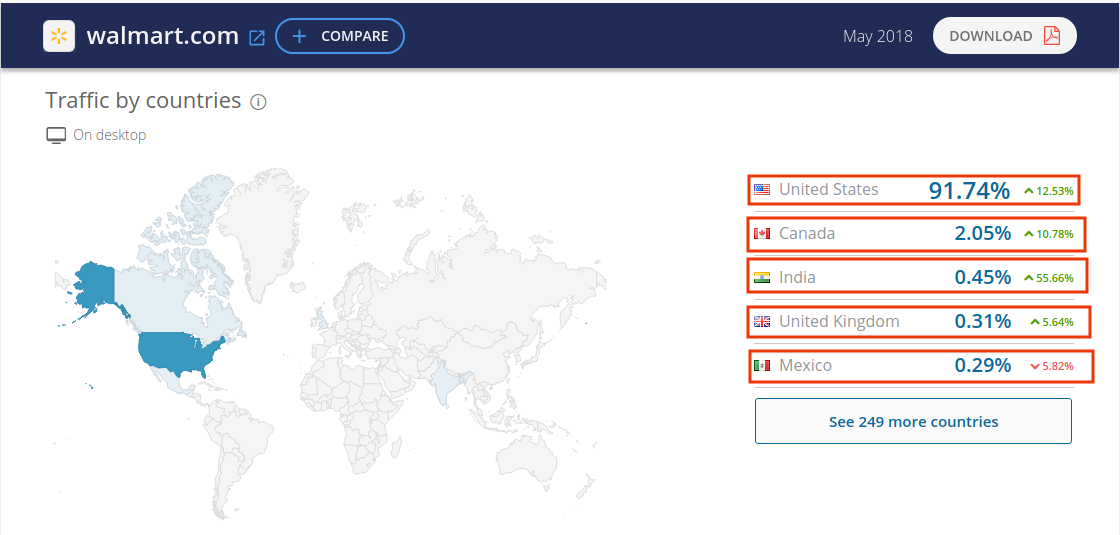 Image Source: Similarweb
Walmart has its strong presence in the U.S.. However, Walmart Canada on the other hand has its roots well placed in the Northern America. Being the official partner of Walmart, CedCommerce enables you to On Board to Walmart Canada instantly- HERE. 
Fast Facts
Walmart Marketplace demands for accepted product identifiers- GTIN, UPC, EAN, ISBN and ISSN respectively.  
Worried about shipping the products?
The teaming up of Walmart Marketplace with FedEx enables Walmart Marketplace sellers to leverage the FedEx Advantage program and save a total of 37% on shipping.
On Board to Walmart Canada- HERE.
Diversify your digital footprint with Walmart Marketplace and reach wider customers.
However, being one of the top Marketplaces to sell on, Walmart Marketplace demands for the access keys, which can be simply obtained after signing a seller account on Marketplace.   
Go through our guide to Access Keys here- "How to get an API for Walmart Marketplace".
Sell freely on Walmart- Pay only when you make a sale:
Unlike other marketplaces, Walmart only charges a referral fee per sale. This referral fee is solely based on your product's category. Start selling on Walmart Marketplace- TODAY!
ETSY
Etsy Marketplace is said to procure about 175.11 million visitors every month as per the data from similar webs.
Aiding its 1.7 million sellers, Etsy marketplace is already creating miracles in the world of eCommerce and proves to be one of the finest U.S. marketplaces to sell.
Said to be the perfect hub for unique and creative goods. Etsy Marketplace is the to home universe's special, extraordinary items.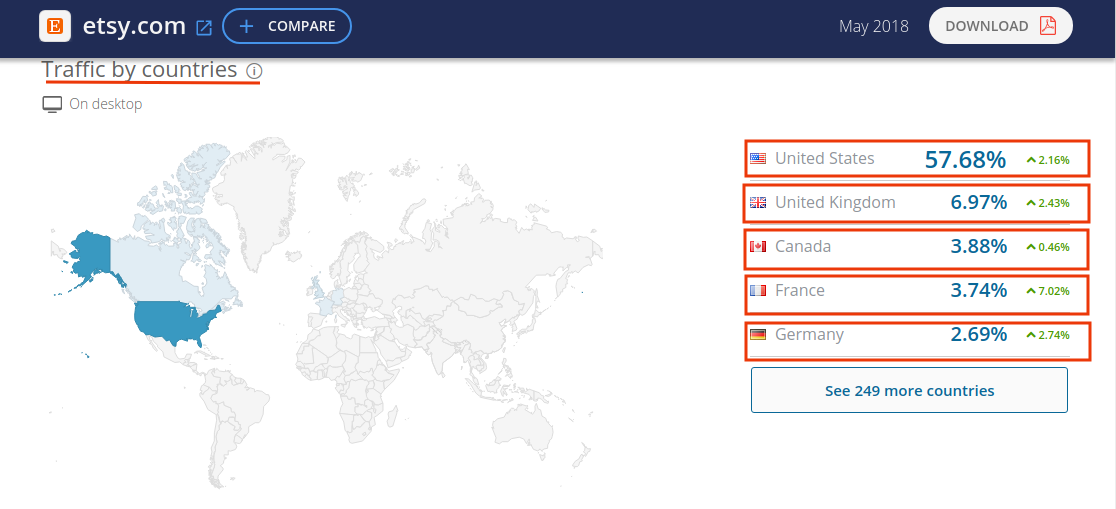 The fact that Etsy Marketplace has as international presence. It is also a great platform for all the sellers to sell on and reach huge customer base in the U.S..
When integrating your eCommerce with Etsy Marketplace, you need to optimise your listings in order to draw the US patrons out there.
Such as, the Marketplace holds enough potential to distinguish between the terms "Jewellery" and "Jewelry"
On account of which you need to use the local used terms when filling the details of your product's variations.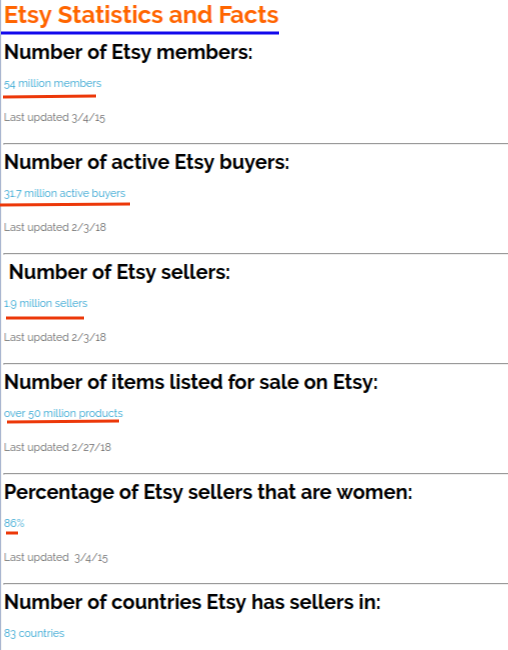 Image Source: expandedramblings
A sneak peek at a few best practices to integrate your eCommerce store with Etsy Marketplace and sell in the U.S. →
Worried about importing your store listings on Etsy Marketplace?
Well, here's the problem solver- Get the Etsy Importer (here) and keep your inventories well synchronized between Etsy Marketplace and your WooCommerce after the import.
-Grab the extra perk with eCommerce Etsy Importer and get a hassle-free dynamic attribute creation and simple automated image upload process.
-Keep your eCommerce store highly curated and leverage the Real time synchronization of Price for every product on your both the stores.
-Exhibit your eCommerce store's items on Etsy Marketplace and auto-sync the product in a single click.
-Would you mind using the bulk product upload feature of the remarkable plugin?
Start selling on ETSY- Today!
JET
Mark your presence in the U.S. With Jet Marketplace  
Procuring more than 11.89 million visitors till date, Jet Marketplace is said to append 350,000 customers/month.
Securing the inscription of one of the fastest growing marketplaces in the USA, Jet Marketplace has already strengthened its position.
That said, you must acknowledge that Jet.com has managed to expand 278 times faster than Amazon's growth rate.

Image Source: Similarweb
Fast Facts
Jet.com is expected to generate $20 billion in GMV by 2020.
Start selling on Jet Marketplace- HERE.
When selling on Jet Marketplace:
With everything that eCommerce draws on the table, you can double up your earnings with CedCommerce's Jet Integration Extension easily.
Images Make ALL the Difference-
Jet.com asks for high quality product images. Having said that, we request our sellers not to sit back and relax after listing down one image.
Instead, list down multiple high quality images which showcases their niches to best advantage.
Moreover, the marketplace also enables you set up fine, close-up shots or "swatch images".
Go on with Bullets & Descriptions
As with any other marketplace, it is advisable to write down product descriptions in complete sentences.
It would help in ranking up your product's SEO wise as well. Use bullet points to cover information that's not listed in the product description.  
Perfect stop for Urban, millennial shoppers:
Jet.com has a "flourishing customer base" of urban and millennial patrons which is supplementing more than 400,000 people each month.
Equipped with the 'Best-In Technology':
Working with more than 2,400 retailers and associates. Jet.com offers patrons with the best deal following the jargon of Walmart- "everyday low price".
NewEgg
Are you a tech savvy? Or your products revolve around gadgets? Although, NewEgg Marketplace has widen its outreach to almost all the product categories. NewEgg Marketplace now specialises in:
-Hardware and software parts of computer,
-Health and fitness goods ranging from Homeware to Automotive and
-Industrial products etc.    
As a result of which, NewEgg Marketplace has successfully rendered its name as another tech giant in the eCommerce arena and attracts a total of 49.53 million visitors/month.

Image Source: Similarweb
NewEgg Marketplace rules the roost!
NewEgg Marketplace has very successfully broadened its reach to become the eCommerce powerhouse. Hence, strengthening its roots in the U.S..
That said, sellers can access 30 million US customers by integrating there eCommerce store and selling on the NewEgg Marketplace.    
Fast Facts

NewEgg Marketplace does not ask for any account set up costs. However, you are only accounted for a nominal commission on each sale.
Start selling on NewEgg Marketplace- HERE.
Having been launched in the year 2010, NewEgg Marketplace had generated more than $2.5 billion revenue in its first year as per eCommerce Worldwide.
However, it has around 32 million registered users as of 2017.
Moreover, CedCommerce offers you the best range of features to make the most of your inventories there.
PRO TIP
NewEgg offers fulfillment services.
The US marketplace also offers its fulfillment program called Shipped by Newegg(SBN).
The SBN program enables you ship your orders sold on platforms outside of the newEgg Marketplace.
Another best part with the NewEgg Marketplace is that its services are exclusively designed for companies of any size varying from small to large.  
Ever pondered?
How does Newegg ship out orders so quickly when they have such a rich customer base?
Well, the fact that by operating a high-tech tool called Perfect Pick fills all of their orders and vanishes any sort of manual work. These outstanding features of NewEgg Marketplace makes it one of the finest marketplaces to sell on.     
SEARS
Don't you find it irksome to upload the products one by one? Doesn't it feel like you are losing a lot of time?
Do you often face the issue of data synchronisation time and again?
To disencumber all such issues. The CedCommerce's Sears Plugin begets you the best features as
-Auto Synchronization
-Bulk Upload Of Products
-Order Management and a lot more.
Sears Marketplace proves to be the best Marketplace in the U.S. to sell on!
Accounting 30.44 million visits every month, Sears Marketplace is yet another gigantic marketplace to sell on in the U.S. market.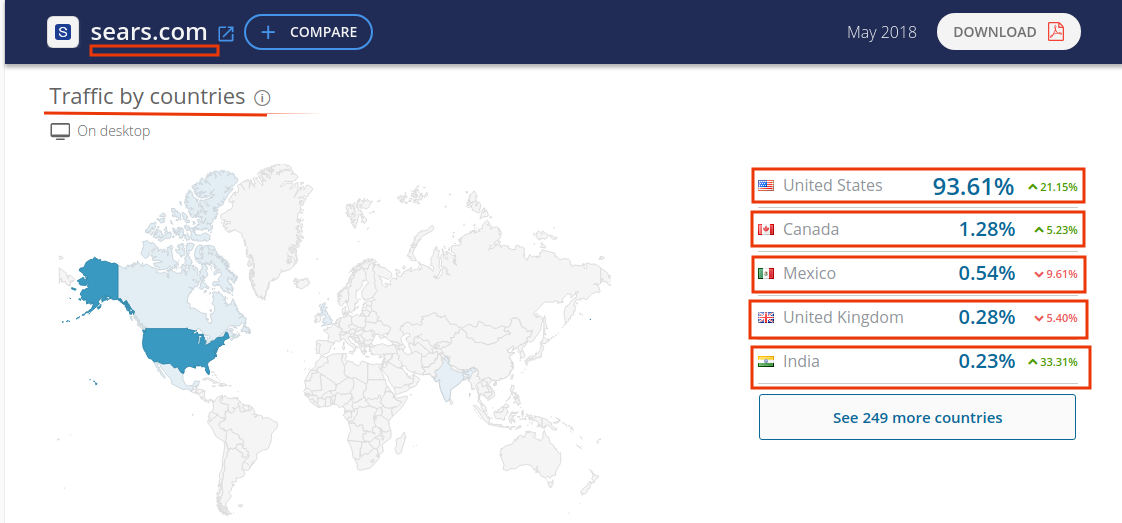 Image Source: Similarweb
You would be glad to know that just as most of the marketplaces. Sears Marketplace enables sellers to list products in almost every category.
Sears marketplace also provides the option of fulfillment services.
Sell through Sears also known as Fulfilled by Sears (FBS). Under this "Program" sellers ship Merchandise to both the distribution centres.  
After the Merchandise has been received, the Marketplace takes care of the rest and picks/packs/ships your products.
Hence, uses the "pay-as-you-go model", which turns out to be you only pay for what you store and ship.
Below we list the detailed information about the dual programs.
Since, there is NO application process for selling on the Sears Marketplace. There are these set of charges.
–$39.99/ month subscription fee, which enables unlimited monthly orders.
-Upto 20% commission fee depending on the product category (also known as a transaction fee).
PRO TIP
The $39.99 monthly fee will be waived if your sales don't reach $400 for the month.
Start selling on Sears Marketplace- HERE.
There is no denying the fact that the thought to sell on top u.s. marketplace will improve your conversion rates by larger means. Adding cap to its feathers, Sears Marketplace also enables you to ship over to 100 countries.
To Sum Up-
Still making up your mind? Integrate your WooCommerce store with any of the aforesaid American Marketplaces and fuel up your earnings in seconds.
Millennials are making money online with these giant American Marketplaces. Why should you be left behind?
Transform your just another online store into the "next big thing" and start selling on the TOP U.S. Marketplaces! Leverage the one time payment with CedCommerce's WooCommerce Extensions and start earning-Today!
Get upfront of your customers and refer our Ultimate Guide to Earn Globally via selling on the top U.S. Marketplaces.