All You Need To Know To Boost Your Christmas Sales Online
Running short of time? Get PDF of the blog in your mail.

Play Now
Christmas shopping is one of the biggest shopping carnivals on the planet. The enormity of the shopping extravaganza can be gauged from the fact that just in the US, people spend more than $1 trillion on Christmas shopping. But, gone are the days when people used to shop from nearby stores. With the rise of the internet, the majority of the retailers have taken their Christmas sales online. Herein, but one question bewilders online retailers – How to increase online sales? or What should be my holiday sales strategy? In this post, we'll be dealing exactly with the same question.
Here's the list of the broad topics that we'll be covering in this post:
1. Christmas Shopping Trends 2018
You must be very well knowing that the Holiday shopping season starts well before November and continues to the end of December. This is the time when most of the retailers gear up to offer the best to woo the largest segment of consumers. As a matter of fact, the better the Holiday sales strategy, the greater are the chances that you could sell well beyond your expectations. 
While planning your Christmas sales online, a better guide is following closely the Christmas Shopping Trends of 2018 and before. Let's look at some of the Christmas shopping trends:
The week between Christmas and New Year has become what is now referred to as Cyber Week II.
About 29% of the shoppers start their Christmas shopping in November.
On average, an American spends $1536 during Christmas.
Christmas gifts were the hottest online selling items.
23% of shoppers referred to social media for shopping.
60% of orders and 74% of traffic came through Mobiles on Christmas Day.
159% increase in SMS sent during Thanksgiving in 2018.
Convenience made Mobile a preferred mode of shopping during Christmas 2018.
2. Christmas Shopping Predictions 2019 
It is predicted that online shoppers will spend more than $1 trillion in the US and £2 Billion in the UK this Christmas season.
But, the catch this year is consumers will have six fewer days to shop between Thanksgiving and Christmas than in 2018. This could well translate into a loss of $1 Billion in Christmas sales. In order to counter the loss, the retailers will begin their sales earlier.
According to Adobe Analytics, for the first time, people will be shopping for Christmas more on their smartphones than on desktops.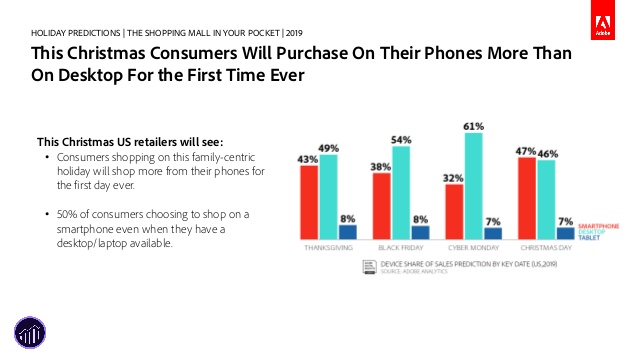 According to NRF, Christmas sales will increase between 3.8% and 4.2% as compared to 2018, aggregating around $730 billion. Whereas, online sales are expected is grow between 11% and 14% and will aggregate around $166 billion from $146 billion last year.
Like last year, Christmas festive clothing is set to dominate shopping in 2019.
According to IBM, with lower inflation and unemployment rate this year, people have higher disposable income, approximating around 4.5% up from 2nd quarter, 2019. This points to a greater spending spree by average US consumers this year. 
Overall, holiday sales are expected to grow by 5.4% this year. In-store sales will grow by 2.1% while eCommerce sale is expected to grow by a whopping 21%.
3. Holiday Sales Strategy
You need a concrete Holiday Sales Strategy to ace a Christmas shopping spree. Consider the graph below and understand what does it signify.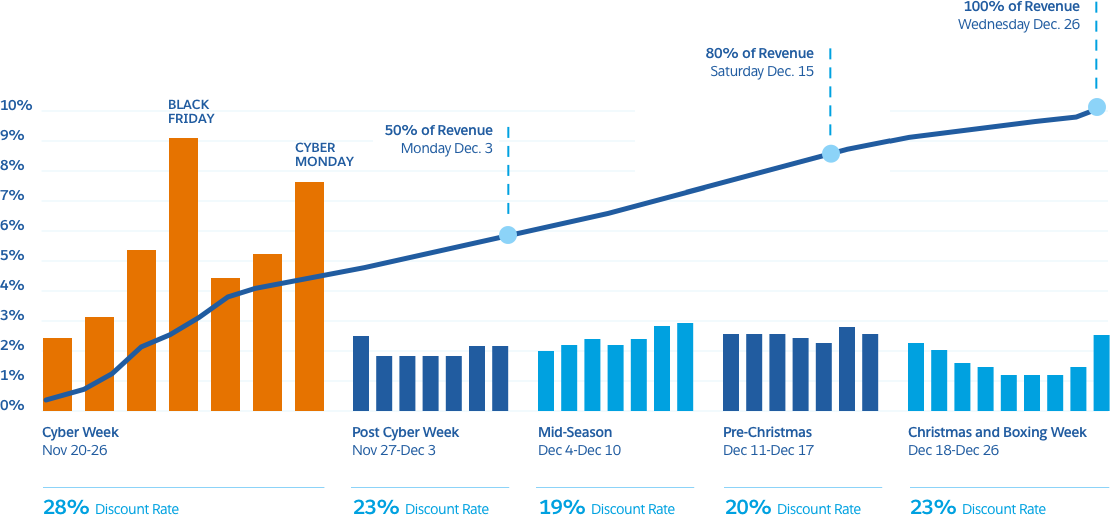 Source: Salesforce
A closer look at the graph reveals that 80% of the shopping season's revenue is earned well before Christmas itself. Only 20% of revenue is earned after mid-December. What does it mean?
It means you need to prepare early, preferably in the month of November itself to grab most of the shoppers. Your holiday sales strategy must include Cyber Week as it is during this period that most of the shoppers are online.  
The second important aspect to notice is that over the years, consumers have shifted to online shopping. What is significant is mobile is the main driver of online shopping in 2019. In short, you cannot ignore while planning your online Holiday sales. 
As compared to Mobile Web, Mobile Apps are found to deliver consistent traffic. The reason is simple – once downloaded, it becomes the first choice of people to shop online because a mobile app works comparatively faster and offer user-specific suggestions.
This makes Mobile Apps perfect for cultivating brand loyalty among consumers. 
Don't forget the content. There are many shoppers out there looking for suggestions and information online. Be the first to guide them in making the right purchases this Christmas. Blogs and Press releases are the best media in informing people what's out there in this crowded market. And, how your store has all the Christmas under one roof that too at the most reasonable rates. 
Social Media is the first choice for many shoppers for finding cool offers and latest deals. As a matter of fact, people trust and rely more on social media suggestions. So frame your killing social media strategy. Highlight the offers and discounts that you are offering. 
Optimize your holiday sales strategy with terrific discount offers and customer loyalty programs. 
4. The Rise and Rise of Mobile Shopper
Black Friday is generally pictured with hordes of shoppers lined outside shopping stores. But, for the invention of the internet, more shoppers are shopping online than ever before. 
This phenomenon took a definite turn with the coming of smartphones. Between 2011 and 2019, mobile internet usage increased by more than 504%, a staggering figure by any measure. 
Research points out that by 2021, Mobile Commerce is set to donate the eCommerce market with 54% of all eCommerce sales happening through mobiles. 
This implies a more dominating role of mobile phones in the Holiday shopping season.
This Holiday season, more shoppers will shop on Mobile than on Desktops – BounceX
Mobile is also expected to witness the highest conversion rate across all devices this Holiday season.
According to Pricegrabber, 84% of the mobile app downloaders are expected to shop for holiday sales through their mobile app. Moreover, over 42% will download a shopping mobile app just for Holiday shopping. 
Also, according to Adobe, shoppers spend 2.4 times more on mobile apps than mobile websites, leading to more mobile purchases.  
This reflects a definite pattern to Mobile Commerce and online marketers will benefit the most by investing in mobile commerce.
5. Boosting Christmas Sales Online
Christmas and New Year are two shopping holidays that are celebrated across the world with equal zeal and flavor. That is why you need a global strategy to boost your Christmas sales online. Below we present to you some of the time tested strategies on how to increase online sales.
i. Leverage Social Media
Your holiday sales strategy is incomplete without social media. Customers are mostly looking for Christmas shopping ideas over social media and research suggests that people rely on them pretty often. Optimize your Social media pages and post relevant content to woo customers. Actively engage your prospective customers on Facebook/Twitter and negotiate a better deal.
ii. Build a User-friendly Mobile App
It is obvious from the figures above that mobile shopping is already dominating all the season sales. Your holiday sales strategy is incomplete without a mobile app. Building a mobile app for your online will be a smart move by you. Go for a Native Android or iOS mobile app for it runs comparatively more smoothly and uses all the features of the phone as compared to a Hybrid App. 
iii. Customize Your Festive Mobile App
Give your mobile app a festive look with Christmas themed icons and home page pictures. Let the design of your mobile app create curiosity among the shoppers about the items and offers that your store is offering. People will browse an app 4 times more that is designed on a festive theme than otherwise.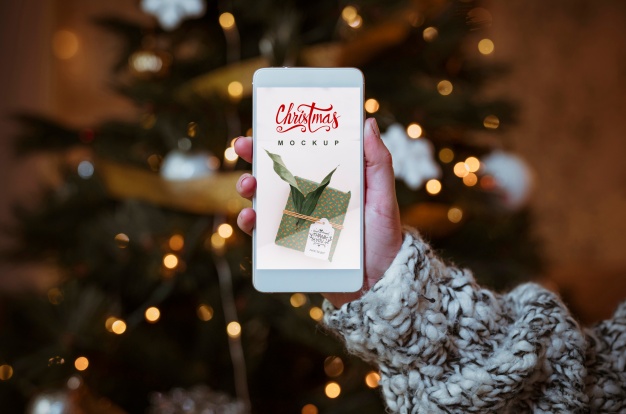 iv. Run Flash Sales And Discounts
Offers and Discounts are the first things customers are looking for during the festive season. Boost your Christmas sales online by running flash discount offers so tempting that customers cannot resist buying from you. Sliding banners are the most preferred mode of attracting the attention of shoppers. And, mobile apps offer the perfect platform for running flash sales and banners.
v. Inform Customers About Offers And Discounts 
Push Notifications are the best mode for engaging shoppers. They are opened 18x more than emails. They are easy to open and follow. You can send Push Notifications to customers alerting them of the upcoming festive discounts and deals. The trick here is to build a list of prospective customers and creating segments. It is best to send personalized push notifications with the names of the customers attached.
vi. Retarget Lost Customers
Despite all the marketing tactics, cart abandonment continues to be a major to mobile commerce. But, we have covered up that for you. MageNative will run dedicated FB Remarketing Ads that run Facebook pages of the customers and remind them of their left-over purchases. They offer a perfect medium for reducing cart abandonment rates.
vii. Offer Multiple Payment Options
One of the top reasons why customers abandon carts at the checkout page is when they can't find their preferred mode of payment. Some have Debit Card, others have Credit Card, while others prefer Cash on Delivery method. All the payment gateways like Mastercard, Visa, PayPal, Google pay, etc. should be included in your payment process.
viii. Publish Relevant Content
Festive shoppers try to gauge the festive fever and trending items by reading online. If you could provide them with informative content, you get one step ahead of your competitors. Once customers perceive you as a helping hand, you have gained the biggest victory – you have earned their trust. Blogs and Press releases gather enough steam around your store and are a must in order to generate additional sales.
ix. Run Customer Loyalty Programs
Run customer loyalty programs by offering points as rewards on every purchase that can be redeemed as discounts on purchases. Offer privilege benefits like One-day shipping or Free delivery for a fee. Customers appreciate a retailer when he is accorded certain privileges. 
x. Simplify Checkout Process
A simple checkout process is what you need to boost your festive sales. Make sure your checkout process has the following elements:
Guest login option
Saving of billing address
Reduced distractions
Trust badges
Progress bar
6. A Never Before Festive Shopping Offer 
In online shopping, the world is fast moving towards Mobile shopping. thanks to the unprecedented improvement in mobile technology. So, the answer is simple – you cannot expect to win among the tech honchos without a dedicated mobile commerce strategy.
As suggested earlier, it is better to have a native mobile app for your online store for it far outweighs others in terms of customer loyalty and engagement.
MageNative brings to you one of the hottest offers this Christmas and New Year to boost your online sale. Avail a Flat 20% discount on all Mobile Apps. Now is your chance to improve your Christmas sales online by investing the least amount of time and money. So, make Mobile App a crucial part of your holiday sales strategy.
7. Why MageNative Mobile App
Guess what MageNative is 2 Times Magento Innovations Lab Winner, 3 Times Deloitte Technology Fast 50 Winner, and has countless 5-star reviews on Capterra, Trustpilot, and Shopify.
With MageNative, you are in full control of your app right from the beginning. Build your dream eCommerce app yourself. Absolutely no coding required. Simply Drag and Drop your favorite components and see how your app looks like in real-time.
Showcase your brand logo and be on top of the mind of your customers. 
MageNative offers unlimited push notifications. Now remain in touch with your customers all the time and keep them engaged. 
Improve your ROI by monitoring user behavior, app installs, revenue trends and conversion funnels.  
Boost conversion rates with seamless navigation and shopping that is supported by the top of the class search sorting and customization options.   
That's not all. Increase your app installs with MageNative's top-notch digital marketing solutions. App Store Optimization, Social Media Optimization, PPC Management, Google/Facebook App Install Ads, Content Marketing, Deeplinking, you name it, we've got all covered for you.  
Because we ensure that your business benefits from a Mobile App, we offer Business Growth Plans that optimizes your business plans in tune with a mobile commerce strategy. Armed with industry analysis and market research report, chart your business success journey effectively and accurately.
8. Conclusion
More than increasing your sales, Christmas and New Year offers the perfect opportunity to acquire new customers. It's all about how you can keep them engaged throughout and after Christmas. Once you have gained their trust, your ROI will be way beyond your investment during holiday campaigns.
So, give your customers the perfect Christmas gift. Get a mobile app for your customers and give them the gift of convenience shopping. And, by the way, Merry Christmas.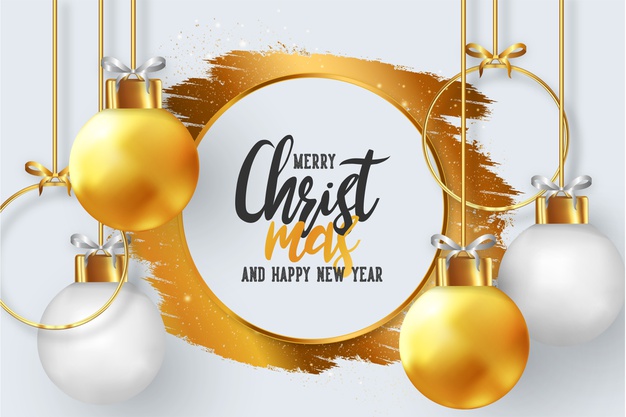 Listen to our Spotify Podcast for emerging trends shaping the eCommerce in 2020!
Other Relevant Reads: