Halloween Sale: 1 Ingenious Scary Trick to Boost Sales
Running short of time? Get PDF of the blog in your mail.

Play Now
The scariest season of the year is here again with Halloween costumes, masks, and candies. Halloween sale 2021 will be the best time for you to surprise your customers with some awesome Halloween day deals. And, your Online Halloween store is the best place, to begin with. Halloween-ize your online store with spooky images, themes, and stories. But, that's not all you need to do to tap into the growing Halloween online sales. Consider this – Halloween searches on mobile grew 1,052% on Bing Ads.
So, do you think your online Halloween store is ready for October 31?
Halloween is considered the second most commercial holiday in the United States creating one of the best shopping seasons.
Halloween shoppers are searching in a lot of places for inspiration — but primarily online (35.2%) and in stores (30.3%).  – National Retail Federation (NRF)
As per recent Halloween statistics 2021, by Salesforce states that about 63% of Halloween searches come from mobile devices, up from 56% last year.
What Halloween Season Holds for Online Halloween Store?
Of all the shopping seasons, Halloween online sales account for the highest percentage. Halloween sale is ahead of Valentine's Day or Back to School season sales.
Not surprising then, Halloween spending is set to cross $9 billion this season with over $3 billion of sales expected to be taking place online. And, here is one big scary truth for all brick and mortar retailers.
Online retailers have the biggest opportunity this year to make the most of the Halloween season sales. More than 35% of shoppers will look online for inspiration as compared to 29%, who will look for inspiration in stores.
According to a Quantcast study, 18-24 year old's searched primarily for costumes, movies, horror-themed events, and "generally cheap and easy ways to celebrate." Whereas 35-44 year-olds were torn between child-related searches for costumes and crafts and more party-focused searches about alcoholic drinks and older costumes.
Trick or Treat: 1 Ingenious Scary Trick to Boost Halloween Online Sales
Whether it is Halloween sale or Black Friday Cyber Monday or Back to School, shoppers are going more and more mobile. According to Shopify, around 38% of Holiday sales in the US came from mobile devices. Whereas, approx. 66% of the global holiday sales were from mobile devices. 

Source: thinkwithgoogle
So, more people will be online through their smartphones than ever. This provides a terrific opportunity for you to make your online Halloween store mobile-friendly.
Mobile Website or Mobile App
You see, having a mobile-friendly website can make your store more customer-friendly and accessible. But, that's not all you need to do. The majority of mobile shoppers use mobile for searching for products or finding discount offers online. What we have is a low conversion rate and high cart abandonment with mobile shopping.
Statistics show that 40% of users switch to other competitors after a poor mobile experience. And, 84% left the transaction in between because of difficulty in completing it. They are significant figures for any online retailer by any standards.
Read Also :What are the best Holiday marketing strategies to increase sales and revenue?
Now, because more and more customers leave shopping in between due to poor user experience, the development of a dedicated mobile app for your online Halloween store is the best solution.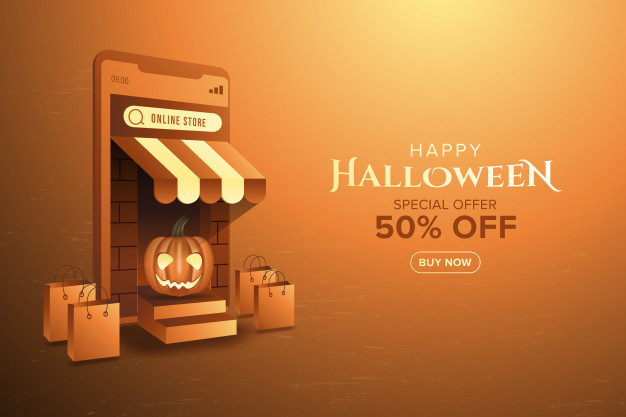 A native mobile app will not only create an improved user experience for your customers but will also keep your customers engaged. App users spend 3x more time on a mobile app than on the mobile web.
In online shopping, customer engagement is the key to conversion and increased sales. What makes a mobile application great for Halloween online sales, is a number of features that a mobile app offers which can significantly boost your October 31 Halloween sale.
How You Can Boost Your Halloween sale with a Mobile App?
Implement innovative and latest Halloween sales ideas to captivate the maximum number of visitors to increase sales. Halloween sale is the perfect opportunity to break the game for your Halloween store. You can get right into people's mobile devices with your native android or iOS eCommerce app. People are searching online for Halloween particularly for costume ideas. And, your mobile app can just get them what they want.
Research shows that Halloween costumes for kids are the most searched items during Halloween online sales.
Be a Friendly Ghost to Your Customers
A mobile device is one that always remains with people, no matter where they are. With a mobile app, you always remain with your customers like a friendly ghost.
Customers can tap open your mobile app anytime to look for scary deals and items. Features such as free shipping and added costume accessories can add glamour to your Halloween eCommerce app. A 24/7 customer service is yet another way of remaining constantly in touch.
Get that Halloween Look in Your App
People love to deep dive into the Halloween fever. They would love to have a mobile app that makes their mobile look scary. Customers will be more tempted to try your spooky mobile app with scary themes and a ghoulish presence.
Get your app logo a threatening appearance; a skull-face may be a perfect idea. Make the inner appearance of the app as scary as possible. From launching to Halloween day deals to the checkout page, make every step in your app Halloween inspired. People would also love to buy party supplies from a mobile app that reflects their passion.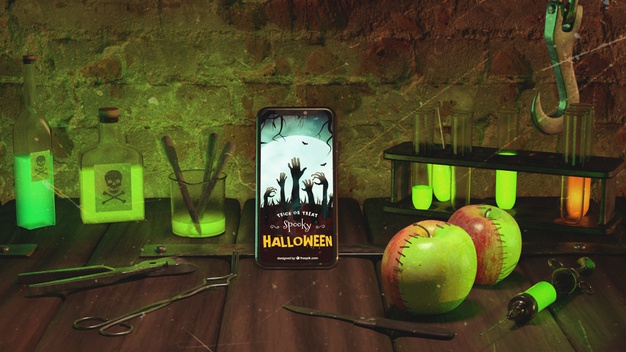 Impress Your Customers with Push Notifications
Send spooky Push Notifications to your customers reminding them that your online Halloween store is ready for the Halloween day deals. Customers are more likely to read a push notification that is customized to the theme of the Halloween festival.
Let your customers know the special festive discounts and Halloween day deals that you are offering. Make them realize that you have the best collection this Halloween including Halloween costumes, masks, candies, and decoration items.
Trick or Treating with Flash Sales and Countdown Timers
Countdown timers create a sense of urgency among consumers. They are more likely to take the offer believing that they will not get such Halloween day deals later. And, your mobile app is the perfect platform to run flash sales and countdown timers.
Your Halloween online sales can surely pick up if you promote your products in the right way and a mobile app is a great way to do it. Make it Halloween inspired – trick or treating offers can be a good way to delight your customers.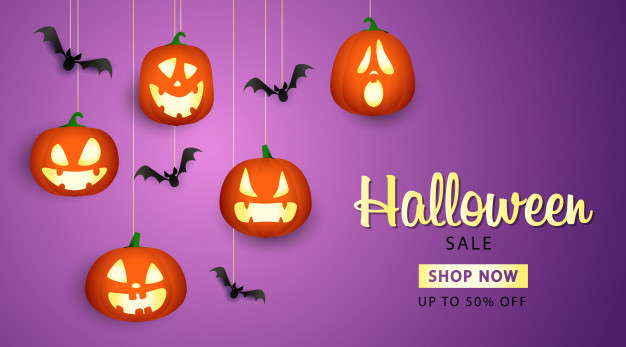 Leverage Social Media 
More people access social media through their mobile phones. And, a Halloween themed Facebook page of your store will surely inspire them to try your app. Run a Halloween themed social media campaign that sparks interest in your app.
About a quarter of Halloween shoppers will buy their supplies from the Online Halloween store.
You can boost the accessibility of your Android/iOS app with features like social login. In-built in your mobile app, it allows customers to access your mobile app and Halloween day deals directly from their Facebook/Twitter page.
Get Into the Geofence Mode
Geofencing technology enables you to precisely target your customers located within a geographical area. With geofencing, you can tap into the local populace Halloween needs. Send spooky messages automatically to customers located within a given geographical area.
Generally, people prefer to buy Halloween costumes from local stores. But, with your mobile app, you can inform them they can get the same dress online.
Freeze Your Customers with Spooky Layouts
Keep your customers engaged with spooky designs and messages. Make your checkout simple and seamless with a single page checkout process.
The success of your Halloween online sales depends on the kind of message you deliver with your mobile app. Inspire your customers with chilling stories and nerve-wracking Halloween day deals.
Conclusion
Halloween is more about having fun with chilling and spooky ideas. People dress up in frightening Halloween costumes and children go trick or treating.
An ideal online Halloween store must reflect the fun and spookiness of the Halloween festival and Halloween themed parties. But, simply having a Halloween-themed online store will not be enough to entice your Halloween shoppers. So, you need to revamp your business with a Halloween-themed Mobile App.
Because Halloween starts with spooky costumes and ideas, you must also begin your Halloween online sales with Halloween-styled marketing ideas. And, the best way to share your marketing ideas is a dedicated mobile app for your online Halloween store. So, get set to scare your competition and surprise your customers with a Halloween inspired Mobile App.