Alpha, Omega & Everything in Between Hiring Shopify Store Experts!
Running short of time? Get PDF of the blog in your mail.

Play Now
Going online is one of the best ways to give global business exposure for retailers of all kinds. Now the question arises, which is the most user-friendly platform to build and grow your business online? Shopify breaks the clutter by presenting everything you need to start, run & grow your business on the internet. But there will be situations where you will need experienced consultants and developers to present, personalize and promote your store on the internet. That's when you can hire Shopify store experts!
Shopify is among those rare platforms that are a SaaS service provider and a community. A community where merchants interact with and meet experienced Shopify store experts. This article will give you an inside-out view about when and why to hire Shopify store experts. If you are clear about your vision, hiring Shopify store experts will bring immense value to your business. Here is what we have got for you in our definitive guide to hire Shopify experts – 
Who are Shopify Experts? 
Here is a situation – You spent time building your store on Shopify. But when you compare it with competitors in your niche, you feel that "something is missing." Or you also want to add custom functionalities like an accordion menu, pin-code specific sipping, or a theme crafted as your brand guidelines. 
As a merchant, you should spend most of your time discovering the right products for your customers instead of struggling with codes, tweaks in theme, or store layout. For things like these, you can hire Shopify store experts.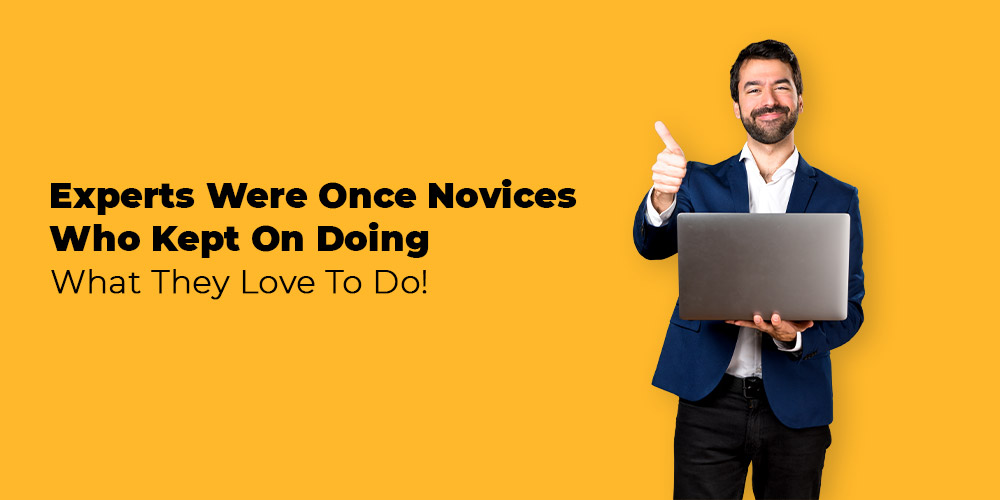 Shopify experts are certified professionals who hold profound expertise in Shopify's ecosystem. They know how to develop a store on Shopify from scratch as per your brand guidelines by using various tools and features that Shopify gives to add a personalized touch to your store. 
What Services Do They Offer?
Things that stop your store from attracting, converting, and retaining visitors into customers are the things that Shopify store experts love to work upon. Below are the prominent services that Shopify experts offer –
Build, redesign or Help in Migrating Your Store – 
If you have an idea about how your store will look, but you cannot implement the same with Shopify, you can hire Shopify store experts. Here's how our store experts can build or revamp your Shopify store – 
Page setup. 
Theme installations wrapped with customizations. 
Setting up the navigation menu. 
Domain mapping. 
Checking cross-device responsiveness.
Essential apps installation & configuration. 
Logo, favicon & homepage banner designs. 
Theme Customization – 
A theme is an essential part of your store. It decides your store's appearance and smoothness. Apart from free and paid Shopify themes, you can also change them according to your business requirements.
From modifying your store's shopping cart, checkout process to revamping its search engine, there is endless scope for customizations with Shopify! Hire the right Shopify store experts to unlock the true potential of your store. 
Product & Collection Setup – 
What is the next stop for visitors once they land on your store's homepage? It is the collection page followed by a product page. Both these pages are of utmost importance, and they should reflect your brand identity. 
When you hire Shopify store experts, they will not only create and customize product pages, but with these minor tweaks, they create long-lasting impressions – 
Customize quality selector. 
Add trust badges. 
Experiment with color swatches. 
Organize products into lucrative collection pages. 
Add "sort by" drop-down menu. 
Hide certain products or add products to a menu. 
Adding a size chart (crucial for apparel stores). 
Add a hover effect to product pages. 
Zoom-in effect on product images. 
Add the Buy Now button that links to Amazon or eBay listings. 
Shopify is a place of open opportunities with endless options to tweak the main web pages of your store. You will never know what your store can do unless you consult Shopify experts! 
Digital Strategizing – 
Your eCommerce business needs digital strategizing. It doesn't matter whether you have just started your stint with Shopify or you are an experienced merchant. You need to in-line digital marketing with your business to grow, scale and sustain in the highly competitive realms of the internet.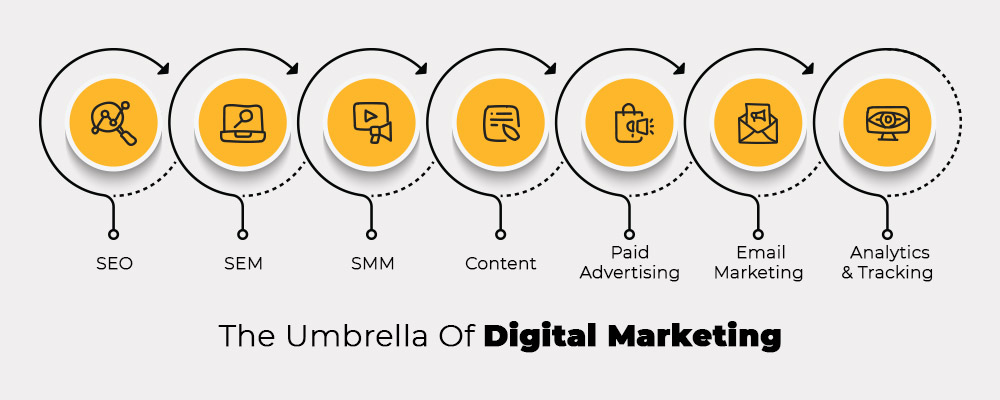 When you hire Shopify store experts, they make sure to equip your business with top-notch SEO, analytical tools, content, and conversion tactics that sum up to make a scintillating digital strategy especially brewed for your business (keeping in mind your target markets, products, and communication ethics). 
Taking your business online is one thing and strategizing around it is another. Customers don't come on their own. You need to invite them to your store and convince them that what you are offering is exactly what they are looking for. 
This is when consulting Shopify store experts is helpful. When you are setting up the base for your business, it is highly suggested to take a piece of advice from people who love to strategize and implement. 
Marketing & Promotions –
Do you know that an internet user has an attention span of fewer than 2 seconds? How are you planning to capture their attention over such a short time? Don't forget about your competitors who have more budget and resources to market and promote their products on the internet. 
The trick here is to do more with less. Apart from running your Shopify store, you also need to reserve a space in the minds of your store visitors. You can do so by building authority on social media platforms, search engines, and emails. 
But how are you going to initiate it? What should you be talking about in your social media channels and emails? How should your ads look (& feel) like? To effectively market and promote your store on the internet, you can hire Shopify store experts, who will plan out a subtle strategy based on your monthly budget and resources. 
When to Hire Shopify Store Experts?
This is where merchants go wrong half of the time. Shopify experts are not magicians who can turn around the game by flicking a magic wand (or something like that). When you hire a Shopify store expert, you need to take them as your store's consultants who will work and develop your store as per your aspirations and needs. 
But if you are not clear about what you want from them, they will be of little help to you. You can consult Shopify store experts at every stage of your eCommerce journey (from nascent to growth stage). They are the ones who can help you with multi-channel selling and add inertia to your store's growth. Here are the following instances when hiring Shopify store experts can be fruitful – 
When you want customizations in your store's theme and layout. 
When you are running out of time, and you want to build your store. 
When you are looking to migrate your store from one platform to Shopify. 
When you want to enhance customer experience o your conversion rate. 
When you feel like your store is getting slow or running out of shape. 
And this list goes on. 
Ideally, you should hire Shopify store experts right from the onset and take their advice time and again. The world of eCommerce is not only highly competitive, but it also keeps on changing. Shopify experts come in handy in this ever-changing world of codes, algorithms, consumer behavior, tastes, and preferences. 
A Checklist to Hire Shopify Store Experts –
So now you know who Shopify experts are and when you should hire them. Here is the last piece to the jigsaw puzzle of hiring them. This checklist will help you judge, assess and evaluate Shopify experts to ensure that you have hired the right set of people for your business.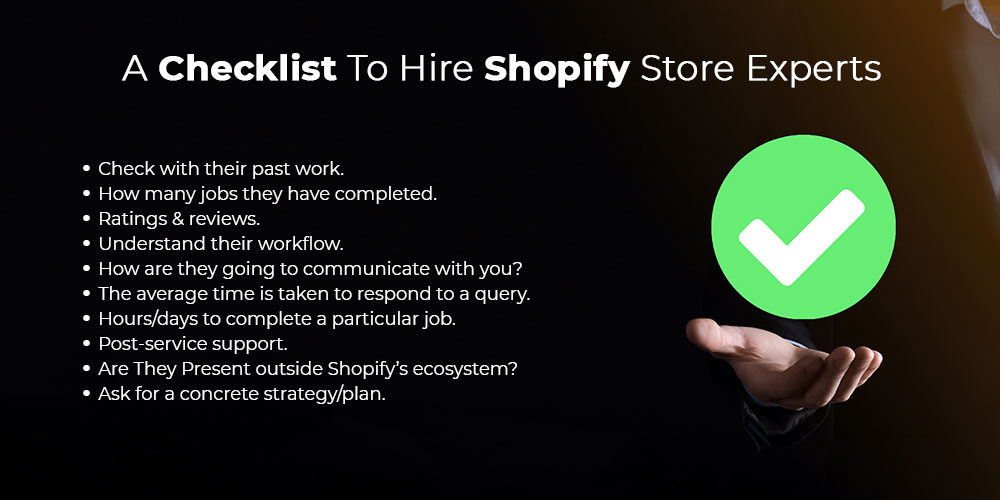 Keep this checklist with you so that when you hire a Shopify store expert, you already know what you need to look for before handing over your store to them. CedCommerce has duly completed two years in Shopify's ecosystem as a connoisseur in store development, migration, customization, and API development. Reach out to our team of experts and unleash the true potential of your business!
Conclusion –
Shopify is not just an eCommerce platform. Instead, it is a mushrooming community of merchants and industry experts who empower one another from time to time. Our Shopify store experts believe in one philosophy Help will always be given at Shopify to those who ask for it! (Does it sound familiar?)
Hire Shopify store experts and unleash the true potential of your Shopify store. At CedCommerce, we don't just build or revamp your store, we build brands!