What is mobile commerce & why Is It the future of eCommerce?
Running short of time? Get PDF of the blog in your mail.

Play Now
As shoppers are moving toward online shopping, new and advanced ways are discovered to make shopping more convenient for online shoppers. M-commerce has now become the most popular platform for online shoppers. It is a rapidly growing tech area that has seen remarkable growth in the last few years. Mobile commerce is the future of eCommerce, as people on the web are moving towards mobile for online commerce.
What is Mobile Commerce?
M-commerce or mobile commerce is the purchasing and selling of goods and services via wireless handheld devices like smartphones and tablets.
Start Your M-commerce Journey With A Captivating And Feature-Rich Mobile App
Mobile commerce is the advanced version of eCommerce, making online commerce more convenient. It enables people to purchase or sell goods and services from anywhere, simply by making use of their mobile devices, i.e. tablets or smartphones. M-commerce served as a trigger for numerous sectors and helped them to expand.
Important stats about mobile commerce
So these crucial stats reveal how mobile commerce is growing in the daily aspect of our lives. Let's discuss its advantages.
Read Also : What are the top mobile Commerce trends that will dominate 2022?
Why Mobile commerce is The future of eCommerce?
Mobile shopping is a perfect tool for online retailers to engage buyers and enhance users' experiences. Including m-commerce into an online business marketing strategy will become a need sooner or later. By utilizing M-commerce tools and functionalities efficiently, you can gain an edge over your competitors. But what advantage does it bring to the consumers? about 85% of customers prefer mobile apps over websites due to numerous reasons, as discussed below in this blog
Mobile apps drive more engagements than the web
Mobile apps offer a better engagement than websites due to numerous reasons. They are more interactive and intuitive. And give users a user-friendly layout to navigate. They are much faster compared to the website. These things give users more reasons to use an app over the website and help engage more customers. And is anticipated as the future of eCommerce
Quicker Purchase and Enhanced User Experience
Mobile apps have a 1.5x faster loading speed than mobile websites. Using Mobile apps, users can quickly navigate and browse through different products, giving them a seamless and enhanced experience. Mobile apps usually store data on the device on which it is installed. In contrast, websites store on web servers, making apps work quickly and more efficiently. Apps also save time and enhance the user experience by storing their preferences and taking proactive actions on users' behalf.
Direct communication channel with the customers
Mobile apps offer numerous useful and engaging tools like push notifications. Push notifications are a great way to engage with customers. Tell them about the latest updates, new offers, promotions, and discounts. A study shows that about 50% of users like notifications, and 80% reveal that special offers, gifts, and discounts make them more loyal to a brand. You can directly send notifications to your customers about promotions, discounts, and the latest updates.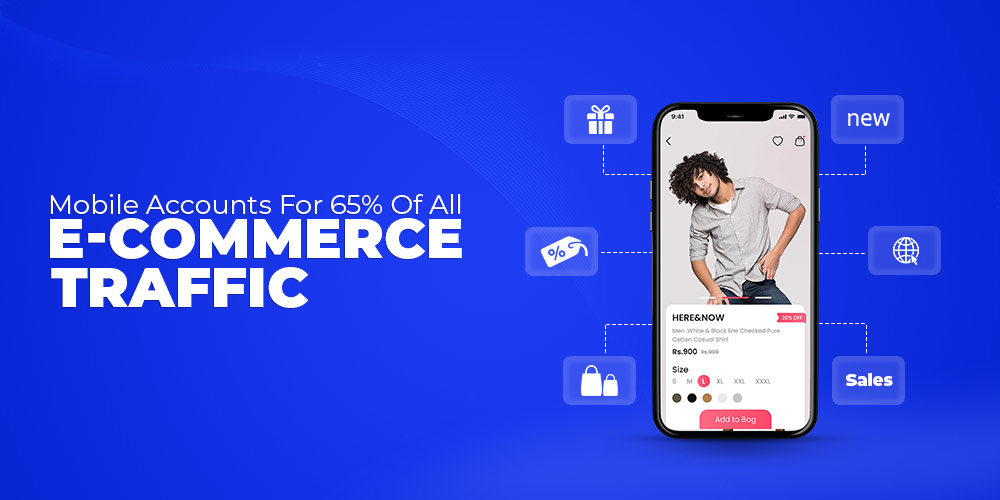 Moreover, you can entice your customers with personalized push notifications. These lead to customer loyalty, better engagement and expanded reach, brand awareness, and customer loyalty. Mobile apps also let you send notifications to your customers based on their location and preferences. Mobile apps are a great way to deliver a personalized and enhanced user experience and serve as an impact communication channel.
Detailed analytics
In-built app analytics help business owners get valuable insights about their customers. It will help them know how their customers interact with their brand, place, age, sex, preferences, etc. Moreover, it helps users get rich customer data, trends, behavior, shopping patterns, and better forecast options. These valuable insights help business owners craft an effective marketing strategy and offer a personalized experience to their customers. Now mobile apps are equipped with in-built analytics tools that give a proper insight into the user interacting with your mobile app.
Brand visibility
Users spend most of their time on mobile devices, and they usually encounter the mobile application installed on their mobile devices almost every day. And this frequent encounter with the app act as a brand opportunity for the app. Whether the user is active or not active on your app, every time when he unlocks his mobile phone, your logo will appear on his screen. This way, subconsciously, apps are increasing your brand visibility.
Easy leveraging social media on m-commerce
Mobile apps provide a better way of integrating with social media platforms. People nowadays access social media more on mobile devices than on desktops. You can enhance your engagement by adding social media buttons to your app. This gives users quick access to social media. Anyone using the app can quickly share his products and offering on social media, thereby increasing engagement levels. These things are making m-commerce the future of ecommerce.
Ability To Work Offline
It is amongst the top advantages of mobile applications that most apps run without internet connectivity. Take an example of a banking application where users can utilize app features like installment calculation, determination of loans, and tax calculation even when there is no internet connection.
In A Nutshell
With the rising trend of E-commerce, shoppers are consistently looking for convenient and fast ways to do online shopping. And now, this can become possible with the help of mobile commerce. Mobile commerce gives users a quick and perfect way of shopping. By utilizing numerous mobile features and tools, users conveniently shop, and mobiles allow online sellers to build their brand image and engagement levels. If you are an online retailer and want to increase your reach in the online marketplace. You should go for a captivating and robust mobile application. Try it for free with MageNative.