What are the top mobile Commerce trends that will dominate 2022?
Running short of time? Get PDF of the blog in your mail.

Play Now
Over the past few years, mobile commerce has been increasing rapidly due to its innumerable advantages. The demand for mobile commerce and mobile app development is increasing every day. If you are an online seller, mobile commerce can give you ample opportunities to thrive in the online market. But there are already several big m-commerce players in the market, and to stay ahead of the competition, you must be well acquainted with the latest mobile commerce trends.
Read Also: Top Trends to Watch out in eCommerce 2022
The emergence and advancement of mobile technology have changed every aspect of our daily lives. Consumers' purchasing behavior has transformed incredibly over the years, and M-commerce will continue to thrive in the future. The overall share of global mobile commerce share in the eCommerce market is around 73% increasing from 59% in 2017. Here we will discuss top mobile app developments trends that will dominate in 2022.
Read Also: 10 Biggest Challenges of eCommerce in 2022 and Their Solutions
Top mobile commerce trends 2022.
As discussed above in this article, demand for m-commerce increases incredibly due to its advantages. Let's check how these mobile commerce trends help enhance users' online shopping experience.
1- Shopping via Mobile apps
Digital advancement in the retail sector has witnessed rapid expansion over the past couple of years, with numerous channel-agnostic buyers expanding from 65% to 73% since the last year. Moreover, Due to the worldwide pandemic, this pattern sped up in 2020. With lockdown restrictions set up worldwide, retail apps have witnessed a growth in time spent inside mobile apps by 20%. Subsequently, many organizations moved the services their apps offered.
As mobile apps are turning into a considerably more significant part of the channel mix for retailers in this digitally advanced world, It's critical to comprehend how it can assist you with aiding your clients in new ways and acquiring growth for your business. Particularly in a period of social distancing and uncertainty.
Turn Your Online Store Into a Robust And Fascinating Mobile App
When you observe economic recovery after the pandemic, 30% of buyers think the shopping experience won't ever return to how they were. This makes it more vital for online retailers to adopt the latest and feature-rich mobile app technology. So shopping via mobile apps is increasing day by day and offers numerous opportunities for online retailers. Moreover, many studies reveal that mobile app shoppers are more loyal to the brand. They purchase 34% more items, purchase 33% more frequently and spend 37% more than non-app shoppers.
2- Shopping via smartphones and tablets
With the rise in mobile commerce, the sale of mobile devices has also increased rapidly. Shoppers find it more convenient to make purchases using their mobile devices, i.e., smartphones and tablets. The average order value from the mobile app is $102, which is a bit larger as compared to the mobile web, which is $92. So the majority of m-commerce sales are generated via smartphones and tablets let's check the volume.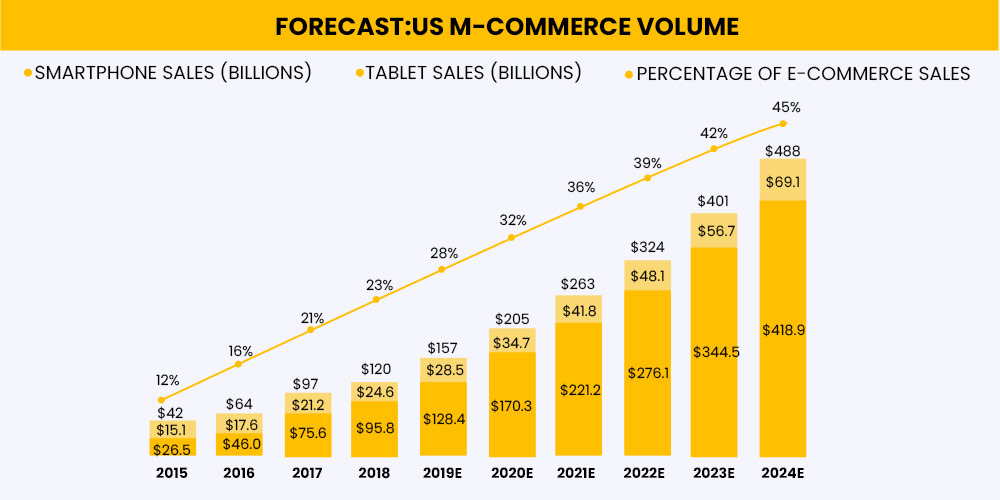 As it is evident from the above stats that smartphones dominate the mobile commerce trend. And by the end of 2022, it is anticipated that $276.1 billion in mobile commerce sales will be generated through smartphones, compared to $48.1 from tablets. If we talk about these two mobile devices i.e. smartphones and tablets sales via smartphones are rising consistently. So the trend for mobile commerce is increasing consistently and the use of mobile apps and smartphones for shopping is on the rise.
3- One-click ordering
Mobile commerce is rising rapidly, and numerous big players are already working in this field to grab the rising opportunity in the m-commerce sector. If you want to stay ahead of the competition, it is imperative to offer an enhancer user experience and a seamless checkout process to your users. Now shoppers look for quick and straightforward ways of shopping. If you make your customers manually enter each information every time they want to purchase, it can lead your customers to abandon the cart. Generally, mobile apps offer better checkout than mobile websites, which is why shopping cart abandonment rates are higher on mobile websites. Studies show that the cart abandonment rate in mobile sites is 97%, whereas mobile apps have just 20% of cart abandonment rate. So this is another big reason your online store needs a mobile app.
4- Augmented Reality
Augmented reality is among the most advanced features used in mobile apps to enhance user experience. It is the most useful mobile Commerce trend that will dominate 2022 and beyond. Augmented reality superimposes digital objects over the real-world environment. It enhances user experience by letting them visualize the item they will purchase online in a better way. Shoppers especially after covid looking for contactless ways for shopping. But if you are purchasing something online then it will be difficult for you to get a realistic image of the item.
Read Also: Collaborative Shopping: Re-envisioning Augmented Reality with Social Media
But with the help of augmented reality, you will be able to get a realistic image and better visualization of the item you are going to purchase online. Now there are mobile applications with in-built AR features which make online shopping much easier for online shoppers. Apart from eCommerce Augmented reality is now available in different sectors like medical, education, and entertainment. The most common example of Augmented reality can be seen in social media apps like Snapchat and Instagram filters.
5- Omnichannel Mobile shoppers
Omnichannel mobile shoppers are those shoppers who use different channels for shopping. Different mediums for shopping incorporate physical stores, mobile apps, and eCommerce websites. So stay ahead of the competition. You need to follow the omnichannel strategy so that your user can discover you across all the platforms. It is found that about 73% of shoppers are willing to switch the brand if they are not getting a consistent omnichannel experience from a single brand.
6- Voice Search Feature
The Voice search feature in the mobile app enables users to search for any item using voice commands. It is amongst the most helpful feature in mobile commerce, making the search easier and quicker for online shoppers. This feature is increasing in the m-commerce market gradually. According to a study eMarketer, 2020, about 40% of users in the united states use the voice search feature. Voice search in mobile commerce is a much easier and more convenient way of shopping than navigation. It lets you find an item quickly without wasting time in writing queries or complicated item names. So it is the most valuable feature in the M-commerce trends that makes shopping easier for online shoppers.
7- Give More Personalised Experience With Location-based Marketing
If you are an online seller and have a physical store, location-based marketing could be a boon for you. To drive foot traffic on your physical store and drive engagement on your site. Location-based marketing is effective for reaching nearby customers and increasing brand awareness. This strategy helps let nearby users of similar interests and proximity discover your store. Shoppers generally search nearby shops even when they want to purchase something online. So location-based marketing can be an effective feature that helps in branding your business in the local market. Now there are mobile apps available with such features as location-based push notifications.
8- Login via Social Account
Entering each detail manually during the registration/signup process can be bothersome to most users. Enabling users to log in through their social media accounts will simplify their registration process and enhance their experience. The excellent mobile application offers an incredible experience to its users. So instead of giving self-curated registration forms, it is better to implement login via social accounts to minimize the downtime, speed up the verification process, and make the application process more productive.
Read Also: 15 Key Features of a Successful Mobile App Nobody Told You About!
To Put It Briefly
As the world is moving towards digitalization, shoppers are looking for more convenient ways of shopping. Mobile commerce, especially after covid, has become popular among online shoppers. App Developers and marketers consistently strive to offer their shoppers an enhanced user experience. Features like augmented reality and push notifications have given online shopping a new direction. MageNative is an app development company that offers a fast and fascinating mobile app to its users. Get started with a 30-day free app trial.
Or
Speak to our experts as we dig into your challenges and decide on the next actions that could affect your business success.