What are the Key Mobile app metrics to track for user engagement?
Running short of time? Get PDF of the blog in your mail.

Play Now
As we know already, developing a mobile app for the online business is just the first step toward a successful business in the online marketplace. An app does not succeed with just a few clicks, downloads, or ratings. However, a successful app needs a proper planning before its development. And also, some essential mobile app metrics need to be tracked regularly. The foremost and essential factor behind the growth of any business is profits. The first thing you need to do for your app's growth is to set up its goals. The purpose of your app goals must be well cleared to determine the right metrics for the app. Key mobile app metrics help you to get all information required to achieve your goals.
Here are the Top Mobile App Metrics to Monitor
Primarily, there are four major types of mobile app metrics that are trackable.
Acquisition
User engagement
Customer Satisfaction
Performance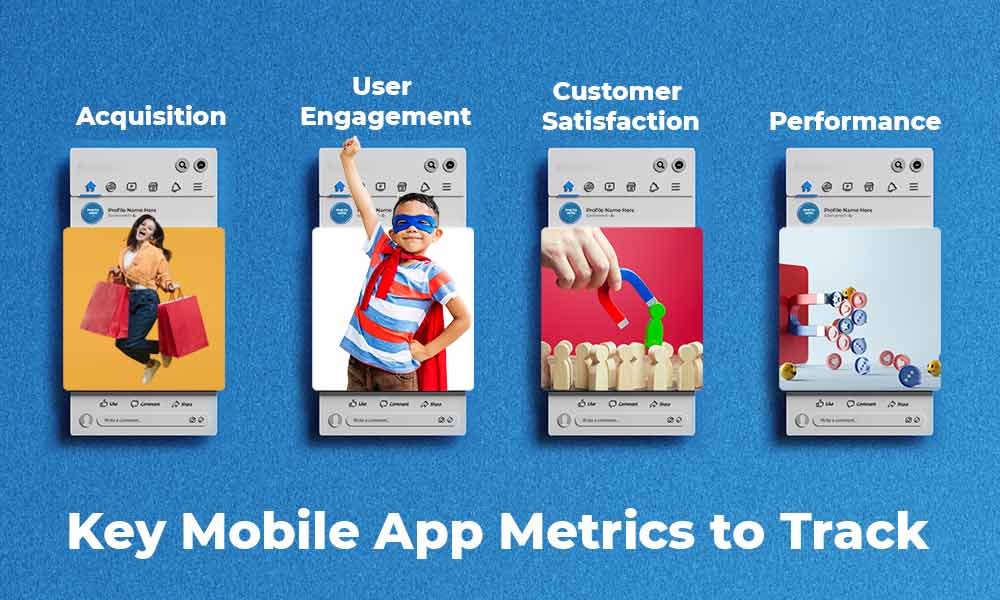 These and other deep metrics can be tracked with analytics tools now mobile applications are equipped with in-built app metrics analytics tools. Monitoring app engagement will help you enhance the user experience. The Engagement level is directly proportional to customer satisfaction. The More your customers are satisfied with your application, the more the retention rate will be. So tracking and improving the app's performance is imperative for the growth of your online business.
If your app has crashes, glitches, or slower loading speed, it will affect the user experience, ultimately affecting your sales.
Let's go deeper into it.
Here is what is imperative to track into sub-points.
1- Number Of App Downloads
The increased number of app downloads justifies the success of your mobile app. Also, this is amongst the most important app metrics which lets you monitor the user engagement rate. Your download rate is incremented each time when your app is downloaded on the new device.
If your application is getting millions of downloads, this means more users are engaging with your app, and your marketing strategy is performing well.
In contrast, if your downloads have decreased, you need to work on your marketing strategy and improve your product quality or service.
App downloads can be improved through app store optimization, which can be done by optimizing the app's content like the App icon, description, keyword, and app name. So the most important thing to increase the app download is to improve product quality, service, and visibility. Make your app available on multiple app stores, including major app stores like the Google app store and apple app store.
2- Active Users
All users that have downloaded your app are not going to use it. It is amongst the top app metrics that figure out how many users are active on your app, daily, weekly, or monthly. If your active users are low, you need to work on increasing the active users. There are some ways to increase active users on your mobile app. Get in touch with your users through daily or weekly promotions that will encourage them to purchase. Entice them will attractive and personalized push notifications.
3- Average time
Another critical factor that needs to be monitored is average usage time, i.e., how long users stay at your app. Does the user stay on your app for 10 seconds or 10 minutes? If the average on your app is less, you need to take the necessary action to engage your visitors.
4- Churn Rate
The churn rate is the percentage of users who stop using your app within a given time. Typically active users are the profitable users for your business, and No one wants their users to stop making use of their app. So churn rate is the most significant factor that can suppress your app growth. And it is critical to monitor the churn rate. If you find your churn rate increasing, find out its cause and try to reduce it. It can only be reduced to why you find its actual cause. Reduce it by engaging users via push notifications, messages, etc., or improve your services.
5- App Ranking
App ranking is amongst the key factors that can mainly affect your application's download rates. Raking is the visibility of your app in the app store. If your app appears on the top, it is more likely to be downloaded by the visitor searching for a similar product in the app store. Higher rankings will help you get more downloads. Ranking depends upon numerous factors like ASO and customer reviews and ratings.
5- Abandonment Rates
The abandonment rate of a mobile app is when users install it to their site but never actually use it or register for it. You will be able to resolve this issue only after analyzing it properly. You have to find out the reason why people abandon your app after uninstalling it. This may be due to the long and complex process after the installation. So do not ask for any unnecessary information to proceed. Make the installation process short and straightforward so that users may not abandon your app.
6- Conversion Rates
The ultimate goal of any business is conversion. This will help you generate income from your app. Conversion rate is a handy way of comparing your app's performance across different marketing channels. This is essential because it will help you monitor your marketing campaign's success. The conversion rate is calculated by the total number of converted users by the targeted audience.
7- Speed
Speed is the loading time of the app. It is the most crucial factor for enhancing user experience and user retention. Mobile apps with faster loading speed result in an enhanced user experience. So it is also amongst the top factor to monitor and resolve for an enhanced user experience.
Turn Your App into a Fascinating and speedy mobile application
8- Retention Rates
Getting maximum downloads for your app is enough for its growth and success. It is a continuous process, and you need to keep your users engaged with your app. Attracting new customers is good, but you should also focus on retaining your existing users. And for this, you need to keep an eye on your users that are they retaining your app? If they are not retaining, find out the cause and work on it.
9- Customer Reviews
Customer reviews are a very important metric to track for your app's ranking in the app store. And also crucial for building your brand credibility among visitors. Buyers always check previous reviews before purchasing any product. If you see any negative reviews, take them seriously and respond efficiently. Reviews help you find out and resolve your mobile app's issues.
Read Also: MageNative & Ali Reviews are teaming up to showcase all client reviews elegantly
10 – Event tracking
With the help of the event tracking metric, you will be able to track more in-depth user behavior. Through this, you will be able to find out the time users spend on your app, what action they are performing, and what button they are clicking on each screen. In essence, it will give you actionable data to improve your app's performance.
In A Nutshell
As online businesses have started building their mobile presence, developing a robust and captivating mobile app has become necessary. Building a fascinating app for business and embracing mobile commerce for online business growth is a good thing. But to succeed in the online marketplace, you need to stand out from the crowd. There are millions of apps already available on the app store to download, and they keep increasing every day. So if you do not want to become a part of this crowd, you need to work on it. For this, you need to monitor the performance of your app regularly. And work upon it consistently to build an outstanding mobile application for your users.