Valentine's Day store customisation ideas to try at the last minute!
Running short of time? Get PDF of the blog in your mail.

Play Now
Ahh yes, the season of love is finally here! Valentine's week has begun. And as matter of fact, you're going to find people spending a lot on special gifts and goodies. Last year, the revenue share for Valentine's Day reached a record $21.8 billion. In 2022, it is expected to reach $23.9 billion in 2022, according to the reports by NRF. In addition, other than traditional V-Day presents such as boxes of chocolates or flowers, people nowadays also splurge on other products like clothes, jewelry, and even pets. Now! if you are a BigCommerce store owner haven't evaluated your eCommerce strategies yet for 2022's most romantic day i.e., Valentine's Day? then think again. It's never too late to look up to last-minute Valentine's Day store customisation ideas to make the most of this festival.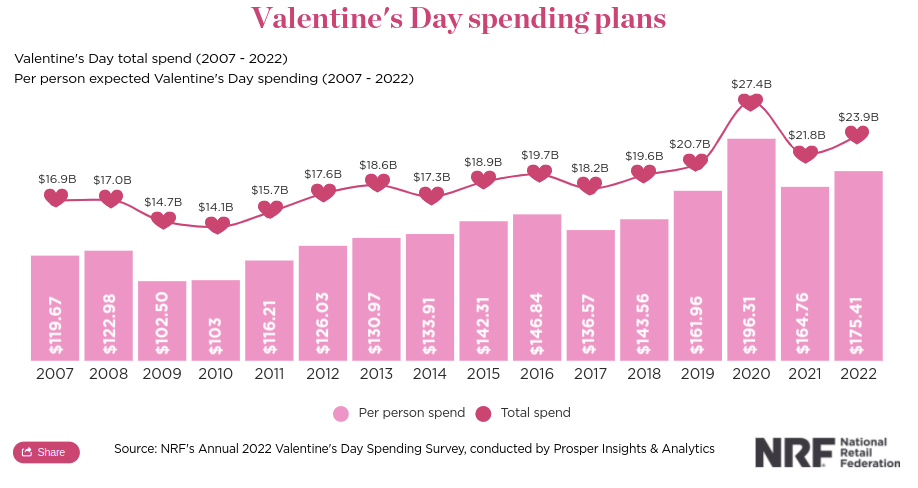 Source – NRF
Let's unlock some super-effective, easy-to-implement V-Day special BigCommerce store design ideas that are sure to give a romantic feel to your visitors.
V-Day themed homepage banner
Create Valentine's Day gift guide
Facilitate holiday e-gift cards buttons
Time-sensitive V-Day discount coupons & offers
Valentine's Day-themed homepage banner
Nothing creates a festive mood and communicates the feel of festivities better than a well-designed themed homepage banner. As consumers start browsing the internet for Valentine's Day gifts and experiences, you can transform your storefront accordingly using V-Day icons and color themes. Giving your brand logo a glorious romantic twist by adding hearts or changing its fonts is another quick & easy BigCommerce store customization idea for V-Day.
Go for a beautiful homepage banner or banner slides romanticizing each special day of Valentine's week. Opt for appealing V-Day color themes like shades of pink for women's products and blue for men. You can add cupid, boxes of chocolates, and flowers nicely animated to create that magical love feels.
Pro tip – Don't forget to add a "Happy Valentine's Day" badge or dedicate one whole banner slide to it, creating a unique Cupid story for your customers.
Create Valentine's Day gift guide
Offer a little guidance to your visitors by creating a short & quick Valentine's Day gift guide. Like any other gift-giving festival, Valentine's Day is an excellent sales-boosting opportunity for e-commerce businesses. And to be very honest, people do find it hard when selecting a perfect gift. So, make the buying decision of your visitors easy by providing them with helpful Valentine's day gift guides.
Curate content featuring best-recommended, best-selling, or trending products for people of all ages and genres. Now, by doing so, you are not only easing your visitor's hassle to find the right gift but also earning their trust & loyalty.
Here are quick Valentine's Day stats reported by NRF depicting what top 5 gifts consumers are planning to give in 2022-
Candy – 56%
Greeting cards – 40%
Flowers – 37%
An evening date – 31%
Jewelry – 22%
Facilitate holiday e-gift cards buttons
Regardless of ongoing disruptions taking place since the past couple of years, festivals like Valentine's Day continue to create a surge in the eCommerce market. And whenever such big holidays roll around, you don't have to re-invent the whole wheel. Instead, a slight change can do good to create a festive feel for your customers.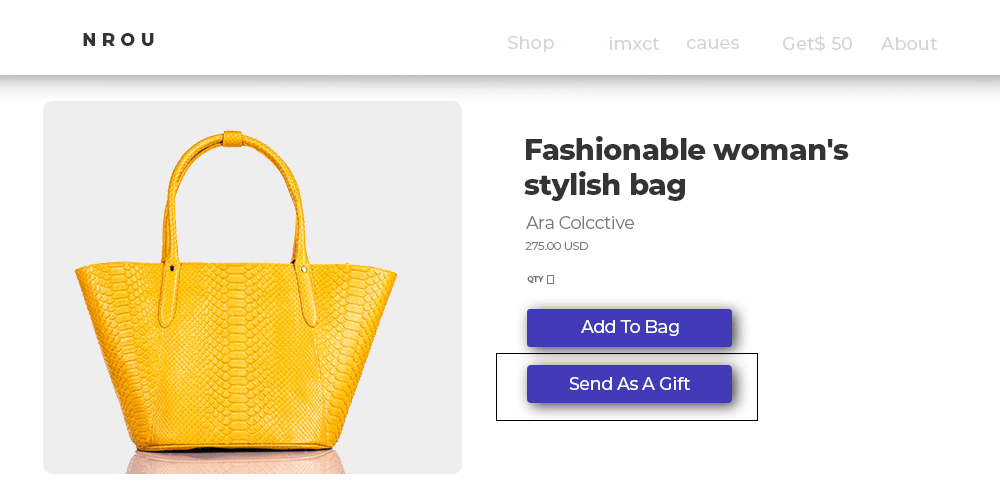 Facilitating holiday e-gift cards buttons is another one of the most effective & quickest Valentine's Day store customisation ideas. Now, this will allow shoppers to send gifts directly to their loved ones. Moreover, you are making it easier for gift-sender to rapidly send their token of love to their special ones in just a few clicks.
Also read: How CedCommerce is helping merchants with effortless BigCommerce store design solutions.
Time-sensitive V-Day discount coupons & offers
In case you're falling short of time, don't know what to do with your BigCommerce store for Valentine's Day sales boost? Then promotional pop-ups with special offers & deals can be your go-to Valentine's Day eCommerce tip.
Everyone loves to grab exclusive discounts and coupons. So, offer your visitors what they want in the form of exclusive V-Day discount coupons. Promote Valentine's special products at prices that won't hamper your customer's pocket in March, as V-Day gifts are often fancy and expensive.
Pro tip – Make your discount coupons time-sensitive to encourage your customers to order products faster before it's too late.
We are wrapping it up with Love!
Even if you are not selling flowers and candies, you can still make Valentine's Day into success for your brand. All you need to do is a little effort here & there on your storefront, and your customer's attention will be intact with your website for sure.
This Valentine's Day, give your visitors a mind-boggling experience by implementing the above-mentioned V-Day eCommerce tips that are sure to keep the profits rolling even at the last minute.
And, if you are finding difficulty in customizing your Bigcommerce store for Valentine's Day, then we have your back. Our talented designers are here to help you 24/7 and customize your store as per your need in no time.
Furthermore, to make your Valentine's Day selling wonderful, we've come up with a massive discount deal on a BigCommerce store design and customization solutions.
Hurry Up! Check out the deal right away before it's too late!