Upgrade Your BigCommerce Store Theme With CedCommerce
Running short of time? Get PDF of the blog in your mail.

Play Now
Theme customization of an online store to stay up with the current trend is the New Normal! It boosts sales and attracts masses, and helps in upgrading your web identity to the next level. Thus, one must never overlook optimizing their online store with the best theme. Through this guide, you're going to learn how Cedcommerce helps you customize or migrating your store into a better version with its exclusive Bigcommerce Store Theme customization solution.
CedCommerce being the Certified partner of BigCommerce, provides comprehensive website designing and theme development solutions.
Through its agile development process, Cedcommerce specializes in helping aspiring sellers establish their online existence by providing the best customization services.
No matter the type of online store you own – be it a clothing store, a sports equipment store, or a food or travel booking outlet; you can customize your BigCommerce Store themes effortlessly via Cedcommerce.
How Cedcommerce Helps You With Theme Customization?
Whether looking for creating an online store from scratch or customization or migrating to a better version, through BigCommerce theme customization and design service, Cedcommerce helps you experience what more versatility, features, and simplicity can do your online retail.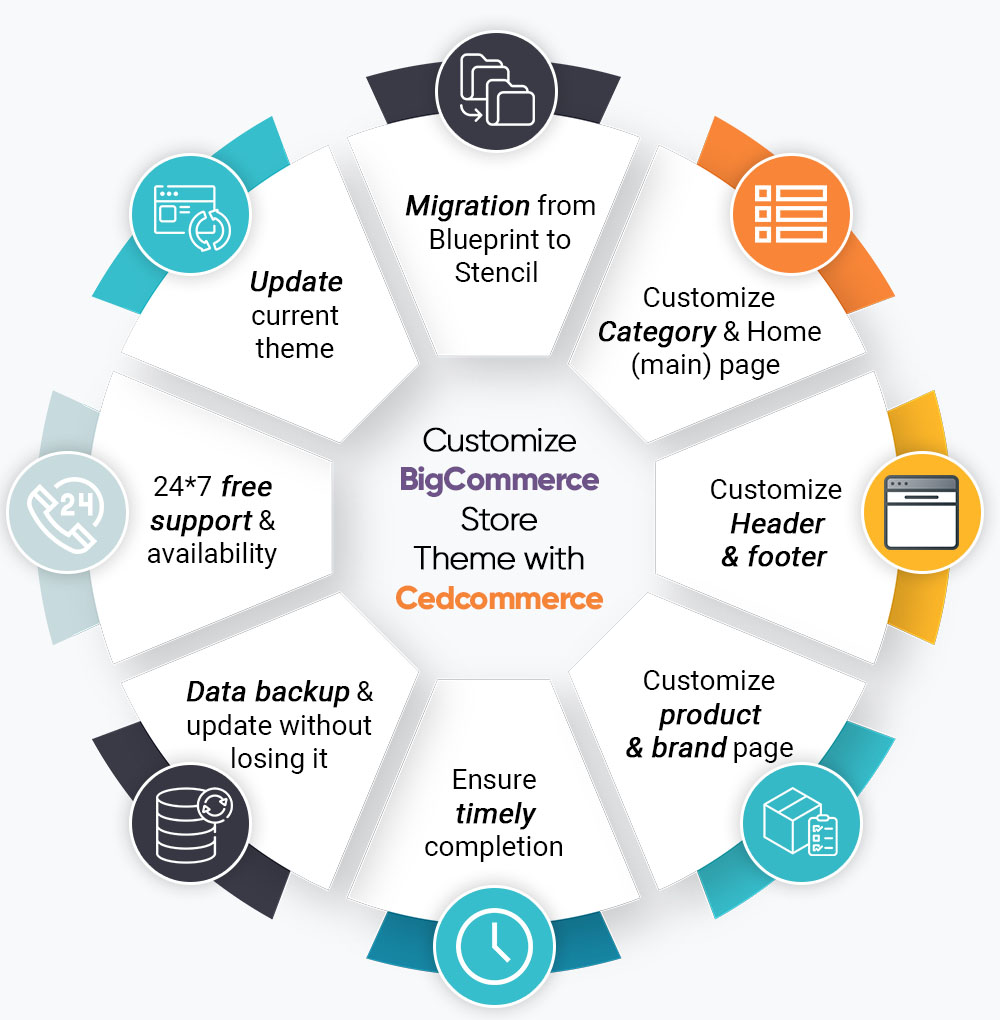 The BigCommerce Store Setup and customization solution come with various features that can help you achieve a successful e-commerce store. Take a quick look at the features listed below-
Update current theme – customizing stores with new themes like the BigCommerce Stencil Theme will help you stay up with the latest trend and make your website more powerful and sound.
Migration from Blueprint to Stencil latest package – Switch to BigCommerce Stencil theme for great site experience and features such as faster page speed, mobile optimization, custom checkout, and best built-in SEO practices not available on Blueprint theme.
Customize Home (main) page – The feature enables you to customize your homepage and make it more appealing and attractive by adding more tabs, product images and descriptions, and so on.
Brand page customization – Whether it is adding any content or changing the color balance of the theme of your store's brand page, editing it with this feature is easy and quick.
Customize Header – Whether you wish to add an extra tab or remove, or wish to change your header's style or color scheme, the Comprehensive solution of BigCommerce Theme customization and design allows you to customize your header as per your needs.
Products page customization – Optimize your product pages by adding images, descriptions or change prices according to your needs with the product page customization feature.
Customize Footer – Make changes in the footer as per your needs hassle-free with this feature. Whether you want to change your footer color or wish to organize its listing your way, Cedcommerce's BigCommerce Theme Customization solution ensures you the best services.
Customize your category pages – whether you wish to add a new category or remove it, you can customize your category pages without any hassle with this feature.
Timely completion – On-time completion of tasks with expert precision is the USP of our services. We value your precious time and thus aim to complete tasks and fulfill your needs before time.
Backup all data and update all packages without any data loss – Regardless of what you choose, we aim to create a differentiated, robust offering without compromising the security of your data stored with us. Data safety is our utmost priority; we assure you that all your data is backed up without data breach or theft.
24*7 free support – no matter what service or feature you choose for your Bigcommerce Store, we are always up at your service 24/7, assisting you with result-driven solutions.
How To Choose A Perfect Bigcommerce Store Theme?
Whether creating an online store or migrating it to a better version, with BigCommerce store setup and theme customization solution, the process seems simple and easy. Factors like customization, cost, flexibility, or design management, you must consider them.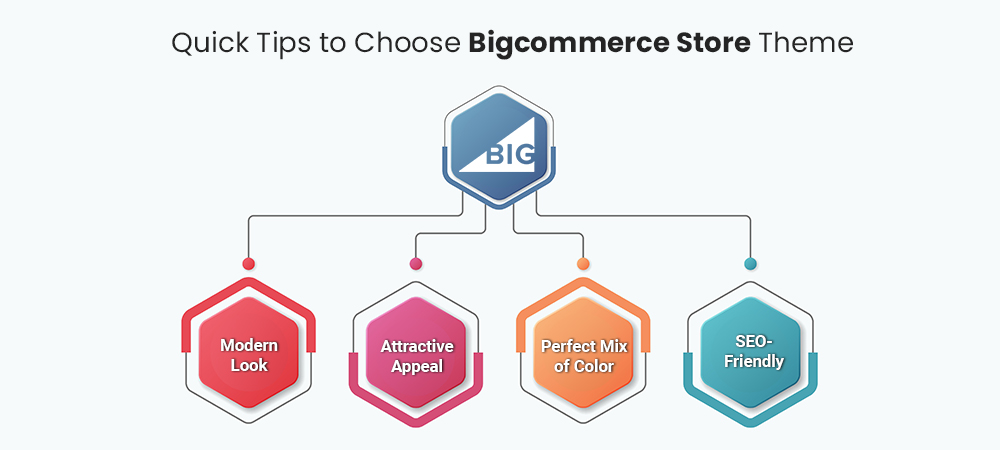 It sometimes becomes difficult to choose the right Bigcommerce store theme with many great themes to choose from.
So, here are tips to consider while choosing the right theme for your e-commerce store for a better conversion rate-
Should be appealing
Being the web face value of your business, your online store has to be appealing. A poor outlook can result in bad engagements, leading to an increase in a higher bounce rate. Visitors will be least interested in browsing your entire website when they get distracted in the initial stage only.
A Fresh Modern Look
Having a contemporary website with a fresh-modern appeal will make your visitors feel more connected. Also, the contemporary look reflects the current trend on your website. The selection of the right BigCommerce Store Theme depends on your buyer persona and must reflect their aspirations.
Perfect color balance
Choosing the right color scheme is the most critical aspect of engaging and imparting a more significant customer experience. The contrasting combination of the color balance in any website holds the capability of holding the visitors on the page.
SEO-Friendly
SEO-Friendly stores fulfill your website's purpose, i.e., widening your reach to as much as possible. It should have all the necessary factors to get a higher ranking on the crawlers.
Key Elements Of Choosing A Successful Theme
When it comes to eCommerce stores, website design and looks matter the most for attracting and expanding the customer base.
Once you decide to establish your online presence via building an online store, the next best thing to consider is outlook. A website's outlook plays a crucial role in attracting potential leads and prompting them to the desired CTA.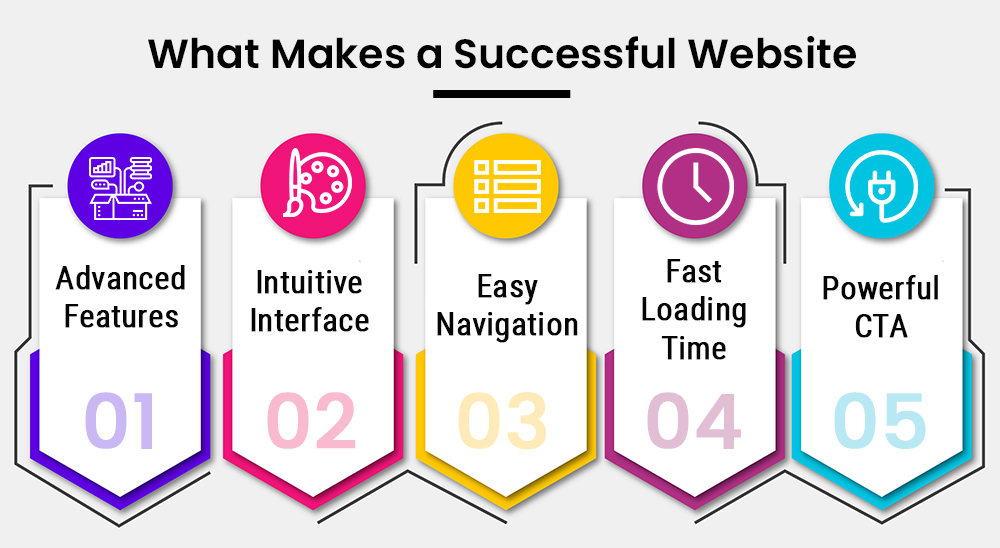 Since an online store is a great chance to prove your brand value to your customers, it has to be perfect! And, it would be best if you chose store development and theme customization wisely.
Among many Bigcommerce themes, choosing the right one is not an easy task to do. Here are few points to keep you updated with some essentials features of a successful Bigcommerce store and the ideal blueprint for its customization.
Your online store needs to be-.
Responsive Web Design
In this internet-savvy era, it is the principal element of a successful e-commerce store. A responsive website holds the compatibility of running on all devices, especially on mobile phones. The reason being that is, people love to access websites from anywhere and everywhere, and mobile, being the handiest device today, people usually prefer to browse stores on their phones. So, your online store has to be mobile-friendly.
Communicate your purpose clearly
A well-designed online store is usable for everyone. It should communicate the purpose in the most inviting tone. Keeping things simple and to the point will give a clear view of what your store is all about.
Convenient navigation, filtration, and search
When a customer can quickly navigate an online store, and find exactly what they want, and add that item to their cart after getting all the required information about that product, then you have much better chances of them converting.
Fast Loading time
A website's speed and loading time can significantly affect the time a visitor spends on that site. An online store taking 3 seconds or more to load is likely to witness fewer conversions.
A Powerful CTA
Conversion rates are also majorly affected by the CTA button. It must be powerful enough to create a sense of urgency for your potential customers. Should have a clear text and wisely placed (prefer placing in the middle as it has a higher click-through rate). It should be flashy and easy to differentiate.
Conclusion-
Having an engaging website that attracts customers and prompts them to buy products isn't easy to achieve, but with Bigcommerce store setup and migration, you can meet your goals. Comprehensive solutions and skilled professional guidance will help your way to great opportunities.
So what are you waiting for! Get your business a fresh, attractive web identity with Cedcommerce!