5 Reasons Why Your Wholesale Business Needs API Integration?
Running short of time? Get PDF of the blog in your mail.

Play Now
Businesses are evolving rapidly to keep up with the huge demand of customers. In a wholesale ecosystem, simplified logistics and supply chain efficiency are the key to a smooth workflow. The better you manage your business logistics and supply chain, the better it is for your business. To manage your wholesale business effortlessly and eliminate noise, you need API [Application programming interface] integration. Picture yourself manually uploading products on the website. Isn't product upload through CSV feel tiring and time-consuming? Don't you think it's hectic to revise the whole CSV file every time you need to edit the listings?
An API Integration helps you build an efficient way to get data to end-users. Moreover, you can build an ecosystem that would facilitate retailers and sellers to extend their market reach.
What Is API For Distributors?
If you have already employed EDI [Electronic Data Interchange]with the help of an EDI specialist in your wholesale ecosystem, you are already halfway through full automation. How are you going to do that? Well, all you need is the API integration. API stands for "Application Programming Interface," acting as a communicator and mediator between two or more applications. This API for distributors and wholesalers helps streamline operations and enables easy communication with any eCommerce platform like Shopify, BigCommerce, WooCommerce, etc.
API integration streamlines your wholesale business and creates economic value for the company.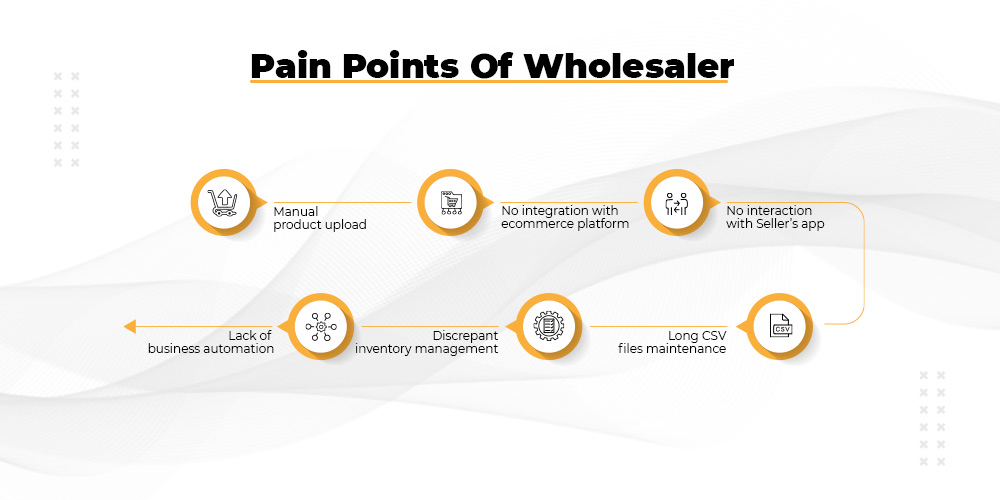 Why Is an API Integration Important?
If you're a wholesaler and already using EDI [Electronic Data Interface], you will probably wonder why you need wholesale API integration. when you have already saved yourself from rigorous paperwork. API helps you easily scale your business, and keep your business up with consistent updates and modifications. Moreover, It's easy to onboard and integrate with any eCommerce platform. What more reasons do you need to upgrade your wholesale ecosystem?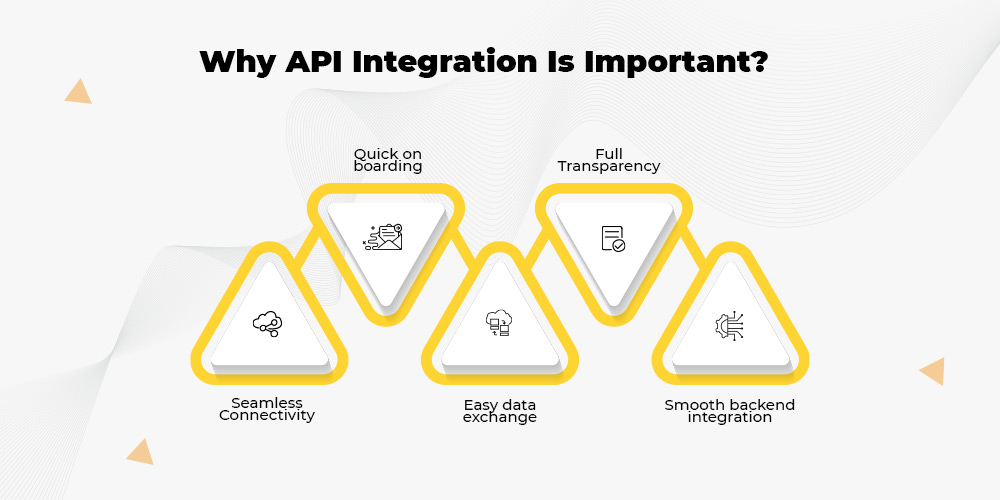 Quick and Easy Onboarding:
A seamless onboarding experience is enjoyed by all. It is the first impression of your app, and if designed rightly, it improves the user experience. When a user interacts with your app for the first time, the easy onboarding process strengthens the app's value and the user feels the urge to explore more. Additionally, CedCommerce offers platform integration to help you easily onboard new sellers and you can integrate with their online store real quick.
Facilitate Order To Cash:
API integration enables easy data exchange between your wholesale business and the retailer's online store. Besides, you can sync inventory, tracking details, customer address, and more in a breeze. Furthermore, you can use API to access applications that allow sellers and customers to see exactly where their order is and receive real-time updates.
Wholesale E-Commerce API
Set up an API wholesale ecosystem and integrate an ERP system to manage inventory, warehouse, supply, and streamline your workflow. Besides, API lowers the amount of manual data processing and smoothens the wholesale distribution process.
Transparency In Transactions:
Retailers and customers want to stay updated with everything that matters. Additionally, with the help of a Wholesale API Integration, customers can track their orders in real-time at the convenience of their homes. They will know whether the order is dispatched and everything about their orders. Moreover, it also saves you from manually coordinating with the carrier provider and retailer.
Optimize Work With Back End Integration:
This is one of the crucial reasons you need to introduce API in your business. API is necessary when you want to integrate back-end applications like legacy and SaaS with digital order to cash process. Using an API integration to integrate your back-end system will help you swiftly construct a profitable system. Generally, it takes time and capital to update systems. But with API, you can update your wholesale ecosystem real quick.
Summing Up
API is the present and future of the Wholesale business. So, to stay on trend you need to fuel your business with API Integration. Moreover, it can help you optimize your business productively and help you save time and capital. Not just that, API for distributors can also help build a higher customer base, better value for customers, and enhance the overall workflow of your business. Consult an expert and know more about API integration and transform your wholesale ecosystem.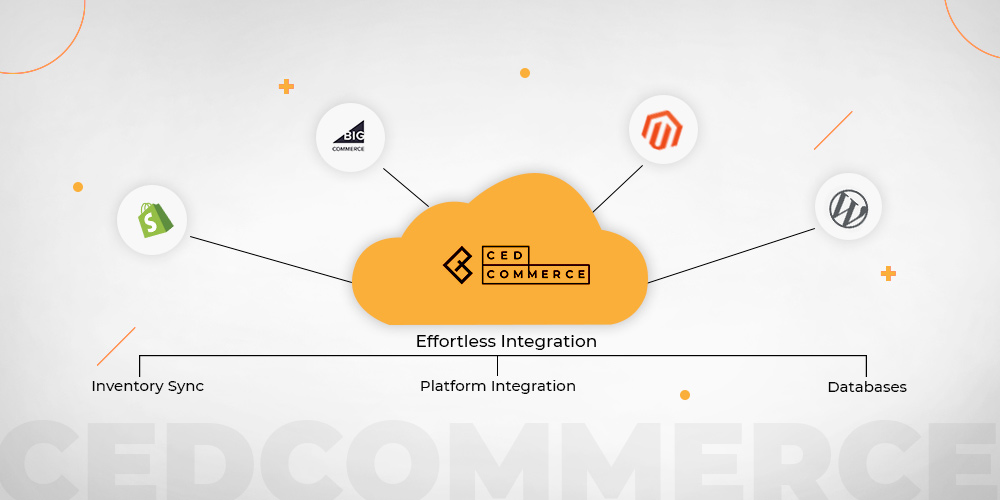 With CedCommerce, Wholesalers can integrate their API with any eCommerce platform which will facilitate these retailers and sellers to automate and integrate product listing, inventory sync, and much more. Now enable business-to-business interaction and don't hassle with CSV files for uploading and updating. Upgrade to the API ecosystem and integrate your business. From easy onboarding to hassle-free checkout, you will spend more time strategizing your business rather than managing orders and inventory.