Top Selling Products this Christmas on OnBuy
Running short of time? Get PDF of the blog in your mail.

Play Now
Want to know about top-selling products on OnBuy this Christmas? What is going to sell more? These are some most buzzing questions nowadays. Here we are with the answers along with some fantastic facts.
OnBuy is one of the most prominent UK based online marketplace and is growing exponentially. It was established in November 2016 by Cas Paton. In the past four years, OnBuy has grown in all terms. Expanding in 40+ countries. with 25,000,000+ products, 8,000,000+ buyers, 5000+ sellers, It has become a new favorite for budding businesses and native and global brands.
Giving more power to OnBuy sellers, CedCommerce being an official channel integration partner of OnBuy, enables retailers to reach your customers and build up your store quickly.
Don't be lost! It's the right time to start selling online.
Before we know about top-selling products, here's something you need to know.
Are Black Friday sales better than Christmas Deals?
Well, it depends on what you are offering. Just before Christmas, Black Friday and Cyber Monday offered some great deals, but as on Christmas, it will be theme-based shopping. The clothes, the decor, the jewelry, the scents, everything that can fall under a particular theme. Here's showing Key Christmas Shopping Statistics.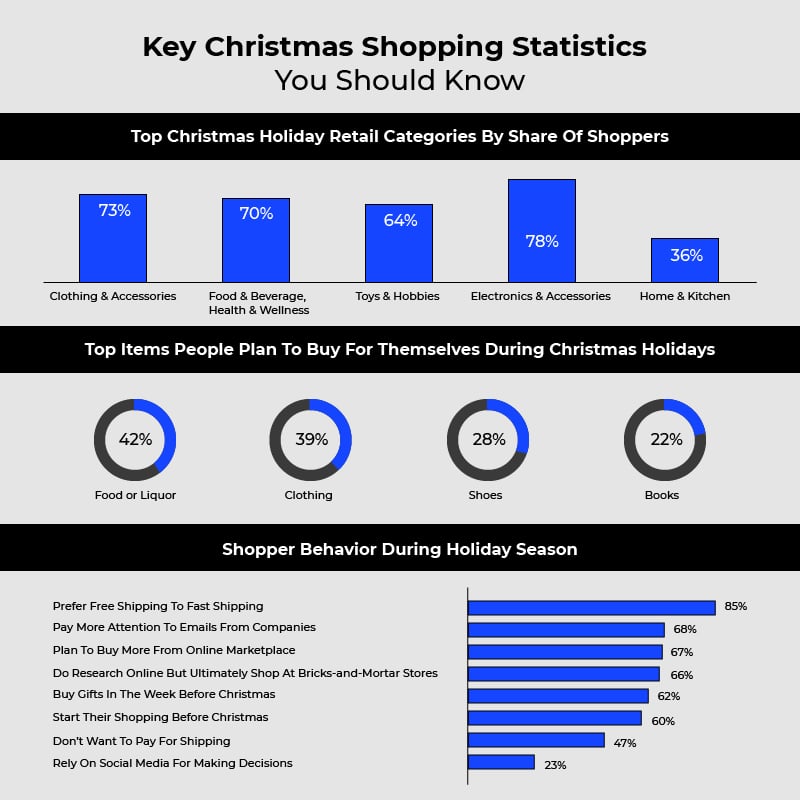 It is essential to offer something rock-solid to attract buyers as they already experienced some great deals at Black Friday. Offering cashback coupons, thanking notes, some complementary products can help you.
How Up-selling and Cross-selling can help?
A little knowledge can be dangerous, so let's not waste time and understand what is upselling and cross-selling and how it can help.
Up-Selling– It's a process that eventually makes your primary product more expensive. For ex.- A wooden bookshelf with some novels with it.
Cross-Selling– It's a process of suggesting any other product to be bought along with the primary outcome, for ex.- Suggesting to buy shampoo with conditioner.
Now how will this help? If you are selling themed cakes, you can offer themed candles. If you are selling decors, you can complement them with a small and portable X-mas tree. This will help in boosting your store sales this Christmas. Here's showing  holiday shopping trends of 2020.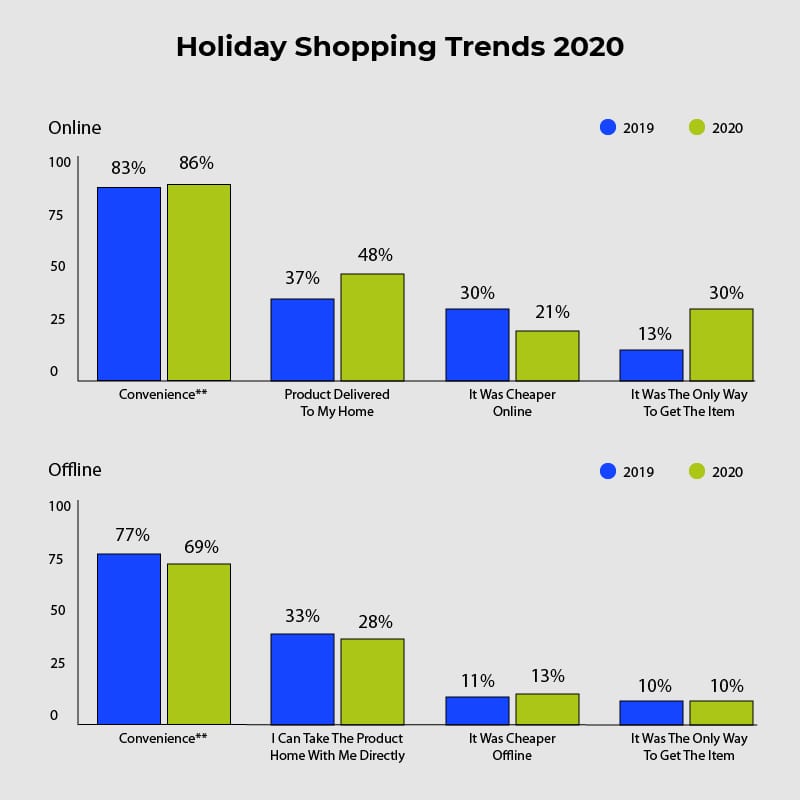 Here's the list that you have been waiting for;
The Top selling products this Christmas on OnBuy
Exercise Bands– Gyms are closed, people need a gym at home, isn't it going to be the best present for them this year. Let's have a quick analysis of this particular product.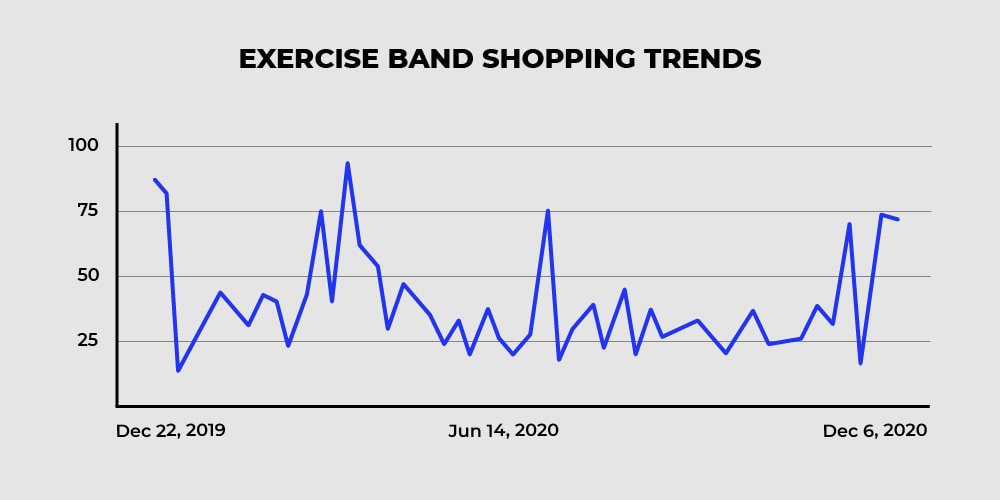 Wireless Phone Chargers– The pandemic has locked everyone, and work from home has become the ultimate trend. Gifting someone a go-to thing can bring smiles.
Wifi Repeater– In today's time, either you're home or working from home you need internet that too with a good speed. Buying a much-needed present for homes can light up their faces.
Laptop Accessories– The pandemic has changed the selling trends now. As people are at home, they need their workplace at home properly, helping people adorn their laptops the way they want.
Furniture– As people are home, they want their workplace, their rooms to be well furnished, and in that order, the right designer furniture is much needed. Here's an infographic showing furniture sales.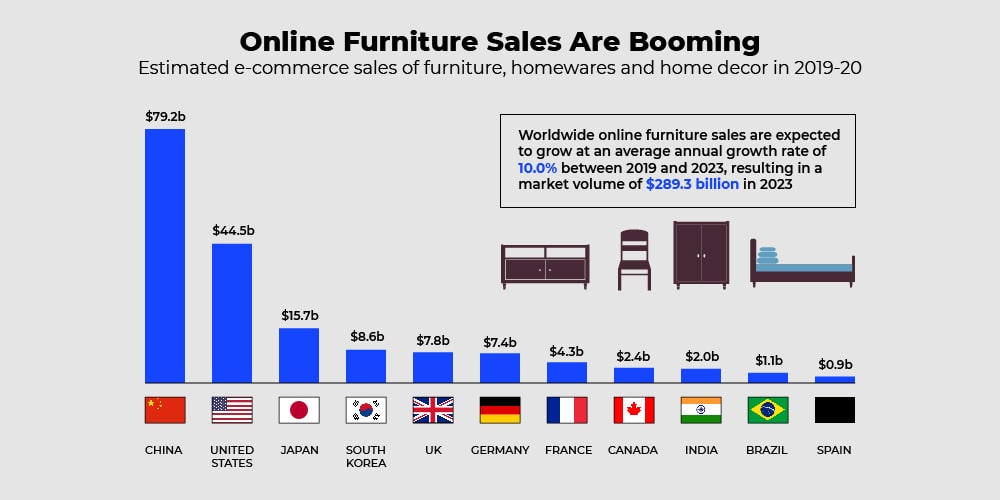 The list is never-ending and varies from person to person. Here's the analysis that shows shopping trends this season in a nutshell.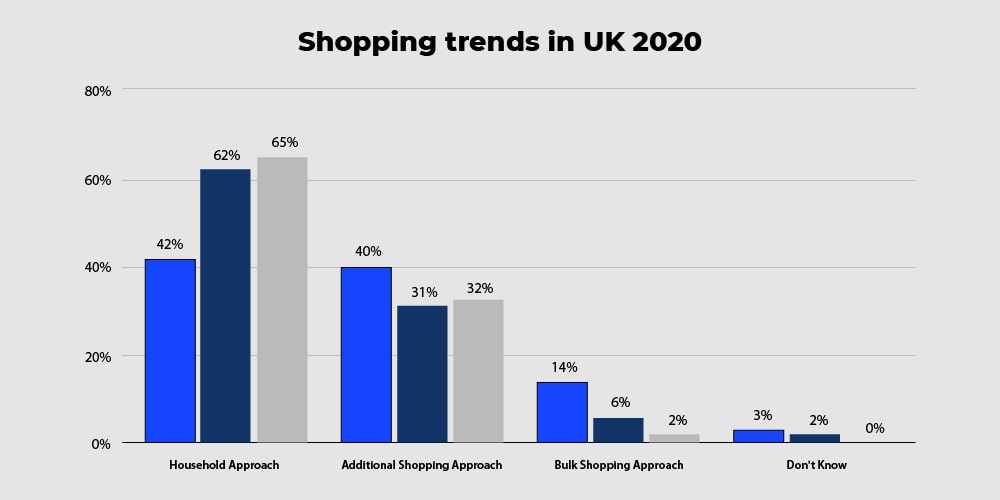 This Christmas will give you some great opportunities to mark up. Here are some not to forget points for the retailers;
Write an accurate and concise product description.
Get fair ratings for your products.
Use quality images along with your products.
Be transparent with your customers.
More is always better but in the correct way, either in selling or expanding and boosting your store. Here's the graphic showing the best selling products.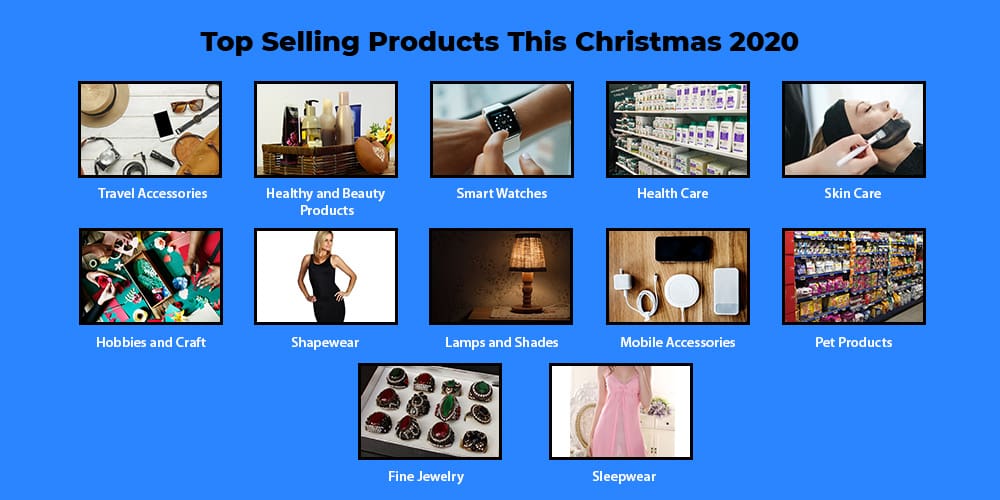 What CedCommerce is Upto?
With robust solutions, you can build up your store with ease and enable a hassle-free shopping experience for Christmas shoppers whether you are based on Magento, WooCommerce, Prestashop, OpenCart, or Shopify. Our outstanding team is ready 24*7 for the sellers like you. Through seamlessly integrating your stores with OnBuy, you can unlock all the opportunities to excel this Christmas while multiplying sales from both platforms. Here is to start your journey: click here.
Good Luck and Merry Christmas.