CedCommerce Officially Partners with OnBuy, the Fastest-Growing Marketplace
Running short of time? Get PDF of the blog in your mail.

Play Now
Portland, Oregon[7th July 2020]- CedCommerce has taken a giant leap towards perfecting its European portfolio by partnering with the fastest-growing marketplace in the world: OnBuy.
The list of CedCommerce Partners just went up a notch this Tuesday when CedCommerce announced an official channel integration partnership with OnBuy.
This partnership is expected to be a short-cut for European online sellers to excel with a perfect blend of advanced solutions from CedCommerce and the world-class reach of a platform like OnBuy. OnBuy is the fastest-growing marketplace in the world and through this partnership, CedCommerce gets another opportunity to solidify their position in the European region and enable online sellers (who are already selling on platforms like Shopify, Magento, WooCommerce, Opencart, and PrestaShop) to scale their businesses on global marketplaces.
In recognition of this important partnership, CedCommerce CEO Mr Abhishek Jaiswal commented, "Over the past few years, we've studied the European retail and eCommerce very closely. We observed that European merchants are interested in selling across borders and overcoming eCommerce challenges by implementing innovative ways to reach out to local as well as global customers."
"The partnership between CedCommerce and OnBuy is expected to be key for sellers and retailers in Europe who are planning to pursue multichannel selling, through creating a frictionless onboarding process and allowing sellers to reach out to customers in diverse channels with enterprise-level support. Together we are planning to assist local businesses and community members by setting up the perfect platform to list, sell and revive their businesses amidst the ongoing pandemic."
How will this partnership benefit sellers?
CedCommerce has been continuously working with OnBuy to leverage the sellers and sell smoothly on OnBuy. This partnership is going to be a stroke of luck for the sellers with the following benefits:
Why Is OnBuy Exceptional for sellers?
By the end of the year 2023, OnBuy plans to launch its full marketplace in 140 additional countries. Along with its fair, transparent approach, the best thing about OnBuy is that there are no fees for creating a seller account or for listing products. You'll only be charged the sales fees and monthly subscription fees (based on the package chosen by the seller). Selling on OnBuy provides numerous benefits to sellers, including:
Easy and Fast Onboarding
Low commission fees compared to other marketplaces in the region
OnBuy doesn't compete with sellers
UK based Support team
Risk-free selling
PayPal Seller Protection
Get paid immediately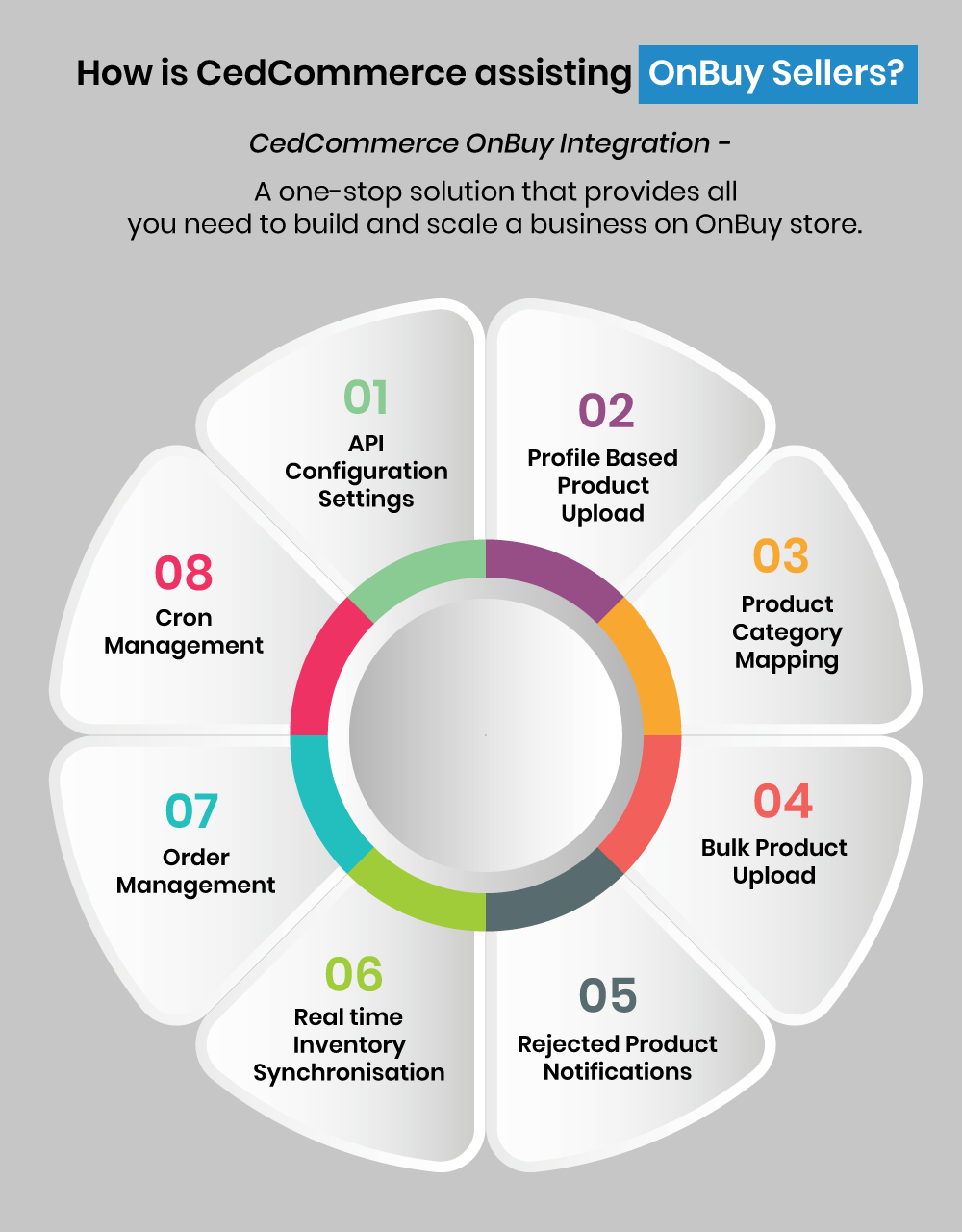 Cas Paton, OnBuy's founder and CEO, said, "I'm delighted to announce this latest partnership as it means we can offer retailers a new route to selling with OnBuy. OnBuy is proud to support sellers of all sizes, and opening our doors to these solutions means we can seamlessly cater to more sellers than ever before, adding to our 20m+ product range and ultimately offering our buyers an even wider range of products at fantastic prices."
About OnBuy:
OnBuy was launched in November 2016 and is now the fastest-growing eCommerce marketplace in the world. With its sights set on global expansion, OnBuy has a transparent and seller-friendly approach with millions of products, millions of customers and thousands of sellers. OnBuy has 17 departments covering all types of products such as electricals, baby and toddler, home and garden, and cars and automotive.
About CedCommerce:
CedCommerce, established in 2010 is an eCommerce solution provider (Native as well as Saas based), helping merchants to sell on 40+ marketplaces including Amazon, OnBuy, eBay, Etsy, Shopee, etc. CED is constantly contributing to enhancing the eCommerce industry with end to end solutions for sellers to start an online business from scratch and attain effortless selling with marketplace integrations, importers, dropshipping tools, digital marketing services and much more. CedCommerce is proud partners with various renowned marketplaces like Google Shopping Actions, Facebook Marketplace, Fruugo, Walmart, CDiscount, etc.
For more details connect with us on Skype or Whatsapp.
**The Shopify extension is free for download but there's a monthly fee for $19/month.