Ease your selling experience on OnBuy with CedCommerce
Running short of time? Get PDF of the blog in your mail.

Play Now
Selling on OnBuy is now much easier as CedCommerce brings you an exclusive opportunity to connect your store with the fastest-growing marketplace in the world. With the introduction of these 5 integrations, CedCommerce took a big leap towards its vision – simplifying eCommerce.
The 5 brand new OnBuy integration extensions are for Shopify, Magento (M1 and M2), Prestashop, WooCommerce and Opencart 
These innovative integration extensions come with the world's most advanced selling features – making selling on OnBuy even easier and more rewarding!.
The good news doesn't end here!! We have one more good news for you. But if you only want to learn about how to sell on OnBuy- click here to scroll down.
CedCommerce is now an official channel Integration Partner of Onbuy
The much-awaited collaboration between CED and OnBuy finally happened on 7th July 2020.And, this partnership gives Cedcommerce an opportunity to behold a strong position in European Regions. Moreover, it will open opportunities for sellers to expand and grow their ecommerce business respectively. To learn more about the partnership, click here. 
In recognition of this important partnership, CedCommerce CEO Mr Abhishek Jaiswal commented, "Over the past few years, we've studied European retail and eCommerce very closely. And, we observed that European merchants are interested in selling across borders and overcoming eCommerce challenges. Also, they are open to innovative ways to reach out to local as well as global customers. On top of that, together we are planning to assist local businesses and community members. And, we will do it by setting up the perfect platform to list, sell and revive their businesses amidst the ongoing pandemic."

By the end of the year 2023, OnBuy plans to launch its full marketplace in 140 additional countries. Along with its fine and transparent approach, Onbuy charges no fees for creating a seller account or for listing products. So, the only charge you pay is the sales fees and monthly subscription fees (based on the package chosen by you respectively). Moreover, selling on OnBuy provides numerous benefits to sellers. For example, PayPal Seller protection, fast and easy onboarding, no competition with the marketplace itself, low commission fees in the region comparatively, UK-based Support team, immediate payments, and risk-free selling.
But in the meanwhile, you must know…
Why Is OnBuy A Smart Choice For European Sellers?
OnBuy is an established marketplace that aims to promote online sellers based anywhere in the world. Also, it is one of the most transparent and flexible eCommerce marketplaces both from the perspective of a seller and a customer. Moreover, OnBuy will never compete against sellers, but instead, support them in growing their businesses. And with 17 departments covering thousands of categories, OnBuy allows sellers to sell a wide range of products. So, you can sell pet supplies, technology, housewares, beauty products, and much more.
Sell To Millions Of Buyers:
Yes, it is true!!! OnBuy is among the major names when it comes to catering to European sellers and customers. So, you can sell to millions of loyal customers and earn more.
A Wide Scope:
Millions of products are currently live on OnBuy. And, this number is rising, making it the perfect platform to sell through as it appeals to a wide range of customers.
Low Sales Commission:
OnBuy's sales fees are between just 5-9%. This makes OnBuy the ideal platform for growing your business as you can offer competitive prices and attract more buyers.

PayPal Seller Protection:
No need to worry about selling security as your orders are protected by 180-day PayPal Seller Protection.
Frictionless Payment:
All your transactions are carried out securely via PayPal. So, you'll get paid by PayPal as soon as items are dispatched.
Guaranteed Benefits:
OnBuy doesn't just want you to sell – they want you to earn, too. And thanks to their Sales Guarantee, if you make less than £500 in sales in a month, your next month's Standard subscription fee is waived.
Wide Range Of Categories to Sell:
OnBuy offers 17 major departments comprising thousands of sub-categories to cater to your product range. So, no matter what you sell or the size of your business, OnBuy is the perfect place to sell.
Possible Expansion in 140 countries in Future:
With a huge amount of success and exponential growth seen since launching in late 2016, OnBuy is planning to go global. Also, OnBuy is planning to launch into 140 additional countries – join now and your future as a global online seller is secure.
Increased Number of Customers:
Put your products in front of millions of monthly visitors. With a wide audience base, you'll be able to increase your sales and grow your business.
UK-based support team:
OnBuy wants to support you and help you grow your business with efficient seller support. And it is why they are always on their toes to assist you with any queries.
Fulfillment Services by OnBuy:
OnBuy has partnered with a range of leading fulfillment companies to create the OnBuy Fulfilment Network. With trusted partners offering options to suit sellers of all sizes, the network is designed to offer sellers more choice when streamlining their operations.
The reasons above explain why sellers should sell on OnBuy – the question now is how to sell on OnBuy.
OnBuy To Focus on Refurbished Electronics Products:
Cas Paton, the founder, and CEO of OnBuy announced that they have launched a dedicated refurbished electronics category. He stated –
"This additional focus on refurbished products is part of our ongoing evolution. And, it underpins our commitment to creating a fairer, more transparent marketplace that puts its buyers and sellers first. We recognized that our sellers have hidden gems and will be offering refurbished products from top brands for incredible prices. So, this will benefit both our sellers and buyers and further fuel the exponential growth. And, we can imagine us becoming one of the fastest-growing marketplaces in the world."  
Now you can easily include refurbished electronic items in your product list. So, let's dive into the details on how to sell on the OnBuy marketplace.
How To Start Selling On OnBuy Marketplace?
To start selling on OnBuy Marketplace, follow these 4 steps:
Register:
To register your interest, click on this Registration Form
Fill out all the necessary details.
After submission, one of their UK-based team will get in touch within 1 working day to discuss onboarding.
Now you're ready to upload products and start growing your sales!
Upload
Once the account is successfully created, you need to upload your products by any of the following means:
CED integration
OnBuy's CSV product template
Sell
Start selling to millions of potential customers using advanced tools.
Get complete reports and analytics of your selling.
Earn
You will receive your payments via PayPal as soon as the item is dispatched.
Benefit from the fastest growing marketplace in the world.
Note:
You can sell under two packages:
Standard Package
Partner Package
How will CedCommerce's OnBuy Integration Help Sellers?
The OnBuy Integration helps sellers to establish a connection between their store and the marketplace. Plus, it provides a centralized platform to manage the entire sales process using an automated dashboard.
Features Of OnBuy Integration Extensions by CedCommerce:
One-Click Bulk Upload:
You can now upload any number of products on OnBuy.com in a single go. Additionally, this Integration extension comes with an automated bulk product upload feature. So, you can now save hours of time and effort.
Profile-based product upload:
Proper arrangement of products by categorizing them into dedicated profiles. So, you can create a profile and map the desired attributes. And, this trims down the laborious 'one-by-one product upload.
Automated Stock Updates On All Ends:
No need to update your stock every now and then. Because this Integration enables automatic updation of stock on both ends.
Rejected Products Management:
In case a product gets rejected from the OnBuy shop, the information is automatically fetched to your store. And, it also includes the reason why the product got rejected.
Product Category Mapping:
You can follow many-to-one category mapping simplifying the whole process of product upload.
All Round Inventory Synchronisation:
This OnBuy Integration extension maintains an auto-synchronization of the inventory at regular intervals. So, all the details between your store and OnBuy shop are synchronized.
OnBuy Order Management:
You can acknowledge or cancel orders received on your OnBuy seller panel. And, the centralized order management feature enables you to handle all your selling operations.
Product Operation:
You can perform many product-related tasks such as view, sync & upload products. Also, this bulk management system provides all you need in a single place.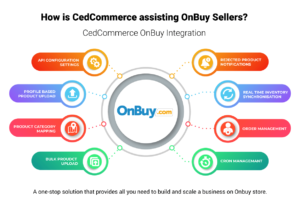 You Can Download OnBuy Integration Extensions from Here:
Onbuy is also the winner of RWB awards 2020
How Ced – OnBuy Partnership will be a game-changer for sellers?
This partnership between these 2 eCommerce giants will enable sellers to expand their reach of audience in millions. Also, it will let them grow independently and enhance their ecommerce business. Plus, the sellers can get a headstart on their selling campaign with perks. Such as free onboarding and setup for new sellers and free Onbuy integration for Magento, WooCommerce, Opencart, PrestaShop & Shopify. Plus, it offers 24*7 support to sellers around the globe.
The expansion of Onbuy in 140 more countries in the coming years will also be a major mark for the sellers. And, they will get the key to expanding business with a vast global audience. The bottom line is, this collaboration will enable them to explore more and expand their ecommerce businesses. Ultimately, increasing their revenues.
Cas Paton, OnBuy's founder and CEO, said, "I'm delighted to announce this latest partnership. And it means we can offer retailers a new route to selling with OnBuy. OnBuy is proud to support sellers of all sizes, and opening our doors to these solutions means we can seamlessly cater to more sellers than ever before, adding to our 20m+ product range and ultimately offering our buyers an even wider range of products at fantastic prices."
Seller Reviews For Selling On OnBuy Marketplace
Let's hear what other OnBuy sellers have to say about their experience:
"We would highly recommend selling on OnBuy. They provide a competitive platform to sell through with a good flow of orders." – Moheeb Khan, Sales & Marketing Manager at mHstar
"Our experience selling on OnBuy has been very positive. And we love their seller-friendly approach and having our personal account manager as a direct point of contact." – Atanas Ibrishimov, Managing Director at The Magic Toy Shop
"We like that OnBuy is UK-based and the support has the friendliness of a local company.Plus, they've featured our products and brands on the homepage to help boost our sales." – Sam Wilson, Director at Jazooli
Why Sell On OnBuy?
Have a look at the explanation as to why sell on OnBuy, as mentioned on the OnBuy marketplace website:
Common OnBuy Seller FAQs
Q. When and How do sellers get paid on OnBuy Marketplace?

Ans: Sellers don't have to wait in order to get paid as all the transactions are being monitored by PayPal. As soon as the item is dispatched, PayPal will disburse the funds directly to you.
Q. Which products are restricted on OnBuy marketplace?

Ans: Following are the products which are not allowed to be sold on OnBuy shop:

Illegal products
Counterfeit, unauthorized or unlicensed merchandise
Non-CE marked toys
Products which infringe the IPR of a third party
Other Prohibited items
Q. How often do sellers need to pay the subscription fee?

Ans: OnBuy pay sellers every month on the same day they made the initial payment. So, they deduct the fee from the same credit or debit card you registered.
So what are you waiting for? Start Selling on Onbuy marketplace Today!
About OnBuy Marketplace:
Launched in November 2016, OnBuy is the fastest-growing marketplace in the world. Moreover, OnBuy has successfully created a perfect link between thousands of sellers and millions of customers. So, it serves as an ideal platform for sellers to scale their business. Furthermore, OnBuy is a PayPal-protected marketplace with a scope to expand on a global scale in the future.
About CedCommerce:
Since 2010, CedCommerce is the leading eCommerce facilitator in the world. And, it is providing tools & solutions to optimize online selling. Moreover, they are connecting eCommerce sellers to every big & small marketplace in the world with multichannel listing Integrations. CedCommerce aims in providing dedicated expert solutions for every eCommerce platform you might be exercising. For example, Magento 1 & 2, PrestaShop, WooCommerce, OpenCart, Shopify, BigCommerce, etc. Additionally, CedCommerce enables multichannel selling by allowing merchants to connect their business with top marketplaces in the world with efficient multichannel listing tools.