Think Home Decor! Think Phivin! How Philip Lam Broke All Barriers To Deliver in 6 Countries!
Running short of time? Get PDF of the blog in your mail.

Play Now
Here is a success story of Phivin, a home decor firm that began as a home-based venture from ground zero. Moreover, with the help of CedCommerce's Facebook and Instagram Shopping App, it broke the barriers of a home-based business, and reached thousands of houses across six countries!
The Goal Phivin wanted to achieve
Expanding a home-based business into a business venture that caters to international buyers and becoming a go-to shop for every single home, seeking to improve their decor with aesthetic and antique-feel affordable products.
The Solution that Phivin came across
The Facebook and Instagram Shopping App became the driving force behind the journey of Phivin. The Shopify App helped Phivin automate several business processes. And provided a platform to reach a broader and more personalized audience.
The Results achieved by Phivin with CedCommerce's help
Phivin quickly learned its way through the Facebook and Instagram Shopping app and began using the provided features to its benefit, such as bulk uploading, real-time inventory synchronization, and so on. Currently, it ships its products to audiences in six countries and has scaled up to 3 VAs.
A great future lies ahead! Additionally, with its aesthetically pleasing and seasonal designer home decor products, Phivin is rooting to name itself among the best international home decor brands.
The Products/Platform used by Phivin
Facebook Shop, Facebook Marketplace, Instagram Shopping, and Facebook Ads.
Phivin – The Start! The Struggle! The Success! The Story!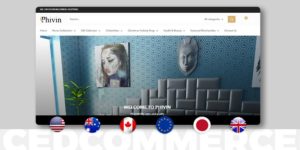 Remember the days of hunting through malls and local markets? For that one home decor product that would make that nooky corner of your living room more aesthetically pleasing? To be honest, it was tough! The scavenging of all designer home decor products seemed more far-fetched, than visualizing if the products would go well with the interior.
And this is where Phivin came into play. With the idea of overtaking the home decor industry, Philip Lam set his foot into the business. Consequently, over time broke the barriers of online shopping to reach every home!
This case study is a perfect narration of Facebook business success stories. We learn the story of Phillip Lam and his home decor company Phivin. And how CedCommerce helped Phivin with its Facebook and Instagram Shopping App, which exploded their reach and sales.
The Lone Journey – The Problem
It was the year 2020 when the world was still free from the deadly virus. And Philip was looking to create a passive source of income for himself. Philip always had a knack for dropshipping and when it came to starting a business, he knew what he wanted to do. And thus he began his journey by connecting his home-based business with the Shopify Store and with the help of the Shopify integration, he started selling on the Facebook Marketplace.
Philip was always aware of the possibilities that social commerce had in its grasp. Consequently, he first started to introduce his home-based business to the audience of Facebook through Facebook ads with the help of his friend. And after exploring the benefits of selling over social media, he wanted to take his home decor business to the next stage.
Compelling the audience over the social media platform with aesthetically pleasing birdhouses, lamps, seasonal and festival-themed products, Philip was looking for a home for his business, where it can grow.
One day when he was actively looking for ways to scale his business, he came across a YouTube video which introduced him to the dedicated marketplaces of Facebook and Instagram.
Phivin was already advertising his products on social media! And now with the learning about the marketplace, he started to work on different iterations.
How would he be able to bring his business on Facebook Marketplace and Instagram Shopping?
There was a task at hand, and if he wanted to break the barrier of advertisements, and bring his products on a bigger scale! He had to do something to make his story one among several Facebook advertising Success Stories.
Along Comes the Bagpiper
When you are trying to do something right, there is something that always tries to bring you down. Additionally, for Philip when it came to selling on Facebook, it was his fear of losing his hard-earned money over the years. But, this fear didn't waver him from his goal.
Thus, when looking for a companion to help him through the process of selling on the Facebook marketplace, he found himself in talks with CedCommerce to employ the Facebook and Instagram Shopping App.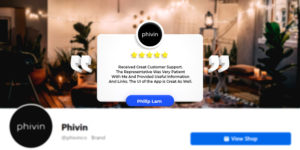 How did the Facebook and Instagram Shopping App helped Phivin?
Philip was looking through a keyhole when it came to expanding his business. And when he became aware of the integration, the world of social commerce became much more visible.
Truly, the Facebook and Instagram Shopping App was all that he needed to boost his sales, and reach every home. The Facebook and Instagram Shopping App helped Phivin with easy onboarding over the Facebook Marketplace.
However, what intrigued Phillip was the ease with which he was able to sync catalogs. Additionally, have them updated on the Facebook Marketplace in real-time.
With the integration app helping Philip run his business, several features came along to ease up other management processes.
Ability to Bulk Upload the Products
Establish Synchronization between your store and different Facebook surfaces
Accurate tracking with Conversion API and Facebook Pixel
Enhancement of Product Catalog by adding detailed attributes
Easy Re-pricing his products
During the deadly Covid-19, Phivin stood his ground, when several businesses all around him were struggling to stay afloat!
Phivin explored all the nuances and benefits of social commerce and started bringing his products on all the different Facebook surfaces. 
Facebook Ads – A Game Changer For Phivin
Another beneficial feature that comes along with the Integration app is the Facebook Ads feature. It allowed Philip to create and run his own ad campaign with the help of marketing experts.
Facebook ads have several advantages such as:
Ads Analytics to analyze and monitor the performance of the ads
Run Prospective and Retargeting Campaigns
Reach audiences not only on the basis of interest and behavior but also demographic
Inbuilt Conversion API and Facebook Pixel
The creative aspect which comes along with the creation of ads was very intriguing, and that provided the opportunity for people who had skills to take proper advantage of the feature.
Here's a blog that will help you learn about Facebook Ads, and how they can benefit you, to enhance your visibility and reach. 
Reaping What You Sow – The Outcome of All the Hard Work
Philip always wanted to work on expanding his business. His belief was taking the business to every home, and making Phivin an international brand. The Facebook and Instagram Shopping App automated his business processes. Consequently, since then it has scaled up to 3VAs, allowing Philip to focus on his primary goal, expansion.
Philip has always been all praises whenever asked about CedCommerce. This is what he had to say about the Facebook and Instagram Shopping App:
The UI of the Facebook and Instagram Shopping App is great and simple to use. And it has benefitted me in a lot of ways when it comes to better business management!
With the integration at work, Philip grew his home decor business. From home decor products such as lamps, garden stands, artificial flowers, and the most beautiful birdhouses you can ever find. Phivin started to attract more customers and expanded its roots in countries like the US, UK, Australia, Europe, Japan, and Canada.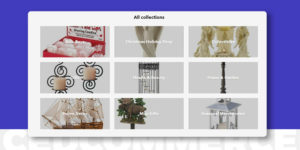 The seasonal and aesthetic theme of the designer home accessories was Phivin's niche. Consequently, it quickly became one of the best-selling brands when it came to home decor. Any customer, looking for an easy way of improving the look of their home? Phivin was there with their figurine, birdhouse, or other decor items to instantly elevate your space.
Conclusion
CedCommerce's Facebook and Instagram Shopping App provides its users the tools and features to expand their business over the Facebook Marketplace. And, additionally sell their products on all the Facebook Surfaces.
Along with the all-new Facebook Ads feature, it is providing the feasibility to run and create ads. Additionally, to monitor the performance of these such ad campaigns with actionable insights.
What we learned from the success story of Philip Lam, is that your grit and determination would be your greatest assets. And we at CedCommerce are always there to help you scale your business!
The next time you come across Phivin – the ONE-STOP SHOP FOR HOME DECOR, remember how with the help of Ced's Facebook and Instagram Shopping App, it has started on a journey to expand its business all across the globe.