The Official Wish Integration by CedCommerce is now Live on PrestaShop Addons
Running short of time? Get PDF of the blog in your mail.

Play Now
CedCommerce achieves another milestone of becoming the Official Wish Integration solution provider for PrestaShop merchants. Committed to connecting and optimizing global commerce with robust eCommerce solutions, Cedcommerce announces the Official collaboration with PrestaShop to help merchants sell on Wish.com.
CedCommerce's Wish integration module will now be listed as the Official Wish Integration developed by CedCommerce. And this indeed adds to the testament of CedCommerce's credibility and reliability.
"At CedCommerce we focus on providing dedicated e-commerce solutions to enable merchants to make the most of their multi-channel operations. Intending to simplify the connection between PrestaShop Store and Wish marketplace, we have leveraged industry's best practices to provide you best-in-class integration solution with added features you need for a seamless online selling."- CedCommerce CEO and co-founder, Abhishek Jaiswal.
So, are you a PrestaShop merchant seeking ways to expand business through Wish.com? Then, you can easily connect your store with Wish through CedCommerce's Official Wish Integration.
Connect your PrestaShop store with Wish – Mobile-First Marketplace!
Now, with the eCommerce industry growing extensively, people are more inclined to shop through mobile phones. And therefore, selling on the most trusted mobile-first marketplace like Wish.com can be an excellent seller opportunity. 
Wish is a dedicated platform for sellers to showcase their products at the fingertips of more than 100 million shoppers. And it also helps you gain immense visibility, reach, and revenue in no time.
Note: There is a considerable advancement seen in online selling through mobile commerce. Hence, simplifying multi-channel selling operations via an all-in-one integration solution can be a great deal for sellers.
CedCommerce's Wish integration perfectly synchronizes product data, order, and stock units for PrestaShop sellers. Besides, it is designed to ease seamless connectivity and automation between the PrestaShop store and the Wish marketplace. PrestaShop merchants can find the integration module on the PrestaShop Addons marketplace. 
Also – Join the Live Webinar of PrestaShop-Wish to learn some of the best practices to improve your product visibility on the Wish marketplace. 
Key features of the Official Wish Integration developed by CedCommerce-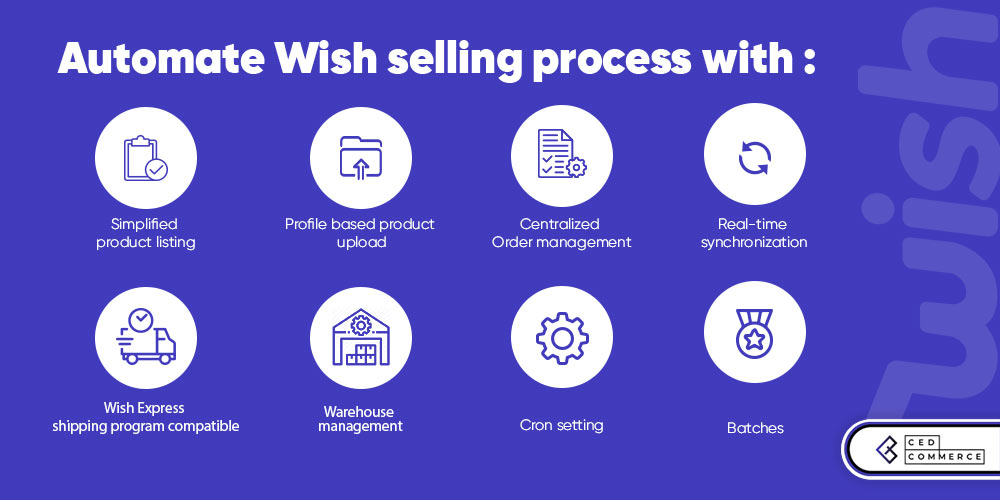 Simplified product listing
To reduce efforts in manual product uploading, the extension provides the ease to bulk upload all your products in one go.
Profile-based product upload
The feature enables you to create a profile and assign related products through category mapping. Hence, you can do profile-based product uploads easily on the Wish marketplace.
Support Wish Express Shipment Program
The module is compatible with Wish Express Shipment Program. In addition, the feature allows merchants to enable and disable shipment country.
Near real-time Synchronization
The app synchronizes the price, order, or inventory update of products between the store and the marketplace in real-time.
Centralized order management
The centralized order management system of the extension ensures that sellers do not miss any orders. Whenever an order is placed on Wish.com, it is automatically fetched on your store, and you can manage them from there.
Cron Settings
Automatic update of the product price, order, and inventory through cron setting, set at the fixed interval.
Warehouse management
The feature enables merchants to manage multiple warehouses from one single location. No matter where the warehouses are located, sellers can add multiple warehouse information. And they can manage them from the PrestaShop store itself.
Batches
The feature enables sellers to download their product information from the Wish marketplace.  It also enables them to keep track of their integration module admin panel.
Start selling on Wish.com now with a Free Trial!
Our Elite Partnership With PrestaShop
Currently powering more than 300,000 online stores, PrestaShop is an innovative eCommerce solution packed with unmatched features. As a result, it is the most prevalent choice in Latin America and Europe.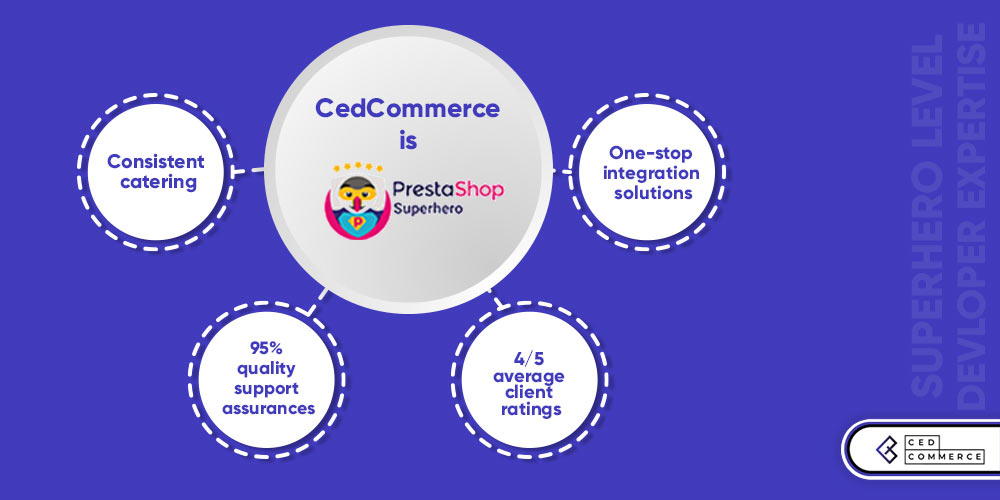 Holding expertise in handling all sorts of stores, PrestaShop is the most sought-after open-source framework supporting businesses of all sizes.
"CedCommerce has been awarded the Superhero Level Developer Expertise by Prestashop. It is the highest level of developer expertise award given by PrestaShop. It certifies CedCommerce's solution development skills."
CedCommerce has earned a reputation of being the top-level expertise partner of PrestaShop through-
Consistent catering of robust solutions for more than 12 months
Well-built integration modules 
95% quality support for merchants via extensions
⅘ average client ratings
The Add-on benefits of opting CedCommerce's Wish-PrestaShop Integration-
A dedicated account manager will be available to guide you throughout the selling process.
Integration Extension Documentation – Find detailed information related to working on the Wish-PrestaShop Integration module.
24×7*365 Customer Support Service, constant availability to answer your queries at any point.
Lifetime free updates with the plugin– Sellers will enjoy free updates facility for a lifetime.
So, there is no better deal for PrestaShop merchants to reach millions of shoppers. And sell products worldwide with such innovative features. Built on the pillars of innovation and automation, the Wish-PrestaShop integration is indeed an excellent solution for sellers.
Why sell on Wish? – A Quick Look!
In the era of multi-channel selling, where there are many options to choose from. Selling on top marketplaces can help you expand your reach. Moreover, it can help increase brand visibility in all possible mediums and achieve goals.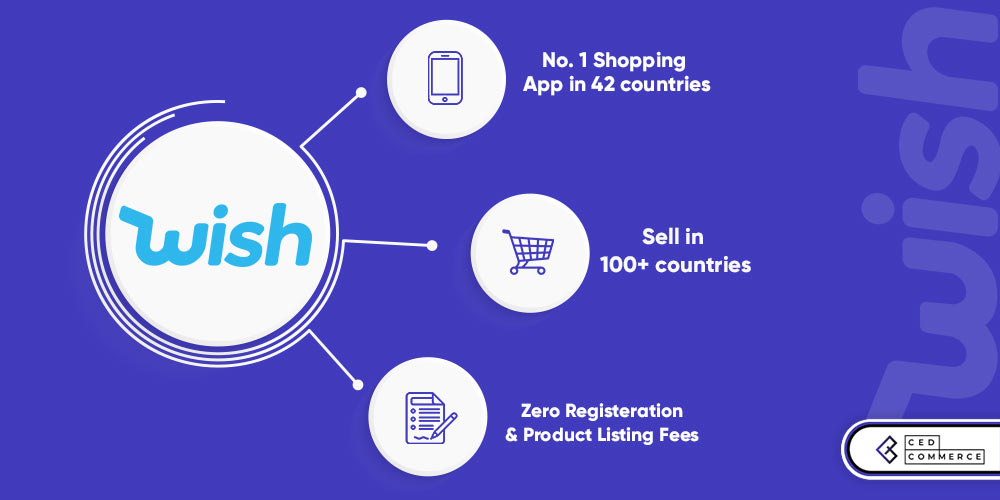 The global pandemic's adverse hit forces retail stores to jump into the eCommerce world to set up their e-retail stores on other platforms. And Wish.com can be an excellent opportunity for them to reach 100 million shoppers in 100+ countries. 
Read more about How to sell on the Wish marketplace with CedCommerce here!
Emerged as the Most downloaded shopping app in the USA in 2017, Wish holds the #1 shopping app in around 42 countries.
Wish is a seller-friendly marketplace. That is, it follows the "Pay only when you sell" philosophy.  It enables the sellers to enjoy-
Zero registration fees
Zero product listing fees
No annual or monthly subscription charges
Wrapping Up
PrestaShop is the leading eCommerce framework with an 80% solid store base in Europe. It is a platform focused on creating a haven for online sellers of all sizes and types through innovative app solutions.
CedCommerce is delighted to become the official Wish integration provider for PrestaShop. The common goal behind this teaming-up is to help sellers grow beyond expectations. And also to help them streamline their Wish selling process effortlessly.