Grow your brands' visibility with the All-New Cenia Pro Magento 2 PWA Theme 1.1.0
Running short of time? Get PDF of the blog in your mail.

Play Now
E-commerce websites, today, are racing to improve mobile experiences through progressive web apps(PWAs). This is because of PWAs cause 50% higher customer engagement. An important part of PWAs that contribute to this conversion rate is their themes. This part can never be avoided. One of the most proficient themes is Cenia Pro Magento 2 PWA theme 1.1.0. 
The Cenia Pro Magento 2 PWA theme 1.1.0 gives a sleek PWA storefront to any eCommerce website. It has unique features that make this theme special. These features are created using the tools of Magento 2 PWA Studio that includes the tools for scaffolding too.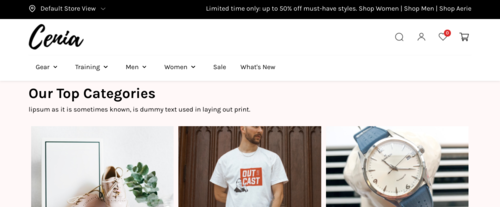 Moreover, progressive web apps (PWAs) are meant to give the best buying experience to buyers on eCommerce websites. They are here to reduce the need for native apps soon. Therefore, Cenia Pro Magento 2 PWA studio theme 1.1.0 aims to meet the purpose that PWAs serve.
This theme got enhanced from its previous versions. Its recent version has got better features with different color schemes and styles. From a completely new search box to product pages and 'my account' sections, this theme is capable of giving your old, dull website a novel and attractive appearance.
Let's see what are those features of the Magento 2 PWA theme. 
Cenia Pro Magento 2 PWA Theme Features
Ecommerce websites using the Cenia Pro PWA theme 1.1.0 have all the must-have features-
Home page
The home page of the Magento PWA theme gives a glimpse of your entire eCommerce website. This sole area alone lures users to delve more into your website. With a new layout, it has-
Sliding banner images– The homepage of Cenia Pro PWA theme 1.1.0 has sliding banner images. The slide of images appears at the beginning of it. Customers slide them to get an idea of products on your website.
Latest and trending products– Customers are eager to buy new and best-selling products. The homepage arranges and shows them in separate sections.
Top categories of products– It lists the top categories of products. This is for customers to easily find things they are looking for. Even every section of categories has banner images to attract them.
Newsletters– Newsletter in the footer section for customers to subscribe to your website quickly.
Interested in a quick start for PWA Studio? Check out Cenia. @cedcommerce and team are doing good work to enhance our base product. :raised_hands: https://t.co/nGRRdamxQB

— Eric Erway (@ericerway) August 12, 2020
Looking for an ideal Magento 2 PWA theme for your online business?
Category page
Cenia Pro theme facilitates category pages. It shows category-wise products. For example, a page for clothes or electronics. The page provides the options of-
Wishlist on the category page– Customers can add products to their wishlist on the category page when browsing through the list of products.
Configure products– Configuring the size and color of products to narrow down their search.
Infinite scroll– The PWA theme has the option of infinite scroll. It loads more products automatically when customers reach the end of a page.
Filtering and sorting– Customers can filter and sort products, again, to narrow down their choice.
Product page
Users viewing a product page of a website having the Cenia Pro Magento 2 PWA theme 1.1.0 can-
Rate and review– Customers can add ratings and reviews and see product ratings on the product page.
Add to Wishlist– Customers see the option of add-to-wishlist on the image of a product to simply tap on it and add to their wishlist.
See related products– They also see images of products that are related to the one they are currently viewing.
See stock availability– Customers can see if the products are in stock.
Complete details on products– You can list every minute detail of a product on its page.
Cart page
The cart page shows products that customers finally decide to buy. They can add or delete it whenever they want. This page in Cenia Pro Magento 2 PWA studio theme 1.1.0 consists of attributes like-
Pending products– Products that customers forget to buy or delay their pay for it.
Add to favorites– Customers can mark products as favorites when they wish to frequently buy them.
Change quantity– Customers can even increase or decrease the number of products they want.
Total amount– The cart displays the grand total of all the products stored in the cart.
Get the PWA theme from here: Cenia Pro Theme for Magento 2 PWA
Checkout page
The checkout page of Cenia Pro Magento 2 PWA theme 1.1.0 shows complete details of an order. It lets customers confirm the product and shipping addresses before finally paying for it. It has-
Payment options– The page displays a list of all payment modes on your eCommerce website. You can even integrate e-wallets like Paypal and Google Pay.
Address– It lists all the addresses of customers for them to select one of them. Your website will ship their orders to that address.
Summary of orders– Customers can see the summary to affirm their orders. The summary consists of billing details, addresses, and their selected payment methods.
Log in and sign up– The page asks customers to log in or create an account on your website before proceeding to the transaction page.
Apply Code– There is a field for applying codes to get discounts. Customers can enter codes from their vouchers in the field to avail of discounts at the time of payment.
My Account page
The 'My Account' page shows the complete information of customers. They can modify their details like addresses, passwords, contact numbers, and much more. It lets them see their profiles on an eCommerce website by going to the "My Account" section. This section consists of-
Contact Details– Customers enter their phone numbers and email addresses.
Subscribe to newsletters– Customers can receive newsletters by tapping on the subscribe option.
Manage addresses– Customers can enter different addresses of their choice.
Order history– The 'My Account' section shows orders that were fulfilled recently. The order history carries shipping details, invoices, and product reviews.

Conclusion
With these features, Cenia Pro Magento 2 PWA theme 1.1.0 makes a PWA easy to use. It can be a reason for users to gain trust in your eCommerce website. The theme is full of images on every web page that never makes online shopping a boring experience.
These colorful images on home, product, product categories, and all the other pages reduce the need to physically see the product. This need of buyers gets fulfilled when they see every part of a product in its image and read its description.
Therefore, contact Cedcommerce now to get Cenia Pro Magento 2 PWA studio theme 1.1.0 and create interest in buyers for your eCommerce website.
The success story of a happy client who used our Cenia Pro Magento 2 PWA Theme– Cloth Face Mask
Story of CFM by Minke using the Cenia theme based on PWA Studio and @magento via @cedcommerce. :mask::iphone: https://t.co/pMM151Yib7

— Eric Erway (@ericerway) November 10, 2020
Previous versions of Cenia Pro PWA Theme
Also read- Guide to PWA Studio