eCommerce Scenario in France – Starting a Successful Online Business in France
Running short of time? Get PDF of the blog in your mail.

Play Now
Global eCommerce sales have increased dramatically over the past few years, and the COVID-19 crisis has further boosted the growth of the B2C and B2B eCommerce industries.
Europe is among the biggest eCommerce markets in the world, along with the US and China. The French Republic is among the powerful countries in terms of economy. This is because of the diverse economy that includes tourism, manufacturing, and pharmaceuticals.
According to Investopedia, "France is the world's seventh biggest economy, and the third-largest eCommerce market in Europe, with 73% of the French population having made at least one online purchase in the last year."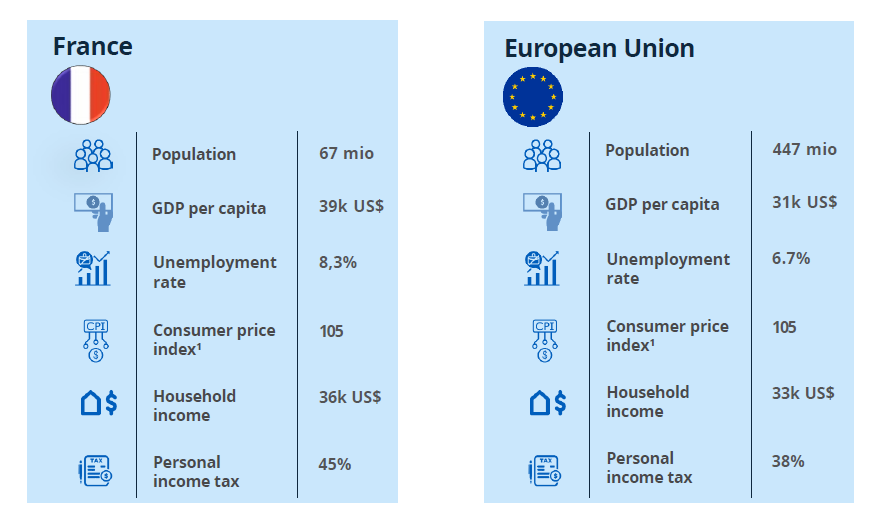 The ecommerce industry is becoming more and more accessible for all. Even for the countries where English isn't the primary language. A research series by Common Sense Advisory -Can't Read, Won't Buy is highlighting the importance of multilingual websites for international B2B and B2C marketplaces.
According to this report, "Customers prefer to make purchases from online stores in their local language, as opposed to a foreign language like English."
Here are some of the findings:
40% won't buy in another language.
65% prefer content in their native language.
73% want reviews of products in their language.
65% prefer content in their language — even if it's of poor quality.
Europeans are also among the people who strongly prefer their native languages. So, how eCommerce is catering to this requirement?
The technological advancements and powerful multilingual & multi-currency features on eCommerce websites is making it easier for people to expand globally and let the people make purchases using their own language and currency.
Moving forward, we will be discussing the current scenario in France and how eCommerce is leading the digital transformation in the country.
Benefits of Starting an Online Business in France
These are some benefits that are applicable for both offline as well as online businesses in France:
The president wants you to start your own business and he might help you with the fundings as well. The French president Emmanuel Macron has declared his ambition to rebrand France as 'the start-up nation'.
After a recent amendment in the French unemployment benefits system, employees who quit their job in order to start their own business might be able to claim benefits for 15 months. So technically, the social security system will pay you while you establish yourself.
The French 'micro entrepreneur' status is specifically designed for people who want to start a relatively smaller business. So, you can start small and then expand.
In simple terms, we can say that the cost of starting a business in France would be less as you get all kinds of support from the government.
How to Start an Online Business in France?
According to the Ernst & Young G20 Entrepreneurship Barometer report 2013, it's easier to start a business in France than most other G20 countries since it's cheaper, there are fewer steps, and it takes less time.
The initial steps and requirements for starting a business are common across the globe. Not to mention, this is applicable for both, offline as well as online businesses. This is where to start from:
You'll need to research the market and identify a potential niche for your business.
You'll have to make budget forecasts and financial plans.
If required, you will have to look for funding and investors as well.
You will have to set up the infrastructure for your business.
You will need to arrange the inventory for your business (if required).
You will have to hire employees for your business.
Exploring the Types of Businesses in France
The types of businesses in France are segmented into four categories. Entreprise Individuelle, Entreprise Individuelle à Responsabilité Limitée, Société à Responsabilité Limitée, and Société Anonyme Par Actions.
A sole proprietorship — or an enterprise individuelle — is comparatively easy to set up. If you wish to begin with sole proprietorship, do not create and establish a separate legal entity for your business.
An Entreprise Individuelle à Responsabilité Limitée is a company in which there would be no personal liability and just like enterprise individuelle, there will be no requirement to form a separate legal entity.
A Société à Responsibilité Limitée company or limited liability is the most common type of business in France for small to medium sized companies. It combines features that are characteristic of both capital companies and partnerships.
A Société Anonyme Par Actions is a joint stock company that is the most frequently used by large companies. In this type of business, shares of the company's stock can be bought and sold by shareholders.
Choosing a Category for Business in France
In France, businesses are primarily divided into five categories:
Commercial or industrial, such as running a factory or shop or cafe;
Artisan who do some manufacturing and create unique, functional items on their own;
Freelance professionals working independently and providing a services such as a writer, musician;
Commercial agent, where you act, negotiate, or sell on behalf of another company;
Agriculture related business.
The following graphic shows the top ecommerce product categories and the revenue forecast in France: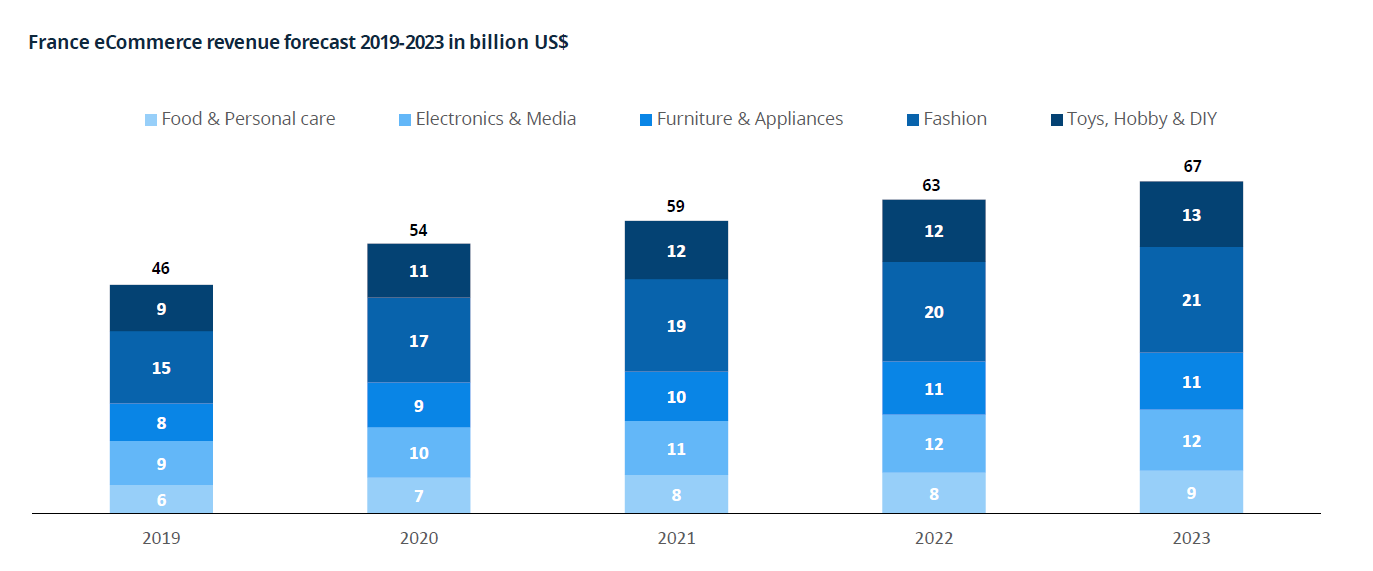 Choosing the Company Name in France
The Institut National de la Propriété Industrielle (INPI) lets you check online whether the name you want to use for your company is already in use by another company or not. Similarly, when you create a website, check that the name you want is available through the AFNIC, the registry for .fr domain names.
Financial Assistance by French Banks
French banks offer financial support to the new businesses. You can visit the website of your Conseil Régional for information on financial support, loans and business advice. If you are unemployed or about to become unemployed, it will be worth researching two biz schemes: ACCRE and NACRE.
ACCRE offers financial help to unemployed people who want to start a new business. The financial aid is received in the form of paying reduced social charges.
NACRE offers interest-free loans and business advice.
Business Registration in France
All businesses must register before they can start their operations. You have to do this through the Centre de Formalités des Entreprises or CFE) or you can also do this online at www.guichet-entreprises.fr.
You need to make your application through the appropriate CFE as there are different CFE for each type of business activity.
The documents you need to register will vary greatly depending on your type of business but may include:
Proof of address (EDF utility bill, rental agreement);
Valid ID (valid passport, residence card);
Proof that your spouse understands liability.
Creating Online Presence
Irrespective of the nature of your business, online presence has become a must have for all. No matter if you run a manufacturing industry or brick and mortar store or eCommerce store. You have to be present on the digital channels in one way or another.
So, the final step would be to launch a website for your business and create profiles on various social media platforms. This is an important step for ecommerce businesses.
eCommerce Leading the Digital Transformation in France
Over the course of 20 years, ecommerce has evolved from a naive concept into a major contributor for the world's economy. Every now and then we are introduced to a new kind of business model. For instance, private label, white label, dropshipping, print on demand, subscription box, hyperlocal marketplaces, etc. The French population is significantly interested in advanced technology and digitalization. They are also capable enough to understand and implement these flourishing business models.
When we talk about the current scenario in France, no doubt ecommerce is leading the way in digital transformation.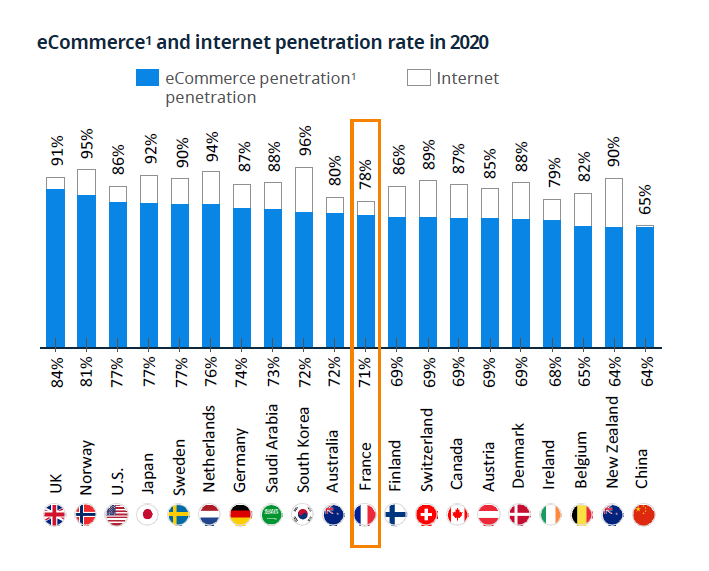 French marketplaces can be identified by high Internet penetration, growing mobile services and advancements in the delivery structure.From a low baseline, French mobile commerce is set to expand quickly (Source: jpmorgan.com)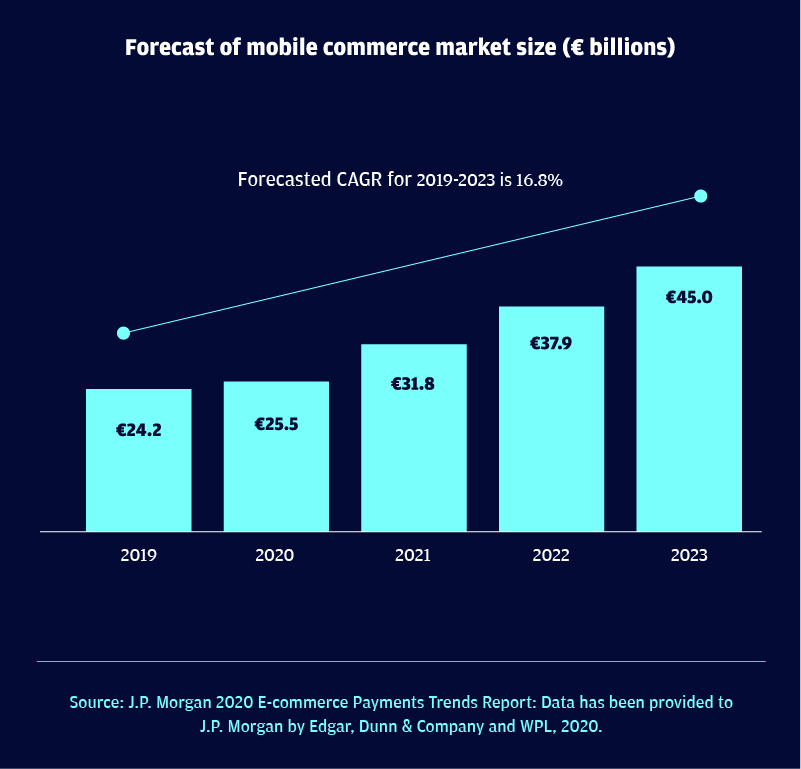 The market is thriving and booming with several opportunities for online sellers such as:
large and diverse consumer base
high purchasing power
reliable payment methods
great location
widespread use of the French language
Currently, ecommerce stores in France are mostly either large retailers or small merchants. This is a completely different scenario from the UK or Germany where mid-sized retailers are more common.
eCommerce Business Strategies for Selling Online in France
While ecommerce is generally considered as just buying and selling products online, it's much more than that. Not every ecommerce business is the same because there are different strategies to launch different types of marketplaces.
And these strategies are not just applicable for France but all other regions as well.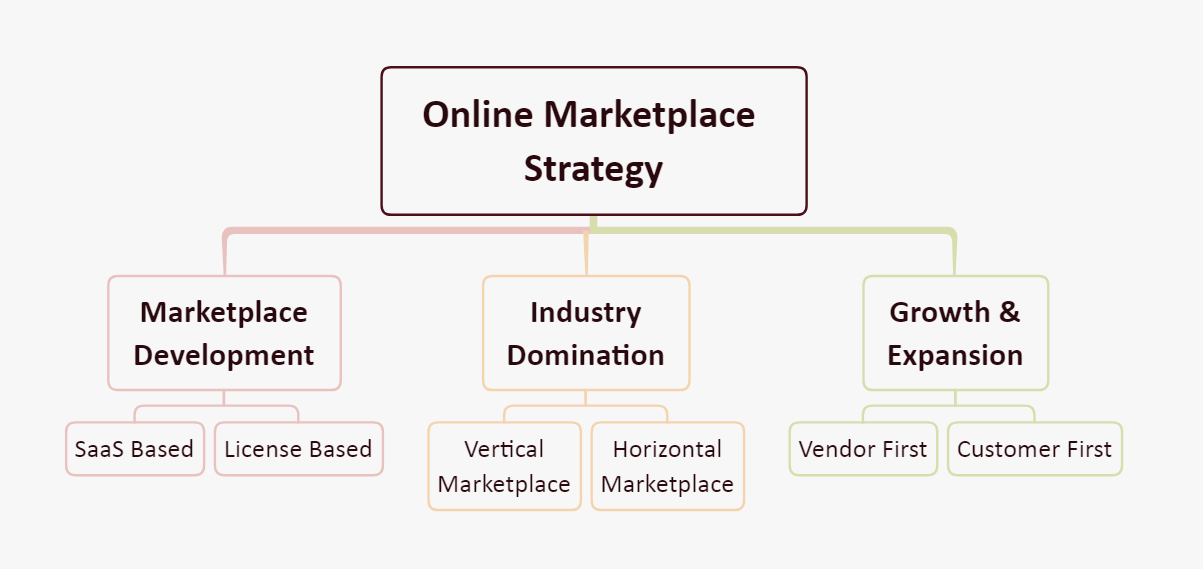 Out of these three strategies, the primary and the most important is developing an eCommerce marketplace. You can go with a SaaS based solution or a License Based solution based on your preferences.
CedCommerce helps you build reliable, robust, and unique marketplace solutions both for Magento and Shopify. If you are looking for multi vendor eCommerce platforms near the eCommerce platforms Yo!Kart and CS-Cart But, if you are someone who wants to launch a marketplace quickly, then go for a SaaS based solution like Shopify. The SaaS based solutions will have recurring monthly/yearly charges. Once you have developed your eCommerce marketplace, then you can proceed with the other strategies. The industry domination and business expansion factors will completely depend on your business idea.
In a Nutshell,
Nearly 70% of the French people prefer buying products from their local brands and are eCommerce ready. Also, the government aims to be one of the global leaders in the digital transformation of businesses. So, setting up an eCommerce business in France is surely a profitable idea.
About FATbit

FATbit Technologies is a globally recognized eCommerce solutions provider that helps entrepreneurs launch various types of eCommerce websites with its broad range of off-the-shelf business solutions. MVP, CMS, CRM, ERP, and Mobile development are some of its other services. Clutch also awarded FATbit as one of the Top 1000 Global companies of 2021