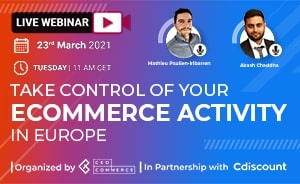 Why must you join?
If you're looking to crank up your selling campaign in Europe, this webinar will definitely serve as a fuel for your goal. Join this session to learn how SMB retailers can create, personalize, and optimize their eCommerce stores as per the latest ongoing trends. Get a chance to witness Mathieu Paulien Iribarren, the International Partnership Manager at Cdiscount, who will walk you through his playbook for retail success, including how to get creative in your selling campaign.
That's not it.
Also get to know the best selling solutions that'll redesign your selling process less tedious, automated and more efficient.
Highlights of Webinar?
The key takeaways from this webinar include:
Agenda of the Webinar
The experts will address the spread of the eCommerce industry in Europe and how customers' shopping pattern has undergone a massive shift from offline to online shopping. The Webinar is aimed toward helping European based businesses to overcome the challenges and uncertainties by unveiling the very best online selling practices.
Speakers
The speakers of our webinar are:
Join us on:
Tuesday, March 23, 2021.
Time: 11 AM CET
We value your time hence we are bringing you these.
Additional Benefits of Joining This Webinar
Note: Offer coupon code details will be announced during the webinar.
So, what are you waiting for? Register today to save your seat.
Read our previous blogs on eCommerce in Europe: