This NYC based business doubled their sales by selling smoke bombs on eBay
Running short of time? Get PDF of the blog in your mail.

Easy, automated product upload, order and inventory management on a single platform.
An intent to enhance dominance as a brand and improve sales- desired by smokybombs. Isabella, the owner, is happily selling her coloured smoke bombs with CedCommerce's integration for eBay. We made it easy for her to trade efficiently and attend to every single order. Now she is selling twice as much smoke bombs on eBay as she sold before. She offers a vibrant range of color smoke bombs on eBay. She gives us a five-star rating for helping her onboard the eBay marketplace.
Smoky bombs
Known for high-quality smoke bombs meant for photography of events, Smoky bombs have options like mini micros, single vent and dual vent smoke bombs. The non-toxic, high density and biodegradable smoky bombs do not pose any risk to the environment. They have replaced plastic components in their products with bio-plastic. Could it be safer?
Are smoky bombs legal?
The smoke bombs sold on the store are classified as UN0507 Signal Smoke and are registered as life-saving devices and are legal across all the states of the US.
What are they meant for?
Smoky bombs can fill colours to some important events of your life, like weddings, festivals, parties, photoshoots, or music videos.
Are they safe?
The smoke bombs should be kept at a distance of six inches or more from eyes, nose, and clothes. Try not to project it towards the eyes and nose. This will prevent irritation in the eyes and nose and stains on clothes. In case of accidental contact with eyes, you need to contact a physician. More warnings and instructions are available on the product.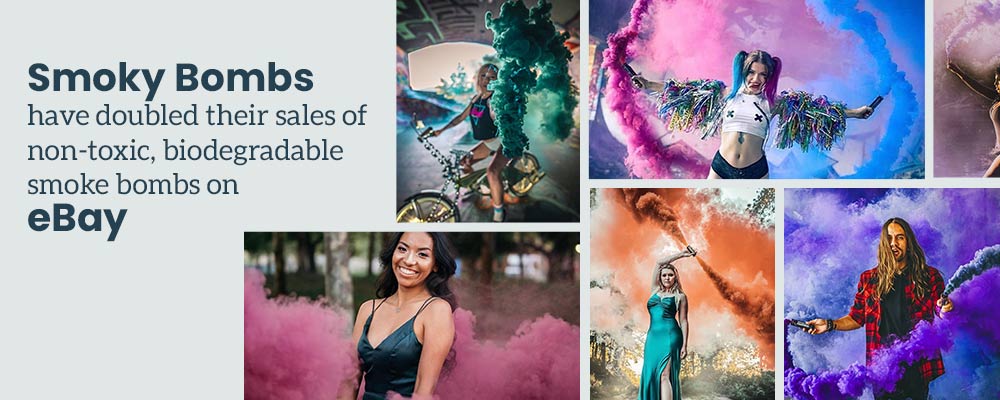 Moreover, they recommend the smoke products to be used by adults, i.e., aged 18 years and above. The smoke vent is hot while in use and can cause a burn if handled with carelessness.
Objective
"We wanted to integrate with the eBay platform."
Located in NYC, Smoky bombs wanted to expand their business as a seller on eBay. They were looking for a third-party integration services provider who could help them to onboard the eBay marketplace and provide a solution to automate selling. Their products are different kinds of smoke bombs available in some vibrant color variations.
"An app that could help us integrate with Shopify."
Furthermore, Isabella says that she found us through the Shopify app store where she and her team came across CedCommerce. About a year ago, they contacted us and hence, started a journey together.
Stage 1: Quick and easy onboarding with bulk upload
Understanding the needs of Isabella and her team, we felt that she needed an app to decrease her workload. So for her, we had to come up with an app that could simplify each and everything, right from onboarding the eBay marketplace to selling and expanding the business. We helped the team by easing up the onboarding process and bulk upload of products. Our step by step guidance and constant communication through messengers made us present with Isabella 24/7.
Our solution provided Smoky bombs with a single click bulk product uploading on eBay.
Stage 2: Order Management and Tracking
To ease up her task, the app gave her access to live order notification. Live notifications made it easy to track order updates like new orders or rejections.
Furthermore, we knew that she required a solution to manage the orders through a single dashboard.
Our app monitored her orders and this made her job easier with centralized order management. Also, our ingenious inventory management created a synchronization between their store on eBay and their actual inventory. Additionally, our watchdog 360 management helped Isabella in keeping a track of each activity on their eBay store.
Outcome
"Doubled the sales while selling on eBay."
Isabella thinks that she would recommend CedCommerce in case any of her friends needed to integrate with a marketplace to sell better. Here are a few picks from what Isabella and her team Smoky bombs loved about CedCommerce.
Hassle-free onboarding on eBay.
Selling without issues in actions like product content optimization, promotions, and more.
Establishment as a better, more trustable brand.
Twice hike in the revenues.
Increase in customer base.
Also, we are automating selling for many more sellers like Isabella through platforms like Bigcommerce, WooCommerce, Prestashop, Opencart, Magento and Magento 2.