Prepare For Black Friday & Cyber Monday On eBay
Running short of time? Get PDF of the blog in your mail.

Play Now
Black Friday and Cyber Monday have always been the top-grossing holiday events for Shopify store owners, generating a revenue of around $2.9 billion U.S dollars in 2019 and $5.1 billion globally in 2020, which saw an increase of 76% in sales YoY. It helped sellers establish themselves and gain the much-awaited limelight amidst the buyers. Well, with the Q4 starting, all of this will come true once again if you're prepared and willing to dedicate yourself to the rush hour that begins after Thanksgiving. The much-awaited Black Friday and Cyber Monday 2021 are here to create history this year, and you should make sure you're a part of that.
People love shopping, and in testing times with a pandemic on the loose, a new trend has gained traction, i.e., Online Shopping. The bricks and mortar stores might miss out on this piece of cake, but not those also selling on eBay and online stores.
Why is Black Friday and Cyber Monday Important?
The trend of online shopping and the pandemic in 2019 made sure people didn't leave their houses. They loved this shopping style, and of course, social distancing was of utmost importance too. The online shopping trends and the effects have found their way through 2020 and have stepped into 2021 too.
We've seen the Black Friday and Cyber Monday sales skyrockets every year. From the Shopify trends last year, it won't be any different this year. The only thing that'll change is a surge in the presence of buyers. More buyers are directly proportional to more sales. That means you have a chance of making money, lots of it, if you plan and prepare well in advance for that D-Day of selling!
How To Prepare for Black Friday and Cyber Monday?
Ever since we were children, we all have heard a saying, "All great things take time." And you know what, it sure does. The strategies that can come in handy while preparing for Black Friday and Cyber Monday 2021 will need proper planning and active participation.
#1. Stock Up
It might be the most common among the strategies to follow and the best advice that you'll get. But it's useful. Having an entire stock of products you're going to offer will help you with your sales. The more the inventory, the more you can sell. Well, if you think just stocking things up will do the magic, you're highly mistaken. Proper inventory management and product listing need to be done on eBay and on your Shopify store if you have one. If you don't, it's never too late to start operating one.
#2. Proper Marketing and Perfect Listing
Black Friday and Cyber Monday not only attracts many buyers, but it also is a hotspot for sellers. Make sure you are ready with your Marketing Practices. Start promoting your products and store via e-mail, text messages, and social media platforms. Everyone loves a good tease. So, let them have a peek at what are the products you'll offer.
Similarly, get your listings updated and, if need be, introduce a new collection targeting the Black Friday 2021 sales. Research and look out for the most popular and trending products. You can also select your preferred demographic and create a listing favouring them.
#3. Price
Black Friday and Cyber Mondays are days of pure competition for sellers. While the buyers go ahead with the sellers offering products at the lowest value, the sellers only get marginal profits. Don't let that happen to you. Especially if you're a new store, you need to remember that providing very low rates can hamper the growth as you can't afford heavy price drops on your commodities.
Provide your customers with lucrative offers of cash back, special coupons, and free shipping on minimum cart value. Of course, everyone loves a surprise gift. It is the best way to make your customers happy without incurring losses in sales. The minimum cart value to activate these offers will make them buy more to save on shipping charges. Cashbacks and Coupons, on the other hand, will make them come back to you for more.
#4. Site Performance
The only advice for your store's site loading speed is that it needs to be worked upon. Get it to load in 3 seconds or less for both cell phones and desktops.
On average, 40% of users leave the site if it fails to load within the first 3 seconds. A 2-second loading delay during a transaction can lead to up to 87% of abandonment rates. No one wants that because it means losing a fight without even throwing a single punch, and the BFCM 2021 will be one such event. The sudden increase in traffic needs to be dealt with at ease. It will be an essential factor in deciding your conversion rates for Black Friday 2021.
#5. Integrate Your Shopify Store With eBay Marketplace
Having a Shopify store and selling through it is always fantastic but what if you could expand that selling experience across various other marketplaces like eBay. Now if you ask why eBay, I'll have to come up with facts like it has over 159+ million active buyers and has generated over $89.83 million in GMV in 2018, $85.51 million in 2019 and a whopping $100 million in 2020. But, instead what I want you to know is that eBay has a unique selling option where one can sell at a fixed rate or put the products up for auction. This gives an option to gain more for a particular product.
Now that we've addressed the selling options let's look into the product listing and shipments that are one of a kind. As the company helps connect and sell goods between third-party buyers and sellers it provides an option to interact with customers too, which makes selling on eBay even more fun.
However, the entire product listing, inventory tracking, shipment management, and other selling aspects can become a big headache during holidays like Black Friday and Cyber Monday. Various integration apps can help integrate marketplaces with your store making the entire selling process seamless. You can always find one no matter if your preferred choice of framework is Magento, Shopify, BigCommerce, or WooCommerce.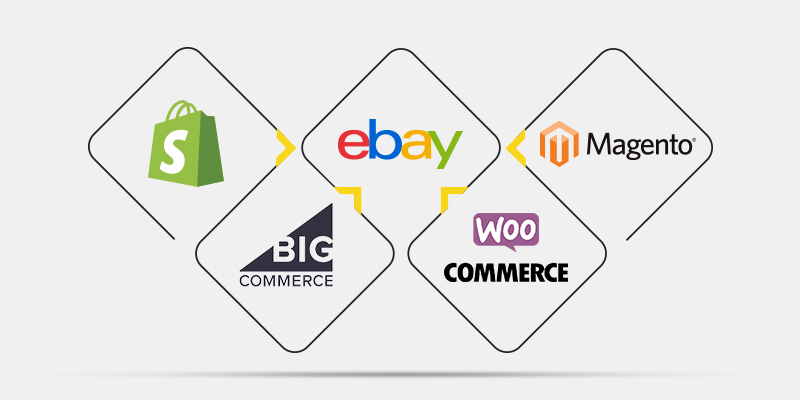 Prepare in Advance for the Holiday Season
We should always be ready and prepared for what's going to come ahead. Similarly, preparing only for Black Friday and Cyber Monday 2021 is like being short-sighted. You already know about the cut-throat competition among the sellers to make the most out of the Holidays. That makes Cyber Monday and Cyber Friday last over a fortnight.
Sellers come up with lucrative deals and offers a week before and continue to provide such discounts even after Cyber Monday is over. Above all, Thanksgiving is just the beginning of the fun ride for Q4 of 2021. The entire Holiday season is yet to come. So brace yourself and be ready with your strategies to sell all the way.
Start Working For Black Friday Sales Today!
Yes, I can resonate with you. Procrastination is a forté of mine, and so I believe it is for many of you. You thought you'll be ready when the time comes. The time came, and here you are, not knowing what to do—lost in your way.
Just remember that it's never too late! Start working on the strategies discussed above and make sure to build a loyalty program for your customers. Start providing them with coupons and cashback that can be used during the Cyber Monday and Black Friday 2021 sales. The entire Q4 is full of festivals. Festivals your buyers are eagerly waiting for. So stock up the inventory and buck up. Remember, you still can make up for the losses you incurred.
Cover Up with Integration App
Those who say you can never make up for the lost time never actually got the chance to sell during the rush hour, managing eBay and their Shopify stores using an Integration App.
Having lost time, things ought to be complicated. Strategizing and managing the selling process can take a toll on you. It can be overwhelming. But, it can be avoided entirely with a useful integration application through which you can say goodbye to manual management of all the different selling platforms. They make sure you get time to work on marketing strategies and possess enough to enjoy life too.

Final Words
The most awaited quarter of the year, Q4, is here! Let's make sure you all are ready to get the most out of it and break your previous year's sales record. When prepared you always have an upper hand. And having the upper hand in this years' Black Friday and Cyber Monday sales is going to be paramount.
Don't worry if you are a procrastinator. The Integration Apps are always helpful. Also, it'll work beautifully for sellers who were on time too. Black Friday and Cyber Monday are just the beginning. There's a whole three months of selling to do.