eBay Black Friday Deals & Trends: Analyzing Top Selling Items
Running short of time? Get PDF of the blog in your mail.

Play Now
Cyber Week came, and as we expected, conquered every other major selling event 2020 had witnessed by far. The cyber five i.e. the days from Thanksgiving upto Cyber Monday have been welcoming and saw the gods of eCommerce smiling upon the eBay sellers. Each small and big business alike made the most of it. Catering to 182 million customers' demands spread across 190 countries, eBay, with its great Cyber Monday and Black Friday deals, discounts, sales, and coupons, reported a grand opening. The sales, driven by refurbished products and hard to find 'out of stock' products, became very successful. Introducing refurbished products turned out to be a significant step as two out of top ten best selling products on eBay belong to the refurbished category.
eBay Best Deals & Offers
This year saw blockbuster eBay Black Friday and Cyber Monday deals that ranged from Lego Sets to refurbished iPhones. The Shopping prediction for Christmas revealed that online spending is going to peak on Black Friday itself. Also, there were speculations that an average of £1.34 million was going to spend every minute. So, let's fly into the hot deals and analyze eBay's Black Friday 2020 deals.
Black Friday and Cyber Monday eBay Deals and Offers
Nintendo Switch saw great discounts on eBay under mobile consoles. Earlier priced at £339, the offer price was £239. The deal was so sweet that it sold out within 2 minutes and had to get restocked the next day.
eBay also offered refurbished iPhones at never seen before rates of just £189. This iPhone 8 was £699 when first launched.
eBay offered Lego Harry Potter Clock Tower Set originally priced at £86.95, with a discount of 16%, sold for £72.95
eBay's deals blessed the Toys section with significant savings. Harry Potter's Hedwig set was at an offer price of £23.95, priced initially at £34.99.
LEGO City Fire Station Set saw a 33% price drop from £89.99 to £59.95.
Perfect office and Gaming Executive Leather chairs were on offer at 29% discounts, from £69.99, sold for £49.99.
JBL Tune Wireless Headphones got listed for a discount and priced initially at £99. Under the deal, eBay sold it for £49.99.
Apple iPhone X 64Gb (Unlocked) was at an offer price of £349.99, priced initially at £379.99
eBay sold Lenovo Smart Alarm Clock Essential with Google Assistant Night Light for £24. It saved £25.99 on its price.
Philips Electric Toothbrush had a 50% off on its price, selling for £44.99 originally priced at 89.99.
A Few More Best Sellers This BFCM
LG 4K Ultra HD TV originally priced at £518 was seen selling for £379.
eBay deals offered upto 70% off on New Balance apparels. It included free shipping too.
Men's New Balance CT Alley Leather Upper Trainers – was £43.90, now £27.99 (36% off).
Skullcandy Sesh Wireless Earbuds – was £29.95, now £19.95 (33% off).
Kano Windows 10 laptop/tablet hybrid – was £324.99, now £199.99 (38% off).
Fitbit Versa 2 was at a discount of £10, having its price slashed from £139.99 to £129.99.
JVC LT-55CF890 Fire TV Edition 55″ Smart 4K Ultra HD was a catch as the deal on eBay was for £369, priced initially at £499.99.
We have gone through a list of some of the best products having the best deals on eBay Black Friday and Cyber Monday. Let's head towards the best sellers of Cyber Week on eBay.

What Were The Top Sellers This Cyber Week?
Although eBay has the best deals and offers on discounts for many products, a handful made unparalleled sales. These products are,
Shoppers purchased Nintendo Switch every 13 seconds.
Kitchen Appliance got purchased every 11 seconds.
A watch and a tablet sold every 8 seconds.
A gift card every 7 seconds.
Shoes were getting sold a pair per second.
LEGO Harry Potter Hedwig getting sold every 11 seconds.
Apple 10.2″ iPad (2020) 32 GB with a sale every 19 seconds.
Refurbished Dyson Cyclone V10 Wireless took 24 seconds for each sale.
Lenovo Smart Alarm Clock was getting a sale every 33 seconds.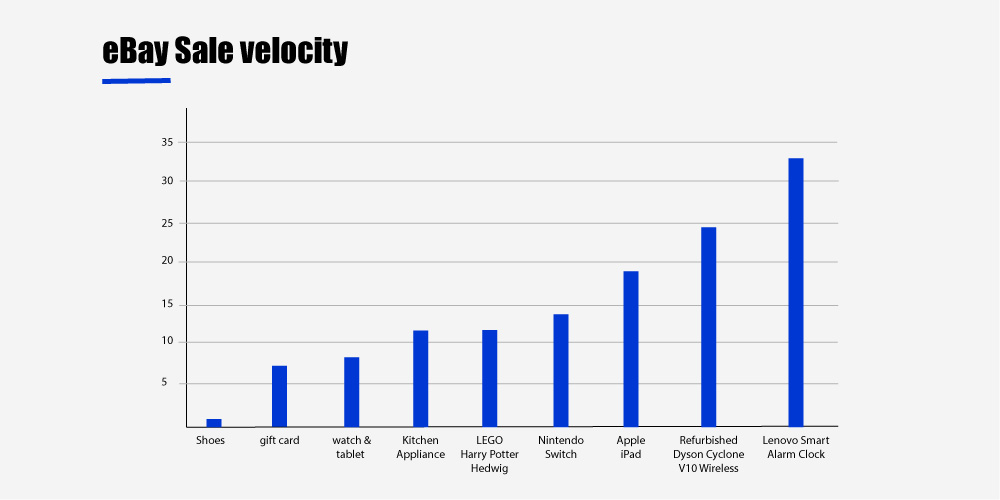 Here's a list of best selling products during Black Friday from small businesses,
AOVO Pro Electric Scooter Powerful 350W
DAKAR GT Unisex Men's Women's Adult Mountain Bike Hybrid Bike.
Electric Treadmill 1.5HP DC Motor Heavy Duty Foldable Machine.
NEW Samsung Galaxy A71 128GB 6 GB Unlocked Dual SIM 6.7″.
Rattan Garden Furniture Set 4 Piece.
[source: Tamebay]
eBay's Black Friday & Cyber Monday Highlights
Refurbished Products
Introducing deals on certified refurbished products on eBay during the Black Friday Sale was a masterstroke as shoppers couldn't keep their hands off the refurbished items. Top brands like Skullcandy, Bose, Makita, iRobot, and others were the most loved and sought after brands. Here are some exciting facts related to the sale of refurbished products,
eBay launched its Certified Refurbished Hub last month.
There was an increase of 170% in the number of refurbished products compared to a week before.
According to research, people found that around 80% of Americans were okay with a refurbished gift this year.
COVID-19 Effect on Sales Trend
Following social distancing and home isolation turned out to be a boon for gamers in 2020. The sales of Gaming systems increased by 215% this year. Sales for the new and previous-gen Playstation and Xbox consoles spiked 460% on average since October.
Small kitchen appliance sales rose nearly 40% compared to the previous month.
During Cyber 5, eBay offered great deals and sold a kitchen appliance every 7 seconds.
On Cyber Monday alone, an average of 113 trading cards sold per minute. Pokémon collectible cards saw a 1088% sales increase when compared to October.
Luxury Items
eBay's Black Friday Deals were sweet enough to make sure people participate wholeheartedly in the sales event. eBay saw a phenomenal sale of luxury items where
Ten luxury watches, along with 20 pairs of sneakers, were sold each minute.
Rolex and Omega were the most sought brand.
Jordan 5 Fire Red, Jordan 4 Retro Union Off Noir, Yeezy 350 V2 Beluga were the most sought Sneakers designs.
What eBay Has To Say
eBay had the biggest ever Cyber 5 in the US. Wandering into the busiest weekend of the year, eBay was sure of the surge in online shoppers. Still, it never imagined the results to be overwhelming.
Jordan Sweetnam, Senior VP for eBay NA, acknowledged that eBay managed to upscale its growth with Black Friday and Cyber Monday deals and sales this year. He also emphasized intending to keep the momentum going with the giant boost that the Cyber 5 brought. He further added that the cyber weekend had been a blur, but it has redefined what it means to shop on eBay.
What To Expect At Christmas?
Cyber 5 was just one half of the entire equation. The remaining half is yet to arrive. So, let's see the trends that may follow when people start shopping for Christmas.
After accessing the number of retail sales that black Friday and Cyber Monday brought to eBay, it gets confirmed that Christmas spendings won't be any less. It was brought to light through google trendz that "Christmas Gifts" climbed to the top of the search list in the last weeks of December.
Above all, the online shopping mode that has added to the convenience of shoppers and logistics support has played a significant role in ensuring shipments' on-time deliveries. So that means great deals and sales will catch the eyes of Christmas shoppers on all the major marketplaces, including eBay.
Last-Minute Shoppers
Procrastination is now a thing. People these days wait upto the last minute to commit to anything. The same goes for Shopping too. These shoppers become an essential part of your store as they are not looking out for any specific deals when they shop.
2019 saw an average of 3.5 purchases made by an average shopper before Christmas. And while we are sharing statistics, let's throw in one more. 82% is the conversion rate for carts between December 19th and Christmas. And that makes it more evident that a good sales opportunity is yet to arrive at your doorsteps.
Prepare And Be Ready With Deals on eBay
If you're still not fully prepared for the upcoming Christmas Sale on eBay, you should first start with the essential things. Start with optimizing your product images on eBay, followed by getting yourself a good shipping service to handle shipments. Keep in mind the last date for shipment as all the central logistics service providers are setting up a deadline for it.
Next, go with eBay's Promotion Manager. Create the perfect promotion campaign for your products—once done with all these steps. You can start your Christmas campaign without much left to do. However, suppose you have some time to spare. In that case, a good Customer Retention plan is what can help you convert those one-time holiday shoppers into lifetime buyers.
Integration eBay Before Christmas?
As you know, integration is a great way to move forward with the automated selling process across different channels. The best part about integration apps is that they let you integrate your eBay store with frameworks like Magento, Shopify, BigCommerce, WooCommerce, and more.
However, completing the integration process will only make things easier and faster in the long run. As soon as you make up your mind about integrating, you get a dedicated Account Manager to ease the entire process. We all as kids have read the story about the early bird getting the worm. Integrating your eBay account is exactly the same. It's best if you jump in and put things into action right now to get the most out of Christmas sales and shoppers. All you need to do is get in touch with the team and integrate your eBay store. It will be one of the best decisions you'll make this New Year. Preparing well in advance for 2021.
Conclusion
2020 has been a year of uncertainties. But as promised, the Black Friday and Cyber Monday Sales on eBay have been blockbuster with great deals and discounts on offer. These trends might help you consider the ample opportunity that surged the numbers of shoppers during the holiday season. The shoppers, on the other hand, can also utilize these insights to anticipate the shopping for the upcoming Christmas.
If you're looking out to begin afresh, here is your chance to get things on track and enter into the Christmas sale.