Notch up your marketing game with the best holiday market ideas for small businesses
Running short of time? Get PDF of the blog in your mail.

Play Now
'Rome was not built in a day is said for a reason. Small businesses find it very difficult to accelerate from a status of start-up to an established brand. It involves a great deal of tussling and toiling around the best retailing, branding, and marketing action plans. Such long-term plans are often expensive and cost an arm and a leg to a small business. However, with more and more businesses coming online, marketplaces and other eCommerce experts are building robust ways to push up the start-ups to an elevated business pedestal. This piece will escalate you through how a small business still has a chance to deepen the business roots and some practical market ideas for small businesses which will help you generate considerable revenue and improve your customer base even amidst the unbeatable peak festive season.
How do start-ups and SMEs still have a chance to level up their game during the festive season?
According to a report by Forbes, the world business arena has seen a significant increase in the number of startups and entrepreneurs. On one hand, when some businesses have been brutally hit by the pandemic, it has nevertheless allowed many new businesses to cater to uncontested and newer areas of markets around the world. Below are the stats to show small businesses have seen a boom in the past two years:
As many as 85000 businesses went online worldwide during a pandemic.
Online retail sales have increased by 32.4 % YoY in 2020.
Online sales reached a total sales of $791.70 billion in 2020 from $598.02 billion in the previous year.
Benefits of adopting inexpensive marketing ideas for small businesses
With pandemic taking a toll on a large number of businesses, the importance of innovation and creative ideas to attract and retain customers was realized. Here are why inexpensive marketing can increase your sales without you having much to spend on marketing.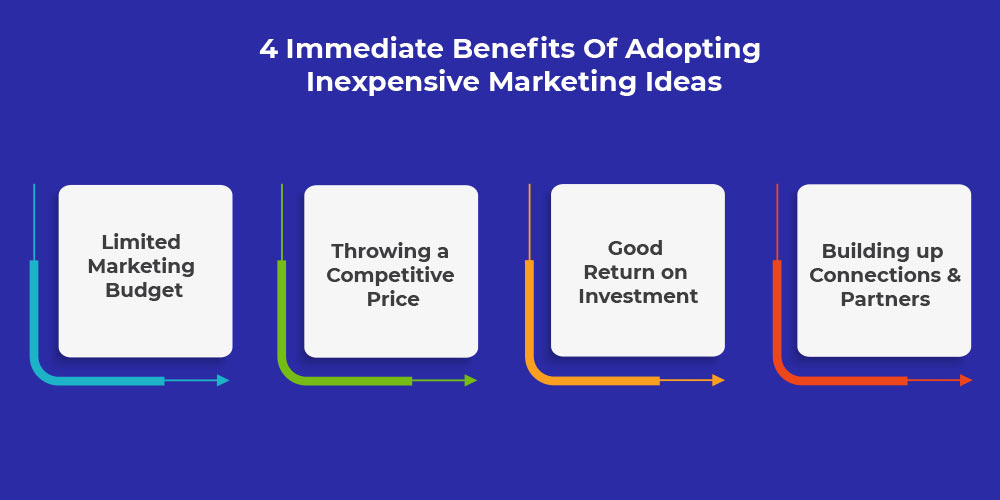 Limited Marketing Budget
Small businesses generally run with limited or low marketing budgets. Creative ideas to survive in the marketing world have become significant during and post-pandemic world. These ideas are a decent way to increase more with a limited marketing budget.
Throwing a Competitive Price
By investing in inexpensive marketing ideas, you will never run out of money. Running out of money takes a heavy toll on sellers throwing higher than the competitive prices to save their margins. As a result, consumers can compare the expensive and low prices only to reject what you offer. Inexpensive marketing methods enable you to throw competitive prices at any point of the festive time.
Good Return on Investment
Organic marketing ideas bring genuine leads to your e-store without any unnecessary expenses on ads or inorganic campaigns. Those few genuine leads actually want what you have to deliver. These ideas are good enough to give a few genuine customer bases with still a good budget in hand to go ahead during the festive peak season.
Building up Connections and Partnerships
Probably the best part of these low-budget marketing ideas is that you naturally make high investments in building connections and business partners. With referral marketing, partnerships of different kinds, and organizing and attending business events, you actually show your active participation to your prospective business partners.
List of holiday market ideas for small businesses to look out for during the peak festive season
Here is a list of some amazing marketing ideas that you can adopt in this festive rush and see the results yourself.

Engage your audience through social media
This can do wonders! Social media is an indispensable part of people's lives and catching your prospective customer there, can earn you huge recognition if not profits instantly. Here is how you can do it:
Make engaging social postings about your business vision and objective.
Ask your customers or views/followers to comment and suggest their wants and challenges to you.
Ask your customers or viewers to spread the word about your online event through their personal accounts.
Promise to reward the eligible ones with offers or membership incentives.
Use hashtags, and be active and creative on social media like LinkedIn and Instagram. Create Poll contests, engaging games, or quizzes periodically.
You can ask your customers to send their ordered products and reviews which can act as your testimonials for new prospective customers to see and order from you in the future.
Many eCommerce solution providers provide digital marketing services at reasonable prices and tailored just as per the business requirements. These digital services include videos, Mobile, Tracking and Analysis, and digital advertising. Taking assistance from such professional platforms can help you supercharge your social media presence at low costs.
Think and work extensively on content marketing
Content marketing is an organic way to bring traffic to your site. It generates readership and trust on your site when people find your content, ideas, and solutions relevant to their queries and challenges. Below are some ways you can make your online visibility through content marketing:
Write blogs that actually resolve the queries and challenges of people. Let it sound more customer-friendly and be it too.
Make sure your content is updated. Write according to SEO guidelines so that search engines like Google help you get visible in the top searches by your prospective customers.
Write a variety of content. Try your hands on Blogs, PRs (for your events), articles, and Guides.
Make sure to be prepared with the best Landing pages. Your landing page will be the first experience stairs for your customers. Make it elevated for them to step ahead and explore more about what you do.
You can consider enrolling in a branding solution program offered by an eCommerce solution provider that is working extensively in Customer Relationship management verticals. These brands do not only give you solutions but also guide and work for you to help you achieve your goals through content marketing.
Plan Email Marketing Goals
Email marketing is a personalized way to keep your customers in your business thread. Email subscriptions bring actually interested customers to your e-store. Through emails, you can keep your customers updated with offers, events, and other substantial information you want them to know. Below are some best practices that you can use:
Keep your subject lines creative and problem-solving.
Create your email interesting and short, bringing all the relevant information within the first 100-200 words.
Keep your email subject lines in accordance with best practices in the market.
Note: Do not bombard the inbox of your subscribers every day. This may turn out to be hazardous for your customer base.
Organize/host webinars
This is one of the popular and inexpensive ways to educate your customers and interested people to join your webinars and know your partners, visions, and services you allow.
Allow your audience to participate in LIVE Q/A sessions.
Invite experts you are in partnership with. Give a reason for your audience to understand the gravity of what you are extending to them.
Keep some surprises/rewards for your audience.
Ask your audience to bring forward their challenges, ideas, and opinions to make a valuable addition.
Make Partnerships with relevant Businesses
Making partnerships with complementary businesses can be of mutual benefit. You can build a symbiotic relationship where you both help each other to grow and expand. Partnerships are not directly monetary-based, but rather generate revenue for strategic events, webinars, and programs. This is how you can do it:
Attending programs and events conducted by your partners online and offline(as the circumstances may be).
Hosting webinars and events for partners in return where audiences or customers can be persuaded to take up the services.
Offers and discounts can be offered for a limited time period, especially during festive seasons.
Different types of partnerships should be thought of and built which are mutually beneficial.
Participate in social events for a cause
Standing for a social cause is new trend customers are looking for. People are now aware of the social and environmental challenges and measures to be taken. Participating in social events by NGOs or organizing one can create a good image in your city or town. Below are the reason why is it important:
Your business must be ready to take on social responsibilities.
You should be known for something more than your business.
People love businesses that endeavour to make the world a better place to live in.
People recognize you for your noble propensities and spread about your good work and become your customers with time.
In addition, brands and businesses are also heading towards sustainability. What it means is that brands are understanding their environmental responsibilities by reusing, recycling, and renewing the waste materials for sustainable planets. Work on similar ideas. This can save a lot of monetary investment on new raw materials, machinery and labour.
Use attractive marketing tactics
There are different types of marketing techniques that are inexpensive but useful. For example
You can consider Guerrilla marketing by adding some interesting and unusual structure to your e-store and making it an attention spot for your customers.
You can use Graffities to attract nearby passers. Bringing customers to your retail stores is a way to know them in person and connect with them online with their phone numbers and emails. You can send them discounts, offers, or any other special combos or invitations during the festive season to explore your e-store.
Testing and sample methods can be another one. Just allow your customers or visitors to take a sample or test your products for free if they visit you for the first time. If you are sure about the quality of your product and services, your customers will make their way back to you.
With the increasing need for marketing techniques and strategies, businesses have started developing automation and marketing solutions that can help start-ups and small businesses to leverage the services at reasonable costs and charges.
Organize Referral and Client appreciation programs
You can organize referral and client appreciation programs for great customer relationship management.
Through referral programs, you can ask your customers to add more customers. This sounds more like network marketing. But it actually works. You can give rewards and gifts to the eligible ones.
Also, you can create exclusive events for your clients who have made your business something big. A free-time lifetime membership, long-term purchasing benefits, or some valuable gifts can be given to your most loyal customers.
Send some gift hampers at your customer's doorsteps
The festive season is here and you have all the reasons to surprise your customers with some gift hampers. It will need a budget but will add to your post-sale customer experience. This ow it works on their psychology:
It makes them feel special
It feels like you care for them
You add value to their festive mood
You can choose some of your most active and best customers or organize a contest to choose them. The services of Amazon Treasure Truck or Mobile Gifting Truck by FedEx should be considered for gifting your dear ones gifts full of surprises. ( NOTE: the services are currently in US regions).
Invest in Youtube videos
Videos are engaging and appealing more than anything. If you have the necessary equipment and team or if you can arrange one, please go for it. Make appealing and short videos on what you do and what your visions are.
Use these short videos in your emails also. This is a creative way to appeal to your customers.
Add videos on your landing pages and product pages. It will hook your audience more.
Invite your partners and customers also to in your videos and let viewers know more about your reliability and transparency towards customers and the market.
There are a plethora of marketing ideas and strategies. Some are expensive and others are just enough to suit your budget. Explore here to know some other sure-shot marketing strategies to succeed in this festive season.
Pro tip: 93% marketers wish to continue the usage of videos for their marketing activities. To try and avail what they have been doing, click here. 
How CedCommerce is a promising one-stop solution provider for MSME and small businesses?
Solutions are necessary when the challenges are massive. CedCommerce totally understands this and has all the solutions that can help you gravitate towards success multi-folded times. Right from creating an e-store for you to increasing your sales in no time with the best marketplace integrations and digital and marketing solutions, have become a USP for CedCommerce.
CedCommerce is there to guide you on every step with dedicated experts at your service anytime and any day of the year. Be it any framework, marketplace, or marketing solution you are in need of. CedCommerce is there to deliver you. These solutions are budget-friendly and customizable making them a right fit for your business.
Contact us here or drop your details and we will answer you as soon as possible.
Happy festive selling!