A Complete Guide on Top MultiChannel Marketplaces to Sell in USA
Running short of time? Get PDF of the blog in your mail.

Play Now
The United States of America is one of the biggest markets for selling online. Ranked second amongst leading countries in terms of retail e-commerce sales from 2014 to 2022 by Statista, the United States of America is one of the biggest markets for online merchants to thrive in their e-commerce marketing and merchandising. This fact makes this region an extremely lucrative market for online sellers who want answers to how to sell in USA.
However, selling in USA depends on the marketplace you choose to sell your products at.
So let us know all about eCommerce in the US region and top marketplaces in USA.
Glance on eCommerce in US
According to Statista, retail e-commerce sales in the United States accounted for nearly 458.8 billion U.S. dollars in the year 2017. It grew to 904.9 billion US dollars by 2022.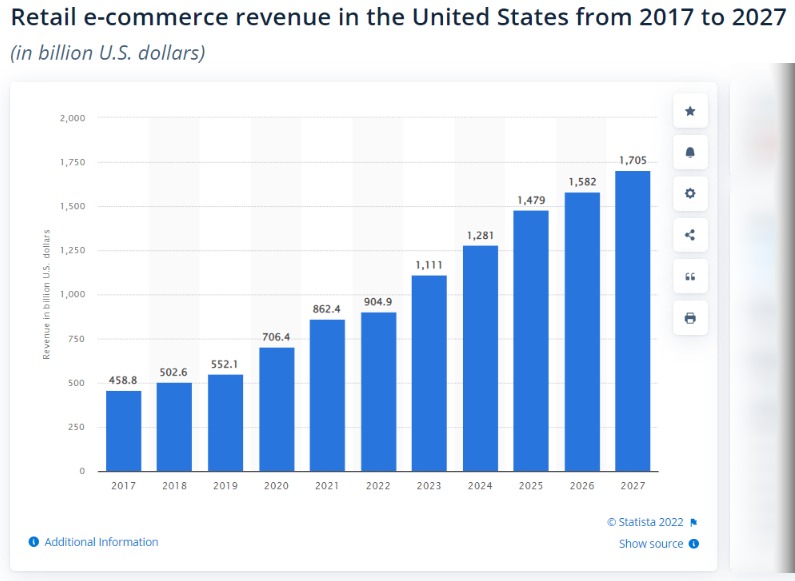 In the third quarter of 2022, U.S. retail e-commerce sales amounted to over 265.9 billion U.S. dollars, an increase of 10.8% from the third quarter of 2021.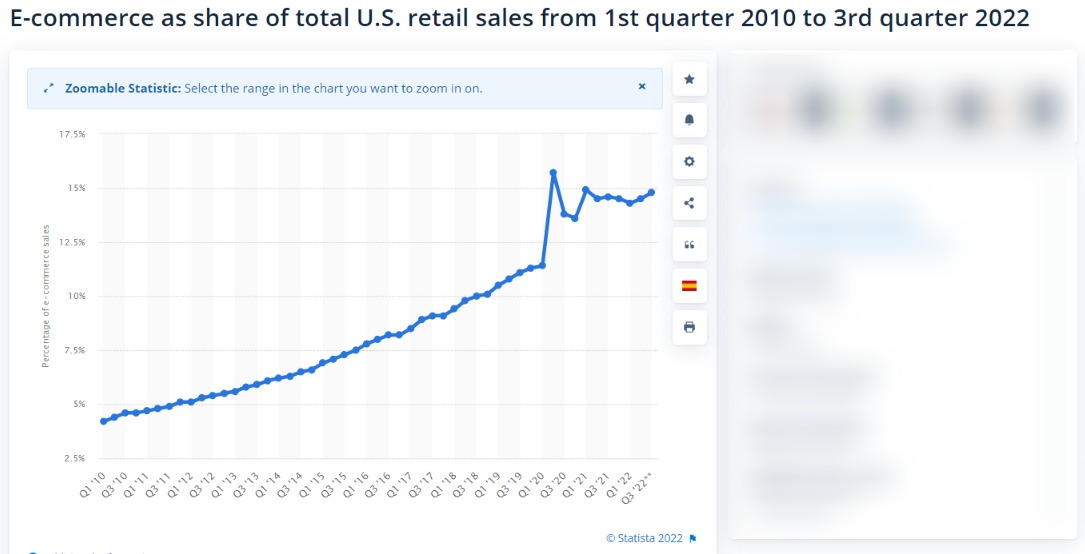 The online sales of physical goods amounted to about 360.3 billion US dollars and are expected to surpass 638.05 billion US dollars by 2022.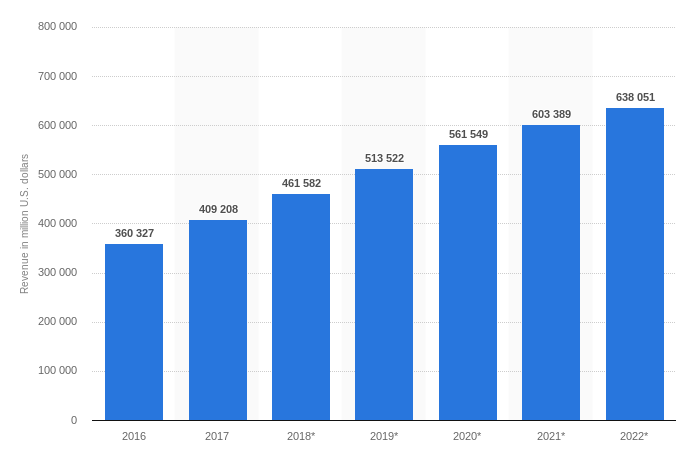 87% of the customers in the US prefer to buy online through different channels.
With a population of about 332.40 million, the active internet users in the US are about 307.34 million.
In 2016, it was recorded that the number of digital shoppers in the US was 209.6 million, while the projected number of digital shoppers by 2022 is estimated to be 266.7 million.
What are the Best Selling Products in US?
Before knowing how to sell in USA, you must first be aware of the trending products that US customers are buying at the present. The top-selling products in US are:
Hair accessories
Sport & traveling products
Pet products
Jewelry
Hi-tech products & accessories
Beauty and healthcare products
Fashion items
Car products
Top Online Marketplaces in USA to Sell
To make the most of your efforts, top marketplaces to sell in USA are: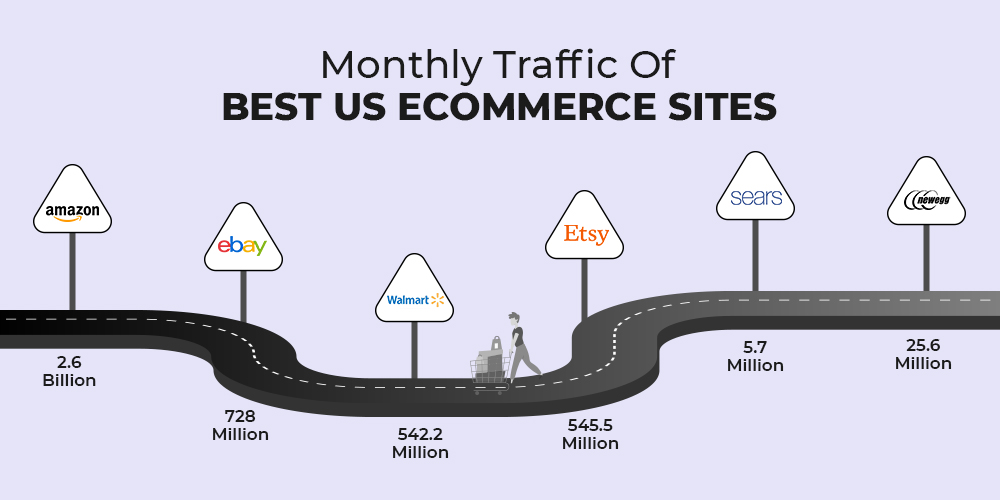 Let's have a look at these marketplaces in detail.
Amazon
A marketplace that doesn't need any introduction, Amazon is known around the globe as an e-commerce giant.
Contribution of Amazon marketplace to the US eCommerce
The net revenue of Amazon amounted to 469.82.06 billion US dollars in the year 2021

.


82.85

% of traffic on Amazon is from the US itself.

With more than 5,66,000 employees, Amazon is the 8th largest employer in the United States of America.
It is 'the largest' Internet company by revenue and the 4th most valuable public company in the world.
Increasing its presence as a brick-and-mortar retailer, Amazon acquired the Whole Foods Market for US$ 13.4 Billion in the year 2017.
Also Read: Step by Step guide on how to sell on Amazon
What you can sell on Amazon Marketplace?
Amazon enables the sellers to sell under a number of categories. The top-selling categories on Amazon are:
Clothing
Home & Kitchen
Sports & Outdoors
Toys & Games
Beauty & Personal Care
Health, Household & Baby Care
Kitchen & Dining
Office Products
Garden & Outdoor
Tools & Home Improvement
Pet Supplies
Also Read: Tips and Tricks to Win Amazon Buy Box.
What are the Selling Fees on Amazon?
Now before you start wondering as to what is the fee you need to pay to sell on Amazon, don't worry as we're here to answer all the Amazon seller fee-related queries you might have.
To know the Amazon seller fee, you must know that Amazon authorizes the merchants to sell in two ways:
Selling as a Professional: It is when you sell more than 40 items a month and the fees that are levied on you is US$ 39.99/Month + Other Selling Fees.
Selling as an Individual: It is when you plan to sell an item that is less than 40 in numbers, and the fee you need to pay is US $ 0.99$ Per Sale + Other Selling Fee.
Amazon Shipping Fee:
The Amazon Shipping Fee totally depends on the category and the shipping method selected by the buyers. You may see the Shipping Credits for Professional Sellers and also the Shipping Credits for Individual Sellers here.
Referral Fee to sell on Amazon:
The sellers who sell on Amazon pay a referral fee for every item that has been sold. Products in different categories have a particular per-item minimum referral fee.
Variable Closing Fee to sell on Amazon:
The Professional and Individual sellers pay a particular Variable Closing Fee for each media product that has been sold.
eBay
eBay ranks second on the list of top marketplaces in the US. allowing sellers to sell by listing their products and auctioning them.
Contribution of eBay marketplace to eCommerce in US
The net revenue of eBay marketplace in second quarter of 2022 summed to approx 2.42 billion U.S. dollars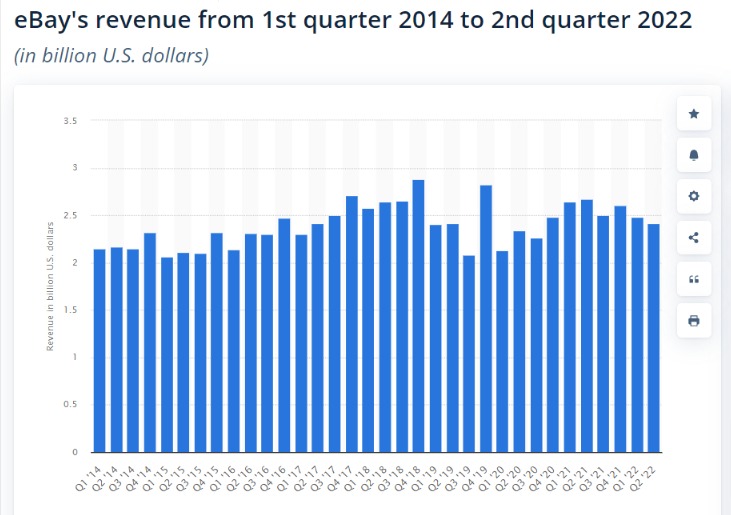 78.96% of traffic on the eBay marketplace comes alone from US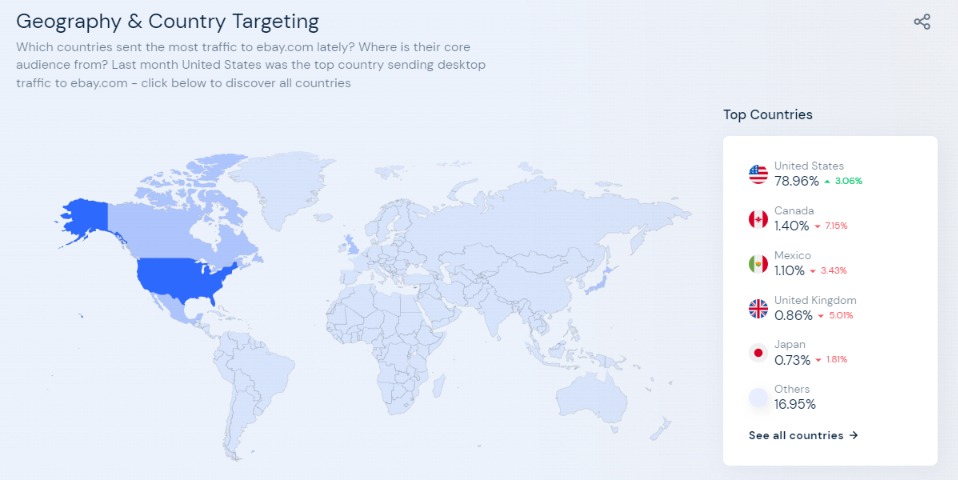 The annual active buyers are now 147 million active global buyers.
Over $227 million of revenue from Promoted Listings was delivered.
eBay gets about 688.9 million visit each month from the US region which is about 41% of all the visits
What can you sell on eBay Marketplace?
eBay allows sellers to sell multiple product categories and boost sales. Here are the best product categories to sell on eBay:
Books
Business and Industrial
Clothing, Shoes, and accessories
Collectibles
Consumer Electronics
Crafts
Dolls and Bears
Home and Garden
Motors
Pet Supplies
Sporting Goods
Toys
Antiques
Computers/Tablets & Networking
What are the Selling Fees on eBay?
There are mainly two types of selling fees on eBay marketplace: an insertion fee (charged for listing creation) and final value fee (charged when item is sold).
Insertion fees: Zero insertion fees for up to 250 listings per month, then $0.35 is charged per listing
Final Value fees: Vary from 2 to 15% depending on product category + $0.30 per order
To learn more about eBay fees and charges, refer here.
Walmart
Walmart is one of the top online marketplaces in USA and the most visited e-commerce website in the world. Have a look at the data and stats before selling on Walmart-
Walmart has about 100+ million unique visitors per month.
It is the second most visited e-commerce website across the globe.
It allows the sellers to reach out and sell the products to about 260 million users across the world.
Currently, there are 5,320 total retail units of Walmart in the US.
Walmart's net sales worldwide from the year 2006 to 2022 can be seen below in the image:

Prerequisites for selling on Walmart
You need to have a United States business entity for selling on Walmart.
Walmart Marketplace asks for product identifiers- GTIN, UPC, EAN, ISBN, and ISSN respectively.
A seller selling on Walmart needs to have quality products (refurbished products are allowed).
Seller selling on Walmart needs to fix competitive prices.
Merchant/Seller needs to ship efficiently within the US efficiently if selling products in the USA.
You need to give great customer service to buyers if you are selling on Walmart.
You have to ship products in plain boxes with no branding for selling on Walmart.
Your products are required to have UPC or EAN or GTIN codes for selling on Walmart. At least one of them is required, otherwise, you will not be able to sell on Walmart without valid codes.
To know the products you can't sell on Walmart, check this list of restricted brands and products, and assure that you are not selling these products.
For more points on the minimum requirements to sell on Walmart, click here.
Also Read: How to sell on Walmart Marketplace.
What are the selling fees at Walmart?
As great news for sellers aspiring to start selling products in USA, there are no fees to feature the products and start selling on Walmart and it charges only a Referral Fee, which can range from 6% to 20% of the product's selling price, depending on the product's category.
What are the best selling categories on Walmart?
Beauty
Health
Personal Care
Household Essentials
Sports & Outdoors
Food
Clothing, Shoes & Accessories
Sears
With approx. 30 million visits per month, Sears Marketplace is amongst the e-commerce giants that is a more than perfect platform for online US-based sellers to sell. If you sell on Sears, you may reach out to the huge customer base. Before you sell on Sears, see the total number of visits on Sears marketplace below: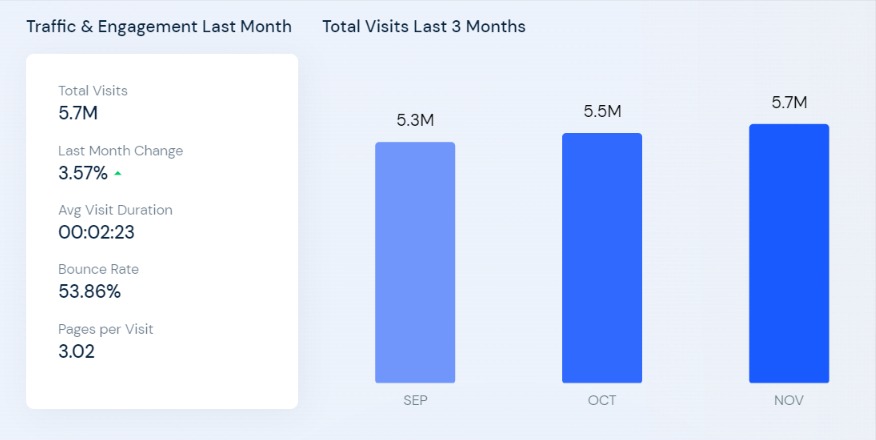 Traffic on Sears marketplace by country can be seen in the image below: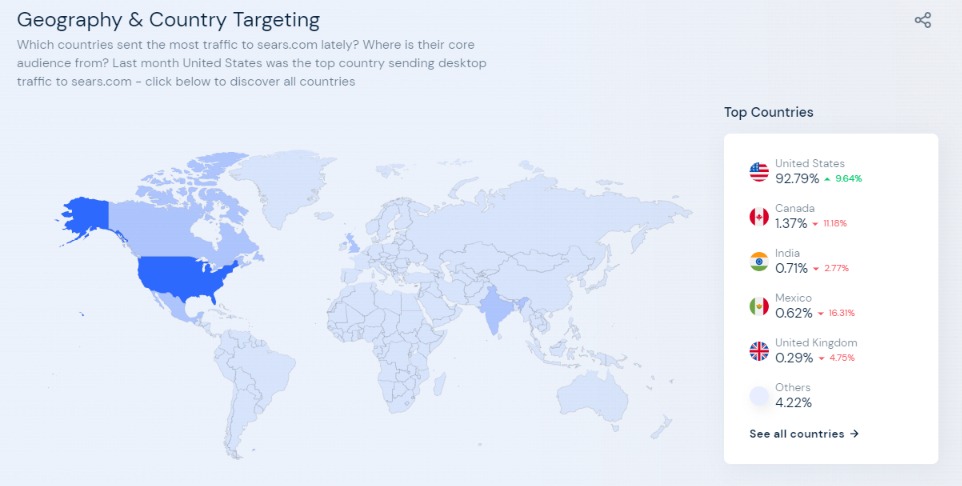 What are the Selling Fees on Sears?
Although there is no application fee applicable on Sears, the set of charges that a seller comes across are:
$39.99/ month subscription fee, which enables unlimited monthly orders.
Up to 20% commission fee depending on the product category (also known as a transaction fee).

What are the best selling Categories on Sears?
Appliances
Jewelry
Beauty
Books
Computer
Clothing
Toys and Games
Shoes
Tool and DIY
Also Read: How to increase sales at Sears.
Etsy
It is an online marketplace where sellers can sell their vintage, handmade, or custom-made jewelry, clothing, home decor, art, toys, and more. On Etsy sellers can turn their creativity into business and become a brand globally. With more than 5.30 million active sellers as of 2022, the Etsy marketplace is one of the biggest platforms for users to sell in the US region.

Etsy has a total visit of about 525.5 Million by users, as per the data from SimilarWeb, as can be seen below: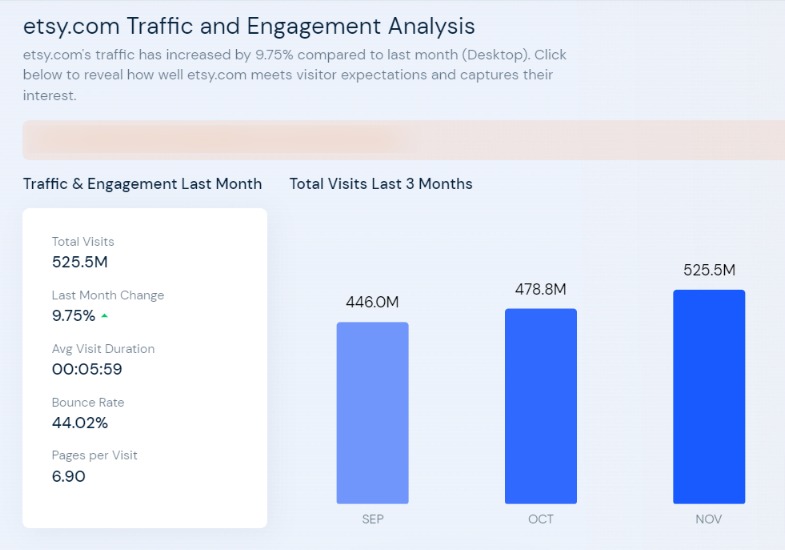 Adding to the massive performance of this marketplace, the traffic on Etsy alone in the US is 57.84% that can be seen below: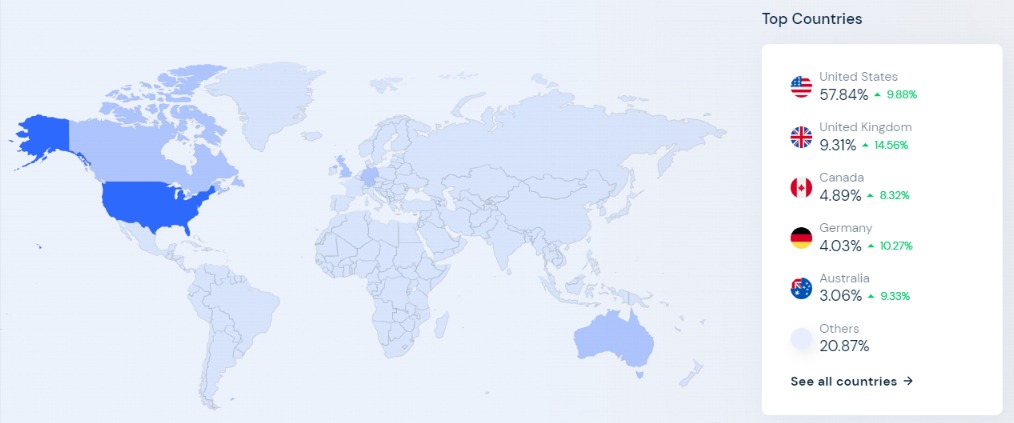 Also according to the research, it has been seen that 61% of Etsy sellers are multichannel sellers, and 82% of Etsy sellers want to grow their business. In the year 2015, Etsy became a publicly-traded company in the US.
What are the selling fees on Etsy?
Etsy does not charge any monthly fees from the sellers. It charges only the listing fees of US$ 0.20 which makes the listing active for four months or until they sell. Also, there is a 5% transaction fee. To know more about selling fees on Etsy, refer here.
What are the best selling categories on Etsy?
The best selling items on Etsy are:
Craft Supplies
Handmade Items
Jewelry
Wedding
Accessories
Paper and Party Supplies
Clothing
Vintage
Home and Living
Art and Collectibles
Also Read: How to Sell on Etsy: A Beginner's Guide!
Newegg
Newegg is one of the biggest marketplaces in the US at which merchants may sell under the computer hardware and consumer electronics categories and cater to the needs of millions of users. As can be seen in the image below, Newegg has about 25.6 million visitors coming to the website every month.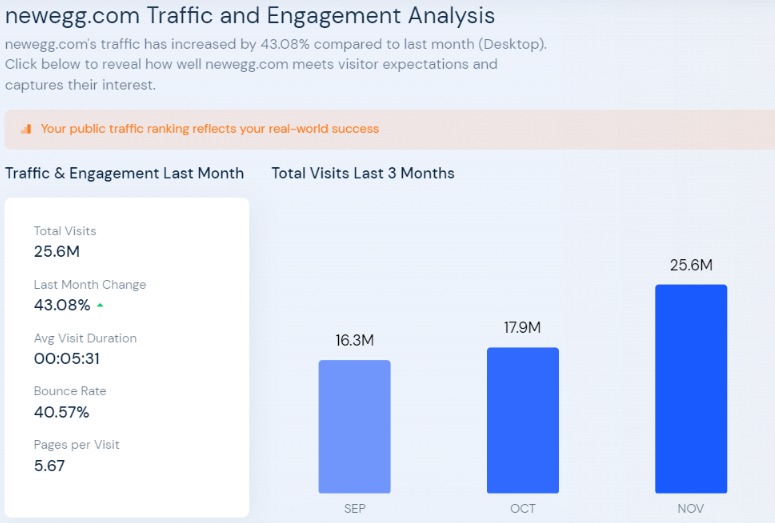 NewEgg Marketplace generated about $2.5 billion+ revenue in its first year according to eCommerce Worldwide.
What are the Selling Fees on Newegg?
NewEgg Marketplace does not ask for any account setup costs. However, you are only accounted for a nominal commission on each sale.
What are the best selling categories on Newegg?
Computer Hardware
Consumer Electronics
Cell Phone Accessories
Beauty
Sporting Goods
Camera & Photo
Also Read: Best Ways to Sell on Newegg Marketplace
MultiChannel Selling in the US
For sellers selling on just one marketplace in US is just not worth for their business. Multichannel selling is the best option that one can opt for to grow their business in full US and also across the globe. To start with multichannel selling you must have a marketplace multichannel integration for your store. Integrating your store for selling on multiple platforms not only increases the sales but also helps in making you a brand globally.
You must be wondering how to handle multiple channels through one platform?
Worry Not!
Here I am listing out the benefits of using a multichannel integration that will come out as a rescue for your smooth selling.
Multiple Account Support
Bulk Product Management
Automatic Orders management
Real-Time Synchronisation of Price, Inventory, and Product Details
Low Stock Updates
With CedCommerce you can do multichannel selling through various platforms like Magento, Shopify, WooCommerce, BigCommerce,etc.
Wrapping it up
So it is crystal clear how to sell in USA  with the marketplaces mentioned above in this post. Selling on these marketplaces can be an extremely lucrative deal for you as a seller. Huge customer base, vast population, technology, and innovation-driven populace, and what not is there that you get when you sell on the US marketplaces. In short, we can say that selling products in the US itself can procure you such profits that you might have always desired, to transform your business. So give it a thought and embark on your journey to start selling products in the USA-for great exposure of your products and skyrocketing sales with multichannel selling in US.