Top Selling Items on eBay in 2022
Running short of time? Get PDF of the blog in your mail.

Play Now
eBay is one of the top eCommerce marketplaces in 2022 that provides a platform for selling items through listings and online auctions. Here people can buy and sell products and services worldwide. eBay is the second top marketplace in the US. Moreover, eBay is an arcade of products for sellers as well as customers.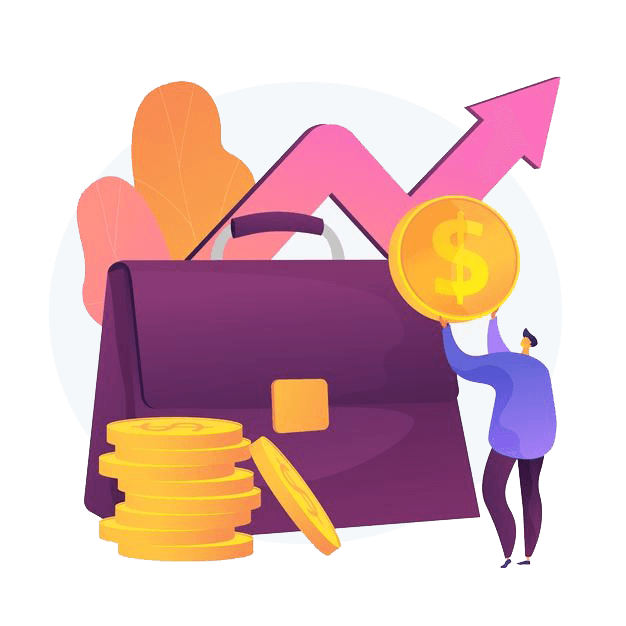 Why Stick to one marketplace when you can sell on Many!!
Schedule a meeting with experts to learn the real benefits of multi-channel selling and expand your business
eBay's 2021 fourth-quarter report states that revenue earned was $2.6 billion and GMV of $20.7 billion and according to the Q4 reports it is seen that:
The annual active buyers are now 147 million active global buyers.
Over $227 million of revenue from Promoted Listings was delivered.
Have you ever thought of what goods are you selling on eBay? Whether those items find their spot in the list of top selling products from eBay?
You can definitely get some thoughts on the best things to sell on eBay by going through this blog.
eBay has various categories on the basis of which the items get classified:
Books
Business and Industrial
Clothing, Shoes, and accessories
Collectibles
Consumer Electronics
Crafts
Dolls and Bears
Home and Garden
Motors
Pet Supplies
Sporting Goods
Toys
Antiques
Computers/Tablets & Networking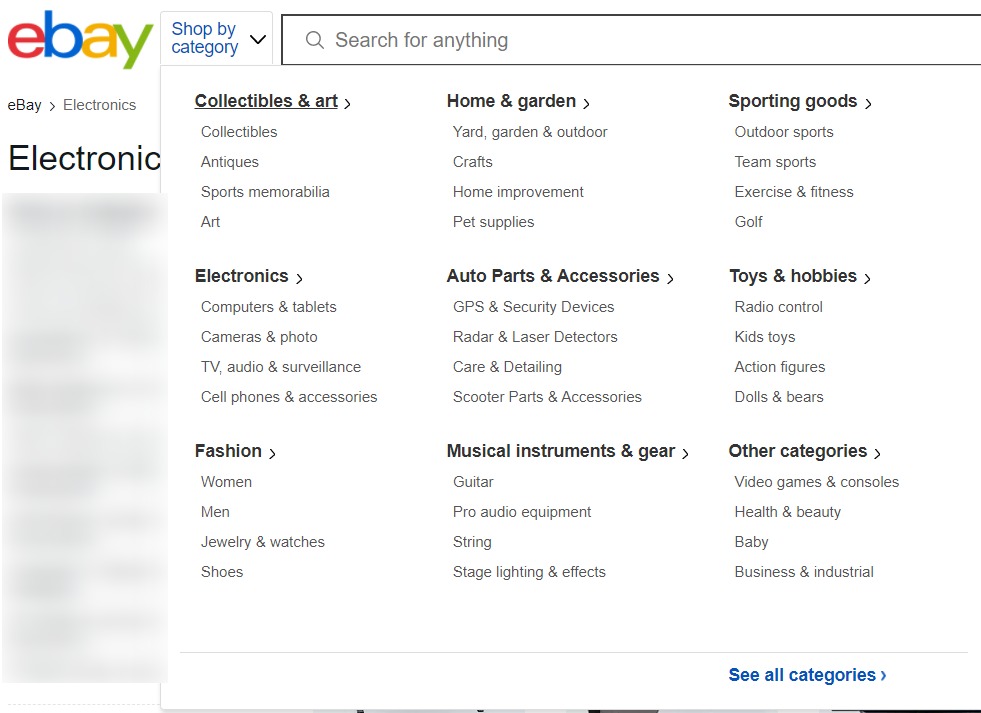 In these categories, there are some products that are winning in the race of sales and are ranking in eBay's best selling items.
What are the eBay top-selling items in 2022?
The most significant thing is to know about the best and top-selling products on eBay to boost your revenues in 2022. By adding the products most purchased by the client to your inventory is a solution to increase your proportion of sales.
So, for you to boost your sales by knowing the top-selling products on eBay here are the products and their categories:
Mobile Phone & Accessories:
In the best things to sell on eBay are the mobiles and their accessories. With the growing technology, people are also constantly changing their phones to use the latest technologies which in turn is making it in top-selling products. As per the statistics, we observed that an average of 666 items is being sold in this category per listing.
55,000 units were sold of a silicone case of iPhone 11,12 and 13
65,000 sales of the tempered glass screen protector
28,000 units of in-car iPhone holders are sold at an average
iPhone is the most popular brand and if any of the product gets linked to it then that also becomes popular as the iPhone.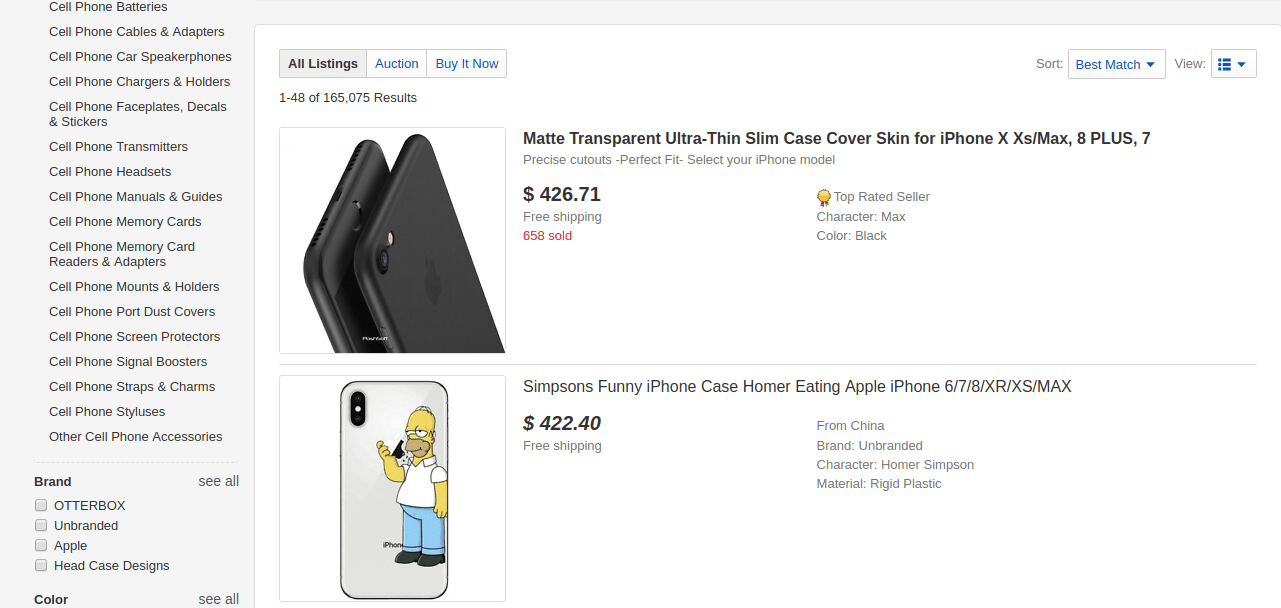 The brands in Cases, Covers, and skins are Spigen, Storm Buy, Mybat, Otterbox, and Apple that sell the most in this category. There is a peak in the sales of mobiles and mobile cases as the new mobiles are released especially from popular brands like Apple and Samsung.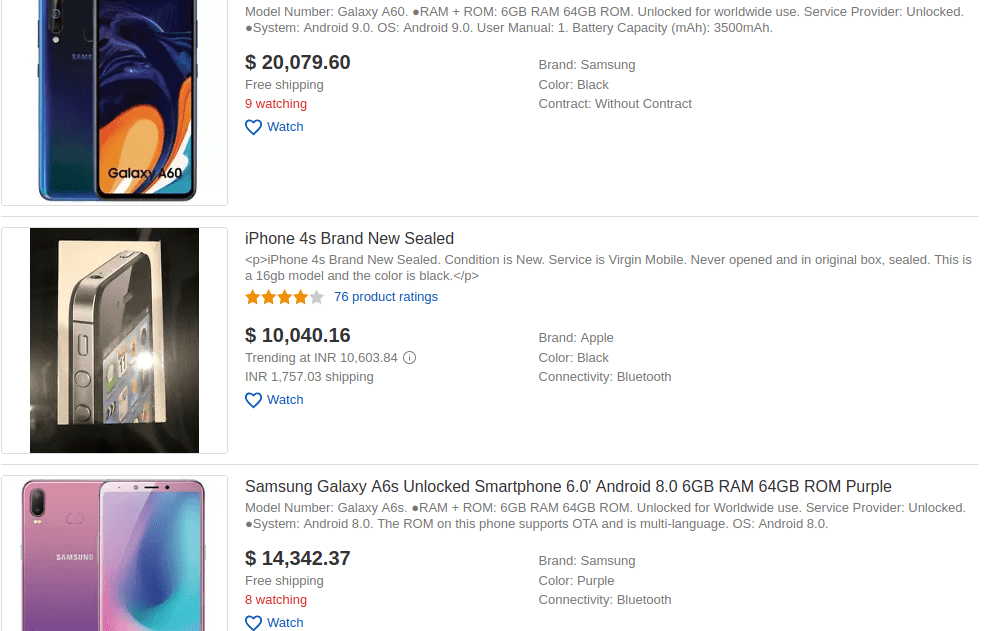 Video Games:
In eBay top selling items list next is Video Games. As per the listings, an average of 118 items is sold in video games listing. The price ranges from $4.99 and $88 having an average price of $25.23.
It is a fact that Video games and video consoles are also the best selling products on eBay. Whether you want to sell the recent AAA titles at a reduced cost than the high street shops or you want to get rid of a back collection of retro consoles and classic titles, you can always discover a buyer.
It has been seen Super Ninja Boy and Final Fantasy 2 each got sold for $2,000 on the SNES in the past, while Donkey Kong 3 got sold for $5,350 on the NES. The most costly title was Super Mario Bros ' Asian release on the NES. It got listed by the vendor for $25,000.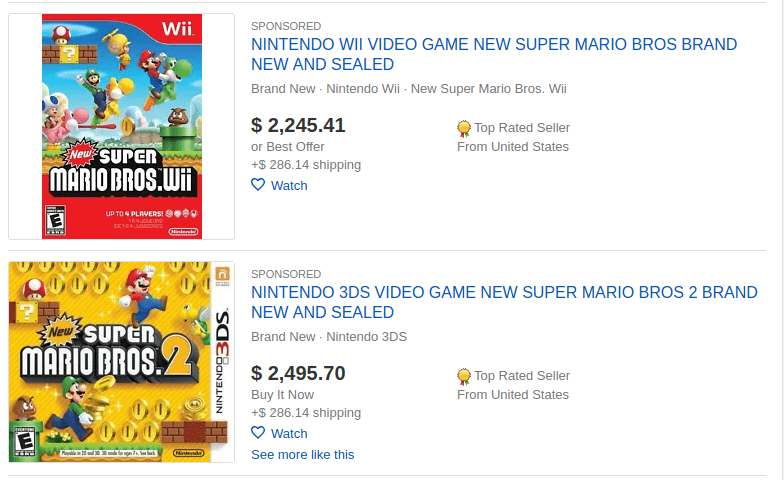 The most common game controller products come from large console producers like Microsoft, Sony, and Nintendo, though generic brands have also been doing well. The Microsoft XBOX ONE Controller was the best-selling item on eBay for both amount and value for the Controllers & Attachments category on eBay in 2022. It sold 1,846 units over a period of 30 days, with an average selling price of $35.99.A Sony DualShock controller and other XBOX wireless controllers included other common products.
Health and Beauty:
Best selling products on eBay in this Health & Beauty category are Vitamins and Dietary Supplements, Skincare products, perfume, hair straighteners, hair dryers.
On average, 88 products get sold in vitamins and minerals per listing. Great Healthworks, GNC, LifeVantage, Optimum Nutrition, and Puritan's Pride are the top-selling brands of these vitamins and minerals.
The products most sold in this category are the Omega XL Joint Pain Relief tablets from Great Healthworks. It sold 1,140 units with an average selling price of $37 in a 30-day period.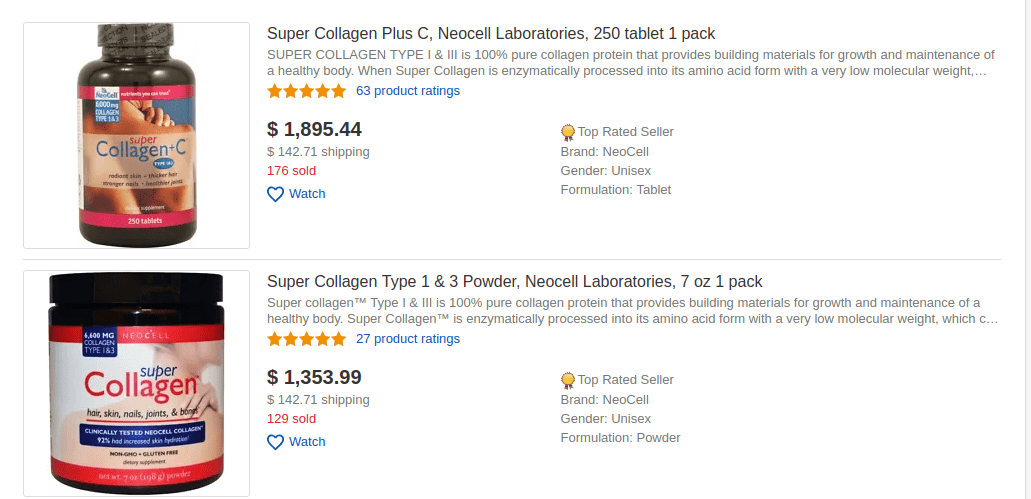 GNC Pro Performance Fitness Pills, Great Healthworks Omega XL tablets, and LifeVantage Protandim Nrf2 multipacks are eBay best sellers products in this category.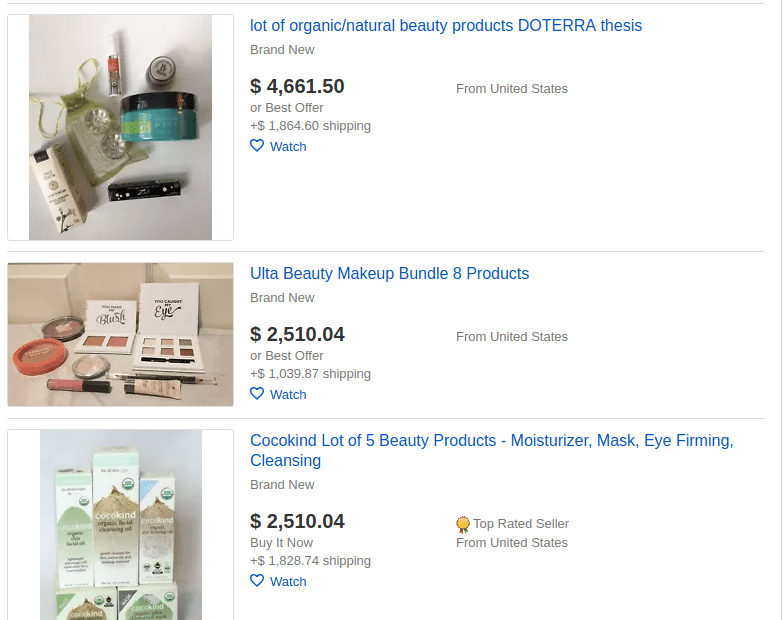 Now you all understand that coming to beauty products has always been the preferred decision for the gift purpose or the customer's self-use. Beauty products are also the best-selling products on eBay.
Statistics around last year show that the beauty category alone contributed to 15 products among eBay's top-sellers. Bio-oil, maquillage mirror, and razor blade for men made it to the list. The treatment kit for Moroccan oil was also one of the top-selling products. The total revenue of these items sales exceeded $5 million.
Home and Garden:
In eBay best selling items the home and garden products are most liked by the consumers. So selling items of these categories can benefit your revenues. It is easier for the buyers to get old wall prints, lamps, cushions, or a plant pot that is no longer for use.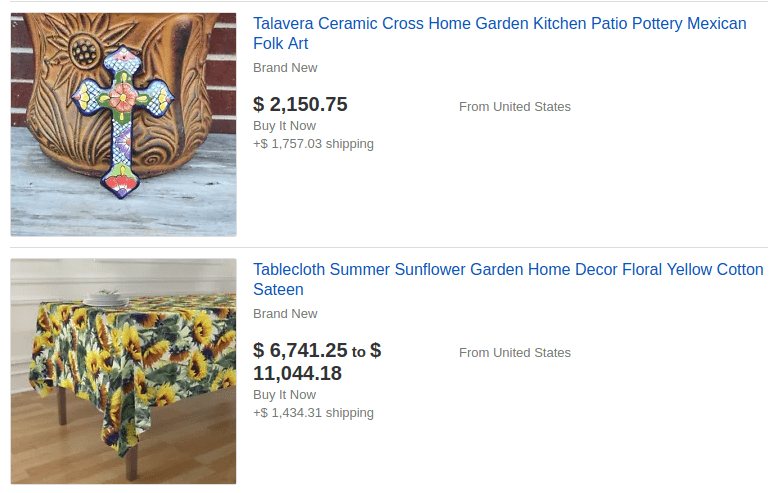 A set of Egyptian bed sheets is among the top-selling item in Home Category. It netted the seller nearly half a million dollars in revenue with a whopping sale of 40,000 units in 2018 alone. Other popular products like LED light strips, gas-powered generators for outdoor use, and a Dirt Devil vacuum cleaner also found their place in this list.
Home decor items like lighting, coffee tables, and sofas are among the most sold items on eBay, which have an average sales price of $55.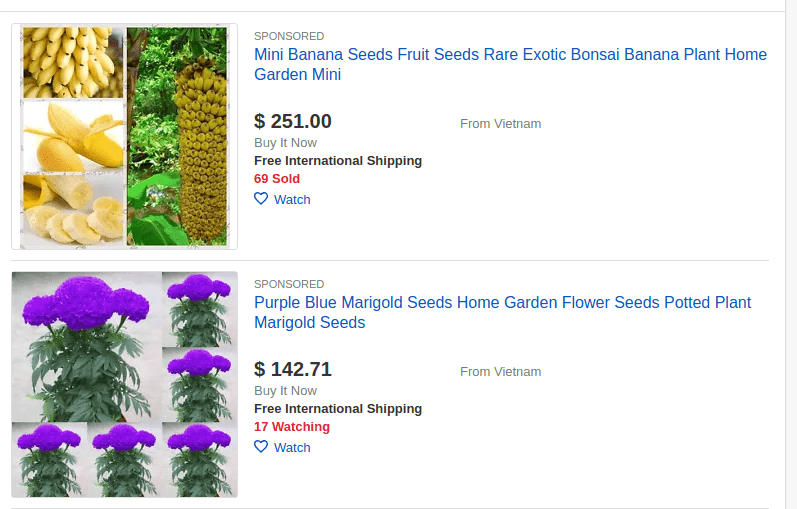 And in the case of garden items barbecues, garden furniture, and parasols are the best selling items on eBay having an average sales price of $80.
Computers and Tablets:
Computers and tablets have become a necessity in today's time for people to accomplish their tasks faster and have taken the place in most sold items on ebay. Sales of tablets and laptops are considerably improving on the basis of fresh product releases from large brands and it also ramps up in the festive season. Computers, Scanners, Laptops, printers are the Best selling items on eBay in this category.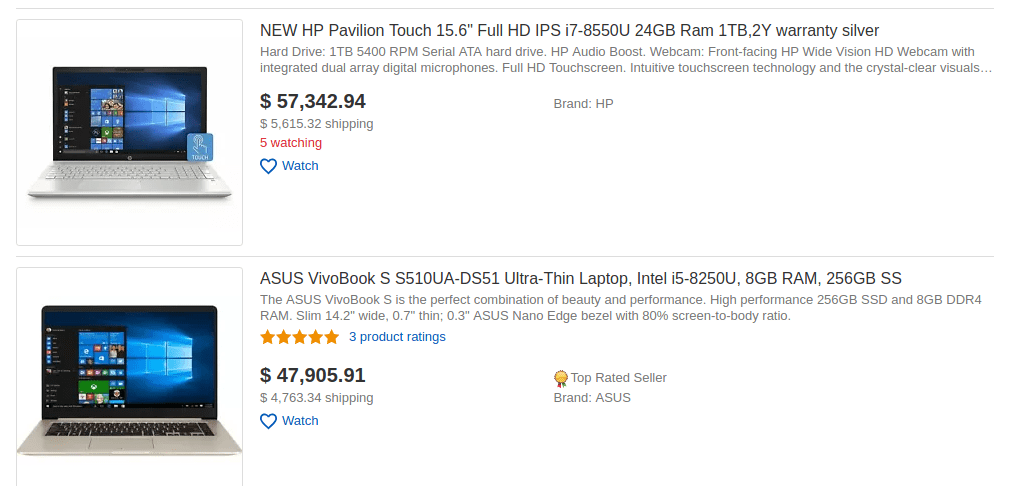 The items sold per listing are an average of 135. The brands that sell the most of these products are Apple, Samsung, Ghia, Kocaso, Asus, etc.
On the basis of quantity, the most selling item on eBay is Apple iPad2(16 GB).614 units were sold in 30 days at a $74.99 median selling price. The Apple iPad Pro 3rd generation(256 GB) is the best selling items on eBay by value. It has sold 162 units in the 30 day period at the average selling price of $799.99.
Fashion:
Your personality represents how you dress up. The fashion category is the most searched by consumers. With the change of the seasons, fashion trends also change. You can make most of the money by selling clothes on eBay.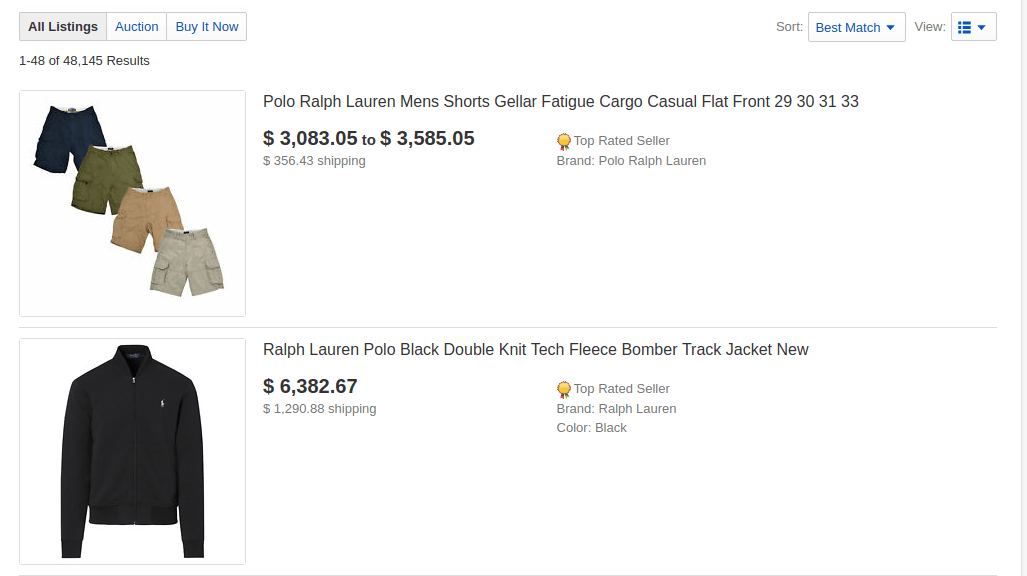 The best selling brands of men's clothing on eBay are The Territory Ahead, Ermenegildo Zegna, Filson, Carhartt, Schott, etc. The popular brands of women are:
Eileen Fisher,
FLAX,
Free People,
Dale of Norway,
Diane Von Furstenberg,
The above and similar clothing brands have made their name in the top-selling items on eBay.
Crafts:
The craft category also has the best selling items on eBay. The most famous categories in this are:
Jewelry making beads
Stone beads
Scrapbooking & Paper Crafts
According to the analysis of beads listing, 433 items got sold per listing in the previous months. Accordingly, having the beads' price range is between $0.71 to $69.99, having an average price of $2.04. The brands that sell the best beads are Your Perfect Gifts, AD Beads, Crystal Beads, and DouVei.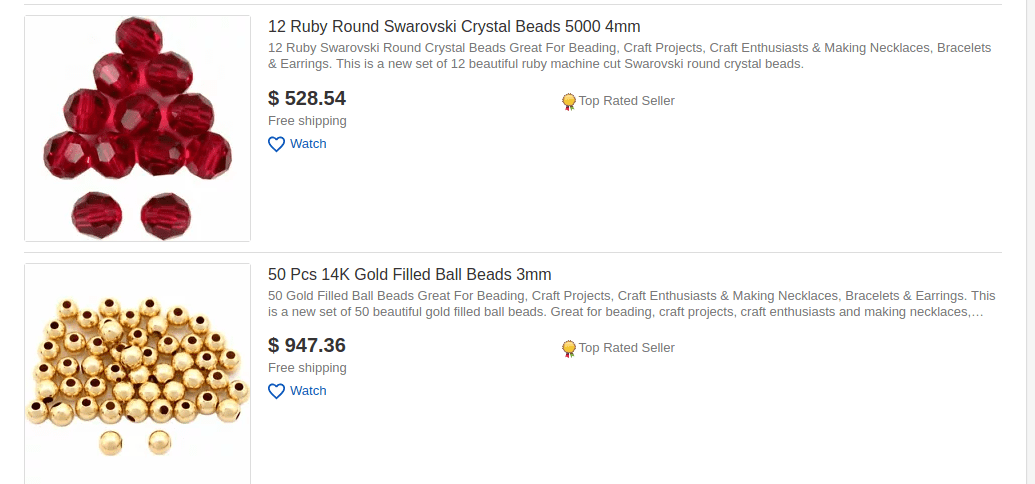 Based on varieties quantity, the best selling item on eBay in the Bead category is Natural Gemstone Round Spacer Loose Beads. It is also available in various sizes. Five thousand six hundred sixty-three units are selling in 30 days giving an average selling price of $1.27. Also, shoppers showed keen interest in the crystal glass spacer beads and other beads from different manufacturers among the top-selling items on eBay in 2022.
Based on value, best selling items on eBay in this category are Natural Gemstone Round Spacer Beads with different packaging. The number of units sold was 1,989, with an average selling price of $4.86 in the 30 days. This type of bead is selling the most on eBay in a larger quantity.
Don't be left behind! It is the right time to take your business online!
Are you selling the eBay top selling items?
Knowing 'What sells the best on eBay' can be very helpful as you have an understanding of what to sell! eBay is already there to showcase your products to its crowd!
On the whole, you can make good money on eBay as an auctioneer or as a fixed price vendor by referring to the above information. Also, In the upcoming time, eBay has a lot more for the sellers like Managed Fulfillment Delivery by eBay.
Till now you must have got the idea about the most sold items on eBay. Keep this information in mind to become the best seller and to enlarge the business in 2022. If you are looking to set up your business on eBay or have any other queries about selling, connect with our experts.
Also Read: Best Selling Categories and Items on Amazon in 2022