Magento Commerce: Major Advantages and Disadvantages
Running short of time? Get PDF of the blog in your mail.

Play Now
Magento Enterprise Edition is the king of eCommerce. It has increased the efficiency of managing eCommerce stores. As experts say by 2020, it would be Magento's most preferred edition. Though many small to medium-sized companies choose the Magento Community edition to be budget-friendly. The Magento Enterprise edition is designed on a long-term basis for quick and cost-effective development. Moreover, it is the best choice for sellers looking to grow multichannel business with Magento.
Magento Commerce is the #1 platform in the 2019 Internet Retailer U.S. Top 1000.
The software is comprised of vibrant, out-of-the-box usability, business quality and scale, and robust business tools to advance even more complex business processes and rising customer demands.
So now, let's dig deeper and know what the advantages of Magento Commerce(Enterprise) over Magento Community Edition are.
Advantages of Magento Commerce:
Seamless shopping experience with minimal response time across any mobile device
Enhanced conversion rate from the defendant to consumer
Quick check-out of products improves customer satisfaction
One-click account creation draws attention from customers
Supports advanced tools to start multichannel eCommerce business
Registered customer auto-recognition minimizes cart dropout and increases the level of order conversion
Adding enriched media content makes the product successful and boosts consumer interest
The intuitive knowledge of Magento Admin is beneficial to the merchants.
Magento Enterprise Edition is comprised of integrated Elastic search technology that makes it very easy for large catalogs to be set up and handled efficiently.
Elastic search provides suggestions for misspellings, synonym management, and support for stop words to help increase the rate of conversion.
Magento Commerce has secured payment gateway. The payment gateways securing the payments are Braintree, Paypal, Authorise.net, CyberSource, and WorldPay.
The advantages of using Magento Enterprise Edition for a medium to large-scale enterprise business outdo the remaining platform on the market and thus making the price worth it!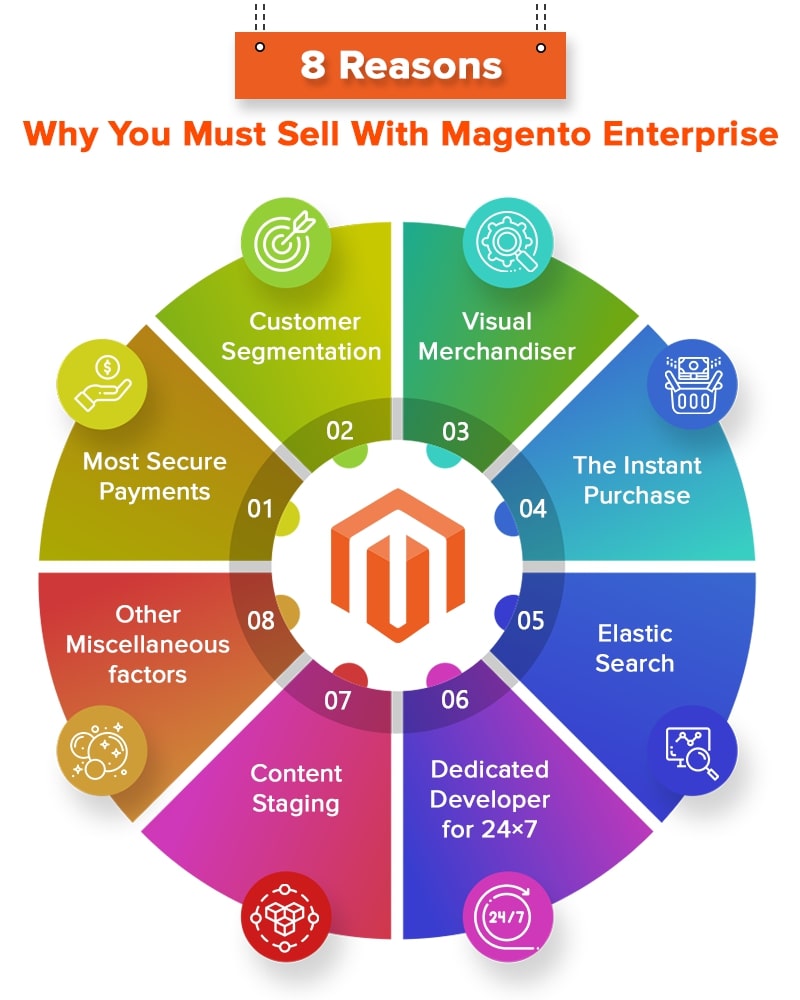 Magento Commerce Opportunities to Succeed a Business:
Magento Commerce has various opportunities for your business to be better and faster. The various opportunities are as follows:
Create Compelling Experiences
Improves Operational Efficiency and Intelligence
Accelerate Sales Growth
Deliver Superior Performance
A crucial key step that an enterprise business has to take is choosing the right eCommerce platform and solution. Contributing to your business growth and improving customer experience are the two major motives of an ideal eCommerce solution. At CedCommerce, we have a full-fledged team of experts that help enterprise retailers like you to analyze, plan, and successfully set your business online.
Click Here to learn how our powerful tool can reinvent your Enterprise operations and open up new revenue streams.
Hold on your horses, as now I am going to put some significant disadvantages, which you should know before using the Magento enterprise edition.
Disadvantages of Magento Commerce(Enterprise):
High Pricing: The pricing of the Magento Enterprise edition is very high. But this high pricing isn't for any loss; instead provides you more benefits. Therefore making it worthy for you to invest in the Magento Commerce edition.
Complicated Management & Handling: It takes time to get familiar with the Magento Enterprise edition, but once you start using, you will find it the best platform to use for your eCommerce store.
Limited Actions: You, as a store owner, have limitations to make changes in the store as the full access is with the developers assigned by Magento.
Conclusion
To sum up, in a nutshell, it all means that Magento Commerce(Enterprise) Edition is better than Magento Community Edition. Better to pay the amount and get more features rather than using the older version.
Its a fact that if anything has advantages, then it will have disadvantages. But as said, "Always look on the brighter side,"; so must you look to its benefits rather than disadvantages.
So what's the wait for? Switch to Magento Commerce from Magento Community Edition and boom your business.