Insights On The Evolving Trends Of B2B Through M-commerce
Running short of time? Get PDF of the blog in your mail.

Play Now
Before Talking about M-commerce or Mobile shopping, let's just talk about mobile phones.
Do you remember the time when mobile phones came to the world?
I still remember the day when my dad bought his first mobile phone. The thing that used to excite us the most was being able to make calls from anywhere without the need to visit the telephone booths, wasn't it?
Gone are the days! Today, if we begin counting, there is hardly anything left out of the reach of mobile technology.
Starting our day, the first thing we probably do is shut off that annoying alarm ringer on our mobile phones, many of you can relate, right?
And heading towards the end of the day, how many times our mobile phone comes to our rescue, from calling the cab for going to the office or ordering food for lunch to paying the bills, and what about Mobile shopping? (I can see that grin on your face)
Those lazy weekends when we skip to go for window shopping just to snooze off or to go out partying whole day, and then when do we shop bro? No worries! The mobile phone comes to the rescue again.
A recent LexisNexis study demonstrated how M-commerce is on the cusp of becoming the go-to habit for shoppers.The study conducted on more than 1,000 U.S. merchants and it was found that 16% of them already own a mobile shopping channel, while 32% are thinking of opting for one in the next year.M-commerce adoption is also high among e-commerce merchants, as 80% of e-commerce retailers with at least $50 million in annual sales either currently offer or plan to offer M-commerce. Hence, it makes sense given that these companies have already invested in the digital market, so mobile could be the next logical step for them.
Now, What do you mean by M-Commerce?
The term M-Commerce stands for Mobile Commerce. It is all about buying, selling and performing E-Commerce transactions on cell phones or tablets. It helps the user to access the Internet anytime and anywhere without needing to plug in an external device.
Our Mobile devices work no less than supercomputers which we carry in our pockets. In today's era, a consumer is powerful, and that power is granted by the market itself. Putting the stuff on the shelves in a brick and mortar store no longer exists.
The consumer expects the product list to be endless, and the shopping experience to be seamless. And the vendors are also committed to delivering ever enhanced shopping experiences to the buyers.
Online shopping companies are all the way pampering their customers with the limitless catalog of products, comparisons with related products, immediate insight into functionality, user reviews, and in some cases, even same-day product delivery. The "Try and Buy" option is the hot favorite among consumers.  
Following the trend, all the online and offline retailers are emerging with ever creative ways to put up with the customer expectations. The result being, the bar is raising leaps and bounds, and the one-size-fits-all approach is coming to an end.
And, Mobile shopping is one of the most important trends in e-commerce will be emerging in the coming years too. This Report provided by Invesp report shows that American retail sales conducted using the cell phone amount to over $132 billion in 2018, up by almost $20 billion as compared to 2017's record i.e. $114.5 billion.
M-Commerce Market Share and Size
M-commerce will be the next trend in the coming years as e-commerce has risen to become a larger portion of total U.S. retail sales. In 2014, M-commerce made up 11.6% of the $303 billion U.S. e-commerce total, according to data from the U.S. Census Bureau and comScore.
BI Intelligence, Business Insider's premium research service, used this data to forecast that M-commerce will reach $284 billion, or 45% of the total U.S. e-commerce market, by 2020.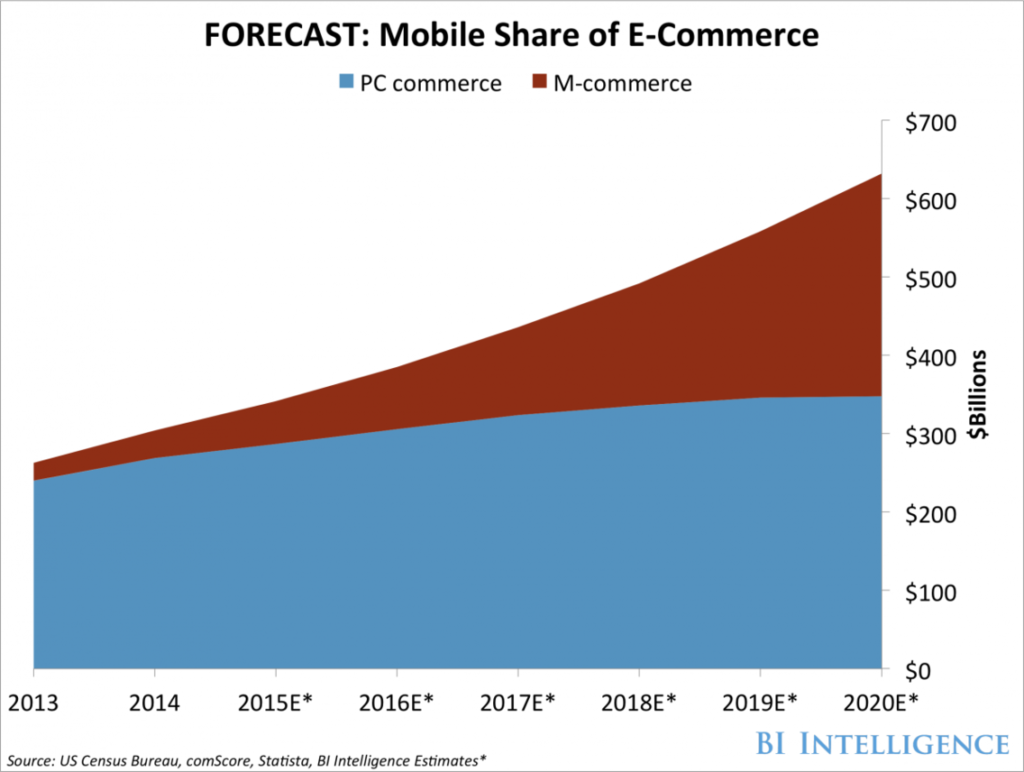 (Source: BI Intelligence)
Looking for real-time inspiration? Brands like Sephora, Frank & Oak, and Starbucks are successfully embracing m-commerce with their own mobile apps—and it's worth it. In the last quarter of 2017, 11% of Starbucks transactions in the U.S. were performed with their Mobile Order and Pay app solution.

The studies say:
[
source
]
125 Million U.S. consumers own mobile phones.

50 million U.S. Consumers use tablets.

By 2020, a video will make up to 80% of the whole online consumer Internet traffic."

62% of smartphone owners have made a purchase online using their mobile phones in the past 6 months.

One-third of all eCommerce transactions done during the 2015 holiday season was made on a smartphone.

80% of consumers used a smartphone inside of a physical store to either look up product reviews, compare prices or find alternative store locations.
B2B E-commerce: TRENDING
By 2019, B2B firms will be spending more on eCommerce technology than online retailers do.

56% of B2B buyers were expected to make more than 50% of their business purchases online in 2017, up to 30% in 2014. [

source

]

The US B2B e-commerce market could reach $1.1T and account for 12.1% of all B2B sales by 2020, and over $6 Trillion worldwide. [

source

]

56% of B2B consumers were expected to make half or more of their business purchases online in 2017 and, up from 30% in 2014.

71% of B2B researchers start performing generic unbranded searches and average 12 online searches were general before getting to be vendor specific. [

source

]
Always bringing the best of eCommerce to our audience, here's a quick guide to building a successful B2B marketplace.
How will we be shopping in the coming 10 years?  
Source: Forbes.com
Are we going to shop sitting on the couch in our sweatpants? Will brick and mortar stores go away?
A few trends we can expect to see based on how technology is changing these days-
Ultra swift delivery:
Nowadays, the delivery norm is of 2 to 3 days. Earlier it used to be around 5 to 6 business days. If you pay attention, it's constantly evolving. In fact, a surprisingly high 25% of consumers said they would abandon the carts if the one-day delivery option wasn't available.
yes! that's the beginning, of course. Two-hour drone delivery is around the corner, and Amazon is ready for the magic of 30-minute drone delivery.
Image source: Amazon.com
Your Kitchen Will Never Be Out Of Stock:
While Amazon has initiated the "Dash Button" concept, the day is not too far when your pantry will literally order the products for you. One stealth startup, WePlenish, is ready to launch a series of "IoT-powered" smart containers that promise to revolutionize the modern kitchen.
You don't need to worry about running out of essentials like coffee, pet food or snacks because your containers will sense inventory levels and refill those items without you having to know about it.
Know where would you find that Black dress without stepping out of the house:
Have you ever gone to a store hoping to get that particular color dress for that office party scheduled the next day, only to learn they were not available? A new feature from Google Home allows you to ask Google Assistant to find in-stock products at the closest store.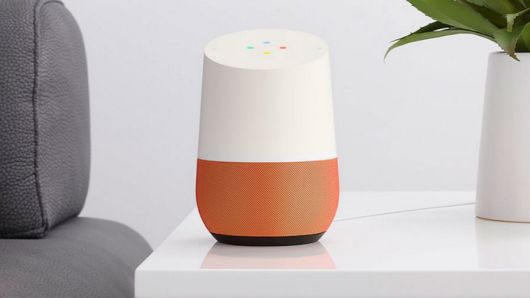 Image source: Google Home
For example: "Hey Google, where would I find a blue linen shirt?" Google Assistant will tell you how many physical stores you have and how close they are.
"With the escalation of mobile devices, smart screens and smart appliances, e-commerce and the marketing derived from it will become more intertwined to our future instant gratification lifestyles," says Greg Yevich, co-founder and technology director of OperationROI, an e-commerce marketing firm and our client. "Every touchpoint — from digital to TV, radio and social networks — will let shoppers complete immediate purchases on the spot."
No More Struggling With Heavy Shopping Bags Way Back Home:
The biggest pain of going out to buy things is that you have to transport them back all by yourself. Cart them through the store. Carry them out to your car and even bring them inside the house is too tiring. This can be tiring if you visit several shops and make any purchases.
In the coming future, the Bonobos model may become more common. If you don't know, the store doesn't carry any in-store inventory. Instead, you try things on in-store and pay for them, but you won't be taking anything back with you. The product you purchased get sent to your home. Not within the two-day shipping period. But with two-hour shipping? Thirty minutes? Less? In future, your purchases may arrive home before you do.
Digital Dressing Rooms:
In the near future, heading to the store may be like going to the movies instead of watching at home. You'll go for the experience.
For instance, High-end retailer Rebecca Minkoff tripled clothing sales with the interactive touch-screens that let the shoppers choose products to be sent to their dressing rooms. The dressing room mirror also enabled them to view those same items appeared in different colors, styles, sizes, and looks.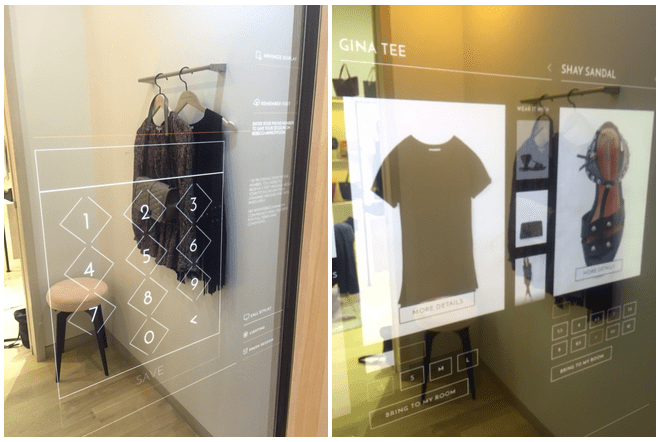 Image source: Digiday.com
And dressing rooms as we know them may become an obsolete culture. Why go through the trouble of getting undressed after all, when you can use an accurate 3D version of yourself to try on those trending clothes and get suggestions about fit, style, color and more?
One of the best beauty retailers, Sephora, is already using its highly interactive app to let buyers try on new makeup colors and get suggestions via the phone's camera.
It means that merchants will constantly evolve, innovate and unify their omnichannel efforts, so shoppers' paths to purchase are as frictionless as possible.
Convenient shopping, seamless experience, and options — it will be a whole new world.
It is needless to say that the world for Gen Next will surely be a better place to live.
About MageNative
Getting your Mobile App is much easier now with MageNative. Since 2016, MageNative Mobile App builder has been providing mobile solutions for E-commerce merchandisers and helping them get a fully Customisable Native App. We work on several frameworks such as Magento, Magento 2, WooCommerce, Shopify, Opencart and Delivery App for Magento 2. We have provided 500+ apps in the last 2 years, and successfully earned 5-star reviews on the App Store. MageNative has its Happy customers Globally over 20+ countries.