Impressive Growth for Pro Coffee Gear! Reports 2X sales with CedCommerce
Running short of time? Get PDF of the blog in your mail.

Play Now
Here's a success story of a multi-channel seller, who optimized Inventory and Order Management with CedCommerce's Integration for eBay. Discover how Pro Coffee Gear generated a 25% increase in the traffic and how it led to 2x Sales of their Shopify store within a short span of using the eBay app developed by CedCommerce.
Challenge
Pro Coffee Gear is a team of enthusiasts that follows their passion for empowering coffee purveyors with the craft of creating true, authentic, and great coffee through their quality coffee equipment at an affordable price range. When they set up operations on eBay, they started facing trouble with inventory management that resulted in overselling. Consequently, it caused a decline in the reputation of professional coffee suppliers on eBay.
Solution
Integration for eBay turned out to be the silver lining for the team of Pro Coffee Gear. With Integration for eBay by CedCommerce, a multi-channel selling tool for sellers that integrated Shopify stores with eBay – Pro Coffee Gear started managing inventory and orders from Shopify. The application fixed the problem reported by the team.
Outcome
Pro Coffee Gear soon overcame the overselling issues they readily encountered. Also, with a dedicated account manager and great support team, Pro Coffee gear witnessed a growth of 25% in traffic and 2X in sales within a short period.
About Pro Coffee Gear
Established in 2017, Pro Coffee Gear was founded by Wes Wakefield in Texas, US. The team, ever since, has been on a quest to make it easier for everyone to make great coffee.
With a team that knows every aspect of the industry and has questioned and validated every assumption, Pro Coffee Gear aspires to make professional and quality coffee equipment more accessible to people at much lower prices. They've curated a renewal process by working with highly professional coffee-machine part manufacturers. It aids in determining the lifespan of every critical component. It empowers them to refurbish professional coffee components to the best of their ability.
The steps involved in refurbishing a professional coffee machine by Pro Coffee Gear include: Inspecting the machine, Diagnosing the root cause of the problem, and Repairing what's broken. Once the repairing begins, the team also looks out to extend the lifespan of coffee machines by replacing near-end-of-life components. It includes – Cleaning & rebuilding group heads and steam assemblies to ensure it looks good before conducting the final bench test for each component.
What made them look for support?
Expanding their operations from Shopify, the professional coffee machine supplier stepped into the wonderland of eBay. After the initial days of operations, it was evident that inventory management was an uphill task. The team noticed an issue in syncing stock that resulted in creating orders. It started affecting the reputation of Pro Coffee Gear on eBay.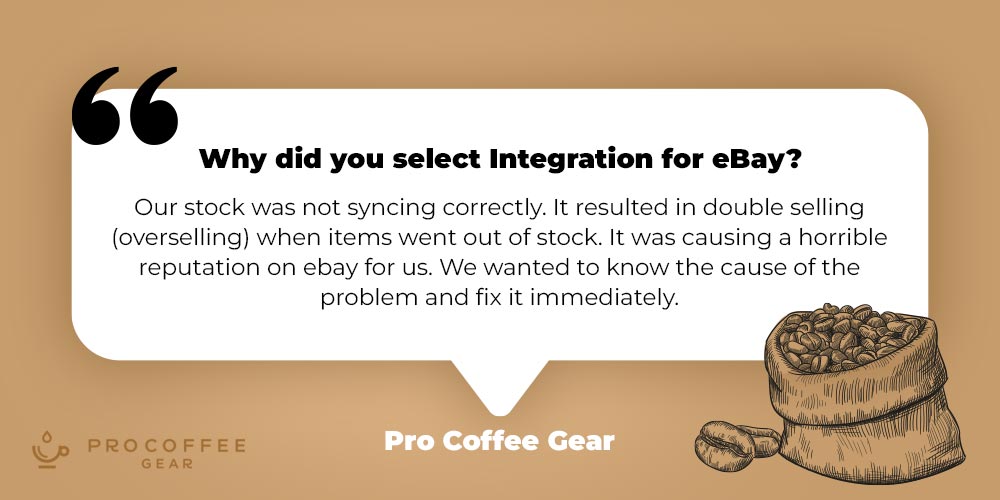 The aim was to solve the overselling and inventory management issues. This is where Pro Coffee Gear came in contact with CedCommerce, a multi-channel integration tool provider for the Shopify framework.
About CedCommerce
CedCommerce is a leading eCommerce platform and marketplace integrator whose vision is to build secure, optimized, and scalable integration tools and technologies for online sellers to offer multichannel capabilities.
CedCommerce is helping online Marketplaces to create an optimized integration ecosystem. Furthermore, it helps in a smooth seller onboarding and streamlined product data feed flow. In close collaboration with partners like Google, Facebook, Walmart, and eBay, we have built over 50 sales channel tools for all major platforms viz Shopify, WooCommerce, Magento, BigCommerce, and Prestashop.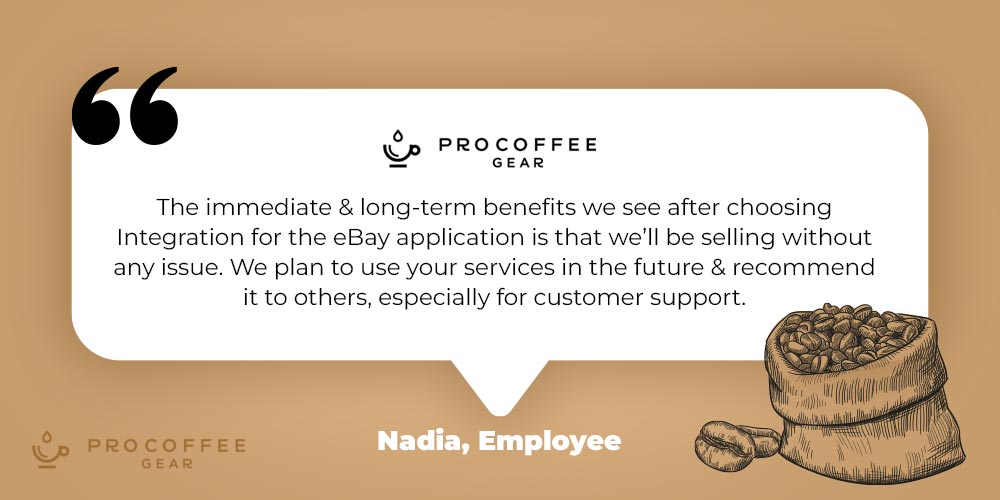 What made Integration for eBay the best solution for Pro Coffee Gear?
The Integration for eBay, a multi-channel integration tool, is one of the best solutions to create a new listing, edit and create business policies, and manage inventory and orders. Moreover, Pro Coffee Gear got help from the application and deployed it as a solution to all their multichannel problems.
Makes Shopify a single source of truth
Pro Coffee Gear got the opportunity to manage the entire eBay operations from their Shopify store itself. Thereafter, Inventory, Orders, Products, Shipments, and Business Policies got managed through the application – Integration for eBay.
Create / Edit Business Policies
eBay requires each seller to create their Shipping, Return, and Payment policies. The app-enabled Pro Coffee Gear to create and edit the already available business policies on eBay through Integration for eBay.
Order and Inventory flow from eBay to Shopify and vice versa
The app powered Pro Coffee Gear to manage and synchronize their inventory levels in real-time. Moreover, it enabled them to monitor the current inventory level across both channels, preventing any issues related to overselling.
Order management was simplified as the fulfillment process for all the orders received on eBay was taken care of from the Shopify store, eliminating the multiple checkpoints for orders. Also, the app facilitated sharing the tracking details for the orders once fulfilled from the Shopify store.
Intelligent Bulk Edit and Listing
Multiple templates for Category, Title, Inventory, and Price made it easy for Pro Coffee Gear to list products. The team could assign the products to the required categories. Thus, repeatedly assigning the same categories to the products eliminates the redundant steps.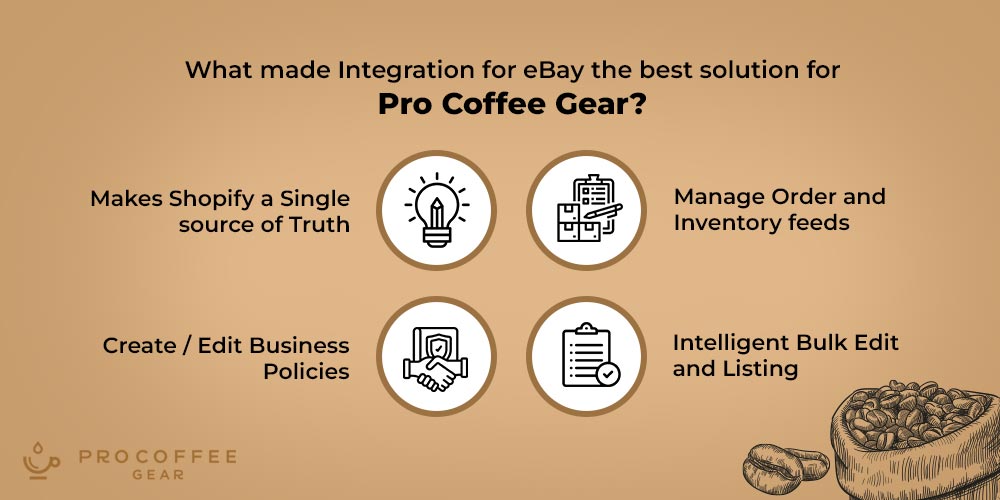 Results
As a result of the multichannel integration tool – Integration for eBay, Pro Coffee Gear not only curbed their problem revolving around multiple order creation. But, they also gained access to a whole new world of simplification in their entire product, inventory, and order management process for the eBay marketplace.
To summarize, within a few weeks, Pro Coffee Gear noticed a rise of 25% in their traffic. They also noticed 2X sales compared to when they had not deployed the application. The support from the team of experts was immense. Above all, the experts made it easy for the team to understand the workflow of the app.
Thinking about selling on eBay with Shopify? Contact us through WhatsApp, or Skype or drop an email and Install the App now.