How to setup your eBay Business Policies?
Running short of time? Get PDF of the blog in your mail.

Play Now
The business policies are the most fundamental building block any seller planning to establish himself on an online marketplace needs to acknowledge. eBay is no different. A marketplace catering to the needs of its 187 million users spread over 190 countries leaves no stone unturned to offer a great user experience. The eBay business policies are one such step to provide security to both the sellers and the buyers from getting cheated and experiencing hardships due to unrealistic expectations on the buyer's end.
Let's learn what these policies are and how they are monumental in affecting your sales. The business policies let you create templates that can be accessed and used instantly when creating a new listing. It helps you save time when listing products that follow similar policies.
The Business Policies on eBay comprise of,
Payment Policy
Shipping Policy
Return Policy
eBay Payment Policy
When it comes to making a payment, setting up an eBay payment policy becomes of utmost importance. It is a gateway to your buyers that helps them understand the available options you are willing to provide during the checkout.
When creating payment policies, you need to enter a Unique Name (should not be more than 64 characters) and add a Short Description (under 250 characters) to define the policy. You can identify its content at a later stage.

Next, you need to select at least one electronic payment method from the option that eBay offers. The list includes
PayPal (you also need to provide the email address associated with the given PayPal account).
If you have a pre-existing credit card merchant account, you can opt for merchant credit cards. The options include,

Visa/Master
Discover
American Express
You can also make other payment options available for your buyers in the form of Money orders, Personal cheques, and Pay on pickup.
Finally, you need to enter additional payment instructions within 500 characters that get displayed alongside your listings. Once you've entered the required details related to your eBay Payment policy, click Save to create the given policy successfully.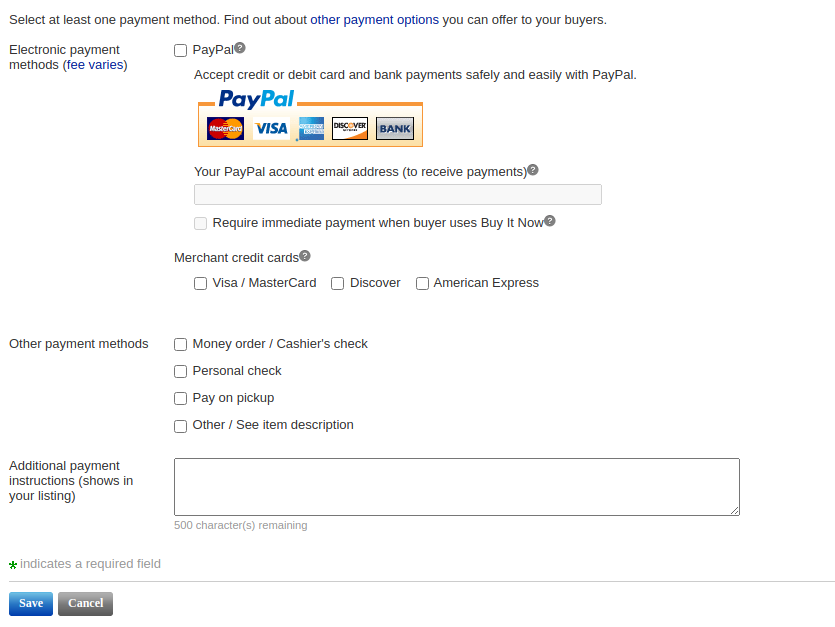 eBay Shipping Policies
Setting up your eBay shipping policy becomes essential to handle all your domestic and international packages. Your buyer needs to get complete information regarding shipping practices like estimated delivery dates, shipping rates, international shipping, and other related data.
When you start creating your eBay shipping policy, you'll be asked to use a Unique Name (not more than 64 characters) for the policy followed by a Short Description (within 250 characters) for the same.

Domestic Shipping Policies
Now you need to set up your domestic shipping. Select the required shipping rate from the drop-down menu. The options available to you will be,
Flat Rate: Selecting the option implies the exact shipping charge will be applied to all your buyers.
Calculated: Once you select the given option, your buyers will be charged based on their location.
Freight: When you sell items that exceed 150 lbs, you get to choose the given option.
No Shipping: You get to choose this option when you do not ship your products. The item will be available for local pickup only for the buyers.
Next, you need to select the shipping services (select from a list of shipping options) you're willing to offer to your customers, along with the handling time for each order.
The shipping services give you options to select from,
Economy
Standard and
Expedited services

International Shipping Policies
Next, you need to select whether or not you'll be providing international shipping to your buyers. Customer's shipping rates specify the shipping rates for the customers. You choose the appropriate shipping option from the drop-down menu. The options available to set the shipping policies include,
Flat: All your international buyers will get the exact shipping rates.
Calculated: The option gives you a choice to select the shipping rates based on buyers' location.
No International shipping: Select the option if you are not selling your products to the global audience.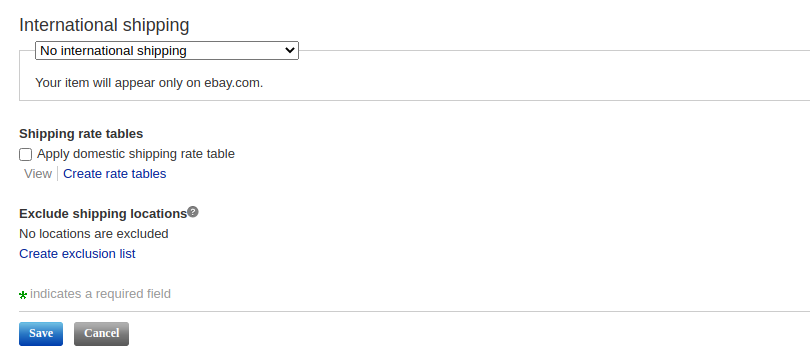 Apart from setting up domestic and international shipping, you also set the domestic shipping rates by creating them through the Shipping rate tables. Finally, fill up the exclusion list for international shipping. The list comprises the countries you do not wish to ship your products to.
However, if you're selling eBay's Global Shipping Program internationally is something worth considering. With the program, all you need to do is ship your products to eBay's global shipping center. And eBay manages the entire shipping process until the item gets delivered to your customer.
Once done, click SAVE to save your eBay shipping policy successfully.
Start managing eBay Multichannel selling on Shopify, BigCommerce, Opencart, Prestashop, WooCommerce, or Magento store. CedCommerce gives you an integrated solution to get started with easy-to-operate multi-channel sales from a centralized location.
eBay Return Policy
Assuming you are performing great as a seller on eBay and that you are terrific when it comes to shipping and customer satisfaction for your products. Returns are not something that'll bother you with immediate effect. However, it does eat your profit in the long run, negatively impacting your business. Creating an eBay return policy helps both you and your customers save time and move forward, and handle things with ease if any discrepancies arise.
When you start creating your eBay return policy, you'll be asked to use a Unique Name (not more than 64 characters) for the policy followed by a Short Description (within 250 characters) for the same.

The eBay return policy section asks you to clarify whether you accept returns from domestic or international buyers. You can validate the checkbox next to the respective options.
When defining terms for returns of Domestic and International returns, you'll have to provide the accepted return days that you are willing to grant for the buyer to initiate a return after receiving the product. Use the drop-down menu to offer and select the appropriate option that suits you. You can choose from 14, 30, and 60 days. However, you need to remember that, to qualify as a Top-rated seller on eBay; You need to provide a minimum of 30 days' return as per eBay's return policy.
Next, you need to clarify who'll be paying for the cost of shipping in the case of return. You get to choose from "Buyer" and "Seller" (In case you offer free shipping).
Finally, you need to provide information stating whether you give the exchange/replacement for the products sold by validating the respective checkboxes corresponding to the given information.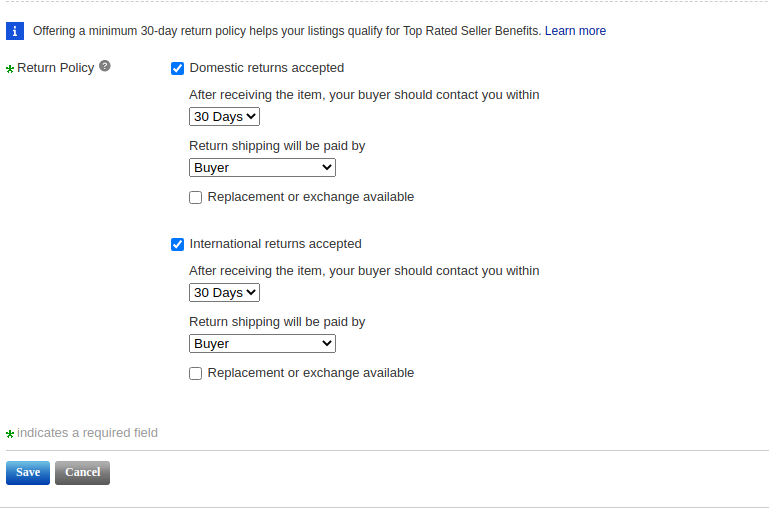 Conclusion
Selling on eBay makes it essential for you to communicate with your buyers. The communication channel that eBay provides is the business policies that you get to set for each listing.
The business policies on eBay, which comprise the payment policy, shipment policy, and Return policy, let your buyer know and acknowledge what to expect from you as a seller before they make a purchase. Creating the policies is simple, easy, and helps develop a sense of clarity for your buyers. However, if you're having trouble setting up the business policies and configuring your listings, please contact us on Skype: live:support_35785 or drop an mail. We'll get back to you at the earliest.