How to sell on Walmart with CedCommerce Walmart Connector App
Running short of time? Get PDF of the blog in your mail.

Play Now
Tis the season to be jolly and boost your sales! The festive spirit is in the air, and what better way to celebrate than by diving into the world of eCommerce and making the most of this joyful season? For online sellers, it's like unwrapping a gift because the festive season is when your sales can reach new heights. And what better platform to make your dreams come true than the enchanting Walmart Marketplace – a retail giant that sparkles in the multichannel eCommerce landscape? In this blog, let's put on our festive hats and learn how to sell on Walmart using the dazzling CedCommerce Walmart Connector to sprinkle some holiday cheer into your business strategy.
We'll guide you through the enchanting journey of maximizing your success during all the festive seasons throughout the year. From Singles Day to Doubles Day, from Black Friday to Cyber Monday, from Thanksgiving to Christmas, and all the way to New Year's, we have expert strategies and tips to make your sales merry and bright.
So, grab your hot cocoa, and let's take a sleigh ride into the enchanting world of Walmart Marketplace!
Unwrapping the Magic of Walmart Marketplace
Walmart, a name that shines brightly across the globe, unwrapped its eCommerce ambitions with Walmart Marketplace, and oh boy, what a journey it has been! It's like the North Star of the online retail world, guiding sellers to a treasure trove of customers. Since its inception, Walmart Marketplace has been on a magical ride, enchanting everyone in the eCommerce world with its brilliance.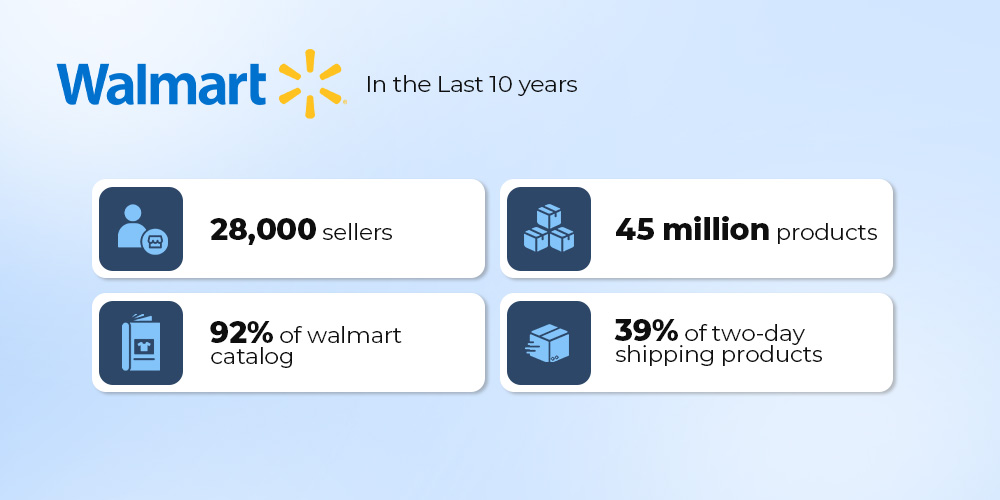 Why Walmart Marketplace Shines So Bright
Walmart Marketplace stands out like a beautifully decorated Christmas tree in a snow-covered forest. It's all about delivering quality products at prices that are as sweet as candy canes. Unlike some other eCommerce giants, Walmart places the star on the tree by prioritizing customer satisfaction and holding its sellers to the highest standards. This commitment to quality means that customers have a shopping experience as delightful as a plate of cookies left out for Santa, and sellers enjoy a festive season of lucrative opportunities.
A Global Feast of Opportunities
Walmart Marketplace has extended its festive banquet table to welcome sellers from all corners of the world. It's like a global potluck where sellers from various countries and regions bring their unique offerings to the feast, expanding the platform's customer base like the spreading aroma of holiday feasts.
The Diverse Audience of Walmart Marketplace
Walmart Marketplace is like a grand holiday party where you'll find all sorts of guests – from frugal shoppers hunting for the best deals to those who cherish quality and reliability above all. This diversity of guests at the party opens a world of possibilities for sellers to cater to a wide range of customers.
The Magic of Selling on Walmart Marketplace
Selling on Walmart Marketplace during the festive season is like opening a treasure chest filled with holiday surprises.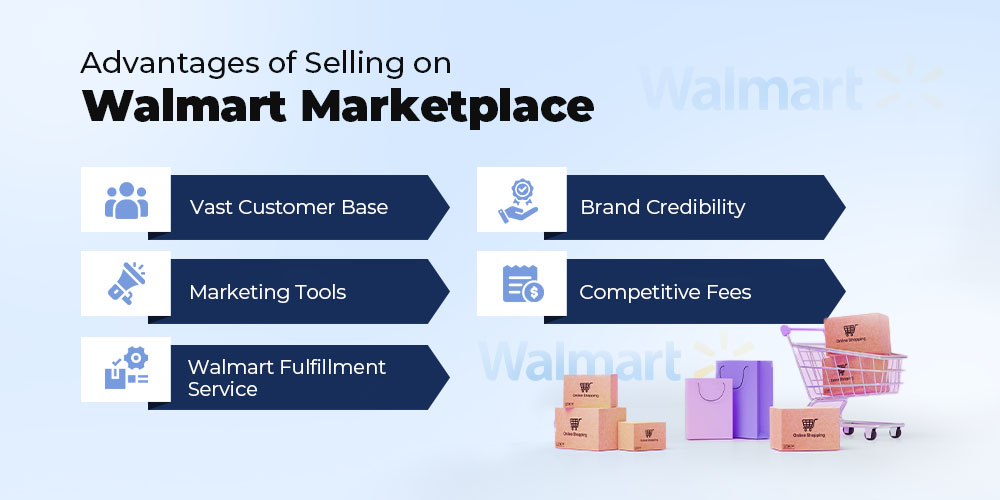 Here are some enchanting advantages to make your season sparkle:
Vast Customer Base: With millions of monthly visitors, Walmart Marketplace serves a banquet of customers on a silver platter, increasing the potential for sales to rise like a loaf of bread in the oven.
Brand Credibility: The association with Walmart adds a sprinkle of stardust to your brand, making it shine brightly in the eyes of consumers.
Fulfillment Options: Walmart offers various ways to fulfill orders, including the magical Walmart Fulfillment Services (WFS), which ensures timely deliveries, making customers' faces light up with joy.
Competitive Fees: Walmart's competitive commission rates are like the twinkling lights on a Christmas tree, making it an attractive option for sellers looking to maximize their profits.
Enchanted Marketing Tools: The platform provides sellers with magical marketing tools and data analytics to boost sales and create a festive atmosphere.
How to Sell on Walmart: Registering as a Seller
Becoming a seller on Walmart Marketplace is like finding the North Pole on your GPS – it's the destination of dreams.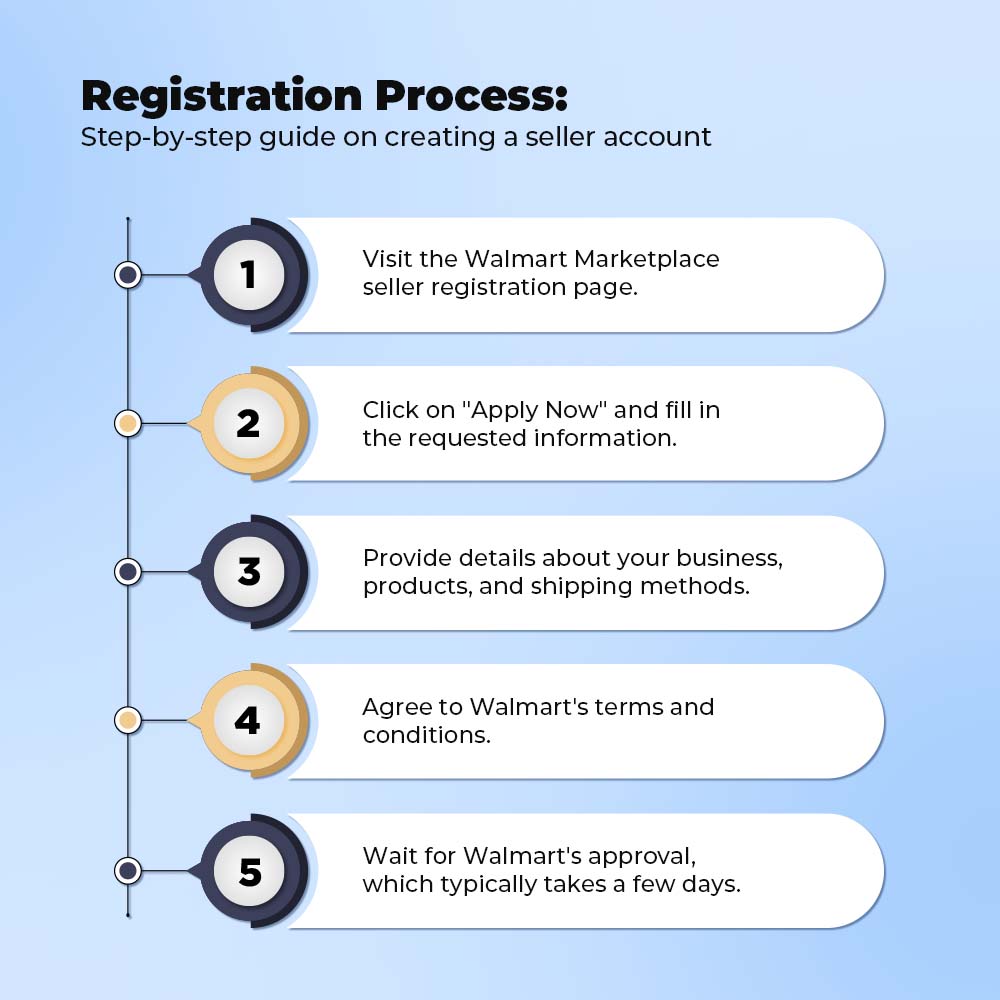 Here's a step-by-step guide on how to set up your own winter wonderland:
Visit the Walmart Marketplace seller registration page, just like strolling through a holiday market.
Click on "Apply Now" and fill in the requested information, as if you were writing a letter to Santa.
Share the enchanting story of your business, your products, and your secret shipping methods.
Agree to Walmart's terms and conditions, like making a pact with a magical snowman.
Wait for Walmart's approval, which typically takes a few days, as though the elves are working their magic behind the scenes.
Unwrapping the Essentials to Sell on Walmart
To set up your seller account on Walmart Marketplace, you'll need some essentials, just like Santa needs his sleigh:
Business and tax identification information, as it's essential to be on Santa's "nice" list.
Bank account details for payment processing, like Santa's sack of gifts.
Product information, including SKU, UPC, and pricing details, to make sure every gift is labeled correctly.
Shipping and return policies, because even Santa has a return policy for unwanted gifts.
The Magic of Discovery and Shopping
Customers on Walmart Marketplace find their holiday treasures through various enchanting avenues:
Product Listings: It's like flipping through a magical storybook to find the perfect item.
Customer Reviews: Positive reviews are like twinkling stars in the sky, guiding shoppers toward their holiday wishes.
Sponsored Products: Walmart offers a paid advertising program to make your products shine like holiday lights.
Personalized Recommendations: The platform uses algorithms like Santa's list to suggest products based on a customer's holiday wish list.
In Conclusion: Embrace the Magic
In conclusion, Walmart Marketplace is like the grand ballroom of eCommerce – a place where the magic happens. The advantages it offers to sellers are as clear as a starry winter night. This festive season, don't just hang ornaments on the tree; embrace the potential for growth that Walmart Marketplace provides and elevate your eCommerce business to new heights.
The CedCommerce Walmart Connector App is your trusty reindeer for navigating this vibrant marketplace. With seamless integration and expert support, it ensures that your festive season is filled with joy, and your sales soar to the heavens. So, don't be a Grinch; join Walmart Marketplace and watch your business flourish in this season of festivities. May your days be merry and your sales be bright!