How to sell on Shopee Marketplace with Opencart Integration by CedCommerce
Running short of time? Get PDF of the blog in your mail.

Play Now
Shopee is one of the most dominant South East Asian Marketplace catering to a wide range of customers and is spread across countries like Singapore, Malaysia, Philippines, Taiwan, Thailand, Indonesia, and Vietnam. In this blog, I have compiled how they can sell on Shopee with Opencart Shopee Integration by elaborating the benefits for Opencart sellers to sell on Shopee. I have also added the seller registration process including seller fees with FAQs from Shopee sellers.
Have a look at the table of content:

Overview on Shopee and Opencart

Benefits of selling on Shopee Marketplace

Features & Advantages of selling on Shopee with Opencart

How to do seller registration on Shopee & 

Shopee seller fees

How to sell on Shopee Marketplace with Opencart Integration by CedCommerce.

Protips by CedCommerce to sell on Shopee with Opencart

Frequently asked questions (FAQs) by Shopee Sellers
Overview on Shopee and Opencart
What is Shopee Marketplace?
Shopee is ranked #1 shopping app in South East Asia. Shopee is bridging the gap between retailers and customers by creating the largest eCommerce ecosystem covering all the major SEA countries. These major highlights will let you understand what is Shopee Marketplace a little better as described below:
Until now Shopee has more than 21 million downloads(ios & Android). 

Shopee receives 170.86 thousand daily visitors. (Source)

Covers the whole South East Asian subcontinent including countries like Singapore, Malaysia, Philippines, Taiwan, Thailand, Indonesia, and Vietnam.

A perfect multilingual platform which enables sellers to sell in 7 languages (English, Bahasa Malaysia, Chinese Traditional, Chinese Simplified, Thai, Bahasa Indonesia, Vietnamese)

7 million active sellers are happily selling on Shopee.

Last quarter 2018, Shopee experienced

147.6 million monthly visitors

.

Shopee provides a platform for new sellers and their 11.11 sale last year (of 11 million orders in 24 hours) is the proof to it.
Shopee has always been a close competitor to Lazada.
Giving more power to WooCommerce Sellers, CedCommerce enables retailers to outreach their products' in the SEA market.
WooCommerce Shopee Integration is now live on Official WooCommerce Marketplace
What is Opencart?
An easy-to-use, powerful, Open Source online store management tool that enables sellers to achieve organized selling.

No monthly or additional charges to sell.

Enables sellers to customize their store the way they wish to.

Allows Sellers to manage their store from any mobile device or desktop.

Provides complete sales analysis with sales report and marketing tools.
What if we combine these two?  An evergrowing eCommerce Marketplace and a perfect eCommerce tool!! 
We get Shopee Opencart Integration – a perfect recipe to become a successful online seller.
What is Shopee Opencart Integration?
Shopee Opencart Integration is an exclusive eCommerce extension tool which serves as a helping hand to sellers who have their business in Southeast Asia or wishes to sell in Southeast Asian marketplace.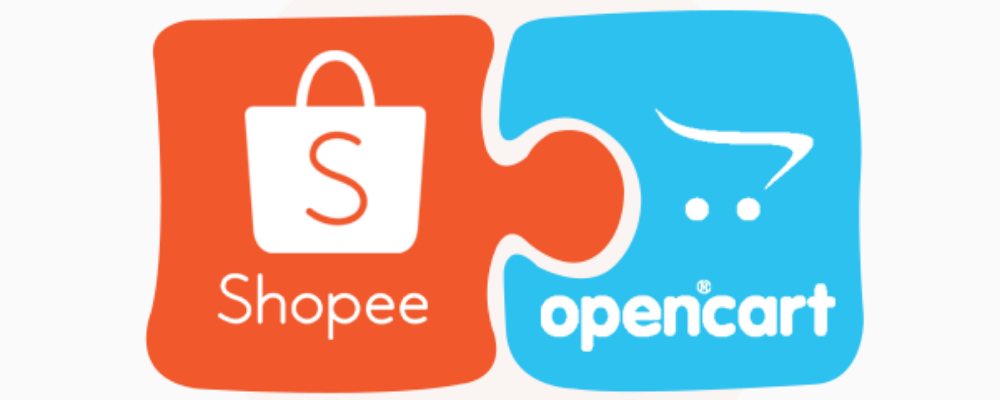 With a proven strength to handle any challenges while selling on Shopee Marketplace, CedCommerce brings  Shopee OpenCart Integration Extension! Equipped with all the brand new selling features and technology enhancements this integration extension is expected to set a new benchmark. This extension establishes an automatic syncing of Price, Inventory, Order, etc between OpenCart Store and Shopee.
Features Of Shopee Opencart Integration:
One time Payment

Unlimited Bulk Product Upload.

Real-time synchronization

Live Listing Management

Single Console Management

Order Auto Acknowledgement

Automated data flow

Shipment Tracking

Auto update of stocks on both ends

Real-time order management

Live New Order Notifications

Low Stock Notification
In order to start selling with Shopee Opencart you must register yourself as a seller on Shopee.
How To Do Shopee Seller Registration?
To begin selling on Shopee, first you need to proceed with the seller registration process:
Click on Console.


Click on Add App


Enter the required details and submit.



Now Under My App, you can see the New App Created.

The status is currently Auditing and it gets verified in a few days.
Above is the complete process of Shopee seller registration, now let's move on to the most important topic on how to sell on Shopee with CedCommerce's Opencart Integration Extension.
How to sell on Shopee Marketplace with Opencart Integration by CedCommerce?
In order to start selling on Shopee Marketplace by using Opencart Integration, you need to follow the following steps:
Download the extension

Installation of the Extension in your Opencart Store.

Filling Shopee Seller Panel Details & Validating.

Perform Configuration Settings.

Category Mapping between Opencart Store & Shopee

Profiling of Products

Order Settings

Return & Refund Management

Setting up discounts (if needed)

Start Managing Shopee orders directly from your Opencart Store. 
Let's dive into the details.
(1)Download Shopee Opencart Integration Extension:
Download the Shopee Integration from any of the two platforms:
(2)Installation of Opencart Shopee Integration Extension:
Go to Opencart Dashboard and click on Extension⇾Installer



Click on Upload and select the desired zip file marked under the name (Shopee.ocmd.zip).

Now click on Extensions

Under the Extension list, Choose modules.


Note: The extension section in the opencart dashboard may vary from the version of module. The above is the according to the latest version of Opencart (3.0.3.x)

The installed extensions are shown below:

The Shopee Integration Menu also gets embedded in your Opencart Dashboard as Shown:

(3)Filling the Seller Panel Details & Validating
Now to validate, you need to move to the Shopee Setting page in configuration settings:

There are 2 modes to work on: Sandbox(for testing pusporse) and Live Mode.


Enter the Partner Id, Shop Id and API URL which is retrieved from the

Shopee Seller Panel

.

(4)Perform Configuration Settings:
Now since you have connected your Shopee account with the CedCommerce's Integration extension you must proceed with the configuration settings.

There are 3 types of configuration settings – Product, Order & Cron.

Under Product you can adjust pricing variations, and enable/disable auto-update of pricing and inventory.

Move on to the order section where you can set the email where you wish to get notification alerts for new orders and rejected orders.


Now the last settings Opencart Shopee Integration Configuration is Cron. Here 4 crons (repeated actions to keep up the synchronisation) is mentioned.


(5)Category Mapping between Opencart Store & Shopee:
Now you need to proceed with the Category Mapping Settings and click on Fetch Categories.
(6)Profiling of Products:
CedCommerce's Shopee Opencart Extension is designed with the best interest of sellers. 

One of such interests gave rise to the need to profiling the products as sellers can choose which product(s) they want to list. 

A profile is just a collection of (similar type of) products. See for yourself by moving to the profile settings and clicking on 'Add new profile button' in Shopee Opencart Integration Menu:


Enter the details you wish to enter in the profile and add the profile. Now add the desired products in the profile.

Map the desired of Shopee marketplace with your Opencart store categories.

To upload these products, go to the product settings and select the product you wish to upload. Click on the Upload All Button:



All the selected products from your Opencart Stores will get uploaded to the Shopee Marketplace.

Since there is a running cron, so a perfect synchronization will be established between the two.
(7)Perform Order Settings:
Now since you have uploaded the products you must start receiving the Shopee Orders placed on your products directly in your Opencart Order Panel.

To check for new order, go to the order settings in your Shopee Opencart Integration Panel. Click on Fetch Orders:


All the orders received are listed as shown below:


To perform actions on the orders received, click on the view button and additional options open receiving up from where you can view additional details, ship and add tracking number to the order:

(8)Setting Up Discounts:
CedCommerce's  Shopee Opencart Connector offers sells with an additional feature of setting up discounts from here only.

Click on 'Add new discount' button under discount settings and the page opens up as:




Here you can add the required details like the name, start & end date, type & percentage of discount, purchase limit, etc.
So now its all set up and you can effectively sell your Opencart products on Shopee with an Automated Centralized eCommerce Platform.
There might be still a few un answered questions revolving in your mind. I have compiled a list of frequently asked seller questions by Shopee sellers.
Shopee Seller FAQs:
Q1.What payment methods are supported by Shopee?
Ans. In the hopes of providing a safe & secure selling platform, Shopee offers 5 different types of payment method:
Credit / Debit Card

ATM / Cash Deposit

Online Banking

ShopeePay

Cash Payment at 7-Eleven
Q2. Is there a difference between Shopee commission fee and transaction fee?
Ans. Yes there is a difference!!! Shopee commission fee is calculated as 3 – 5% of the price of listing the products minus any seller-borne vouchers and price discounts. Whereas, Transaction fee on Shopee is the charge for handling the product (handling fee) which is charged on all successful transactions. 
Shopee transaction fee is applicable to all sellers, whereas the commission fee is only applied to Shopee Mall sellers.
Q3. In how many days sellers have to ship the orders?
Ans. The timeframe for shipping the orders on Shopee is:
2 Days – For normal listings (not pre-order).

7 to 30 Days – For pre-order listings.
Q4. How much is the product commission rate on selling on Shopee?
Ans. The Shopee commission rate varies according to the product category you are selling in.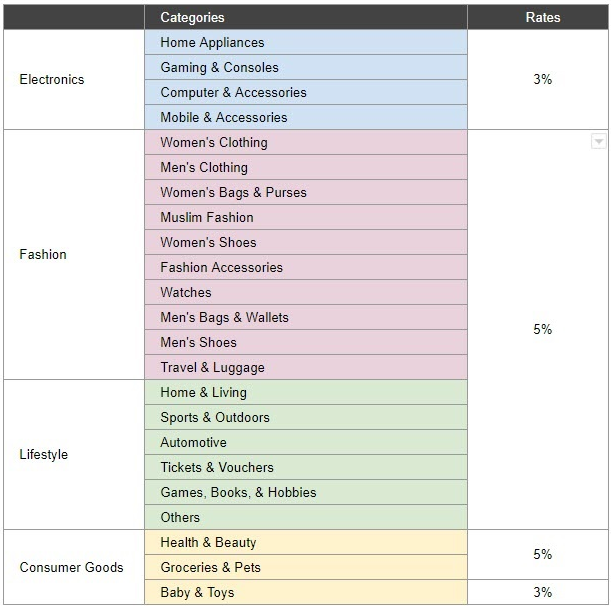 You can also refer to this quora answer for more information.

Online sellers using Magento Framework can also sell on Shopee using CedCommerce's Integrations. Refer to this answer to get a complete insight.
Conclusion
When speaking about marketplace integration for Opencart, there's only one word that comes to minds and that is CedCommerce. They have always been on their toes to provide the best customised eCommerce solutions to their sellers. All automated features, multiple marketplace integrations, and all-time expert support make CedCommerce best pre and post-integration service providers for Opencart.
CedCommerce's Shopee Opencart Integration Extension opens up endless opportunities for South East Asian online sellers. Other than this, it also offers solutions for other frameworks.