How To Hire Magento Developers: Everything You Need To Know
Running short of time? Get PDF of the blog in your mail.

Play Now
Magento is a powerhouse in the eCommerce world that offers a robust platform for online merchants with a complete collection of tools that can be implemented to craft customized solutions. However, it is not always possible for business owners to master all the nuances of the platform, which makes it important to seek expert assistance. With a competent developer by your side, you can build the online storefront you desire by combining the pre-built functionalities of Magento with your unique ideas. So the question is: How to hire Magento developers?
The problem here is that there is simply a vast number of developers available on the market, so choosing the perfect match for your project can be a challenge. We have done all the groundwork so that you don't miss out on anything before making this critical decision for your business.
In this blog, we have compiled all the details to help you find expert Magento developers for your eCommerce project.
Magento Growth Statistics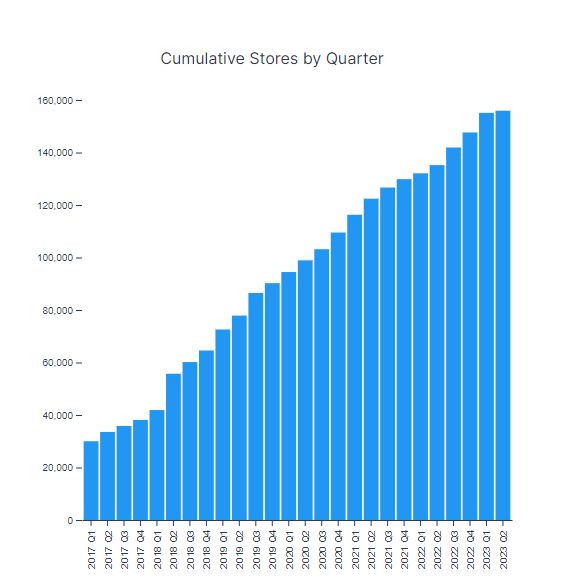 Source: Store Leads
Table Of Contents
Why Hire A Magento Developer?
Due to its complexity, Magento calls for a high level of technical expertise. Therefore, if you want to run a full-fledged online business but are still getting familiar with Magento, you will need an experienced professional to address your requirements.
Developers utilize the open-source Magento platform to deliver impressive eCommerce solutions. In addition to developing the online store, a Magento developer handles any necessary follow-up maintenance. Consequently, a qualified Magento developer enhances the scope of online business growth in multiple ways. If you want to:
Amplify the performance of your Magento store
Improve the overall look of your storefront
Add more features and functionalities to your site
Update the Magento version that you are currently using
Get technical support from a specialized professional
Hiring an expert Magento developer will move you one step ahead in achieving success for your online business.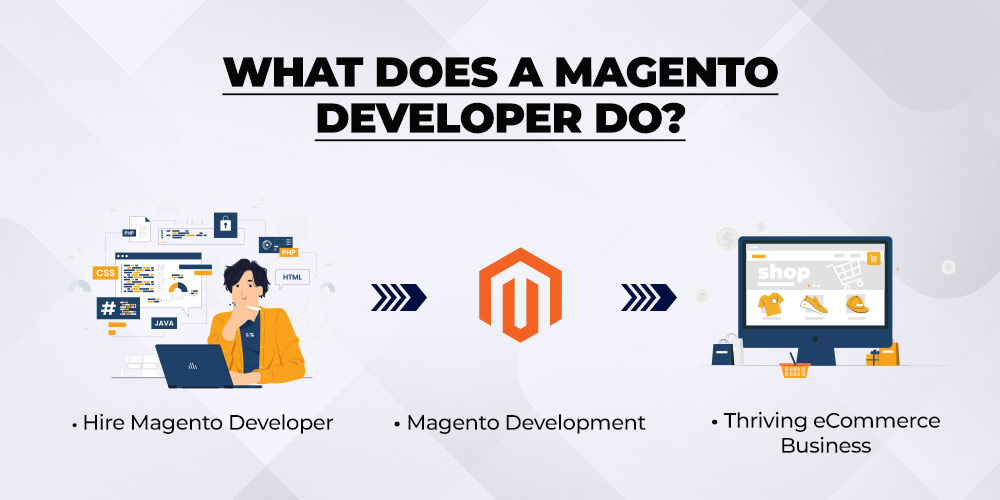 What Does A Magento Developer Do?
Magento developers design, maintain, and enhance Magento-based eCommerce stores. Their primary responsibilities include:
Installing and setting up an eCommerce store with the Magento platform
Customizing Magento themes as per a customer's requirements
Adding custom functionalities in response to a client's request
Accommodating third-party integrations like CRM and ERP
Configuring the store to incorporate various customer needs, including shipping methods, payment gateways, and languages
Enhancing customer experience by providing the necessary maintenance, updation, and technical support services
Some Reasons For Growing Demand For Magento Developers
Magento boasts abundant functionalities, exceptional store customizations, tons of themes and extensions, and many other prolific features that eCommerce companies require to grow their online businesses. Following the sheer popularity of the Magento platform, there is always a high demand for Magento eCommerce developers.
Over 1 million websites are currently using Magento (Source: BuiltWith)
Magento owns 7% of the Global eCommerce market (Source: Webtribunal)
It is the third most popular eCommerce platform on the planet. (Source: Webtribunal)
It is one of the most popular choices in the CMS category (Source: Hostinger)
Some of the most reputed brands, such as Ford, continue to depend on Magento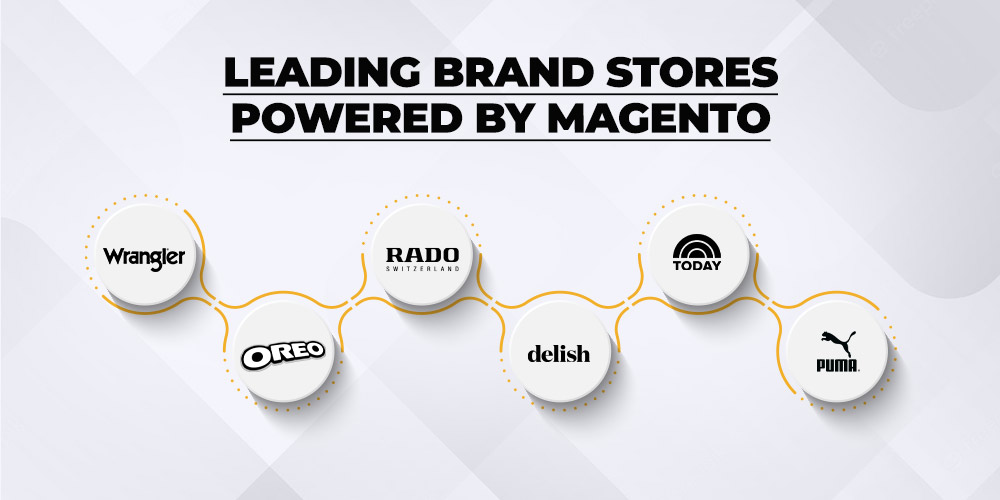 Benefits Of Hiring Dedicated Magento Developers
Let us explore some of the major advantages of hiring developers for your Magento e-commerce business:
Extensive Knowledge And Experience
Before starting a project, Magento professionals deeply analyze the requirements and build a definitive plan. They thoroughly research the competitors and are aware of the top priorities of their clients. Consequently, you get smooth services specific to your needs.
Integrating User-Centered Features
The developers keep the user's convenience in mind and focus on enhancing your website experience. Creating a visually appealing website design or implementing user-friendly functionality ensures you have a store that your customers will love.
Ensuring Superior Quality Code
Trusting a specialized Magento developers team for your storefront development will help you achieve high-quality code for your website. To offer a bug-free product, they offer quality control for systematic introspection on all the minute details of your e-commerce website.
On-Time Project Completion
Expert Magento developers are dedicated to completing your project on time to the highest standards. Thus you can rest assured that your store will be ready in the required timeframe.
Up-To-Date Resources
One of the most crucial reasons for working with competent Magento developers when designing a web-based business is that they are well acquainted with the most recent tools and technology; this makes it possible to use resources more effectively.
From regular updates and bug fixes to custom themes and extensions, you can take advantage of our developer's expertise to build a basic eCommerce store or a full-fledged multi-vendor marketplace on Magento.
Key Factors To Consider Before Hiring Magento Developer
Start by deciding why you are hiring a developer in the first place and what exactly you need for your store. Also, consider what sort of developers you want to work with to design your eCommerce website. These are important aspects you must keep in mind:
Select A Hiring Approach
Decide whether a committed resource or a freelance Magento developer is needed for the project's development effort. Each developer has their own set of characteristics. Therefore, you must be aware of both while employing any one of the types.
Before making the final choice, take into account all the factors, including the level of expertise, commitment, cost, and security.
Technical And Non-Technical Skills
Make sure developers have the expertise and abilities necessary for your particular project. You can assess their proficiency in areas such as programming skills, which is a minimum requirement for any project. In addition, problem-solving is a critical skill for any industry.
Other essential qualities are professionalism, innovative mindset, and expertise, which make the most qualified developers stand out from the rest.
Price And Quality Comparison
Before working with a developer, you must perform a thorough cost study. You should also take customization costs and payment methods into account and determine whether they make sense for your business needs.
Apart from that, ensure that there is no compromise in terms of quality, consistency, and performance.
Security Of Code
A common tactic hackers use is to attack or steal data from e-commerce sites. Therefore safety and security must be given utmost priority during the development of your eCommerce website. So make sure to hire developers who can maintain a secure site and are aware of the latest security updates in Magento.
It is advisable to evaluate a developer's expertise and experience in creating safe websites.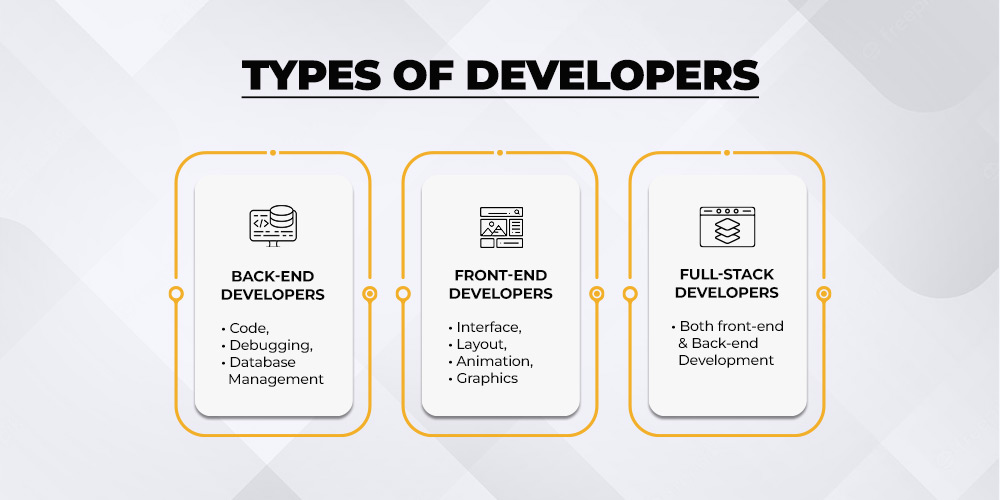 How To Choose The Best Magento Developers?
Before stepping out to scout for the top Magento developers for your project, you'll need to check off a few crucial boxes to make your online store development a success. We have curated the essential factors you must consider to make the most out of your investment:
Conduct Background Analysis
Take into account reviews and ratings before selecting a candidate. It provides a quick overview of their background and practical experience. You can even verify their credentials and learn more about their skills by speaking to their former clientele. In addition, go through their detailed portfolio, which showcases their past projects and experiences.
Discuss The Project Requirements
Provide all the information to the developer in an easy-to-understand manner. It is crucial because excluding any critical data will make it difficult to derive the intended outcomes. To avoid that, it is best to convey all the requirements beforehand.
Specify The Project Timeline
It is yet another crucial detail that you must clearly state. Check if the developer can accommodate the schedule according to the project duration and the deadline for the deliverables. Consequently, your project will be completed on time without any unnecessary delays.
Look For Distinctiveness
It takes art and skill to make something spectacular out of something ordinary. Thus, aim to choose developers that can create a stir and produce a stunning website design. To be the best candidate, they must be current with the latest trends. By assigning them a test assignment, you can evaluate their creative ability.
Refine The Recruitment Process
Ask relevant questions to make the best decision. A senior developer can make it easier for you. If you don't have a specialist, you may contact development organizations that can assist you in connecting with great talent by relieving you of the burden of recruitment.
Analyze Soft Skills
Non-technical abilities are just as vital as technical skills in today's scenario. To comprehend and interact with the team, a Magento developer has to have strong communication abilities.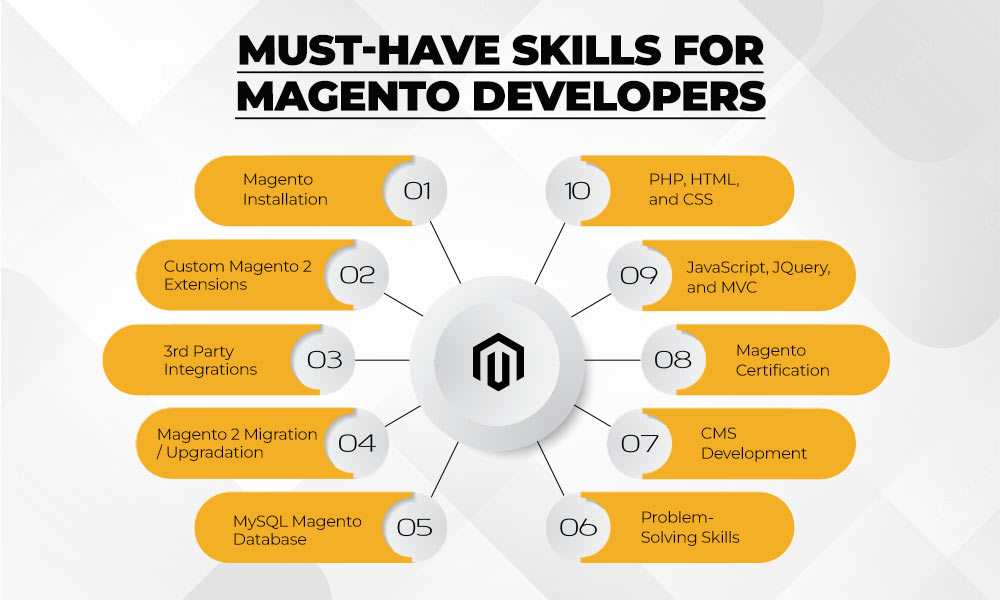 What Is The Cost To Hire Experienced Magento Developers?
The cost of hiring a developer may differ significantly based on several variables, including the project's complexity, location, and degree of expertise. CedCommerce offers customized pricing options to accommodate your budget and time requirements. We present three options in our flexible hiring model:
Pay-As-You-Go
There is no requirement for a fixed-duration agreement, as you can pay for only the time your project is being managed by our developer.
Hourly Basis
This plan gives you the option to pay according to set monthly working hours and allows you to pay less when you need the services for more hours.
Monthly Basis
You can choose a recurring payment option when you need our developer's services for longer-duration projects.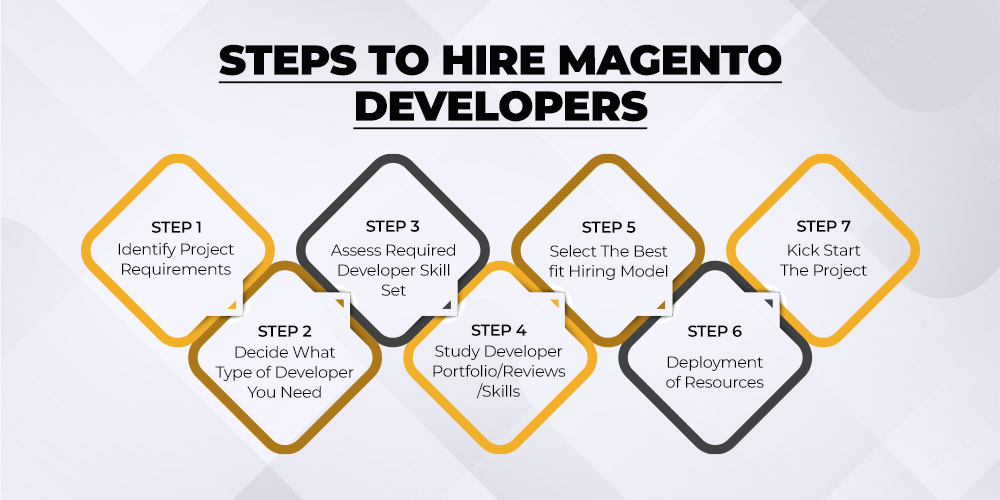 How To Hire Magento Developers: A Step-By-Step Approach
Step 1: Identify Project Requirements
Firstly, you need to clearly recognize the desired outcomes or objectives that you want to achieve with the eCommerce project. Everyone should be aware of the goals that have been set so it is easier for you to communicate them to the developer.
Step 2: Decide What Type of Developer You Need
Always choose a certified Magento developer with an in-depth understanding of web design, development, and other related technologies. There are three types of developers: frontend, backend, and full-stack developers. It is best to rely on accredited developers who have a strong background in both frontend and backend development.
Step 3: Assess The Required Developer Skill Set
Furthermore, experience and skill set are the most critical factors in demonstrating a developer's abilities. Find a seasoned developer with at least 5 years of experience and an extensive skill set to navigate the development process smoothly.
Step 4: Study Developer Portfolio/Reviews And Ratings
You can tell straight away whether a Magento developer is the best fit for your project by looking at their work portfolio along with the ratings and reviews given by their former employers. All of these will demonstrate their abilities, work ethics, and accomplishments.
Step 5: Select The Best-Fit Hiring Model
There are several hiring models available, so you may choose according to your preferences and budget. For instance, depending on your needs, you can engage developers on an hourly, weekly, or monthly basis for your project.
Step 6: Deployment of Resources
Once you have found the right talent, it is time to ensure that all the resources are in place so that the development work can be completed seamlessly without any friction.
Step 7: Kick-Start The Project
You can kick-start your eCommerce project without any further ado and bring your store ideas to life!
In A Nutshell
Magento has gained a reputation as one of the most widely used solutions for eCommerce store development. If you want to simplify your endeavors, you can follow the strategies discussed above to hire a certified Magento developer who can provide you with future-proof solutions and excellent results.
How CedCommerce Can Help
At CedCommerce, we have talented developers on our team who have prowess in Magento development for businesses. You can find the required resources from a pool of qualified professionals and alter their size and scalability to suit your demands. It keeps your project's quality intact while saving a significant amount of your precious time and money. The internal and external teams working together provide excellent coordination, and you can closely monitor the project's progress at all tiers.
Therefore, if you have a project in mind and are wondering how to hire Magento developers, engage the best talent from our team to achieve your goals.
CedCommerce offers a complete suite of services to develop, maintain, and enhance your Magento store.