How to Gear up for Increased Orders for the OnBuy Halloween Store?
Running short of time? Get PDF of the blog in your mail.

Play Now
The "scary-good" time of the year is just around the corner and the onus is on the merchants to revamp their online stores for Halloween. With several people going into the Halloween spirit, there's sure to be a surge in internet spending over the next few days or even months. Sellers at the OnBuy Halloween store may feel the pump with a sharp rise in their order quantities from multiple customers from different locations.
Hence, avoid missing out on opportunities to boost revenue and keep up with surging order quantities. Here are four steps that sellers can follow to get their OnBuy store ready for the Halloween season.
1. Ensure that Product Categorization is on point
The first important step while prepping up for the Holidays is to keep a check on placing your products in the right categories at your online store. You would want your products to get featured in searches while customers are looking for similar stuff.
Here is a classic representation of clear and distinct OnBuy categories, under which relevant items are tagged and specified.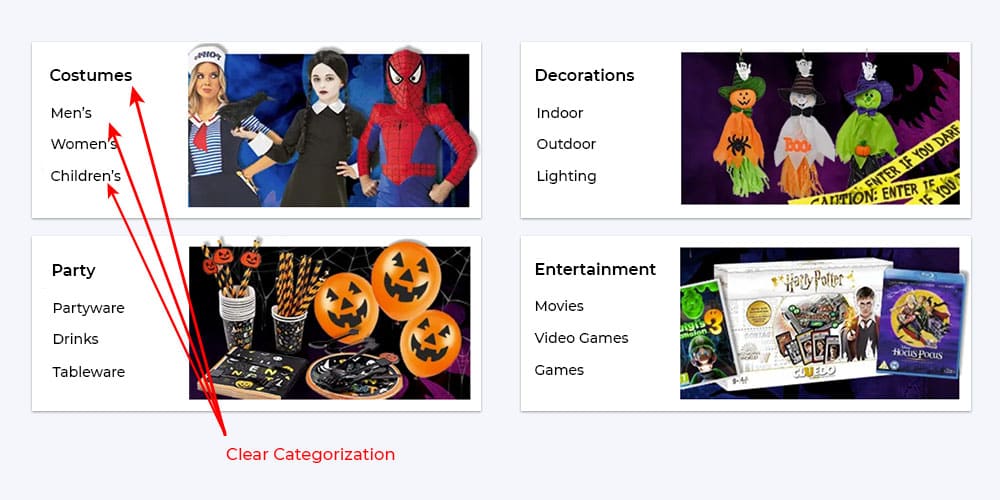 2. Re-check Shipping Settings
In the modern scenario, many customers opt for the same-day shipping or even the 2-day shipping option that several companies provide. To avoid an unsatisfied customer experience, it is imperative to be clear about how long an item will take to be shipped. Most sellers use shipping settings to provide customers with estimated arrival dates.
Some sellers even choose to add an "Order By" date in the description for the holiday season. This can be done by adding text to the beginning of the product description for each item.
3. Update Product Titles with Appropriate Keywords
Having a proper listing title is vital in the quest of optimizing for searches on any marketplace. When preparing for the holiday season, OnBuy sellers must update their product titles with all the necessary information. The inclusion of appropriate keywords can be the ideal place to start with.
For instance:
Women's Halloween Costume 2021
Men's Halloween Costume 2021
Kids Halloween Outfit
Cosplay
Masks
Ensure that the keywords are relevant to your products. Sellers can also benefit from including the same sets of keywords in the description alongside other relevant keywords that may not have fit in the product titles.
4. Use Appropriate Imagery in Relevant Products
Product images are one of the most important aspects that can help convert a visitor into a buyer. There are various types of product photos that can sell and seem relatable to the audience.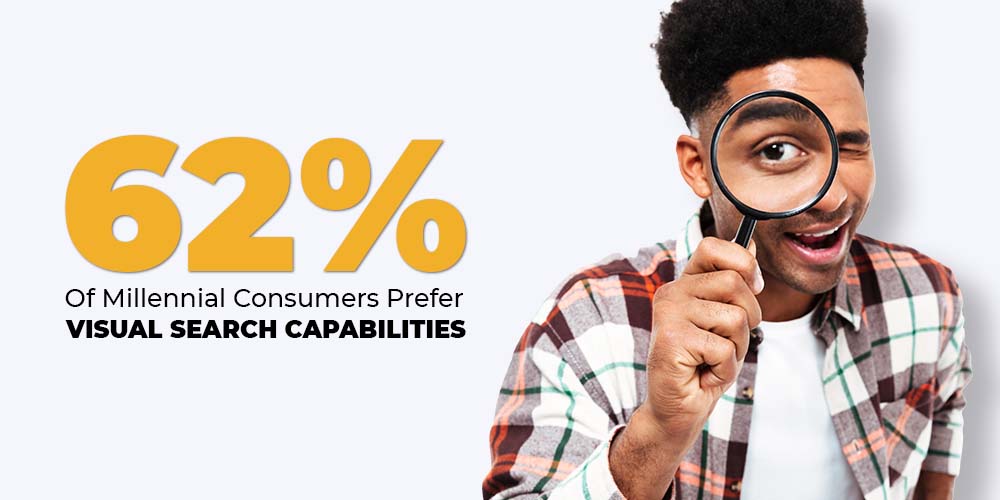 For instance, Halloween costumes displayed on mannequins or donned by models can have a stronger impact on the minds of buyers than simply displaying them on a white background. Also, images shot at different angles can provide customers with a better understanding of the product, convincing him/her fully before making a purchase decision.
The Thing about Halloween eCommerce
Halloween eCommerce is getting bigger every year with more countries celebrating it. This time of the year also serves as the perfect opportunity for entrepreneurs, especially online businesses to make the most out of increasing sales during this festive period. With 47% of people from the UK resorting to online shopping as compared to in-store purchases, the eCommerce scope is expected to grow multifold this festive season.
The traffic hike on websites around Halloween can be attributed to the rise in costume purchases and consumers' expectations towards Halloween sales. Hence, online shop owners shouldn't be ignorant of the power of this holiday event while referring to boosting revenue.
Customers will not just buy Halloween costumes or opt for decorations during this time period. They are going to purchase several other products as the season with the next couple of events like Thanksgiving and Christmas are just around the corner. Hence, sellers can start offering great deals to attract buyers with special discounts in this October season.
4 Must-Do's for Your Online Store
1. Offer Customers Awesome Discounts
If you are willing to provide your shoppers with the best Halloween experience, then offer them huge discounts, staggering coupons, or free shipping service. Even a pop-up with a promotional coupon on your OnBuy Halloween store will be very attractive. There are very limited chances of people turning down such opportunities, so go out and make the most out of attractive coupons.
Also, many shoppers abandon their carts amidst their shopping journey owing to high shipping fees. So, even if you are offering heavy discounts on your Halloween orders, see to the fact if the merch can be shipped without any additional costs.
Another thing to be wary of is that your product doesn't necessarily need not be related to Halloween. Despite this, you can allow your customers to be a part of the festivity with the whole spirit. Just the feeling of huge discounts along with awesome products can allure multiple users to buy from your store during the festive season.
2. Promote Your 'Halloween Treats' through email-marketing
Email marketing is a compulsory inclusion in your mix of marketing ideas for Halloween. A simple reason for this statement is the continuous impact of sending promotional emails which have been effective in attracting more customers. Especially, during the festive season with events like Halloween or Christmas, when buyers spend more than half of their annual budget, they are sure to be attracted to your promotional emails.
You should purposefully reach out to your email list around this time of the year, highlighting information on discounts, exclusive coupons for new and loyal customers, and also about free shipping options. Big eCommerce websites tend to send plenty of similar newsletters when the promotions for the festive season begin, during the sale period, and also a day or a couple of hours right before the promotions come to an end.
Tips to Successful Promotions:
Start of the Promotion Campaign

Send out emails to your customers 2-3 weeks before the week of Halloween with promo codes and captivating CTAs that redirect readers to your store. This will make customers start buying your products right from the word go.

During the Promotion

These mailers must highlight product recommendations, sent out daily along with discount details. They should also be accompanied by the deadline for the promotion due date. In case of cart abandonment, you can pitch to those customers with recovery emails to get them back and complete the purchase.

Right before the Promotion Ends
Send reminder emails to customers, including keyphrases like 'Limited Stock', '1 Hour Left', 'Until Midnight'. You can even mention free shipping options or additional discounts to lure customers to buy quickly.
3. Don't Ignore Your Social Media Platforms
A great way to amplify your connections with your followers is by focusing on your social media platforms. You should start creating posts around funny photos about Halloween, spooky videos, and gifs with interesting captions from a few days before the event. Shoppers can enjoy glimpses of some great deals that are awaiting them during the festive season. You can also leave the website link on the posts to redirect customers directly to the buying pages.
Another great idea to increase engagement on social channels during Halloween is by organizing photo contests. This will invite more and more users to come forward and be a part of the excitement. The cherry on the cake – a sweet coupon code offered to the winners of the contest, thereby increasing traction to the posts and potentially boosting sales.
4. Optimize Your Store's Mobile Version for Halloween
Sellers shouldn't forget about the website's mobile version of their OnBuy Halloween store. With growing numbers of people switching to their mobile devices for their shopping needs, your Halloween campaign will not be complete without the proper optimization of your mobile shop.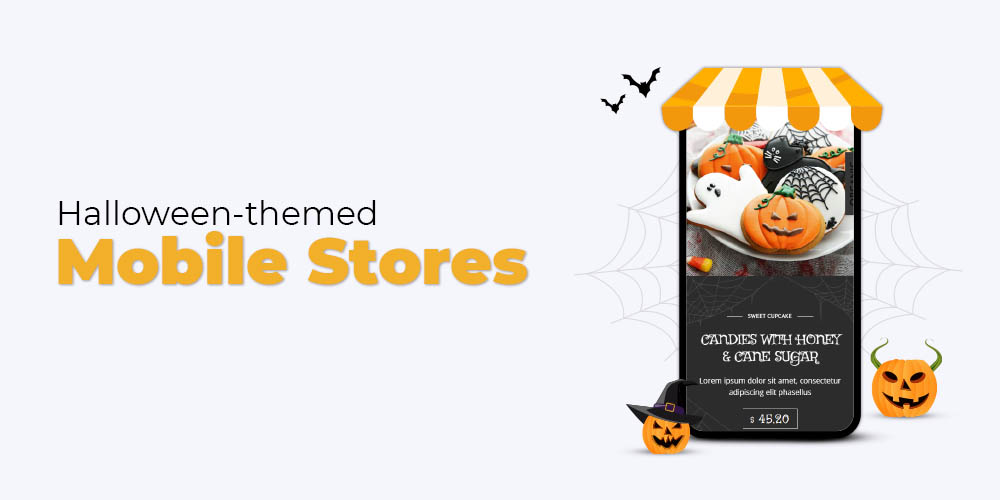 You can even slightly modify the mobile store to blend into a Halloween spirit. Add some elements of bats and pumpkins to inform customers about the Halloween campaign and the special deals.
Getting Things in Place
With Halloween knocking on the door, opportunities are up for grabs to reach new audiences. You can establish deeper interactions with your customers and boost your sales. Gear up along with efficient planning and keep your store ready for the event. You can do much more than simply sell a random Halloween costume here and there.
If you need any assistance in the selling process during the Halloween season, feel free to reach out to the eCommerce experts here at CedCommerce. Being the integration partners of OnBuy, we can help boost your selling cycle and prepare your Halloween store for the exciting times ahead.