Halloween Promotions To Use In Your Marketing This Year
Running short of time? Get PDF of the blog in your mail.

Play Now
Halloween is celebrated on the 31st of October across the United States and is considered to be quite a day of importance. This day signifies the end of the summer and harvesting season, and brings the dark, frigid winters, a time of year that was typically associated with human death. Thus, on the last night of October began the celebration of Halloween, when the ghosts of the dead were said to return. As the spooky season approaches, it is time for businesses to scale their spine-chilling ideas and incorporate Halloween promotions into their marketing campaigns.
Why do businesses need to work on their Halloween promotions?
The holiday season is the time when people tend to go out and enjoy themselves with their family and friends. For this, they are even ready to go a little extra on their spendings. Last year's sales during Halloween reached around 8 billion dollars which during a pandemic situation provided stability to the market. This also gives businesses the opportunity to work on their Halloween marketing ideas and generate sales in the holiday season.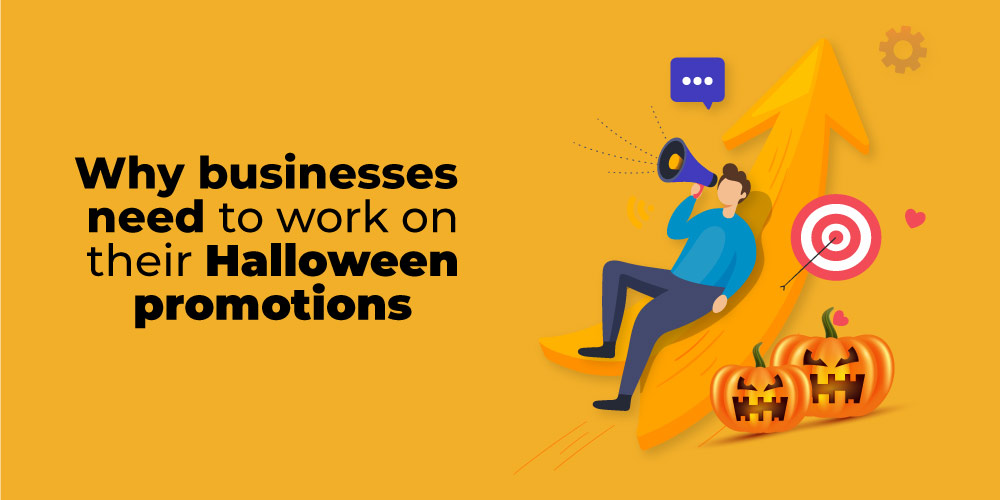 Although there has been a decline in Halloween spending during the epidemic, the sales have been growing significantly since the last decade and are anticipated to grow even more in the coming future. An estimated 40% of buyers will begin purchasing Halloween decorations, costumes, gifts, and other items from the first week of October. Thus making it necessary for businesses to include Halloween promotions in their existing marketing plan and implement those strategies.
Now that we know what makes Halloween promotions so important, let us move forward and talk about ideas businesses can capitalize on. Below mentioned are some Halloween marketing ideas that businesses could use:
Special festive discounts
According to the National Retail Foundation's research, almost half of the active customers will complete their purchase before Halloween week begins. So, now is your chance to stock up on Halloween discounts and bargains for your clients to take advantage of during the early bird sales spree. This will get your Christmas season sales off to a great start.
Get those spooky Halloween promotions up and running, as well as store decorations, customized accessories, and other Halloween promotional items. If you are hesitant to begin this a month in advance, focus on social media and email marketing campaigns to spread the news about the approaching sales. Make absolutely sure you share the information extensively so that your consumers do not miss out on the offers you have.
Use of Halloween themed email templates
One of your best resources for informing your existing clients about holiday-related promotions is your email list. Send Halloween-themed emails to your mailing list to remind them that Halloween is approaching. So it is high time for them to act quickly and get in on the fun.
Businesses can also use a series of emails to start attracting clients from September all the way up to Halloween leading them to their main Halloween offers. Combining promoting emails with engaging information, like costume and decor suggestions, is a good idea.
Such themed Halloween promotional email templates could be found online that can be used by businesses for Halloween campaigns. These email copies add a spooky vibe to the promotional campaign reminding readers to act on the deals before they turn into ghosts themselves.
Make your Halloween themed website compatible with mobile
According to M-Commerce Statistics, 79% of smartphone users make online purchases making it necessary for businesses offering products to optimize their website for mobile devices. Surveys and research have showcased that the shopper's preference for making purchases online has dramatically shifted from desktops to mobiles. This makes it necessary for marketers to optimize their websites for mobile devices as well. It helps the shoppers by easing their buying trip and allowing them to look for and purchase products from anywhere at any time.
With the rise of smartphone-based online shopping, you can't afford to ignore the reality that your website needs to be mobile-friendly especially during the holiday season. Design a mobile-responsive website or tweak your existing website to be mobile-responsive. This will make your customer's purchasing experience more pleasant. With only one touch, your consumers could see your products and make a purchase there and then. Also, try to include as many payment options as possible making sure the sale comes to you.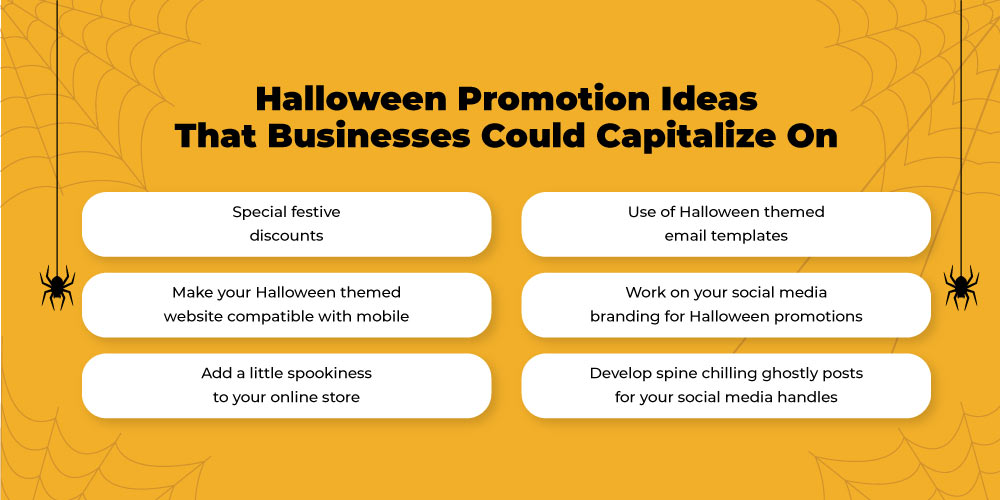 Work on your social media branding for Halloween promotions
We know Halloween isn't as big of a deal as Christmas. However, this doesn't give brands the freedom to entirely overlook the holiday's features in their branding. This also doesn't mean that brands should go all out to include the holiday's elements in their branding.
The inclusion of Halloween elements should be minimalistic and mainly focus on the profile and cover photos of all the social platforms the brand is active on.
Halloween promotions give brands the opportunity to change their existing profile pictures or just tweak the existing ones with little Halloween elements, either way, it should be simple enough for people to notice the changes.
The cover picture is your chance to go big – keeping the branding intact. Brands running Halloween campaigns should include text in their cover image that gives a clear indication of their offers. Cover images are generally for potential customers who do not follow you but might like the things you have to offer. Here you can tell them about the special offers you have encouraging them to visit your site and see the deals.
Changing your social media photos, for example, not only lets customers know that you're in the Halloween mood, but it also gives them the idea that making purchases from you could profit them. Customers who already follow you on social media will not always see your cover image. For them, you need to use regular postings that tell them about your Halloween discount offers.
Add a little spookiness to your online store
Halloween means getting all crazy and spooky. So why just limit this craziness to your socials and emails. Go a little further and add a Halloween vibe to your online store and products as well. It must sound crazy; however, a little craziness is allowed on Halloween. Decorating the website can help businesses in growing their sales.
You may think how is it possible?
Well, people prefer to buy twice their necessities if they're in a pleasant mood or more happy with the appearance and feel of the website, as per the top-consumer psychology studies. So if you want to increase your online business sales during this holiday season, you must emotionally appeal to your clients.
Develop spine chilling ghostly posts for your social media handles
Once you have added Halloween elements to your online branding it is time to go a step further. Incorporate spine-chilling Halloween ideas into your social media campaign and get some posts related to this theme.
One thing to keep in mind while doing so is that Halloween is a much smaller celebration when compared to Christmas. There's no need to get all the social media posts related to Halloween. You can still upload one or two posts every week related to Halloweek during the month of October. It is a great idea. Below are some examples of posts for businesses with different target audiences:
Bars can come up with unique cocktails for Halloween or modify their existing popular drinks with a twist of Halloween. They can also share recipes for these drinks on the bar's official social media handles.
Stores that sell stationery, art, and craft materials could share mini-tutorials with people on how they can use their products for making costumes or giving a spooky look.
User-generated content
Consider awarding and distributing user-generated content (UGC) as part of your social media efforts to encourage your audience to participate. Why not challenge your followers to send in/upload and tag their finest Halloween photos for a chance to win a gift from your brand?
These competitions might include some categories like the best costume, best Halloween cuisine produced with your product, etc. Photo competitions are a wonderful way to interact with your audience and generate some excellent UGC; especially if you utilize specific campaign hashtags to make it easy for people to discover you and each other.
One such great example of UGC for Halloween has been the Starbucks Zombie Frappuccino campaign. This was loved by the audience and its hashtag was used around 30,000 times.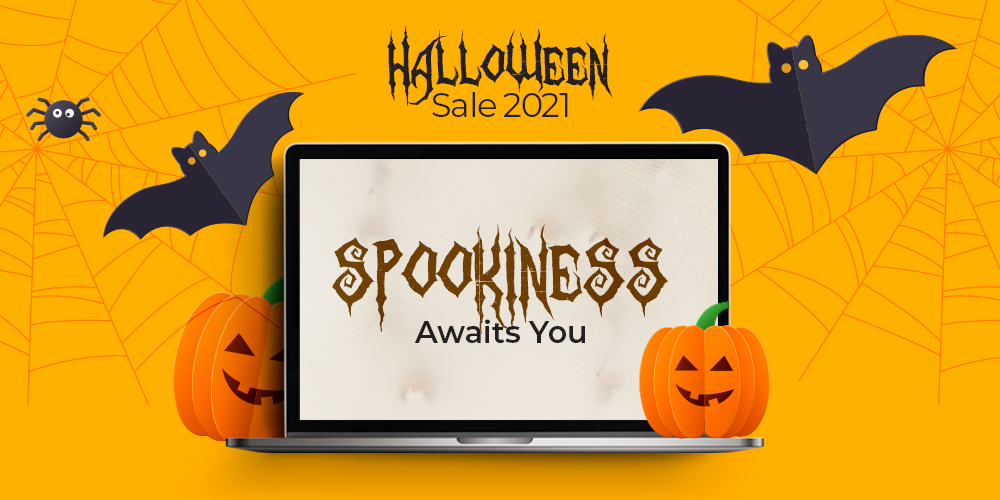 Cross-promotion of different products your site has to offer
How to put together costumes is one of the most common things that people look for around Halloween. Retailers offering clothes and accessories can take advantage of this chance. They can cross-promote items by combining different products and make costumes from them. You may also put together an outfit with shoes and accessories along with an instructions manual. This pairing manual could be helpful in transforming different clothes and accessories into a single costume.
In case you are not a clothes retailer?
Businesses with home products can still use their products to make Halloween-themed decors. Put together a few items that they can use to decorate the party. Combine Halloween-themed goods with other fall-themed items to help people create exquisite décor for an expensive celebration and you are done.
So if you have a business where you sell products it is high time you start working on your Halloween promotions. These are a few points you shall work on and can generate good sales and revenue this holiday season. So, understand these steps and implement Halloween marketing ideas in your existing marketing plan and see growth in your business.