How eBay promoted listing helps you sell more?
Running short of time? Get PDF of the blog in your mail.

Play Now
Often times, creating an effective eBay listing is the driving force to expanding your business. However, making your goods stand out is quite challenging with billions of listings on the eBay marketplace.
The issue you face when experiencing the scenario is that your products aren't getting enough traffic. Buyers won't notice you if you're invisible to them! So, promoting your listing is the most viable option. By advertising the items to a larger audience, eBay promoted listings to help sellers increase their exposure and drive more purchases. Sellers may boost their chances of contacting potential customers and eventually drive more sales by advertising their listings.
This article will explain how eBay promoted listings function and describe how to proceed with the facility.
Promoted Listing on eBay
The advertising services on eBay make things simple. The ads service, or the eBay-promoted listings, as we call it, is an option that lets your listing stand out from billions of other listings. The tag "sponsored" on eBay search results puts your listing in front of millions of active buyers, helping you increase the conversion rate.
Depending on your needs, you can choose between three promoted listing choices offered by eBay. The choices consist of
Promoted Listing Express
Promoted Listing Standard
Promoted Listing Advanced (Beta)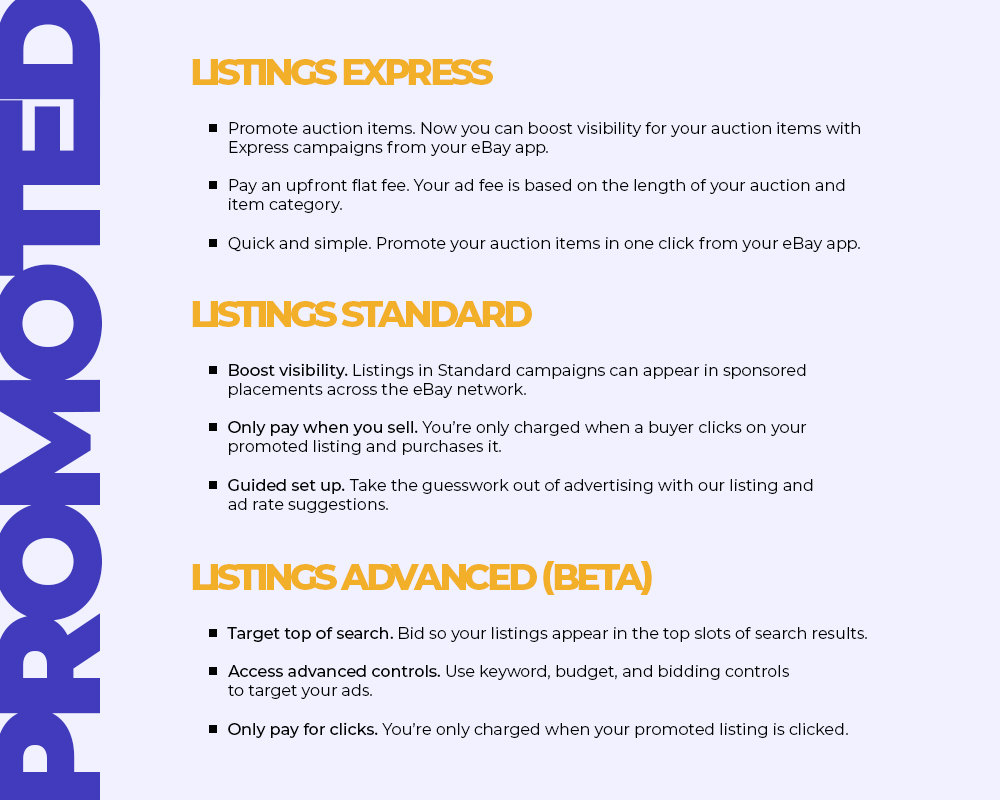 #1. What is eBay Promoted Listing Express?
The sponsored listing express assists you in reaching new buyers with only a few clicks and increases exposure for your auction-style listings. Your listing will be included in sponsored advertising on sites with similar listings when you pay a single upfront flat charge. Auctions that employed Promoted Listings Express received an average of 52% higher views when promoted, according to data provided by eBay.
Additionally, keep in mind that sellers with sufficient account activity with seller levels of Above Standard or Top Rated are eligible for Promoted Listings Express.
How much does eBay's promoted listing Express cost?
You can advertise your listing using Promoted Listings Express for a one-time, flat cost. Your auction's length and the category you choose when promoting your item will affect the charge.

#2. What is eBay's Promoted Listing Standard?
Promoted listing on eBay is a sponsored advertising facility that eBay provides in place of monetary fees that you pay. However, the fee depends solely on you, as you set ad rates for each listing.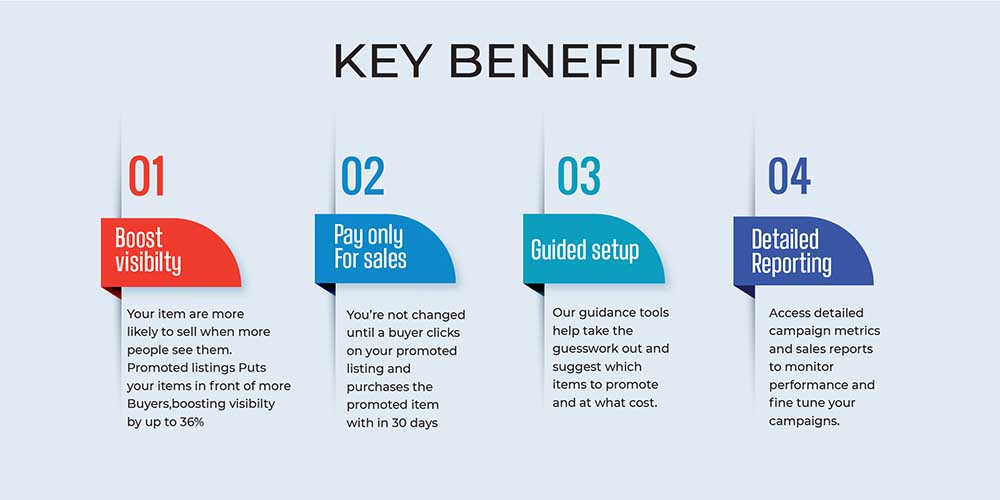 What does a promoted listing standard look like?
In search results, product ads appear along with organic listings. However, one can identify the promoted listing with the word "sponsored" written at the top. When a buyer performs a search query, eBay's algorithm, "Cassini," determines and lists either your products' organic listing or the promoted listing to appear in the search results. eBay does it based on several factors, which include,
Quality of your listing,
The ad rate, and
Product's search relevancy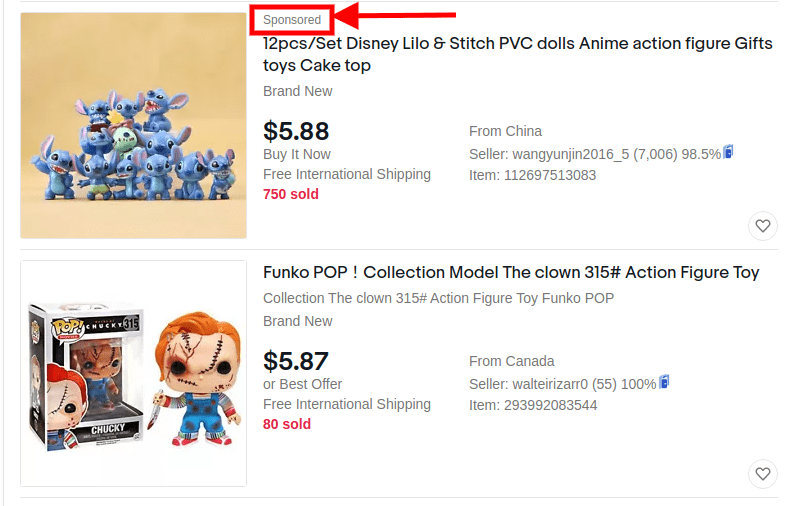 How much does eBay's promoted listing Standard cost?
As a seller, to enlist your products, you select your ad rate for each listing. The ad rate you choose – is what you pay.
But if you want to be successful – you have to compete against other sellers having similar items and using Promoted Listings. However, Suppose you suspect you're paying more than you should be. In that case, you can decrease the percentage for ad rates and check if you can make the same sales volume for a lower ad rate or switch to suggested ad rates that eBay offers.
#3. What is eBay's Promoted Listing Advanced?
Utilizing keyword and budget control, Promoted Listings Advanced drives business via top slots of search results, giving you the high visibility and control you need. This service is based on a cost-per-click basis, which means you pay for each click on your advertising. Only sellers with enough account activity and above standard or Top Rated are eligible for the Promoted Listings Advanced campaigns.
How does eBay Promoted Listing Advanced works?
#1. Creating Ad Groups
We advise categorizing your listings per a similar objective or category to create compelling ad groups. You can target similar listings with the exact set of keywords by grouping similar items together.
#2. Use suggested keywords
Search queries suggested to achieve well throughout your ad group are suggested keywords. eBay evaluates keywords according to current search volume and how closely those searches relate to the items in your ad group. These suggested keywords are made to assist you in locating customers who are actively seeking products similar to yours. For optimum results, eBay advises including at least 10 to 15 keywords per distinct product type in every ad group.
#3. Bid competitively
eBay offers you proposed bids and variations for all recommended keywords to aid in campaign optimization. The keyword match type you have chosen, the relevance of your listings to such keywords, and the combined bids from items that have earned clicks in the top positions of the search result are all elements that go into determining proposed recommendations and bid ranges. Setting competitive bids may be easier by using the recommended bids and ranges.
#4. Continue to optimize your campaigns
Your ad groups will remain effective as long as you monitor the performance of your campaigns. Suggested keywords and prices vary over time, so you must evaluate campaign results and make any necessary changes to stay competitive.
Where does the promoted listing appear?
Your products get promoted only in the regions where your listings are eligible for sale. Also, they can appear throughout the eBay network. It includes desktop and mobile search results and advertisements on product pages. However, numerous factors, including ad rate, quality of the product, search relevancy, and competing listings, influence the placement and ranking.
Note: The eBay network includes eBay and its partner sites throughout the internet.

Eligibility Criteria to promote a listing
Above Standard and Top Rated eBay sellers can utilize promoted Listings. The sellers can promote their fixed-price listings, excluding.
Vehicles
Real Estate
Travel
Also, something to notice is that "Auction" and "Auction Buy It Now" listings can not be promoted using Promoted Listing Advanced or Promoted Listing Standard. You need to use Promoted Listing Express for it. When using the Promoted listing Express you need to be an active seller in good standing, and your seller level should be Above Standard or Top Rated.
While creating a Promoted Listings campaign, you can only view eligible listings under the Promoted Listing options.
Using suggested ad rates
The ad rate allows you to use suggested ad rates when entering the required value.
How the suggested ad rates works
The ad model evaluates features like impressions, transactions, clicks, number of competitors in the same category, and price between reasonable ad-rate candidates and then generates a probability score. Thus, the probability score delivers the suggested ad rate for you to choose when moving ahead with your listing ad rates.
The customized ad rate assesses all the similar listings and their probabilities for success. It then recommends an optimal rate.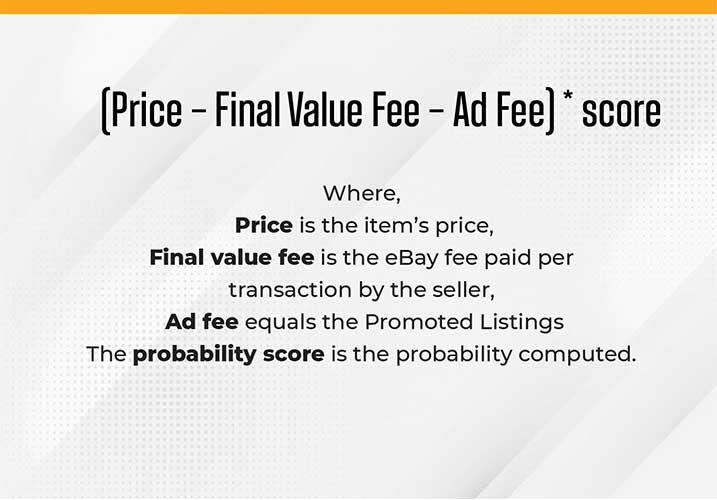 The ad rate then gets shared with the seller. It is the suggested item-level ad rate. The image below shows the impact of eBay's suggested ad rates on impressions, clicks, and transactions proving the positive impact of the recommended ad rate eBay has to offer for its sellers. The suggested ad rate makes things easier by removing the complication of guessing the ad rate a specific item should go for.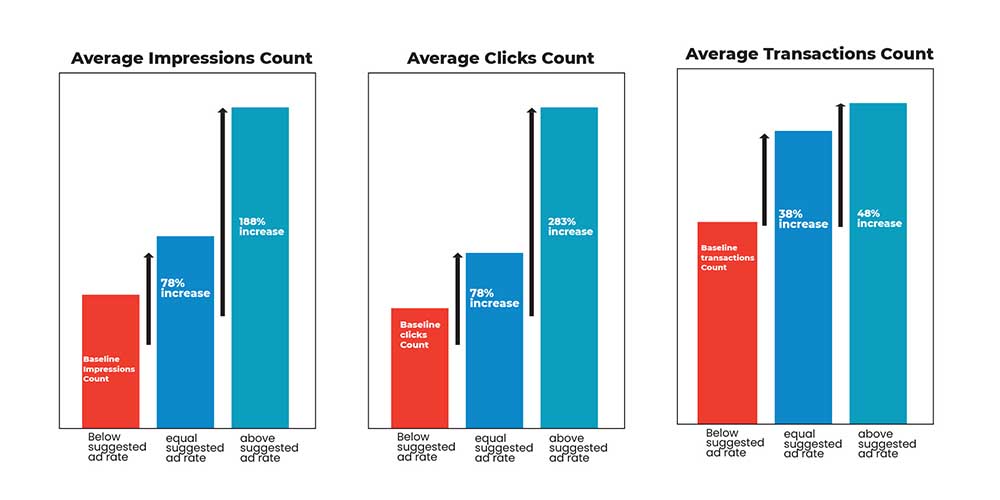 What to keep in mind when promoting
The four most important things to do when promoting your listings through eBay promoted listing is,
#1. Selecting which items to promote
eBay gives handpicked listings to you that may benefit the most when Promoted. You should enable them first by taking advantage of the "Recommended" tag next to them. The title can be found in the campaign manager when promoting listings.
#2. Start using suggested ad rates
Designed to suit each item, the suggested ad rates help you stay competitive when finding the perfect balance between performance and cost. Suggested ad rates are calculated based on factors including item attributes, past performance, and current competition for each of your listings.
#3. Promote using Bulk listing selection
eBay allows you to promote your listing in Bulk by utilizing the CSV, which becomes the best option for promoting consistent inventory with low turnover rates. The process of using Bulk listing for promoting products is simple. All you need to do is Upload the listings in a .csv file or use category selection. Once done, you need to set your ad rate and review it before launching your campaign.
#4. Automated Campaigns
Automated campaigns are the best way forward for a seller that trades in dynamic inventory with high turnover rates. To get started, you need to apply filters to create rules before you select the most appropriate ad rate strategies before launching the campaign. Once you've satisfied the rules, eBay takes care of the rest, as all your current and future listings will be automatically promoted according to the rule you set.
Start managing eBay Multichannel selling on Shopify, BigCommerce, Opencart, Prestashop, WooCommerce, or Magento store. CedCommerce gives you an integrated solution to get started with easy-to-operate multi-channel sales from a centralized location.
Sneak Peak into how CedCommerce's Sellers fared in eBay
A total of 363 sellers operating the application were qualified to take advantage of Promoted Listings on eBay. According to information provided by eBay from the user base of CedCommerce's Integration for eBay, 148 actively utilized it during the 3rd quarter of 2022. It accounted for 41% of CedCommerce eligible users using Promoted Listings on eBay to increase their sales.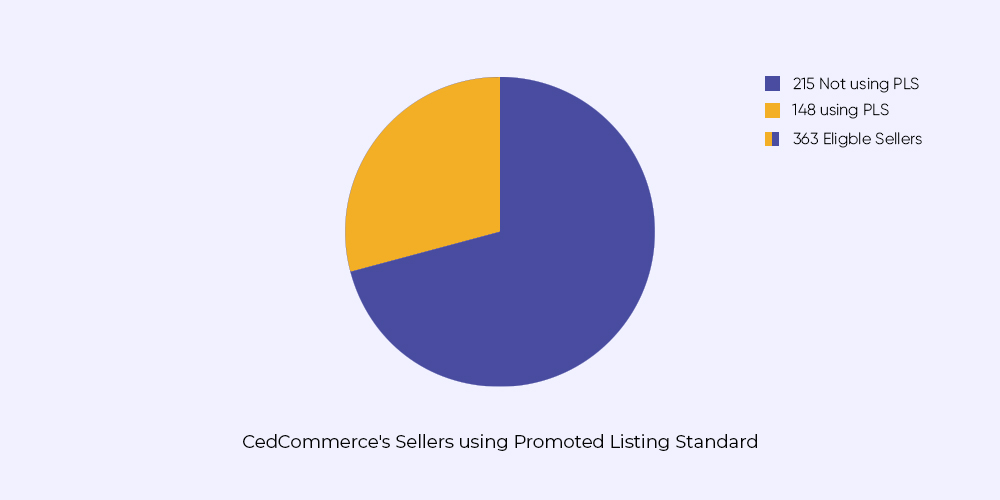 According to eBay Records, a total of over $1.5 Million in GMV was produced during the third quarter of 2022 with a $32K investment. According to eBay, CedCommerce's sellers had a good month overall in June, both for Organic & Ads sales.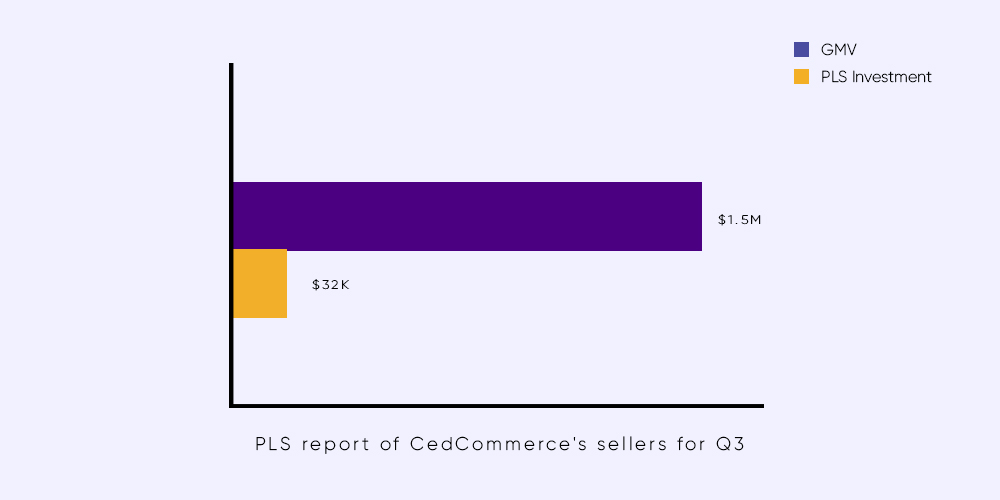 Understand your Performance Dashboard
The dashboard lets you gain insights into how your listing performs. You get the metrics you need to analyze and review your sales report by providing detailed item-level reports for your daily sales tracking needs. eBay also lets you download a .CSV file of your performance data to help you further analyze your campaigns.
You get to go through metrics that include:
Campaign performance provides you with important metrics that include Impressions, Clicks, Items Sold, Ad fees, Sales, CTR – Click-through rate, Sales conversion rate, Average sold ad rate, and Trending values.
The Sales Report comes up with metrics that provide information about Items sold, Date sold, Quantity sold, Sold amount, and Ad fees.
Download report presents Click-through rate, Sales conversion rate, and ROI as the key metrics.
Daily Deals on eBay
The Daily Deal on eBay means getting featured for having incredible products at prices no one can match. These are often seasonal or for clearance, offering T-Shirts in the Spring or Christmas-related items in December.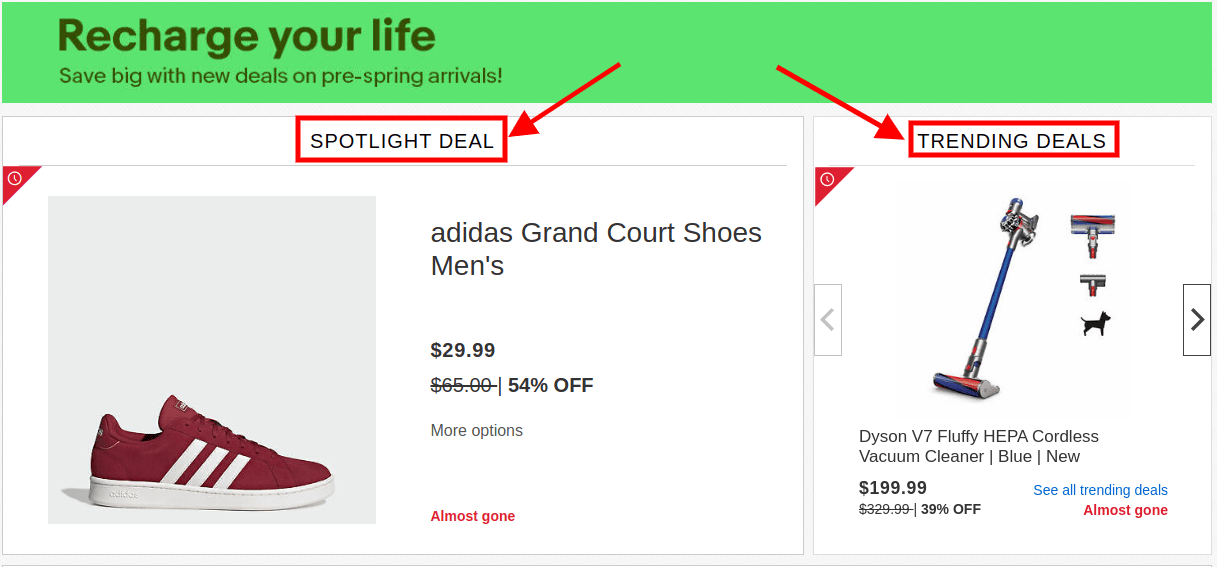 If you're one Power seller (the top earners on eBay) making at least $25,000 a month, you're bound to have an account manager. Go ahead and ask her how to become a Daily Deal seller.

All you need to do/have is,
DSR (Detailed Seller Rating) of at least 4.6/5 in each category.
Pay your fees on time.
Aim for a total feedback score of 98% or higher.

How can you grow with eBay Promoted Listings?
The promoted listing is a great way to jump through and get ahead of your competition after paying a small fee. The best part, you are not charged a fixed rate. Instead, you select the amount you want to pay for a particular listing.
Also, suppose you're not sure about the ad rate to go ahead with the suggested ad rates. In that case, the recommended ad rates have the added advantage of precision and save you the unnecessary trouble of going through calculated risks and guesswork when promoting.
Are you an experienced campaigner in the promoted listings? Please, leave comments sharing your experience and letting us know how it was.
You can also drop us a mail to learn more about integration services and get guidance on how to excel as a seller on eBay.