Here is the complete list of gifts for Christmas and where they sell like crazy
Running short of time? Get PDF of the blog in your mail.

Play Now
In just a week's time, the largest festive period on the globe will begin which will start from the ringing bells of Christmas and will proceed till the advent of the next year.
It suffices to say it's the period of merrymaking, spending time together with the near and dear ones and making them happy.
As exchanging gifts is central to merrymaking, it will be totally wrong to hyphenate exchanging gifts with materialism rather, it's to honour the wishes of near and dear ones.
It is here that countless opportunities lie for online sellers to market their products to the buyers as the perfect gift.
Though the United States has just moved from the largest spending weekend – Thanksgiving – Cyber Monday, Buyers are not done with Shopping. Take a look at following infographics  depicting  the number of shoppers yet to make purchases: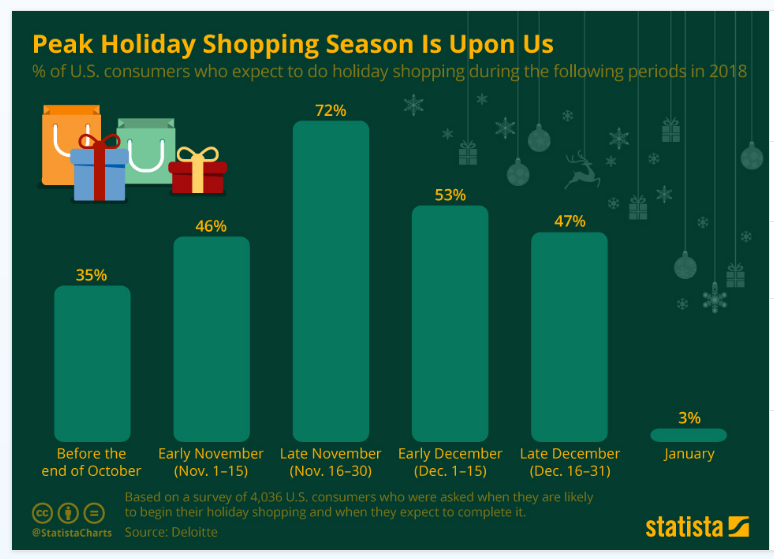 The aforementioned data is collected from a Survey conducted by Deloitte to determine when they will be purchasing gifts for Christmas. It is interesting to note that the shopping proceeds after the Christmas and progresses up to New Year as well.
Deloitte also asked respondents as to what they will be purchasing for themselves and their dear ones, the popular responses are covered in the following infographics-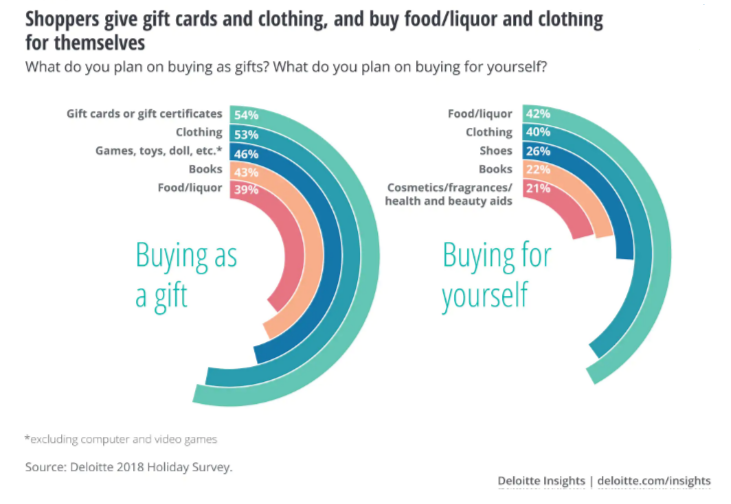 More than half of the respondents confessed to purchasing gift cards and clothing as gifts for Christmas. Games, toys, dolls were just trailing behind as the gift options for the tiny tots. Well! Someone has to become the Santa! He is not going to come out of North Pole literally.
Strange enough, in the world of Kindles and Tablet readers, books were on the list of 43% respondents. It's definitely came up as a surprise as well as good news at the same time.
When it came to purchasing for themselves, the majority confessed to buying eatables and hooch followed by shoes, clothing, and books as gifts for Christmas. However, the subsequent fractions just got diminished a little.
Combining these results with the findings from the Gobankingrates data, a truer picture evolves where we can tell about the faces behind the numbers.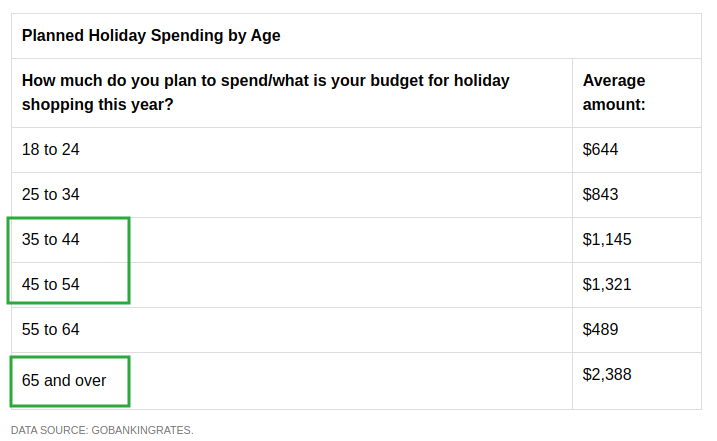 The aforementioned data clearly tells that Highest spenders belong on the age-group of 35-44 and 45-54 which clearly are parents and then 65+ years demographic belongs to the Grandparents who save all year to spend on the Christmas for their near and dear ones.
The Preferred places to shop Gifts for Christmas:
Now that we have figured out the broader topics like who will purchase for whom, it is time to figure out where to sell on Christmas which largely depends upon the preferred places to shop on Christmas. Again the majority of the people prefer online and mass merchants or popularly known as e-commerce marketplaces.
The reason for preferring them obvious convenience or comfort of shopping from home, free shipping, time-saving, Home delivery of the products, 24*7 availability and easy-to-compare pricing are the ones. However, there is one factor which plays out the most colder winters.
When people have an option to beat the chill they usually prefer it.
Another benefit of selling on the popular marketplace is the leverage to their great infrastructure across different screen sizes. They have great websites optimized to user behaviour and great mobile applications.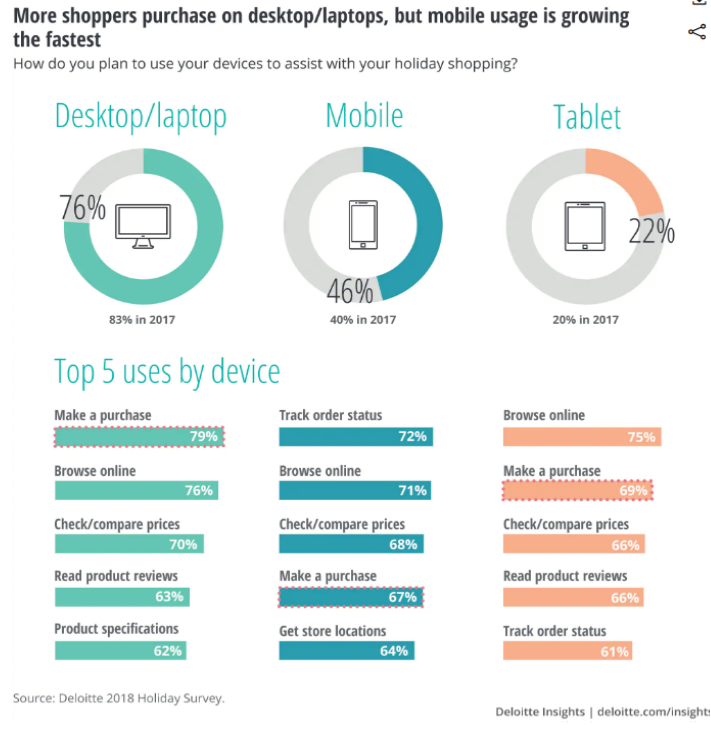 Most Popular Products and places to sell:
| | |
| --- | --- |
| Popular Product | Mass Merchants Avenues or Marketplaces |
| Gift Cards/Stickers | Walmart, Amazon, Etsy, Bonanza, eBay |
| Clothing | Amazon, Walmart, Etsy, Fruugo, Wish, Sears, Bonanza, Newegg,Jet |
| Shoes | Amazon, Walmart, Etsy, Fruugo, Wish, Sears, Bonanza, Newegg, Jet |
| Toys | Amazon, Walmart, Etsy, Fruugo, Wish, Sears, Bonanza, Newegg,Jet |
| Fragrances/Cosmetics/Beauty Products | Etsy, Walmart, Bonanza, Jet |
| Electronics, Gadgets | Amazon, Walmart, Fruugo, Wish, Sears, Bonanza, Newegg, |
Christmas Discounts: Up to 35% off on Shopify and BigCommerce Multi channel Apps:
Enabling Shopify and BigCommerce store owners to connect their online stores to the leading marketplaces, CedCommerce is offering upto 35% off on Shopify and BigCommerce Multi channel apps. It is an opportunity for online sellers to connect with the buyers present at the leading marketplaces.
Grab The Benefits:
2. For Shopify  
More Reads: