Here is how to tweak your WooCommerce store for cross-border sales this festive season.
Running short of time? Get PDF of the blog in your mail.

Play Now
Are you looking for ways to grow your WooCommerce store's revenue this festive season? You may want to consider cross-border selling with WooCommerce for global exposure. Open up to the possibility of creating a huge potential customer base this holiday season by setting up your WooCommerce for cross-border selling. Going international can be a tricky business to handle but with the right approach and strategy, you can hit the jackpot. To help you out we have come up with some tips to tweak your WooCommerce for cross-border sales a frictionless experience.
Why 'Cross-Border selling' is best for your WooCommerce store? 
According to Polaris Market Research, the global cross-border B2C E-commerce market was valued at USD 764.73 billion in 2021 and is expected to grow at a CAGR of 26.2%. The way logistics chains have simplified the delivery of goods in the past few years is clearly one of the crucial pillars behind this massive growth. Moreover, with the increasing internet literacy, the future of cross-border ecommerce is even brighter than the stats depicted here.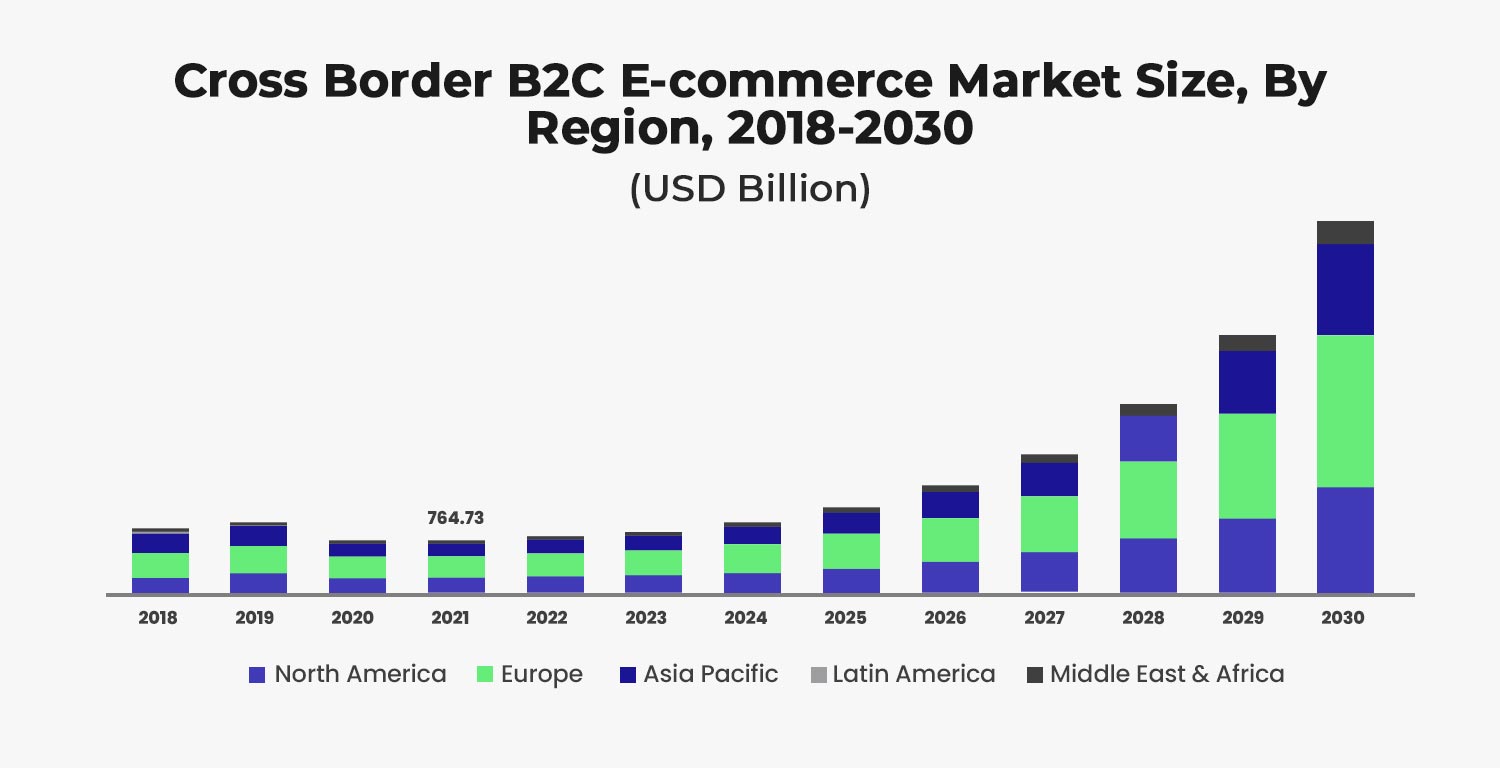 Cross-border multichannel selling
Global businesses receive a higher average order value as compared to domestic ones. Exporting businesses also have been proven to be 17% more profitable when studied with the non-exporting businesses. WooCommerce, being an open-source and fully customizable eCommerce platform will unquestionably leverage your business all around the world.
Cross-border selling will not only secure your revenue for your WooCommerce store but will definitely help you make your business more stable.  With the coming holidays and the festive rush, don't just limit yourself to a fraction of potential customers. Seize the opportunity on the horizon and explore the international market this season with your WooCommerce store.
In this article, we'll explore the benefits of cross-border multichannel selling and other important factors to consider before taking the plunge.
This how-to tweak your WooCommerce store for cross-border sales!
WooCommerce is one of the best eCommerce platforms to exercise cross-border selling. With flexible features and high-performing tools, you can easily get access to international markets within no time.  Here are a few things to consider while tweaking your store for the cross-border sale.
Take into account the language gaps. 
The default language for any WooCommerce store is English. However, to make your store customer-friendly for the season, you need to overcome the language barriers. To do so download the translated version of your WooCommerce store in several different languages. The backend of your store must follow your language, the frontend, however, can be multilingual. One way to do it is to get access to the Google Translator plugin.
Revamp your store content. 
Store content must help you connect with your customers from different regions and countries. Even if your site is aligned with variable languages, you still might want to optimize the store for the specific region that your business covers. One way to do it is by creating blog posts, landing pages and presenting a sufficient number of FAQs targeting information for a particular region, country, or area.  Optimized content not only makes your store welcoming and customer-friendly but is also incredibly helpful for search engine optimization.
Looking for a team to help you to revamp your store? Connect with our experts here. 
Sort out prices of products in multi-currency.
Although WooCommerce stores will accept a single currency as a default currency. However, with the WooCommerce store's flexibility, you can easily show product prices in a customer's native currency by downloading the currency converted widget. There is a chance that your store is getting a fair share of international customers this holiday season who are willing to purchase but are in doubt because of the non-availability of the price ranges in their native language.     
Update your payment methods and payment gateways.
Setting up your store for different payment methods can be a tricky business. Since your store is all set to receive customers from around the globe due to festivals, ensure to include as many payment options so that customers from different regions can opt-in to their suitable payment option.  Consider a trustworthy payment gateway that goes a long way with your business model. Try working on the three categories of the global payment: 
Online payment gateways: Traditional methods such as PayPal and Square are included under this particular category. 
Bank-based System: Online bank wire transfer, e-cheque, credit, and debit card payments fall under this category.
E-Wallet: With the ability to make payments digitally, an e-wallet is new to the e-commerce sector. Services like Apple Pay, Microsoft Wallet, and Alipay are some of the outstanding examples of non-traditional banking companies providing the required payment services.
Simplifying your fulfilment options.
Selling in multiple countries will definitely require you to put extra effort into simplifying the fulfilments. People generally prefer easy procedures and the earliest delivery for their orders at the time of festivals.
When shipping overseas, there may be additional expenses (duties, taxes) in addition to the shipping fee. Therefore the "landed cost" is the entire amount of money due when the product arrives at your customer's door. Break down and present the shipping charges with easy-to-understand terms and sell internationally with WooCommerce.
Enable customer service for internal shoppers. 
Effective customer service is the root of conversions. As the festive traffic will rise you will need to step up the service game up a notch. With the WooCommerce Customer support system, you get access to easy usability of various features for order information along with client's inquiries. Keep a track of your orders along with communicating with the customers- seamlessly. Smooth customer services will help you sell internationally with WooCommerce.  
Experience cross-border business like never before with CedCommerce. 
CedCommerce is proud to have assisted a number of well-known brands and online retailers in establishing, optimizing, empowering, and navigating their most difficult eCommerce difficulties. CedCommerce's synergistic goal is to disseminate business models with best-in-class services and high-performing marketplace solutions on a global scale by combining digital functions with e-commerce.
Experience full-fledged digital solutions from store setup to product feed management and optimization aligned with 24/7 expert support setup.
Intrigued? 
Reach out to our experts on WP Excel. Or simply drop an email on wpexcelsupport@cedcommerce.com