Optimization and other strategies to prepare your WooCommerce store for holiday traffic.
Running short of time? Get PDF of the blog in your mail.

Play Now
Global ecommerce growth has been unprecedented since the pandemic. The double-digit growth has in turn changed the face of ecommerce trends. The emerging trends show a great spike in YoY commerce rate- which was 23% in 2020 and in 2022 stood at 29%. All in all, compared with 2019, e-tailers collected 73% more traffic by the end of 2022. Along with hiked traffic, online shoppers' behaviour shifted during the pandemic to the good old desktop surfing- with desktop users penetrating close to 50% in device breakdown. And as the world rolled back from the pandemic restrictions, again mobile users increased by 70%. Whatever the numbers, your WooCommerce store has to be optimized for the festive season. From onsite operation to speed optimization of your WooCommerce store, there are several fronts that need to be regulated around the holiday season.
From revamping your Woo-store's content to end-to-end social media strategies, we have got it all covered for you and for your store. Let's get down to those tips & tricks:
Create Optimized landing pages for your WooCommerce store for the season.
It's important to connect your customers with a festive feel so that they feel welcomed and hence increasing the chances of conversions. Optimise your Woocommerce store and Filter the focus of your customers on the relevant and topical content by applying season and festival-oriented themes, colors, and images. Additionally, keep your updated theme in line with the existing site design to ensure coordination between the two. Optimize and redesign your store's landing page and product pages as per the festivities to create an everlasting impression on the shoppers.
Optimize by refining and revamping your WooCommerce store's content.
Done right, optimized, and redefined content can get the right kind of engagement with respect to your competitors. A vital aspect of revamping your eCommerce site's content is to increase its visibility on Google and mark a higher SERP. Produce a sense of direction in your content by using more focused keywords and keyphrases. Furthermore, narrow down the intent and quality of the content, along with ensuring that the keywords/phrases are used within limits. Don't forget to put the required 'CTAs' (call-to-action) to direct your shoppers for a smooth buying experience.
Run speed tests and optimize the store's performance.
Substantial growth in the number of people shopping for the festivals requires you to put checkpoints on your WooCommerce store's technical and onsite well-being for the holiday spike. In order to avoid crashes during the peak shopping time, run the regular speed test to see your site's loading time which should ideally be under two seconds. Consider optimizing your product images and using a responsive theme for your store, and you are good to go!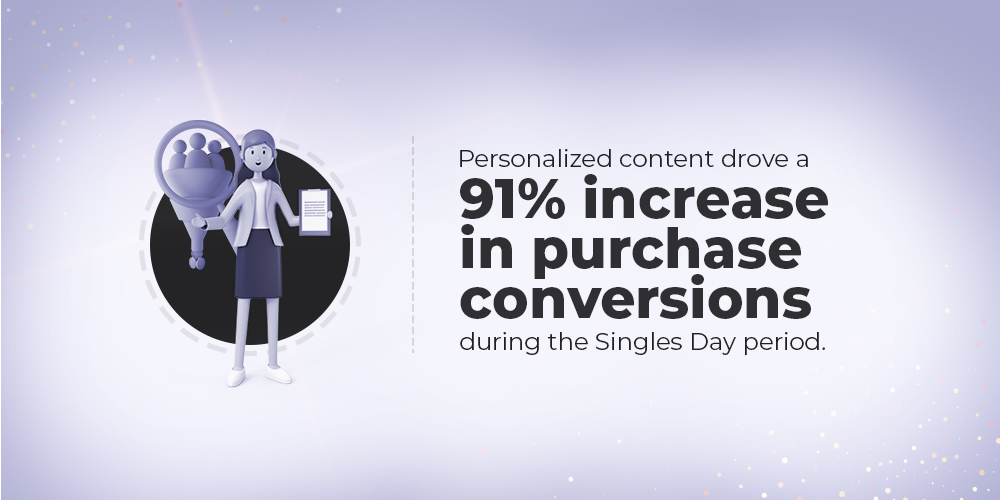 End-to-end social media strategy.
Getting in touch with your customers on various social platforms is one way to win the loyalty card for your brand. People tend to spend more time on social media during the holidays, and putting your brand out there on these platforms will do wonders. Make sure to incorporate social media sharing options on your website and get exposure on all the channels for all the right reasons.
Along with adding sharing option, the following are some ways to grab shoppers from your social handles: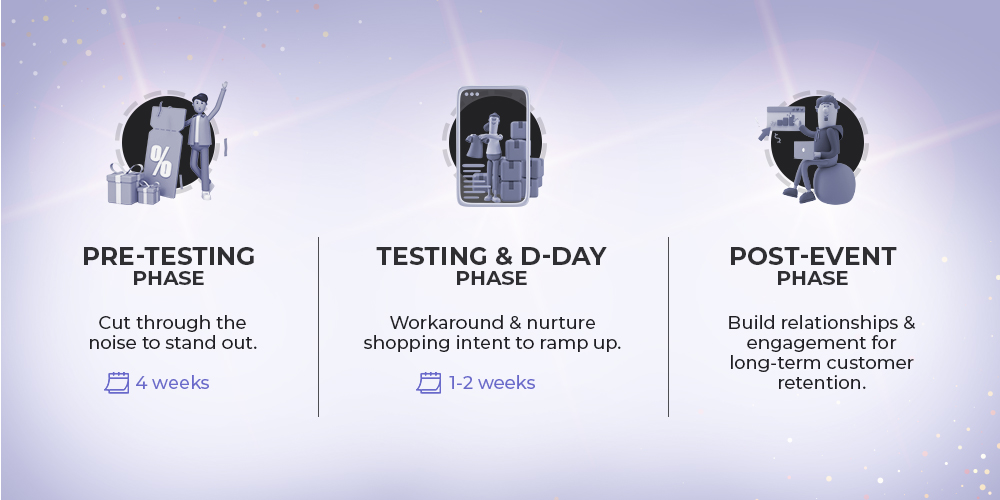 The pre-testing phase is all about winning your shopper's attention on social media. Shoppers often keep an eye on the early sale season and carry an advance search in order to grab the deal before everyone else.
This is the perfect phase to create a buzz, inspire & even influence the buying decision of the shoppers. One way to spread out the word is by creating an upper-funnel strategy where you capture the interest of the people searching online. Not only on search engines, but on social media too, the broad match keywords play a vital role. Use tools like Google Trends & other best seller reports. You get to know what is trending right now. Incorporate those trending keywords in your social media copies along with trending tags & hashtags to showcase your products. 
This is where people often decide what to buy. Shoppers compare products to find the best fit. So how do you make the most out of it? While buyers are excited to shop, you simply ramp things up by using the paid media on social media to reach and convert high-intent shoppers.
To make this strategy work: (a) Plan your budget ahead of time (b) Showcase your products on multiple social media platforms (c) Add a checkout option on your social media handles.
The momentum of shopping might take a dip, but your relationship with your customers shouldn't. The post-event phase is the time when you nurture & retail long-term customers. Keep your social handles hyped with new & different forms of media and content. From new product launches to sending coupon codes via email marketing to keep your brand on top of your mind. 
Want to connect your WooCommerce store with FB & Instagram?

Use WooCommerce sales and promotional tools for festive sales.
Who doesn't look for special offers and sales during the festivals? Use various WooCommerce tools to cater to all the discounts and offers on your product line. Alongside use the promotional tools to create a campaign and get noticed by a larger audience. Lastly, with WooCoomerce's flexibility, you get to test and tweak the campaigns to get the results you long for.
Track, analyze, and regularly review performance.
Use analytics to collect data and see how customers are behaving in your store. The key here is to collect the data and improve the store's performance and functionalities. Additionally, these numbers here will let to know the answers of how the shopper ended up in your store? What are the keywords used which brought the shoppers to your store? In brief, set up the analytical tool right before the season hits you.
Prepare for days to follow.
The post-festive period is the perfect time to build a solid customer base. Make sure that you keep in touch and deploy email marketing in your marketing strategies. With emails, you can easily grab all the lead-generating opportunities. Another way to get a hold of the sales is by recovering the abandoned carts. Generate coupons and offers for the post-holiday season and make suitable offers to keep them hooked to your brand. You can now push the same discounts on your social media channels, creating visibility and generating post-festive revenue.
CedCommerce's WooCommerce services at your doorstep:
The WordPress and WooCommerce services by CedCommerce are crafted to make selling a breeze for you for the holiday season. With our intelligent marketplace solutions, you get to sell and expand on various marketplaces simultaneously. Above all, CedCommerce's WooCommerce services are there to serve you for every digital requirement and push your ROI to a whole new level. From setting up a new business for you to expanding your reach out to different channels for selling, CedCommerce has got it all under a single roof.
Get in touch with us!
Optimize your WooCommerce store with our experts. Connect with us on Skype, WhatsApp, or drop us an Email!  or simply drop a comment on the post.