Optimization and other strategies to prepare your WooCommerce store for holiday traffic.
Running short of time? Get PDF of the blog in your mail.

Play Now
Every year's end comes with the right opportunity for the merchants to push their sales to the next level. With the festive season just around the corner added with the COVID situation, we no longer expect to see long queues outside the gifts shops but certainly can expect exponential growth in the eCommerce sector. Therefore, with a greater shift towards online shopping, it's crucial for a seller to prepare specifically for the festive rush with a thorough and completely optimise your WooCommerce store.
Keep reading and go over various ways to prepare and optimize your store right away.
Create Optimised landing pages for your WooCommerce store for the season.
It's important to connect your customers with a festive feel so that they feel welcomed and hence increasing the chances of conversions. Optimise your Woocommerce store and Filter the focus of your customers on the relevant and topical content by applying season and festival-oriented themes, colors, and images. Additionally, keep your updated theme in line with the existing site design to ensure coordination between the two. Optimize and redesign your store's landing page and product pages as per the festivities to create an everlasting impression on the shoppers.
Optimise by refining and revamping your WooCommerce store's content.
Done right, optimized, and redefined content can get the right kind of engagement with respect to your competitors. A vital aspect of revamping your eCommerce site's content is to increase its visibility on Google and mark a higher SERP. Produce a sense of direction in your content by using more focused keywords and keyphrases. Furthermore, narrow down the intent and quality of the content, along with ensuring that the keywords/phrases are used within limits. Don't forget to put the required 'CTAs' (call-to-action) to direct your shoppers for a smooth buying experience.
Run speed tests and optimize the store's performance.
Substantial growth in the number of people shopping for the festivals requires you to put checkpoints on your WooCommerce store's technical and onsite well-being for the holiday spike. In order to avoid crashes during the peak shopping time, run the regular speed test to see your site's loading time which should ideally be under two seconds. Consider optimizing your product images and using a responsive theme for your store, and you are good to go!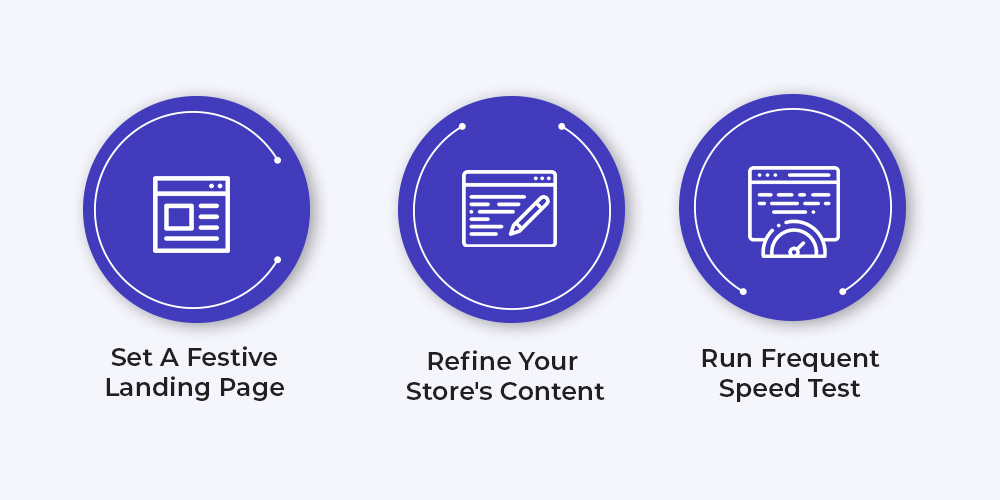 Explore social media platforms for your brand name.
Getting in touch with your customers on various social platforms is one way to win the loyalty card for your brand. People tend to spend more time on social media during the holidays, and putting your brand out there on these platforms will do wonders. Even more, ensure to incorporate social media sharing options on your website and get exposure on all the channels for all the right reasons.
Use WooCommerce sales and promotional tools for festive sales.
Who doesn't look for special offers and sales during the festivals? Use various WooCommerce tools to cater to all the discounts and offers on your product line. Alongside use the promotional tools to create a campaign and get noticed by a larger audience. Lastly, with WooCoomerce's flexibility, you get to test and tweak the campaigns to get the results you long for.
Track, analyze, and regularly review performance.
Use the analytics to collect data and see how customers are behaving in your store. The key here is to collect the data and improve the store's performance and functionalities. Additionally, these numbers here will let to know the answers of how the shopper ended up in your store? What are the keywords used which brought the shoppers to your store? In brief, set up the analytical tool right before the season hits you.
Prepare for days to follow.
The post-festive period is the perfect time to build a solid customer base. Make sure that you keep in touch and deploy email marketing in your marketing strategies. With emails, you can easily grab all the lead-generating opportunities. Another way to get a hold of the sales is by recovering the abandoned carts. Generate coupons and offers for the post-holiday season and make suitable offers to keep them hooked to your brand. You can now push the same discounts on your social media channels, creating visibility and generating post-festive revenue.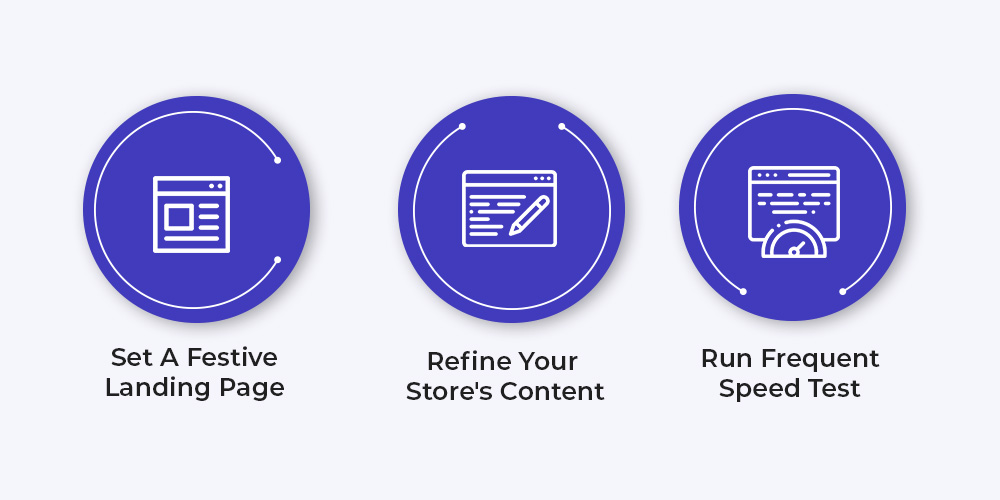 CedCommerce's WooCommerce services at your doorstep:
The WordPress and WooCommerce services by CedCommerce are crafted to make selling a breeze for you for the holiday season. With our intelligent marketplace solutions, you get to sell and expand on various marketplaces simultaneously. Above all, CedCommerce's WooCommerce services are there to serve you for every digital requirement and pushing your ROI to a whole new level. From setting up a new business for you to expanding your reach out to different channels for selling, CedCommerce has got it all under a single roof.
Get in touch with us!