How to Edit Product Pictures for your Ecommerce Site in 2021
Running short of time? Get PDF of the blog in your mail.

Play Now
Product photos are an integral part of any ecommerce website's success. Customers can't touch your goods, therefore, you should make your products look more appealing online. Photographers and retouches know a lot of techniques to make products look special. In this article, you will find out how to edit pictures for ecommerce and get valuable advice from professionals to make your pictures sell goods faster.
1. Always Remove Background First

To focus the viewer's attention on the goods, you need to remove the background. This is the crucial part of learning how to edit product pictures for ecommerce websites properly. Using a white background when shooting will help you remove the background easily with the help of photo editing software. What are the major advantages of removing the background? It allows you to place the focus directly on the product. Additionally, this allows you to use another- better suiting background.
After background removal, you will be able to change the color easily, remove hair or threads. The process significantly reduces your file size, thus allowing your web page/product page to load faster. Professionals that specialize in ecommerce photo editing recommend using Photoshop and various other photo editing software for beginners to remove backgrounds smoothly and easily.
If you already have some experience, you may get Photoshop free, and select the Remove Background option in the Quick Actions menu. You should save the pictures in .PNG format with a transparent background. If you did everything right, an item in a photo would be surrounded by gray and white squares. The transparent background will be filled with the color of the background of your site.
2. Add Natural Shadows for a Realistic Look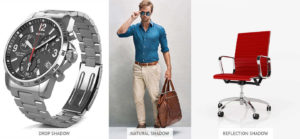 Adding some space to a product photo is always a good idea, especially when you edit product pictures for ecommerce. For instance, you can add realistic shadows. Experts use three basic types of shadows- Natural Shadow, Drop shadow, and Reflection shadow.
Natural shadows are cast by an item placed under direct light. This shadowing effect has a great advantage as it is the easiest one to achieve. A drop shadow creates an effect of shooting the item from above with direct sunlight shining down on it. This effect is often used for shoes, and it works great for objects like furniture, as it helps one to imagine the furniture at home. Reflection shadows allow you to create a dramatic effect of a product on a reflective surface. Such shadows are mainly used for jewelry, sunglasses, watches, goods you see in a display case.
3. Crop and Straighten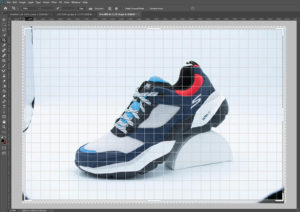 It is impossible to edit product pictures for ecommerce in an attractive way without cropping. With a DSLR camera, you can take a larger image for Amazon or any other online marketplace. Cropping is also used to keep the size and shape consistent on the product pages. A webpage with photos of similar goods placed next to each other will look messy if they have different shapes and sizes.
To allow customers to see all the details of a product, you should make sure it takes more space in the frame than a background. The item should be placed in the middle of the frame.
4. Make Slight Color Correction to Remove Distracting Light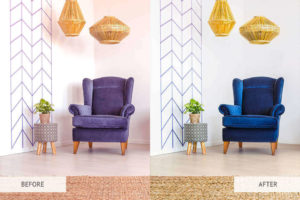 To give your product photography a realistic look, make sure the colors in the photo match real-life colors. While making a purchase, customers expect to receive the product looking the way they saw it in a photo. Otherwise, they are likely to get disappointed and return the goods they ordered.
There may be various reasons for these situations, such as inconsistent lighting, wrong camera settings, etc. Neon colors are difficult to "capture" in a photo, so they always require post-production. In fact, you can improve the colors by adjusting the hue and saturation of the object. Professionals that specialize in ecommerce photo editing also recommend working with contrast. Higher contrast will highlight the light areas and darken the dark ones.
To make an image brighter, increase the exposure. And vice versa, if you decrease it, the photo will get darker. Use highlights and shadows to achieve a similar effect. This way, you will be able to preserve more details and make them pop by adjusting the clarity and sharpness.
5. Batch Photo Editing Helps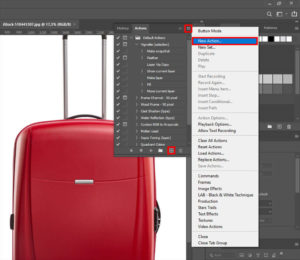 To make your ecommerce website successful and boost sales, it is important to take care of image consistency. This will create a positive user experience and help them make a decision faster. Professional photo editors recommend using a set of tools to ensure consistency. Use popular programs like Photoshop and Lightroom to batch edit product pictures for ecommerce. With them, you will be able to adjust various image parameters, like white balance, color, exposure, contrast, warmth, and many more.
Apply these settings to a series of images to achieve a consistent look. Using Photoshop actions, you can automate the process. All the steps you make are recorded and then re-applied to other images. Lightroom also supports batch processing. You can apply the same adjustments to a series of selected photos and increase the speed of photo editing.
Worried about bulk uploading images and products? Find the best Bulk Uploading Solutions through Integration and achieve a seamless product import/export experience. Talk to experts now!
6. Try Photo Recoloring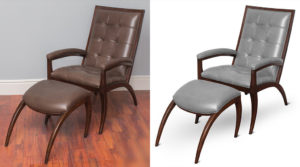 If the only difference between the products is their color, it will be reasonable to take a photo of one, and then recolor it with photo-editing tools. Colors have to look bright without a "flashy effect". The hue toggle in the adjustment layer will help you to achieve the color you desire. By adjusting the saturation toggle, you can correct the overly saturated colors.
7. Reshape the Product to Achieve Symmetry
Reshaping will help you improve the visual perception of a product. Sometimes, while shooting, you might ruin the composition, changing the whole impression from the image. When it happens, professionals recommend using the Liquify Tool in Photoshop for product photo editing. With it, you can push or pull certain pixels without losing the quality. This way, you will achieve symmetry and make your items look perfect.
8. Outsource Your Editing to Experts if You Don't Have Time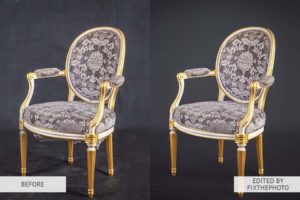 In some cases, outsourcing a part of the product photo editing tasks could be a good idea. You can contact a professional product retouching service to save a lot of time and get great results. When working on an ecommerce project, you have a lot of issues to take care of, so it seems reasonable to focus on the main tasks. The specialists can take care of every tiny detail in your pictures, like removing dust or hair. Besides, they know the marketplace image requirements and hence will provide a better performing product image. Professional photo editing services are usually quite affordable.
If you want to outsource post-production, you can easily find experienced and talented professionals. Check their portfolios, look through work samples, read customer reviews or maybe even get in touch with former clients. It is better to hire a person or a company that specializes in photo editing services. You need to explain to them what result you are expecting. In turn, they will provide you with accurately retouched photos ready for posting.
9. Perform Spot Retouching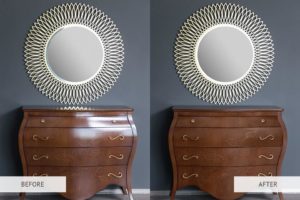 Working with a high-quality camera, you may see unexpected dust, hair, or blemishes on your product photos. Cleaning items before shooting will also help a lot. The same situation may happen with the background. Tiny spots or blemishes, loose threads can be removed during photo retouching. For example, Photoshop offers several options:
Spot Healing Brush allows you to get rid of the spots in a picture.
Clone Stamp Tool is more advanced than the Spot Healing Brush but works the same way.
Patch tool enables you to remove unwanted objects from a photo. You need to take a sample from one area of the photo and remove spots.
10. Remove Mannequins if You Want a Professional Look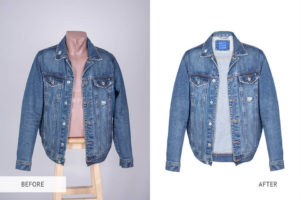 Mannequins are used to make product photos look professional, but they might distract the viewer's attention, so it is better to remove them. Professionals often create a "ghost mannequin" effect to enhance their product images. This technique is often applied when you edit pictures for ecommerce. You need to take a series of photos of a product on a model or mannequin and then remove a model or a mannequin during the post-production. As a result, the focus in the photo will be directly on the product. This effect is achieved in Photoshop quite easily. You should select an item of clothing, reverse the selection, and then remove the background. Sometimes, you will have to combine multiple photos. This technique is often used together with the 360-degree photo-editing technique.
11. Optimize Your Photos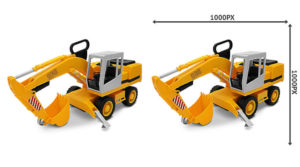 When you edit product pictures for ecommerce, you can process pictures to remove defects and optimize them for your online store. Make sure not to upload large files. By resizing your files and adjusting the resolution, you can minimize the website's load time. Besides, you need to check out the requirements of the ecommerce platform you are going to work with. Image dimensions are usually indicated in pixels, for example, 500×400. A perfect resolution for an online store is 72 pixels per inch, and the size should be no more than 600-800 pixels. You can easily adjust resolution and resize your image at the same time, as they are in the same menu. Be careful not to change the image aspect ratio during ecommerce photo editing, as you can accidentally make your picture look stretched or squashed. Set the height and width parameters, the rest will be changed automatically.
We also recommend you get acquainted with multichannel retailing
Try CedCommerce multi-channel solutions and integrations to sell better and more efficiently. Amazon integration, Walmart integration, and Facebook integration, among others, offer bulk product uploads, real-time notifications, convenient order management, inventory synchronization, and much more. Additionally, the CedCommerce digital marketing services will help you build a stronger online presence, generate more leads, and increase your conversions.
Such practice means the products are offered through multiple channels, like ecommerce sites, traditional offline stores, marketplaces, social media platforms, and other online channels. CedCommerce offers easy and comfortable solutions for global ecommerce businesses. Thus, helping you expand quickly and seamlessly.