Shopping Feed for Google app hits a century in reviews
Running short of time? Get PDF of the blog in your mail.

Play Now
As the eCommerce town is juggling in its own ways, our 'Suit for Google Shopping Feed' app has made it to 100+ happy customer 5-star reviews.
Did you know about the new opportunity that lets you keep all your profits to yourself? With the exclusion of commission fees from Buy on Google , you can enjoy all the profits made through your sales. Grab the opportunity with us today!
It wasn't possible reaching this milestone solely, the efforts of our prominent team members combinedly along with the customer's co-operation made the app reach where it is.
The app provides unique features that help sellers to an extent that they cannot resist their hands from typing their wonderful experience of using the app.
What does our app do?
Converting the manual and time-taking processes of the sellers, 'Suit for Google Shopping Feed' app uploads all your catalog to Google Merchant Center in bulk within minutes.
Relax! This quick upload doesn't mean your product details and images will be hampered.
Your product feed would be highly optimized, with high-quality product images along with the product identifiers like GTIN, MPN, Product type, and brand.
'Suit for Google Shopping Feed' app is efficiently compatible with managing the two functionalities or platforms i.e. Google Shopping, Buy on Google, Google Ads and Local Free listing. This means that an individual doesn't have to go look for two different solutions, hence saving extra money and time.
The app also manages all the programs which a seller has to manage on Google Merchant Center, which are-
Buy On Google-
Your product feed on Google Merchant Center is later listed on Google Shopping (which is a marketplace) through the Buy On Google. Our app is also compatible to manage the Buy On Google.
Shopping ads-
This is an important ignition for your business. Our app will handle your ads from scratch. This means from creating a campaign to bidding & budgeting later, providing you the complete analytics of your Ad.
The app empowers you to run Shopping Ads & text Ads, through which you can
Increase the visibility of your product.
Manage your Ad campaigns smoothly.
Analyze your Ad campaign performance via full fletched reporting.
Target your audience on the basis of location, language, interest, age & gender.
Local inventory ads-
Through this, your Ad will be shown to nearby shoppers who are searching for those specific products on Google. Shoppers will be redirected to the storefront of your product (which google will create). Shoppers use these storefronts to view in-store inventory, get store hours, find directions, and more.
Your Local Inventory Ads will also be efficiently handled by our app, through which your In-Store inventory will be promoted in your local area, your store will be visible online and the best part is you can monitor your traffic and impact of Digital Ads.
The rest of the programs like Surfaces across Google, Dynamic remarketing, customer reviews, etc. Google manages by themselves.
The app is also embedded with,
Google Ads-
Running and managing your Search & Display Ads can be done through the app. Our app will efficiently create, manage and track your Search and Display Ads campaigns.
You can-
Set-up your conversion tracking through which you can get all the information of the conversions, click-throughs, site visits, etc. from your Ad campaign. Therefore, you can keep track of your Ad and decide whether they are useful enough or not.
See the real-time reporting of your Ad campaigns.
Do the keyword injection and select the keywords on which your ads will run. In Addition, you will be nourished with more relevant keywords and their CPC (Cost-Per-Click) so that you can make the right decision while selecting keywords.
It's Google Shopping, not Google Express!
Yes, Google Express is not a term anymore, instead, Google Shopping is what this generation and Google itself says.
The same is with our app, Before, the name was Google Shopping Integration, but now it is Shopping Feed for Google.
The app also modifies its functionalities with the modifications in the name, all of the drool-worthy features are lined up below, have a look-
1) Profiling:
Group similar kind of Shopify Store products on the basis of different product properties. This will empower you to easily list your products according to the different locations, languages, destinations & settings.
2) Simplified Product Listing:
Upload products on the Google Merchant Center in bulk and forward the product feed from the Merchant Center to desired Google Programs.
3) Order Management:
Transfers the order information received on Google Shopping to the Shopify store, so that it can be easily fulfilled. Also, update the order tracking details from Shopify to Google Shopping in the most efficient way.
4) Manage your Business Information:
Get free gusetting on Buy On Google, also empowers you to have a track on Business Information, Website URL & much more.
5) Goal Set-Up & Tracking:
Set-up goals to track conversions and overall performance of your business. Create ad campaigns, plan budget and bidding on the basis of keywords.
6) Enhanced eCommerce Set- up:
Track the ROI generated through Google Ads based on the check-out data. In addition, have a record of your Abandoned Carts to strategically manage them.
Have a look at what they said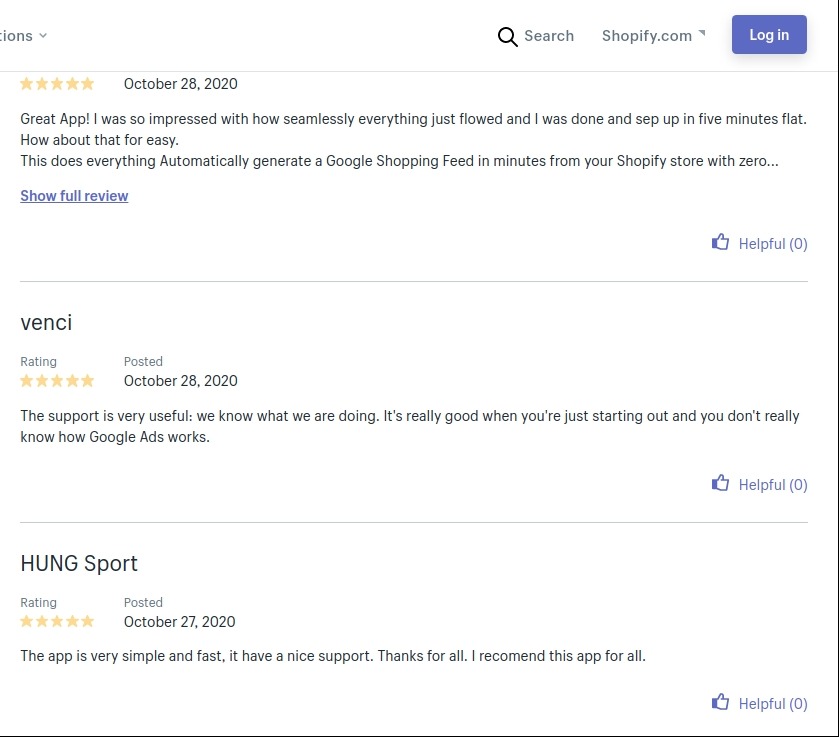 More reviews- Shopping Feed for Google- Reviews
Did you hear about the fantastic news from Google? Google has now allowed sellers to showcase their products on Google Shopping through Google Merchant Center. Thus, a major part of the Google Shopping page is going to be occupied by these free listings. All they need to do is create an optimized Shopping Feed via the Merchant Center and make sure Surfaces Across Google is Active. Enjoy this unpaid experience and create your Google Shopping Feed now:
Listen to our Spotify Podcast for emerging trends shaping the eCommerce in 2020!
On the whole
Shopping Feed for Google app has aided thousands of customers to easily sell on Google Shopping. Sellers armed with the app have shown a positive increase in the graph of sales. 
CedCommerce is a trusted partner of Google Shopping Actions.
Therefore, considering the qualities provided by the app, it is worth saying that it has a long way to go!
So, what are you waiting for, give this app a try since this app offers you 7 days free trial!
Google Shopping Actions US is open for Merchants in India and Canada: Start selling cross-border to customers in the US, from either India or Canada without any fuss, right away.
I hope this blog is proved to be fruitful for you. For any suggestion or query, please leave a comment below in the comment section, our experts will be there for you 24*7.
Other relevant reads-
How to set up Google Shopping Ads and Budget properly