Efficient Open Source Solutions by CedCommerce for OnBuy retailers
Running short of time? Get PDF of the blog in your mail.

Play Now
Are you selling on OnBuy and looking for a perfect open-source integration solution for your online store? You've landed at the right place indeed! Choosing the right open-source solution for your online business isn't that easy. The multiple options available out there with many features and benefits, have a high chance of leaving you confused. However, through this blog, we have tried to explain everything about open-source solutions for OnBuy i.e; WooCommerce integration for OnBuy, Opencart integration for OnBuy, Prestashop integration for OnBuy, and Magento integration for OnBuy.
What are Open-source solutions?
An open-source solution is an integration solution easily accessible to everyone. By "everyone," we mean the ones; who have the technical know-how and are well versed in the world of coding and languages. After all, It is a source code that can be modified, customized, and enhanced according to the need. However, if you are using open-source solutions for your online business; you must be ready with your technical team. Some software like LibreOffice, Firefox are perfect examples of open-source solutions. Moreover, when you choose an open-source solution, the control is in your hands.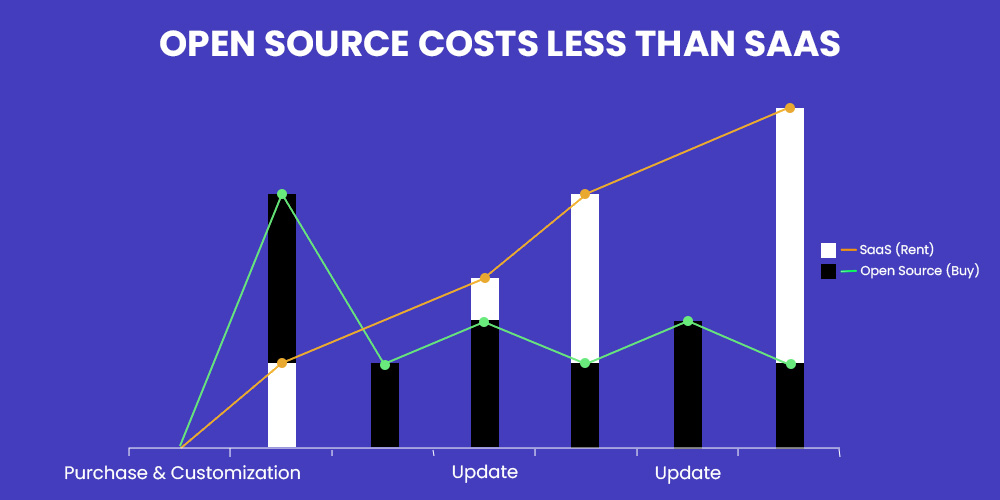 Note- Although SAAS-based solutions are easy to handle; even if you don't have technical clarity, they are only available to the end-user. Additionally, the control is in the service provider's hand. Google Workspace, Dropbox are some examples of SAAS-based solutions.
Why Open Source Solutions over SAAS-based solutions?
Open source is considered an innovation engine. As a result, everyone is adopting open-source all over the world. From Magento to WordPress, the common thread that comes is open-source. These solutions have become a dominant software model; that most people looking for design and feature independence opt for. However, open-source solutions are cost-effective. The following image shows why you should choose open-source over SAAS-based solutions.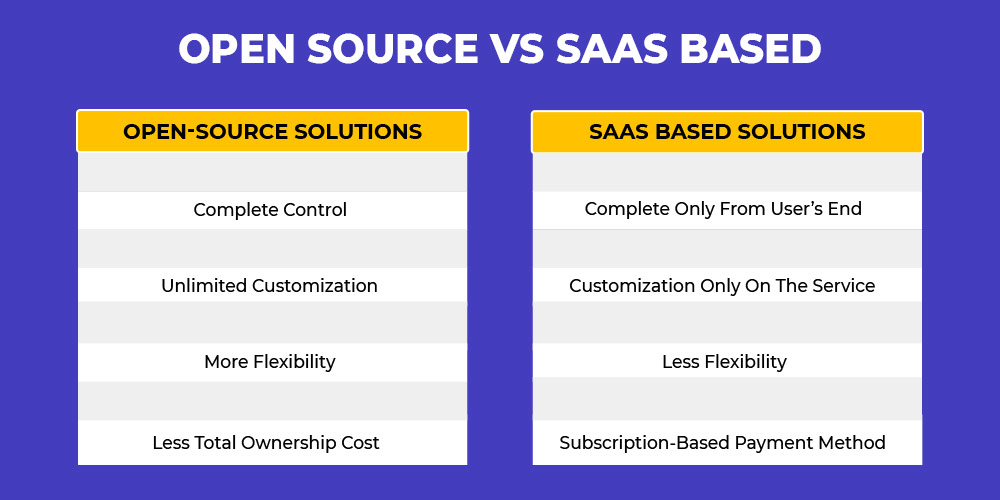 Open-Source Integrations offered by CedCommerce for OnBuy
CedCommerce offers the best open-source solutions for your OnBuy business. When you choose any of the following open-source solutions; we make sure to extend our best services to set up your online business easily. Our available solutions have features like bulk upload, real-time inventory synchronization, cron management, etc. Some of the best ready to use open source solutions by CedCommerce include:
OnBuy Magento Integration
The Magento integration by CedCommerce is an excellent solution for your online store if you're based on Magento. We charge 0 costs for the extension. The integration offers personalization, customization, and real-time synchronization.
OnBuy Prestashop Integration
The Prestashop integration by CedCommerce is an efficient solution with distinct features such as auto- acknowledgment of orders, real-time synchronization, automated-cron job, and many more.
OnBuy OpenCart Integration
The OpenCart Integration by CedCommerce is a one-stop solution for sellers based on OpenCart. It comes with real-time synchronization, 0 extension charges, and provides a centralized platform for handling everyday store operations.
OnBuy WooCommerce Integration
The WooCommerce integration by CedCommerce gives you a fantastic selling experience with features like automated product upload, profile-based product upload, inventory synchronization.
Why should you consider CedCommerce Open-source solutions?
A one-stop-shop for eCommerce giants, CedCommerce has been a global solution provider since 2010 and efficiently providing solutions for small and big online businesses. The plug-ins are available free of cost. Furthermore, CedCommerce offers 24X7 customer support and a dedicated account manager to set up your online store. The team also aims to provide cost-effective solutions that ease the online selling experience for our merchants.
FAQs Your Questions— Our Answers!
Q. For which frameworks does CED provide open source solutions?
Ans. Opencart, Prestashop, WooCommerce, and Magento 2. These are the frameworks for which CedCommerce provides Open-source solutions.
Q. Are the CED-OnBuy solutions all API dependent, or do we need to use CSV or manually update to keep track of the OnBuy shop?
Ans. CED created solutions to automate your shop, and you can control everything from your admin backend itself. The plugin completely works on Cron jobs and API functions which help you to get relaxed; once the initial plugin setup completes. Nevertheless, you handle your shop manually, then also you can opt for our plugin. This will help you to manage those manually upload on the OnBuy seller panel; through the API syncing. As we offer the initial setup of the plugin, you can complete it simultaneously.
Q. Does CED make the software as compatible as the latest version of the Framework?
Ans. Yes, all our plugins are compatible with the latest version of the framework; they can easily be downloaded for Free from our website pages. However, if you are on the older version and have doubts about the compatibility, you can connect with our team on these channels:-
Skype- https://join.skype.com/wSM2BfOdfDOi
WhatsApp- https://chat.whatsapp.com/DZaBFUZNJhm8xqZnG7fq4X
Q. Will choosing CED plugins for my shop make it fully automated? What features does the CED-OnBuy plugin offer?
Ans. Yes, by choosing the CED plugin, you can fully automate your shop. Moreover, once the initial configuration/setup is done; you can sit back and let it do the work for you. In the meantime, You get every control at one single place i.e; your framework admin. Each CED-OnBuy extension manages all three functionalities; they can completely automate your marketplace shop through API control of > Product Creation > Order Management >Stock and Price Updates.
To Sum Up
Every open-source platform is a bit different from the other. Hence it is important to know which one is more viable for your online business. Since choosing the right solution is a big decision, you need to select one that will grow with you and enhance your business further; to avoid a risky migration later on. Hence, choosing the right platform will ultimately depend on the business needs, resources, and budget. Still, confused about the right solution? Get in touch with our in-house experts, and they'll help you out.
Happy Selling!