eCommerce personalization Will Take Over Traditional Commerce in 2021
Running short of time? Get PDF of the blog in your mail.

Play Now
Although conversational commerce was first coined in 2015, it will be 2021 when this word makes much sense. This article is a thorough walkthrough of E-commerce personalization strategies by adding conversational commerce elements to your online store. The year 2020 had loads and loads of ups and downs, but it taught us one thing – to be able to boost your store's conversion rate, a personalized shopping experience is of utmost importance! Throughout this article, we'll be talking about how messenger chatbots, artificial intelligence (AI), and customized information together contributes towards it. 
Heavy isn't it? But don't worry. Just like a step-by-step guide breaks a complex problem into a simple situation, we'll break down everything for you so that in 2021 you can add a touch of conversational commerce in your eCommerce store and captivate shoppers by providing a better shopping experience. 
Let's Begin with the Basics – 
All thanks to Sir Chris Messina – the man behind social media hashtags who first coined this term. Conversational commerce is an automated technology powered by rules and artificial intelligence that enables online shoppers and brands to interact through Messenger chatbots and voice interfaces. 
It may appear to be in the realm of fiction, but this is happening! Who doesn't love a customized experience? With conversational commerce, you might wake up with the voice of Hugh Jackman wishing you good morning, followed by Alexa reading out the newspaper to you as you sip your morning tea!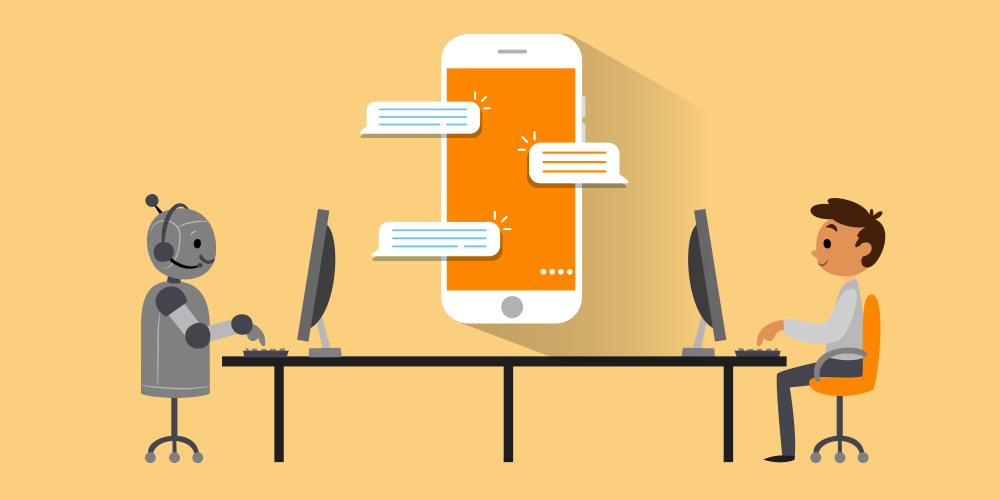 E-commerce personalization is possible through conversational commerce using top-notch technology like messenger chatbots, RPA (Robotic Process Automation), and personalized push notifications for brands to facilitate sales and increase average revenue per user. If you can provide a personalized shopping experience in your eCommerce store, you're bound to get more sales, more customers, and surging lifetime value!
When you integrate conversational commerce with your E-commerce store, you're working towards providing a personalized shopping experience by creating an interactive environment that compensates for the missing human touch typical of a physical brick-and-mortar store. 
Conversational Commerce and E-commerce Personalization Are 2 Sides of the Same Coin – 
If you search for the two terms alternatively, you might get loads of different blogs discussing the two words differently. While definitions might be different, the end goal happens to be the same – adding a personalized shopping experience in an E-commerce store! 
E-commerce personalization is the process of delivering personal experiences in online stores by dynamically showing content, product recommendation, and specific offers based on previous actions, behavior, purchase history, demographics, and other personal data. 
But where does conversational commerce play its part? If a messenger or a chatbot recommends products as per your needs – that's E-commerce personalization! 
If you see just what you want (or something like that), that's E-commerce personalization. That's how both the practices unlock a personalized shopping experience.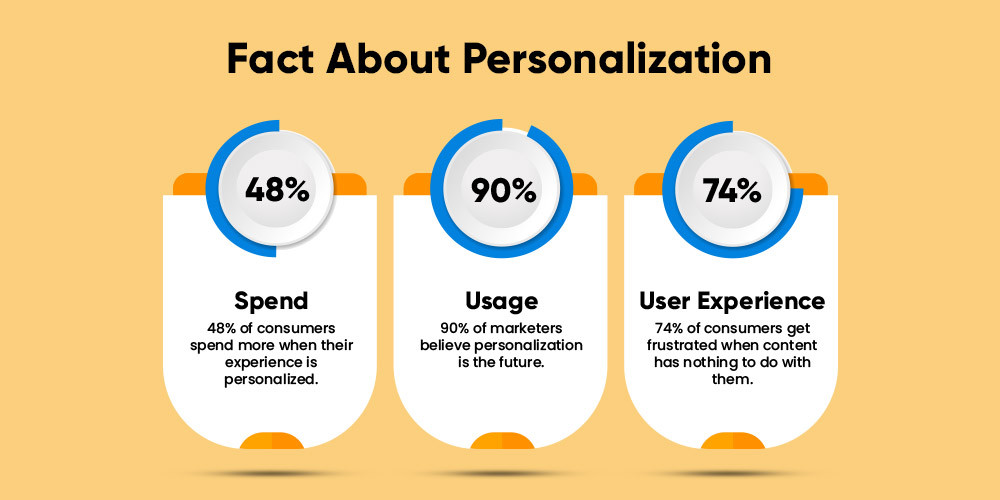 The only difference is that E-commerce personalization is more inclined towards data handling and it's interpretation. In contrast, conversational commerce uses top-notch technology like messenger chatbots, artificial intelligence, mind mapping. But even conversational commerce needs the data!
Hence proved – conversational commerce and eCommerce personalization are two sides of the same coin!
Brands & Their Way of Providing Personalized Shopping Experience in 2020 – 
Always provide a personalized shopping experience in your online store.
Is easier said than done! To be able to do that, you've got to integrate data with top-notch technology. But that's when complications arise. 
Below are some brands that inculcated conversational commerce in their business model and left online shoppers astounded by their innovation level in 2020 – 
L'Oreal – Cosmetics giant! L'Oreal took on live streaming and conversational commerce to build a virtual beauty festival in it's Malaysia and Vietnam markets. The brand hosted a 12-hour virtual beauty festival and witnessed one month's worth of online sales in less than 24 hours!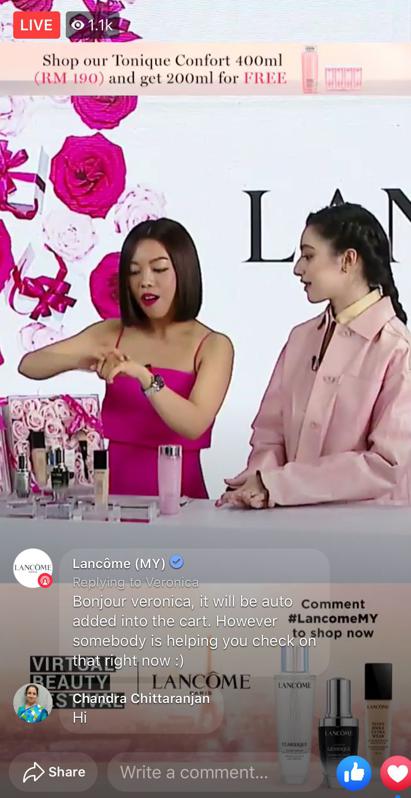 L'Oreal used Jumper.ai – a shopper engagement platform that allows online shoppers to use a dedicated hashtag to trigger a messenger's private conversation. L'Oreal hosted it on Facebook Live with its messenger function, and over 17K chats were activated, reaching 2.6 million people with a 12% engagement rate. Vietnam witnessed a high online penetration of over 30% and increased sales by 22%. 
Since cosmetics are a highly personalized product and users like to first test, feel and then purchase. L'Oreal took the game to a whole new level. Shoppers get connected with make-up professionals and that's how a customer feels safe about the recommendations and product purchases. Isn't it a fantastic way of providing a personalized shopping experience? 
H&M – CLothing giant H&M and Kik, which has over 300 million user base, and over 40% of them are US teenagers. H&M brand saw the opportunity here to interact with the audience through a Kik messenger chatbot.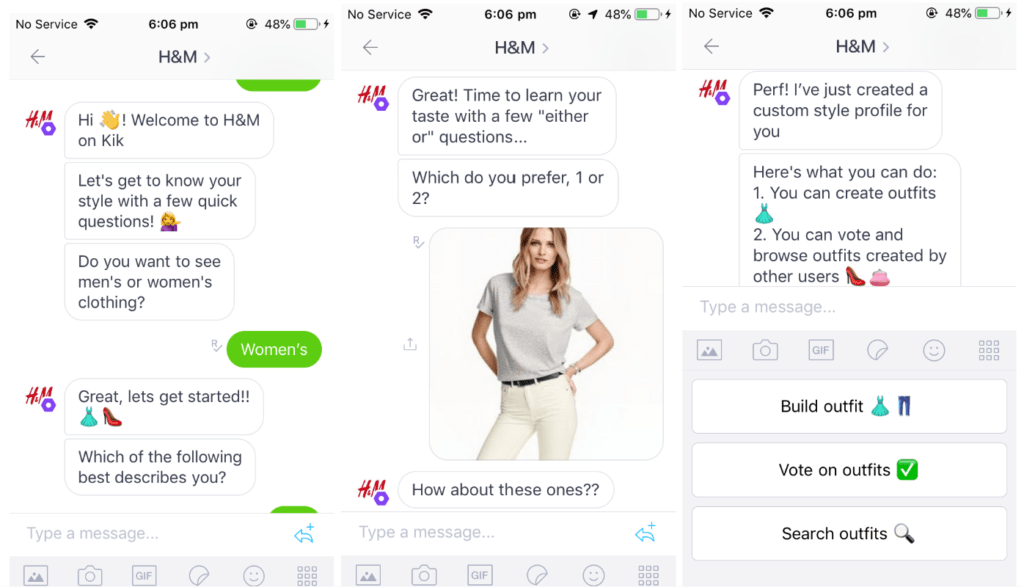 As a personal digital stylist, chatbots asked users to answer a series of MCQs to determine their preferences before it starts recommending anything to them. eCommerce personalization might be hard to come up with, but user engagement afterwards is just unimaginable!
Lego – Lego's friendly, emoji-loving messenger chatbot turns online shopping into a fun-loving experience. It starts by asking a set of questions about the gift recipient – age, play interests, etc. Based on the user's data, Lego's messenger chatbot puts forward a range of options to chose from.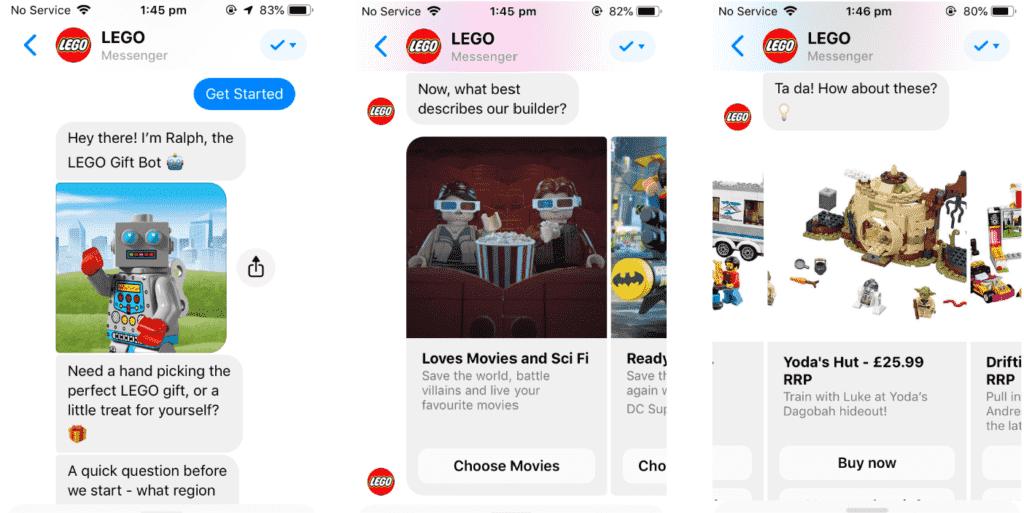 It saves the user from scrolling through endless products just to select one. With such a highly personalized shopping experience, users interacted with its messenger chatbot twice a day! 
Starbucks – If you think that conversational commerce is only for fashion and apparel, you're probably wrong. Coffee giant Starbucks used a smart barista messenger chatbot that's available exclusively through its app.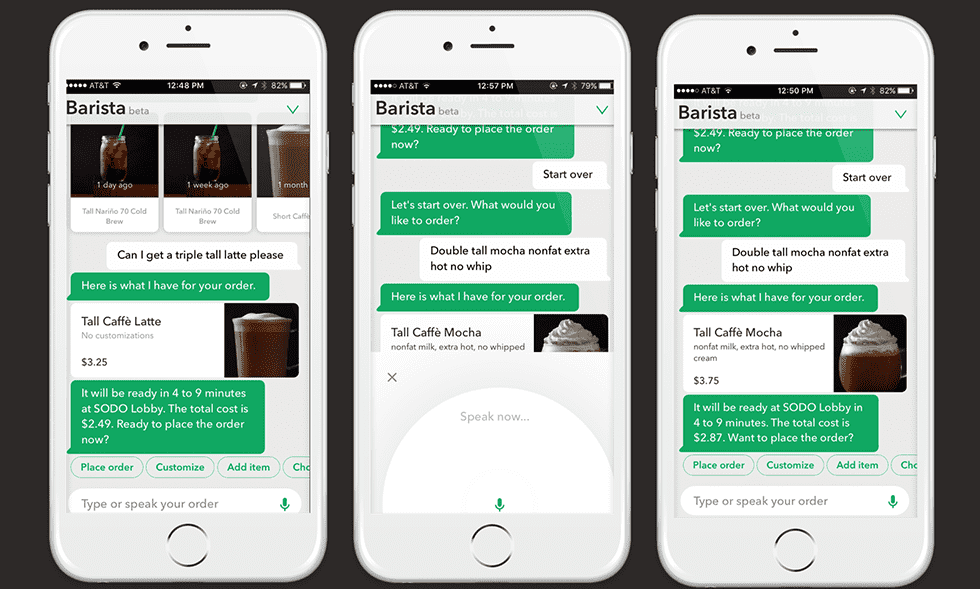 Customers can order and pay for their coffee through voice commands from their smartphones. With Starbuck's messenger chatbot, customers don't need to wait in the long queues and still manage to get a coffee at their convenience. 
Marvel – Superhero powerhouse Marvel not only comes up with fantastic movies, but the production house also has the potential to astound people how they promote their films. 
To boost ticket sales for Avengers – Infinity War & Ant-Man – Marvel chose Facebook. Through Jumper.ai – it used personality-packed images and gifs to build hype and persuasive copy. It prompted users to comment on the post using the hashtag.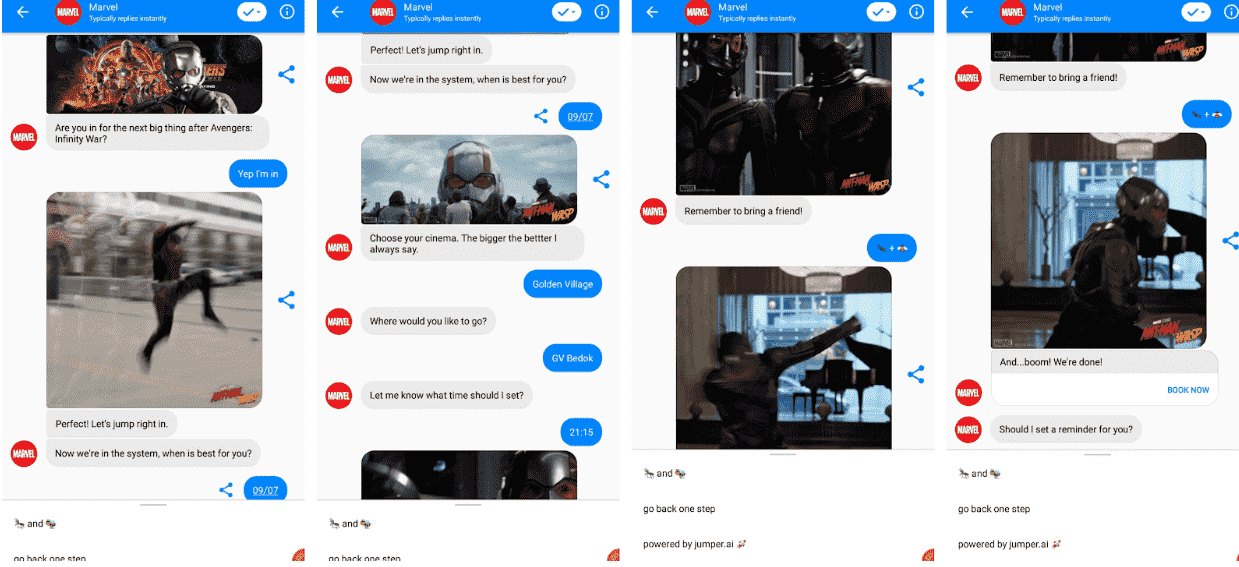 Users were directed to Marvel's messenger chatbot that seamlessly took them through the sales process, and the tickets were booked in no time. 
Success Lies in Integrating Conversational Commerce Carefully with Your Online Store – 
Usually, online sellers think that by backing up their online store with all the fascinating technology, they'll be able to enjoy the shopper's attraction – that's where they are wrong! 
When we talk about conversational commerce – the first thing you need to ask is if it's the correct time to do that! 
Don't rush towards conversational commerce during the early days of your store setup. You can add the element of personalized shopping through the apt placement of call-to-action buttons throughout your product and category pages.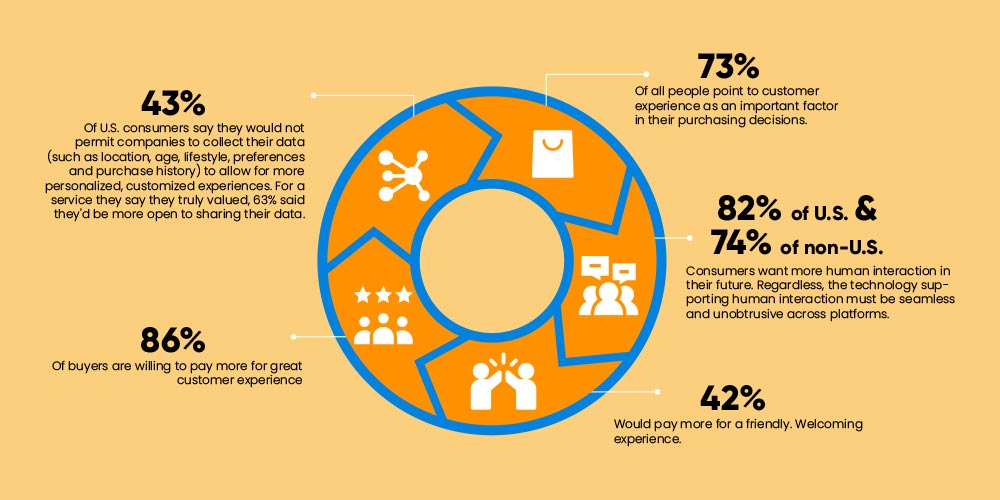 Let's have a look at various benefits offered by eCommerce personalization – 
Save Time & Resources – Messenger chatbots prove to be the real time saver for online store owners. Not only they provide a personalized shopping experience to the customers but as a store owner a lot of your time is saved in pulling the leads (that a messenger chatbot does on your behalf) as well as engaging customers with conversations! 
Improved Customer Experience – Isn't that obvious? With a personalized shopping experience, customer's interest in your online store will be more. With improved customer interest, your conversion rate goes up!
It's a win-win deal!

Increment in Sales – L'Oreal's example tells that if conversational commerce integrates with your business model – your online store works like a magnet with improved sales figures. 
Adds a Personal Element – Just like humans gather information by asking questions, a messenger chatbot works the same way.
Help Brand Stand Out – Because online shoppers consider more than one online store for their shopping needs, an opportunity lies here! If you can provide a personalized shopping experience through conversational commerce, shoppers are most likely to visit your store time and again. 
How to Begin with eCommerce Personalization Strategy in 2021? 
The year 2020 is rememberable due to the pandemic, but it was also a time when most of the world preferred to shop most of their items online. With such an incremental shift in the user's shopping patterns, it's high time for online sellers to revamp their store and back it up with top-notch technology to provide a seamless and personalized shopping experience! 
Online shoppers interact with business in many ways, and truly powerful personalization looks beyond who you are to what you are trying to achieve right now.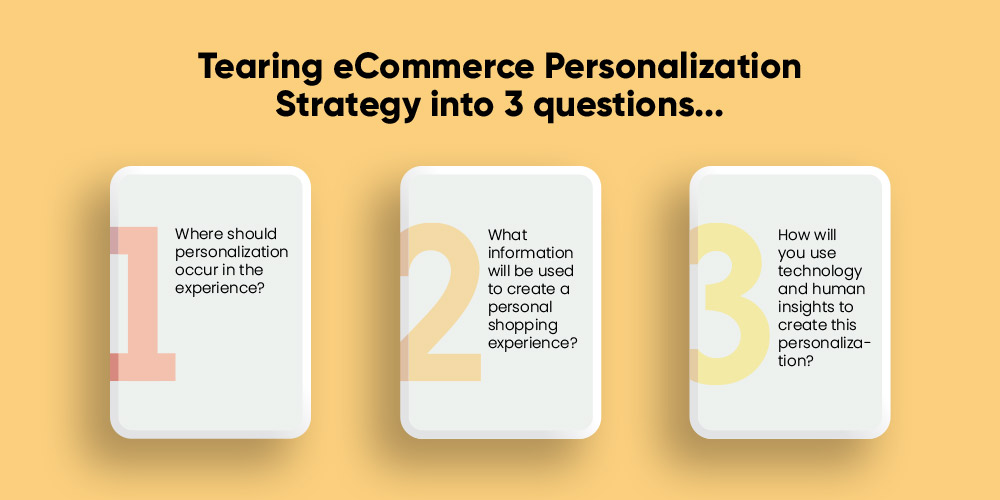 Where should personalization occur in the experience? 
Look at all the channels and touchpoints your customers interact with and then judge where eCommerce personalization would help you (and your store). Product recommendations, inspirational content, location-based services, site search, customer portals, and likewise – map out every micro-moment that could benefit from that experience. 
What information will be used to create a personal shopping experience? 
E-commerce personalization requires data based on previous actions, borrowing behavior, purchase history, demographics, and other personal touchpoints. CRM, Marketing automation, and A/B testing are different ways to pull some more data.
Decide which of your tools could help support each micro-element and identify the gaps in the data you need to fill to complete your vision. 
How will you use technology & human insights to create this personalization? 
While the above two questions are more inclined towards theory, this question is where you're going to apply your knowledge and experience to create an element of eCommerce personalization in your online store.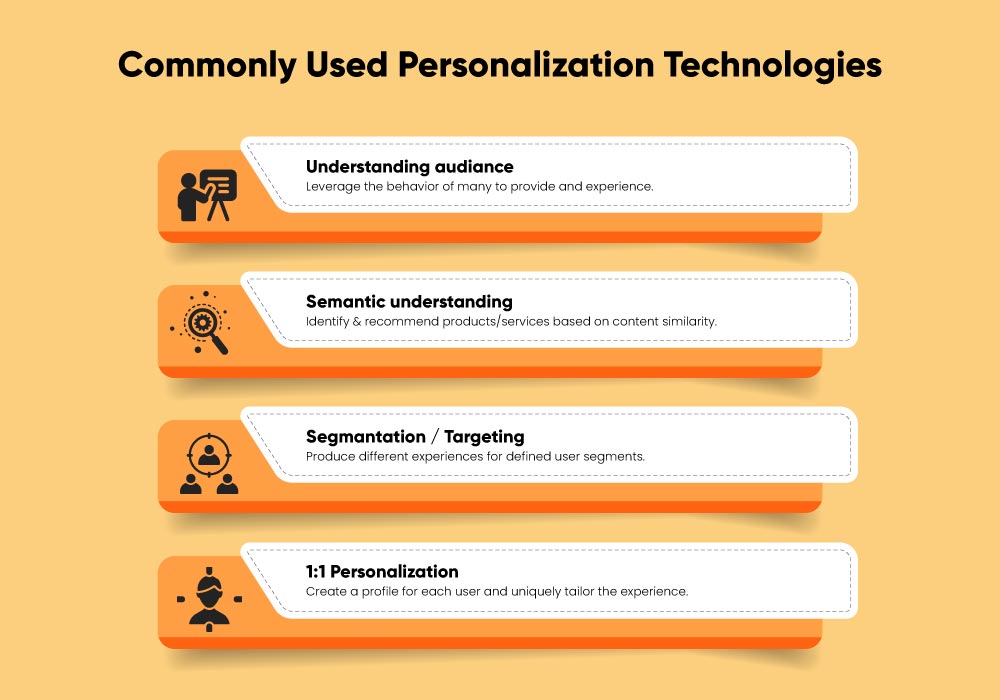 Understand the Audience – Whether it's a new visitor or a repeated customer, you can gather clues from how they entered your store to determine why they came to you. If you're able to identify that intent, you can shorten their journey and enhance their experience. 
Let's say you're selling golf clubs and a customer found you through a search engine by searching budgeted golf clubs. Your landing page could boost some clubs you have on sale along with other low-priced clubs to the top of the product grid. 
Semantic Understanding – If a shopper searches for a black laptop, they are probably looking for a black notebook. But a keyword search may instead deliver a page of black accessories along with a computer. This situation can be a bummer! 
An intelligent semantic search considers the words in context, just as a human sales clerk would do. Sometimes a messenger chatbot is not an answer to eCommerce personalization. Sometimes it's all about how clearly you arrange the data and put it forward in front of your customers. 
Segmentation & Targeting – Just like a good salesman picks up clues on what kind of merchandise suits a customer – what color he/she likes, what he/she can afford, and how soon he/she wants. You can take a similar approach online.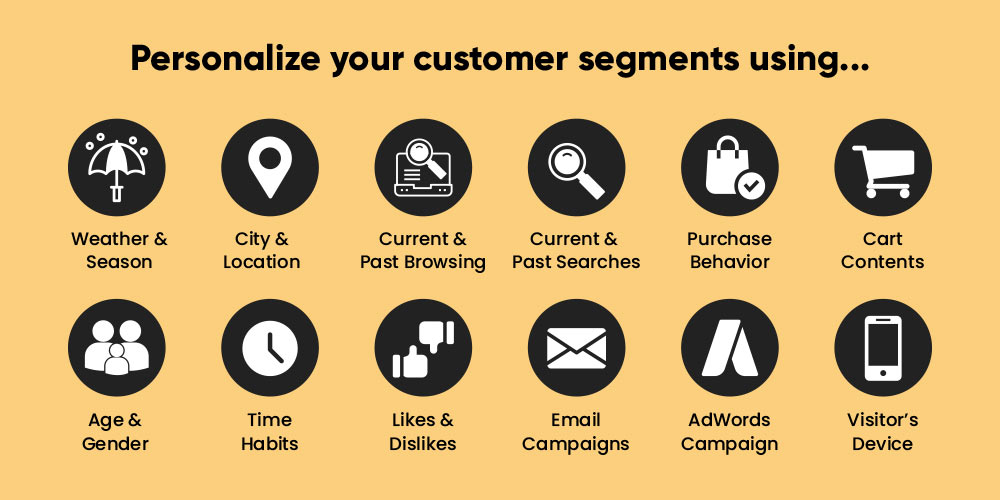 Let the machine learning process all that information and match it against your inventory in real-time. Not only can machine learning help guide individuals fast, but it can also offer options a human might have missed. 
Personalization – 1:1 personalization requires rapid data aggregation. Product recommendation is one such way that displays offers for customers based on their browsing history. 
Online stores have "you might also like" | "Others have purchased" sections – these are common prompts that signal towards E-commerce personalization. 
How eCommerce Personalization Will Evolve in 2021 – The Road Ahead
Today, it's a rare sight to visit an online store that doesn't use at least some degree of personalized shopping experience. Despite this, we have by no means reached the limit of what conversational commerce can do! 
As technology evolves, we learn more about how consumers respond to personalized experiences, new trends and capabilities will emerge. Keeping this in mind, here are some predictions made in the world of eCommerce personalization that would continue to prevail in 2021. Online sellers will be able to provide a whole new personalized shopping experience to their customers. 
Delivering Personalized Shopping Experience Through AI – 
We are most likely to see artificial intelligence-powered recommendation engines identifying the most relevant product recommendations and automatically providing explanations that clarify why and what the data was used to put forward those products.
If a shopper is shown a shirt that's recommended for you, he might be presented with a list of explanations like – It fits you, it's a slim fit, it's a similar clothing material you've purchased the most. 
Image Recognition – 
It's predicted that before 2021 ends, online shoppers will experience image recognition features where it will help online shoppers identify individual products within images and videos and recognize colors and patterns. 
Shoppers will be able to click on an item within a still scene or video and find out more about the product that's there in the background or add it to their shopping carts directly. 
In the fashion category, this is going to be a gamechanger! It will also allow online shoppers to create richer online experiences by presenting products with shoppable content within images and videos. 
Psychographic Personalization – 
eCommerce personalization and segmentation are usually based on attributes like – age, gender, geography, and shopper's behavior and preferences. But in 2021, we may get to see the growth of new types of personalization tactics whose base is psychographic profiling. 
Some algorithms are used to analyze visitor's personality types – is he/she trusting, confident, or adventurous? This technology could lean the kind of products, content, and online experiences that would most appeal in each case. 
Machine Learning – 
There could be thousands of customer segments that a retailer can target with personalized experience and content, and much time is eaten up doing this. Machine learning algorithms will help reduce this effort by providing fast, effective ways to pinpoint profitable visitor segments and tell brands to target.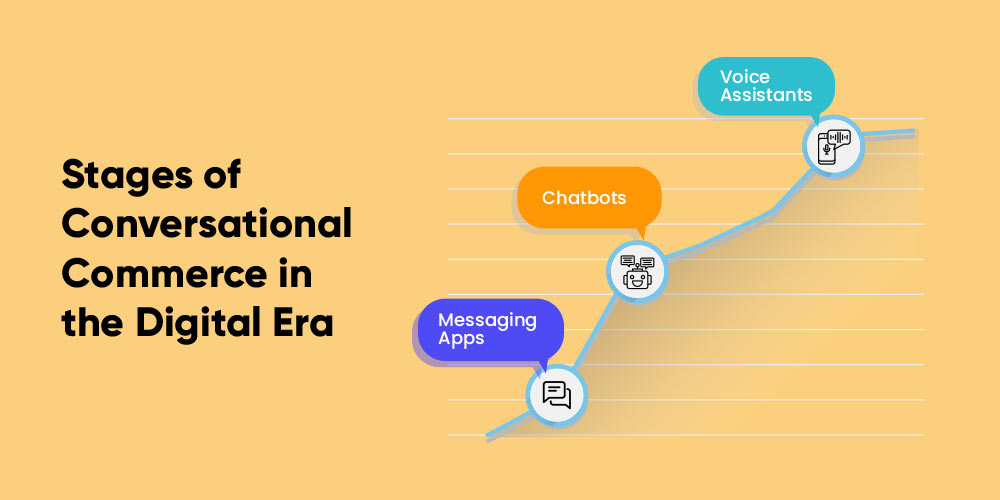 Messaging Apps – Conversational commerce through messaging apps like Facebook messenger, WhatsApp, Slack, Kik, etc aims to make conversations with customers easier without navigating to a different website. With fast access and simple UI, these apps are growing in popularity. 
Chatbots – We have talked a lot about messenger chatbots in the above section. Brands like L'Oreal, Starbucks are earning huge bucks out of it. We hope that you're the next brand! 
Voice Assistants – Alexa, Google Assistant, and Siri have created an entirely new dimension to a smooth customer experience that has taken conversational commerce to a whole new level. Voice assistants make the conversation with the customer smooth by adding voice commands through text or speech. 
By 2023, over 70% of all chatbots assessed with be retail-based. Chatbot commerce transactions will reach $112bn annually.
Unlock eCommerce Personalization With CedCommerce – 
Throughout our journey, we have focused on providing a personalized shopping experience to online sellers by providing the right tools to do so. Since it's all about providing a smooth shopping experience, here is how you can add an element of conversational commerce with CedCommerce – 
Build your store's app – Do you know that more than 50% of consumers use their smartphones for online shopping? If you don't have an app for your online store, you're already missing out on the 50%!
With Magenative, build your custom native mobile app and enhance the reach of your online store. With its head-on-shopping, you can help customers shop quickly with their own head movements. 
Build your app in 3 simple steps and provide a personalized shopping experience to your customers. 
Build captivating messenger chatbots – Remember how Starbucks, L'Oreal, Lego, and Marvel benefited through Messenger chatbots? Don't think that a chatbot is only made for big names. 
From small-to-medium enterprises – messenger chatbots are for everyone! Let CedCommere bot your stuff so that your human resource can focus on critical analytical areas to drive growth and engagement for your online store! 
Summing Up – 
Messenger chatbots, artificial intelligence, native mobile apps, and all that looks fascinating and sounds like only big brands can have it. But that's not true. Everyone started small, and every seller has a right to offer a personalized shopping experience. 
In the age of customization and automation, don't just set up an online store. With CedCommerce, add various elements of conversational commerce and see how eCommerce personalization helps in conversions!