Empowering Your Shopify Presence: Dropship with JD.com and CedCommerce
Running short of time? Get PDF of the blog in your mail.

Play Now
Dropship with JD.com this holiday season, from your Shopify store for instant success. It is widely known that keeping the balance between inventory, sales, and on-time fulfilment is an absolute requirement for a successful online business. While balance is critical, continuous funds are equally essential. This holiday season, give your business a boost with minimal investments, zero inventory handling costs, no fulfilment hassle. Add amazing profits in the mix and make it possible with CedCommerce. Explore further to find out how JD Sourcing: Pro Dropshipping App from JD.com lets you Dropship your products from your Shopify store effortlessly.
Dropshipping: Limitless prospects this Holiday Season 2021
Dropshipping is the most cost-effective business model a seller can choose to grow with on an instant basis. For the existing and new sellers, the Holiday Season is always a promising time of the year.
Only, this year, Dropshipers have the opportunity to empower their existing businesses or for new ones to start selling, with a special Holiday Season delight. CedCommerce brings you a special extremely effective Dropshipping Holiday Season strategy.
Sell with JD.com from your Dropshipping Shopify store on holidays like Thanksgiving, BFCM, Boxing Day, Green Monday, Hanukkah, Christmas, New Year, etc for optimum prospects.
More than 48% of the shoppers shop during the period between Thanksgiving and New year. Starting your dropshipping business or reinforcing your sales strategy during this time is ideal. JD.com offers an effortless platform for you to handle a wide variety of inventories that are either highly in demand or are unique to bring exclusivity to your business.
Here is why you should consider Holiday Season 2021 as the best time to put all your energy into Dropshipping with JD.com: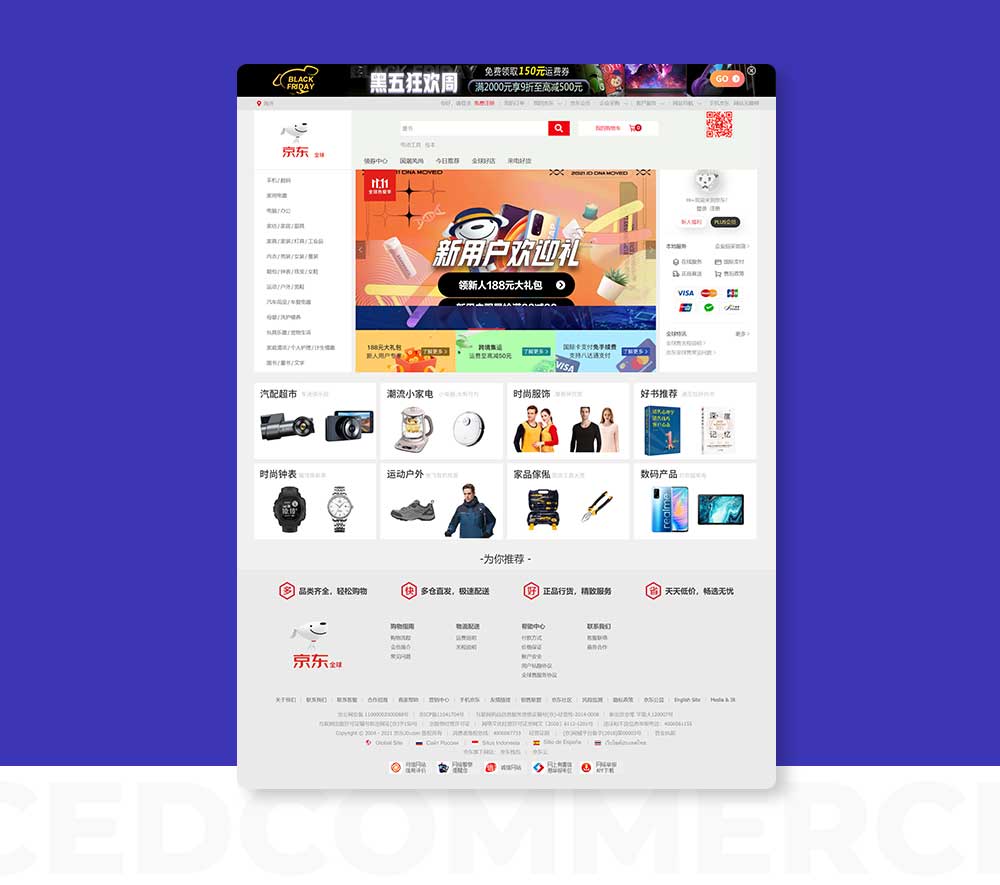 Online Shoppers psychology is driven by what they see and find interesting in a store 49% of the time, rather than only shopping for what they actually need. This makes it very important for you to endow your store with the inventories belonging to the widest variety of categories and sufficient quantities. While selling from JD.com, you can ensure your Dropshipping Shopify store has all the inventories in sufficient quantities without ever having to deal with physical inventory and quantity as well as the involved costs.
The Holiday season is considered as the peak time of the year for the largest portion of the annual sales, amounting to almost 20% of the total. This is 200% more than the sales made during the other times of the year. Starting your business during this period makes you leverage the greatest kickstart one can imagine. Dropship with JD.com this season and instantly own a successful online business.
With more sales comes great chaos. By the first week of November, 40% of the total buyer pool starts shopping online at a very quick pace. Fast and free shipping, greater discounts, hassle-free returns and excellent customer experience are the entitlements you owe to your shoppers. This is where JD.com makes your selling experience the best it could be. All of these are handled by them while you can white label the products from suppliers and sell them as yours.
Some of the most in-demand categories preferred by shoppers during the Holiday Season are Clothing (40%), Electronics (24%), Jewelry (24%), Tools (17%), Kitchenwares (10%), Beauty Products (14%), etc. Find excellent suppliers for your Shopify Dropshipping business from JD.com in just a few clicks.
Why JD.com is the best match for your Shopify Dropshipping Store?
JD.com is one such platform that can not only help you manage products but ensure frictionless supply and fulfilment while allowing you to balance your cash flow. The company is renowned for its cutting edge eCommerce logistics capacity and fulfilment service. They own one of the largest delivery systems through drones in the world with investments in several other high-tech, AI-based robotic delivery means.
Additionally, CedCommerce is a proud partner of JD.com. Together with CedCommerce and JD.com, your business has the opportunity to find Sourcing Agents, effortless fulfilment, white labelling, and excellent support in English before and after-sale.
JD.com is one of the largest retailers and eCommerce Logistics providers in China. The end-to-end product sourcing and services are designed to meet the needs of Fortune 500 clients, hence following only the best standards.
Here's how JD.com stands out for all Dropshippers:
Being a Global Fortune 100 company as well as the largest retailer in China, they are pretty much the standard. They offer the fastest eCommerce fulfilment in addition to offering the B2B suppliers.
They offer a platform that allows room to grow without having a single worry about cash in-flow. Build your brand, focus on customer services and optimum retention as you get a lot of free time to pay on progress.
The unparalleled comfort of knowing that your business needs are covered by a team of experts who are in the business of supporting Fortune 500 clients for JD.com. Who can look after your supply chain better than them?
The biggest news for your benefit, by the way, is that Shopify merchants owning Dropshipping businesses or planning to start new ones can now enjoy the opportunity to sell with Jd.com via their Pro Dropshipping App, JD Sourcing.
Simplifying eCommerce: Dropship with JD Sourcing App
JD.com, the official partner of CedCommerce has brought an all-new Dropshipping App for Shopify merchants. With the JD Sourcing App for pro dropshippers, you have the opportunity to handle several business operations and simplify the selling process. Here are a few crucial operations in which the app can help Shopify merchants:
Sourcing Private products
Whether it is your best-selling inventory or a new range of products you would like to sell, find the Sourcing Agents that best suit your needs.
Branded Dropshipping
You can find broad options for product sources at the best cost, label them with your own logo and sell them exclusively from your store as your product. Simply reserve the inventories with very small advance payment and pay for the rest only after you are done making profits with Dropshipping.
Reliable Fulfillment and Services
Using JD Sourcing to lift your Shopify Dropshipping business means super-fast shipping with trackable details from warehouses located in the US and China. Furthermore, enjoy the excellent support pre and post-sales. Given that CedCommerce is an official partner of JD.com, you also get the advantage of exclusive 24×7 best in industry support from the industry experts in Team CedCommerce.
JD Sourcing: Pro Dropshipping App features to Scale your business
Here is why you must consider Dropshipping with JD Sourcing App, especially during this peak Holiday season 2021:
Leverage Curated Pool of Products to Sell
Discover products from a finely curated pool of qualified products from the warehouses in the US and China just in three clicks.
Dropshipping with JD sourcing means you can instantly start selling by reserving=g the required quantity of products by paying a small amount initially in merely 3 clicks.
Discover products from hard to find categories including Electronics or popular categories such as Appliances, eMobility, Pet accessories, Beauty, Fashion, Tools, etc.
Sell with the comfort in the knowledge that all products listed on JD.com are vetted for quality, sell-ability and safety ensuring optimum experience for customers.
Discover Product Sourcing Agents on Demand
With JD.com on your side, you don't have to settle for only what is in the available pool of products. You are truly empowered with JD Sourcing. Just by placing a request, it is easy to find the inventories at the best available price. You can also choose based on the delivery and optimum quality.
You can request JD.com to source the products you need at the best possible prices.
With just three clicks, you have opportunities to switch suppliers. Just by doing so, you allow them to fulfil orders on your behalf at the optimum speed.
At any time, upgrade your inventory with a new idea. Furthermore, with one request JD.com will find the inventory for you. As soon as you confirm the pricing, you can start selling them within a day or two.
Own your Brand even when Dropshipping
While selling with the JD Sourcing app, you can own the products under your brand. That too without ever possessing the physical inventory. The platform allows White labelling of products you find from suppliers.
Enjoy the freedom to label the packaging and the products with your personal label and logo.
Convert the products into your private inventory by reserving them.
Reserving is simple with only a small advance payment. Once you have successfully Dropshipped them, only then you are required to pay for the rest.
Dropshipping with Exclusive Private Products
Probably one of the most wonderful features offered by the app is the ability to create a Private Product Zone. This is achieved by earning exclusive rights to certain products.
Simply understand which product is your bestseller first. Then become the first seller to sell more than 50 pieces of that product within a period of thirty days. By just successfully achieving this, gain the rights to add these products into your Private Product zone.
The product you choose should be the one you found in JD.com's product pool.
Ensure that products you once gain exclusive rights to, remain in your Private Product zone by keeping up the sales.
Minimal Investment and Capital Requirements
In order to benefit from the Dropshipping business empowered by JD Sourcing App, you need a very bare minimum investment. The app is available at zero cost to get you started right away. It allows you to synchronize your Shopify Store with JD.com. After which start browsing products you wish to sell without charging you anything. Once you successfully discover what you would like to sell, list them on your Shopify store with just three clicks. This can be done with small reservation costs. Just in case you need products that you cannot find on your own, you can drop the request. Thereupon, JD.com experts will find them along with quotes within a day or two.
Dropshipping with JD.com and CedCommerce Adds to the Exclusivity
CedCommerce being the official partner with JD.com brings extra delight this Holiday season if you choose to Dropship with CedCommerce. First and foremost exclusively with CedCommerce, you can enjoy special BFCM offers from JD.com.
Additionally, here are some more advantages you can leverage by Dropshipping with CedCommerce:
By selling merely 5 pieces of a product you gain the quickest access to moving Products from JD Sourcing's product pool into your Private Product Zone; giving you the sole right to sell the said product for a month.
Ensure that sales for the product in your Private Product Zone remain high. Just by doing that, you get to keep the product right there under your exclusive sales. That too for longer periods of time. CedCommerce can help you keep your sales at peak by helping you with promotions and Ad campaigns. Additionally, adapt the best sales strategies so that you can maintain the products in your exclusive rights.
Edge over your competitors simply by eliminating them. As you gain the rights to a particular product in your Private Product Zone, no one else can sell it. This simply ensures that all profits make their way to your pockets.
Get in touch with CedCommerce for all sorts of eCommerce needs. Get your store set up, enjoy exclusive access to offers from JD.com, and a lot more. With a wide range of services from CedCommerce boost your brand. Promote your products, market your brand, get help for Graphics and Content to make your store stand out. Most importantly enjoy 24×7 best in the industry support from experts. Get in touch with a team that has been serving the eCommerce industry for over a decade now.