Complete Guide for BigCommerce Users to Sell on Google Shopping
Running short of time? Get PDF of the blog in your mail.

Play Now
As a BigCommerce online store owner at some point in time, you will decide to sell your products on Google Shopping. Selling on Google Shopping means greater visibility. It is also an opportunity to gain maximum organic traffic. This is possible with BigCommerce Google shopping app.
Did you know about the new opportunity that lets you keep all your profits to yourself? With the exclusion of commission fees from the Google Shopping Actions programs, you can enjoy all the profits made through your sales. Grab the opportunity with us today!
There are many BigCommerce apps but BigCommerce Google Integration app will integrate the seller's BigCommerce online store to Google Shopping. The best part about being you will be able to upload all your products in less time than manually doing it.
CedCommerce is trusted integration partner of Google Shopping Actions.
The first thing you need is to set up your BigCommerce store on Google Shopping. Here is your simple step by step illustrative guide to incorporate your BigCommerce store on Google Shopping.
If your Google Merchant Account is approved for Buy On Google(previuosly known as Shopping Actions) program that is good, if not, need not worry our app will ensure you can still integrate your BigCommerce store on Buy On Google without any hassle.
 Step 1:
Installation of Google Express Integration App
 The installation process BigCommerce Google Shopping app is easy and the app will be installed within no time. 
 Visit the BigCommerce App Page here.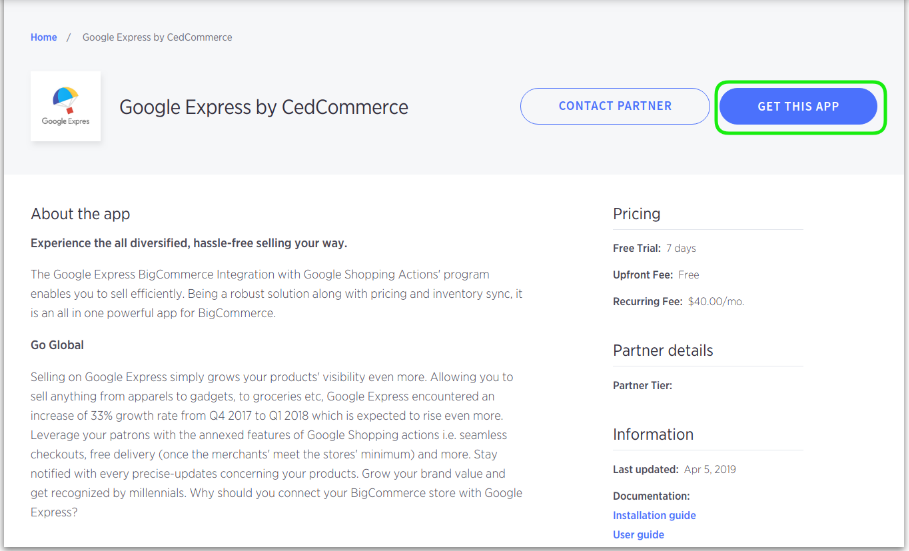 As shown in the above image click on GET THIS APP you will be redirected to a page for details verification and confirmation of app installation.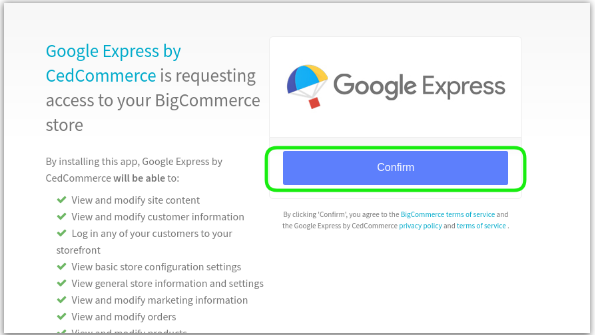 Simply click on the 'confirm' button to get the app installed on your BigCommerce store
Listen to our Spotify Podcast for emerging trends shaping the eCommerce in 2020!
Step 2:
Registration and App Configuration
An important step to ensure connection between the BigCommerce store and Google Express Account.
Registration 
Input the basic details as shown in the below image. These details are necessary to help CedCommerce support reach you at a suitable time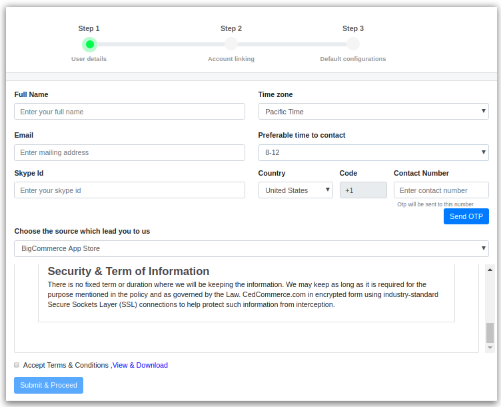 Link Account 
Click on the 'Connect Now' button to get redirected on Google Express Panel. Once you confirm the connection a new window will appear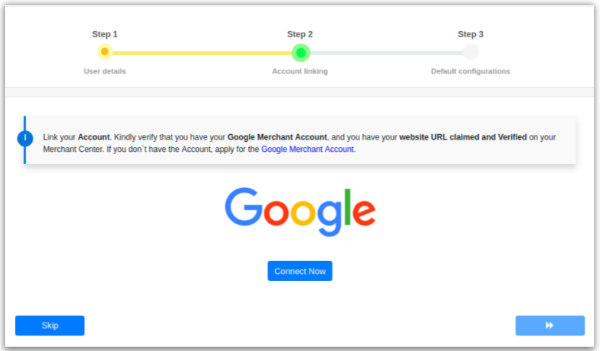 You can click on 'skip' as your account can be linked later on. 
Default Configuration 
It is an important step as here you will provide the information about the shipping settings. Select the destination for products. 
Mainly these details include,
Target Country – The country name where your product will be shipped.
Content Language – This will be the language in which your product information will be shown to customers on Google Shopping
Currency – The currency in which the product price will be displayed to customers 
Destinations – This will include services like Buy On Google(previously known as Shopping Actions), Shipping, and Display Ads.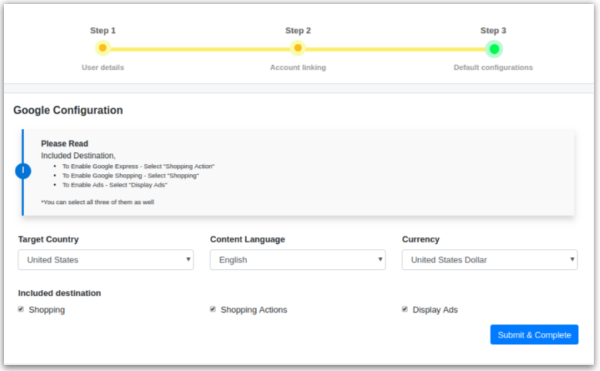 After successful completion of these steps, you will be redirected to Google Express Integration App Dashboard.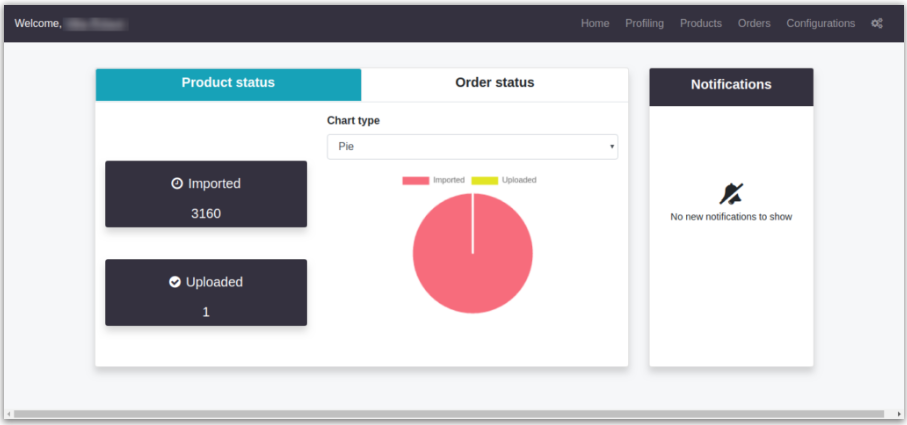 'Buy on Google' program in France will be ending on December 7, 2021. For more updates or support, get in touch with the experts at CedCommerce here!
Product Management
The smartly you can manage products means the better level of customer service you will be able to provide. 
With the help of our app, you will be able to quickly and securely import and upload the products.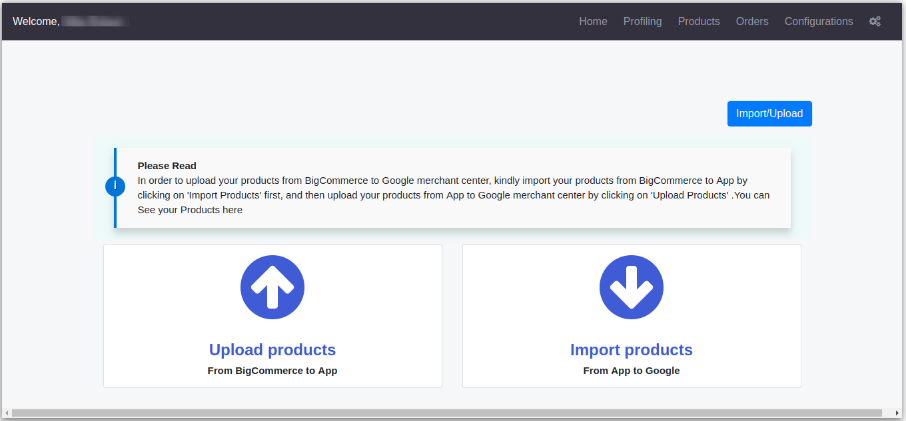 As shown in the above image, click on the 'import products' button. It will import all your products from the BigCommerce store to the app.
You may need not to do it manually and spend hours doing it.
In order to upload products on the app from your store, click on 'upload products' button and find all your products get uploaded to the app.
Product List section is another important section of the app. You will be able to view the status of the products.
You will find different filters to check the status for specific products. It is also possible to see the real time status of products on Google Shopping from the App.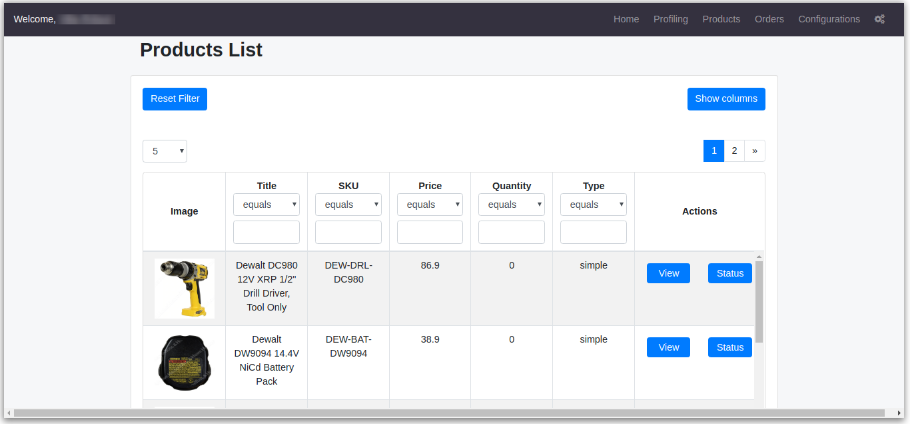 Order Management
The App will acknowledge all your orders from Google Shopping. The  order status can be viewed in the order section.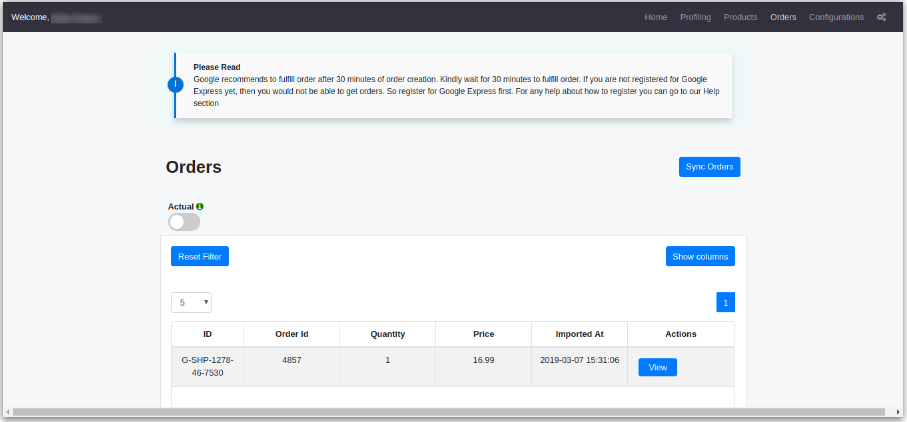 The process is simple.
Firstly order will sync with the app before it creates on the BigCommerce store.
Upon order shipping, all the order details will be fetched by the app
Eventually, all the tracking details will reach Google Shopping
The Profiling
Profiling means to choose some products for which a seller wants to set some pricing related rules. When Seller will upload these products then rules will be applied to these products only.
The process of creating a profile is easy and quick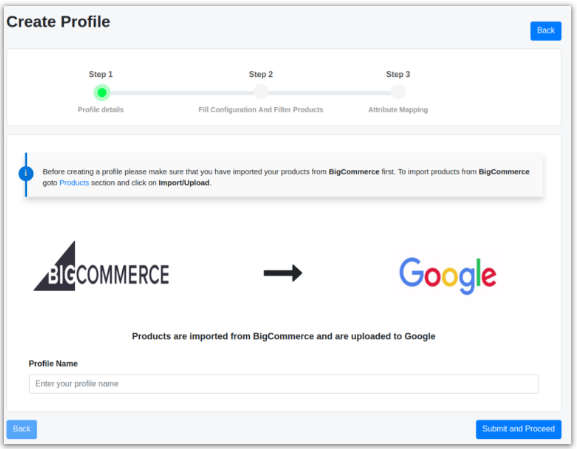 Navigate to profiling

Click over Create profiling

Input your profile name, 

Now save it by clicking on the '

Submit and Proceed

' button at right side bottom

Now, the next step will ask you about the products that you want to filter from the rest. 

After that, fulfill your product attributes like brand, color,size and more. Google shopping takes into account these attributes. These are important to provide the customer a better shopping experience. 
Benefits of Integration of BigCommerce Store to Google Shopping 
The automated product listing, real-time product inventory management between Bigcommerce and Google shopping, and no manual efforts to bulk upload products.
You can map all Bigcommerce product categories with most appropriate subcategories of Google Shopping. Hence, it ensures your product is visible to the right audience. 
Seller will be able to choose the exact products to be present in the Google Merchant Center. He will also be able to filter products and either add or remove from the feed.
The key features of  Google Express Integration App that make it outstanding
Bulk Import Of Products From Your BigCommerce store
Bulk Upload Products On Google Express.
Real Time Order Management.
Real-Time Inventory, Price and Product Management
Order Management with BigCommerce Google Shopping App
One of the most prominent issues faced by sellers is the inability of efficient order management when the quantity of orders is huge.
Our app, will put an end to this with store automation. The process of order fetching from Google Shopping to your BigCommerce store.
All shipping related information about orders will be auto-updated on the Google Merchant account from the BigCommerce store.
As a result, the shipping process will be streamlined. You will never face any sort of hassle or error which could have been there due to manual order management.
If you are already selling on Google Shopping then also the app will be able to manage orders without any hassle.

It is possible to manage price, product, and inventory in real time.
BigCommerce Google Shopping App and Product feature export
Exporting BigCommerce products with variation from BigCommerce online store manually is next to impossible. Moreover, it absolutely futile productivity wise. This will hamper the performance on Google Shopping. As a result, your products will demote on account of lacking important details.
No worries if you can't export your BigCommerce store products variants to Google Shopping
Our app Google Express (one of the top BigCommerce apps on BigCommerce app store) will extract data about product attributes like price, color, size, stock data and more. Moreover, the more attributes you provide the better are your chances that the product will appear at the top of the Google Shopping search result. 
The shopping experience becomes delightful with more product attributes, as it provides a clear and better picture of your products. Moreover, it will eventually transform into good user engagement and higher rate of conversion.
The Bulk Upload Products feature
No need to upload all your products on Google Shopping manually. Bulk upload products functionality ensures every product gets upload in an effortless way including variants and other details. Therefore, it saves a lot of time.
Google Shopping Actions US is open for Merchants in India and Canada: Start selling cross-border to customers in the US, from either India or Canada without any fuss, right away.
Order Synchronization and Shipment
The Google Express by CedCommerce is one among the best performing BigCommerce app. It will help you incorporate your store on Google Shopping . It will automate fetching order from Google Shopping to BigCommerce store. Shipping details will auto-update to your Google Merchant account.
In this manner your shipping process will be hassle free. Therefore, no room for error due to manual order management.
BigCommerce Google Shopping App – Turn your Option to Opportunity
Do you believe in becoming an established seller on Google Shopping. CedCommerce is your Answer. Although steps mentioned in an easy to understand language. If you have any queries about using BigCommerce Google Shopping App then let us now?
The skilled BigCommerce support will sort out your issues and explain the nitty gritty facts. As ab result, you will gain enough understanding to ensure you need not face the same problem in the future.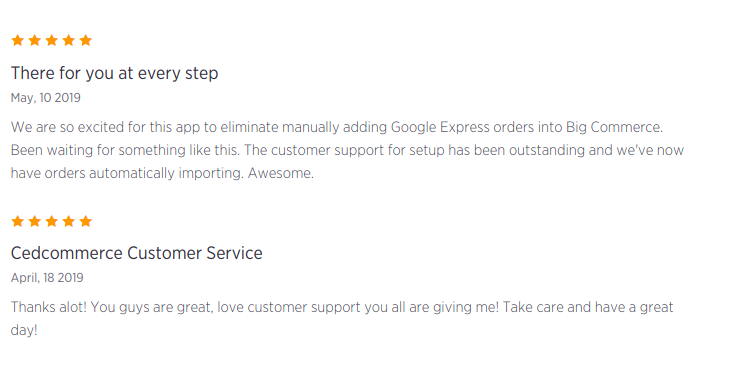 You may be like to explore the following