8 Common ChannelAdvisor Challenges Faced By Merchants And How To Get Rid Of Them With CedCommerce?
Running short of time? Get PDF of the blog in your mail.

Play Now
Once upon a time, ChannelAdvisor was the only multichannel solution provider in the market. But with time, many of its users started to complain about the API-related ChannelAdvisor challenges and problems like higher price tags and unresponsive customer support. Reviews from sites like TrustPilot also suggested that over 25 percent of retailers are facing ChannelAdvisor.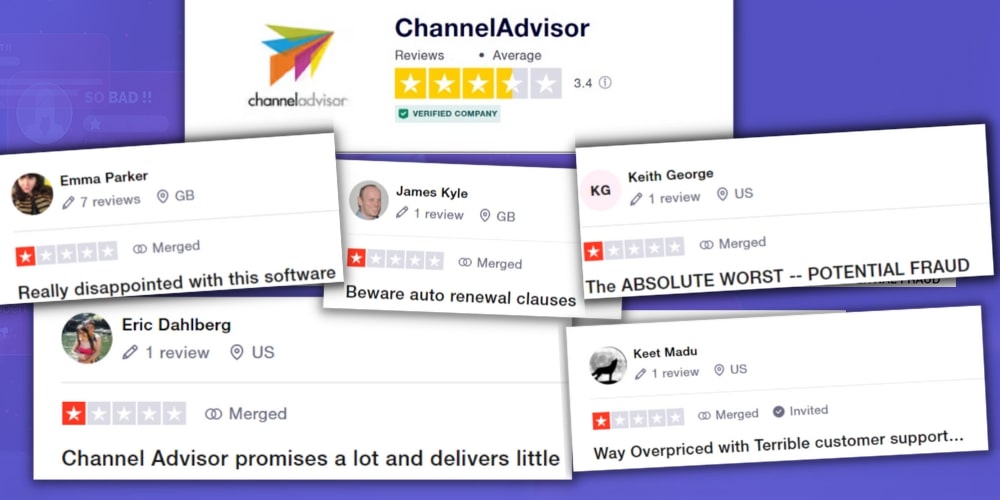 On the other hand, you will find better reviews and ratings of Cedcommerce on the same platforms. Seeing this, many sellers have switched to our solution over the past few months.
So, we decided to release a complete guide on eCommerce challenges faced by ChannelAdvisor sellers and how our services & solutions prove as a far better alternative to ChannelAdvisor.
Here are the eight common channeladvisor API challenges that merchants have faced (or the reasons why ChannelAdvisor's users are giving them negative reviews).
Note: Over the decades, we have analyzed major challenges faced by large-scale businesses and merchants using ChannelAdvisor multichannel services. And in our research, we have found the majorly affected ones are large businesses and Magento Enterprise sellers.
8 Common ChannelAdvisor Challenges Faced By Sellers
Challenge 1: Dependency on ChannelAdvisor for all Selling Campaigns
With ChannelAdvisor, you have little to no control over your selling campaign. It includes everything from the listing of products, their images, figures, orders, and more. ChannelAdvisor works by connecting your inventories and orders to a centralized panel. In short, the ChannelAdvisor team stores all your product and listing information on their platform. You may think there is no harm in this but won't it be safer if all your data remains on your own platform? And once you give ChannelAdvisor authority to store your data, they take away the overall control of your own inventories and orders. You are bound by their rules and regulations. Or in simple words, you are entirely dependent on ChannelAdvisor for all of your selling activities which shouldn't be the case.
How Our Solution Resolves it?
Our Magento multichannel team at CedCommerce believes that a seller shouldn't be bound by others' rules when it comes to managing their eCommerce business. CedCommerce eliminates the middleman and directly connects the store with marketplaces. As an alternative, we use native solutions (like Marketplace Integration) where no one other than you has the authority to access your data. In short, the synchronization of all information is only between your Magento store and the marketplace. Also, we don't store any information on our platform.
Challenge 2: Slow Customer Support with No human Interaction
If you are using a multichannel service where your Magento store is connected with a third-party API Integration, you may face a lot of friction which can only be resolved with proper doubt clearance sessions and human interaction. This is one of the common ChannelAdvisor problems that the majority of ChannelAdvisor merchants face. And why won't it be? If you are facing problems at some point, your service provider should take responsibility to guide you and make the whole process as smooth as possible.
According to many ChannelAdvisor merchants, the customer support team sometimes takes around three days to respond to the simplest query. While at other times, they hand over 'how to' articles for you to find your problem and solve it yourself. It can be because they align a single account manager for ten sellers. It further makes it hard for them to attend each seller or solve their queries dedicatedly.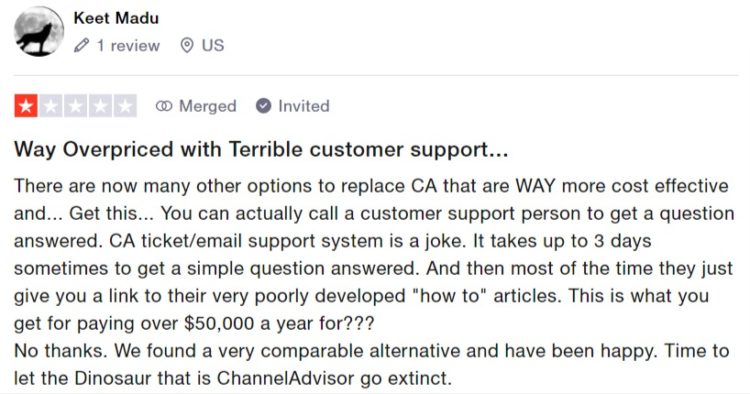 How Our Solution Resolves it?
We understand how much this issue can affect your business. So, our Magento multichannel team at CedCommerce offers a dedicated account manager per merchant. This fast and responsive support team will work dedicatedly along with you to solve all your queries. In addition to this, you can contact our support team by any means – text, call, or video – and at any time because they are available 24×7. The best part is you only have to pay minimal charges for tech support.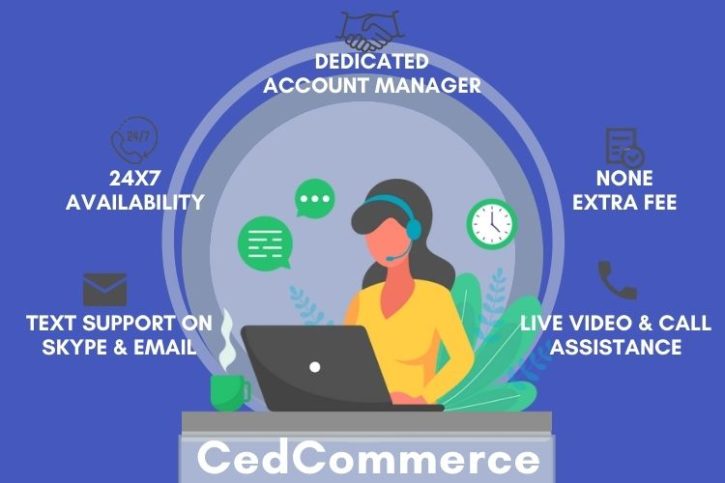 Challenge 3: Complex Set-Up & Management Process
Another ChannelAdvisor problem that merchants are facing is with the setup and management process. Also, the installation process for the Channel Advisor plugin is quite complex to understand and it takes a lot of time to complete. Some sellers have even complained that after the installation is complete you will still find many problems which are not answered even after raising several tickets. There are also some major concerns regarding the products' images as many sellers complained of ChannelAdvisor's image server not working properly. It results in image files being corrupted, not visible, or the presence of wrong images.
How Our Solution Resolves it?
CedCommerce offers a more simplified setup and management process. Also, you get a simple to use seller panel so you don't have to face problem in managing products and orders on the platform. Our dedicated account manager will assist you from Day 1 with flawless onboarding and installation process. Also, you will receive step-by-step user manuals, FAQs, explanatory videos, and a 24×7 dedicated team after switching to our multichannel solution.
Challenge 4: An Overpriced Solution
The absurdly high charges of ChannelAdvisor's solutions and services is a very common issue that its sellers complain about. To use ChannelAdvisor's multichannel services, you must have a budget of paying about $20,000 to $50,000 annually. And, it may increase with the number of Integrations you are planning to use for your store. In addition to this, you have to pay some extra charges that include VAT (which you have to pay every month). Other than this, you are also bound in the contract for 12 months. And according to some sellers, it is not easy to get a refund if you aren't happy with their service. Some of the customers even claimed that they increase the monthly payment after the first year. And that too, without informing you. After receiving bad customer service and faults with inventory synchronization, sellers feel cheated to be paying such a high amount.
How Our Solution Resolves it?
CedCommerce provides the same services that you will get from ChannelAdvisor for scaling business. But you will find our services and solutions more economical as compared to ChannelAdvisor. For example, the cost of our Integration solutions starts from $499 annually whereas the same for ChannelAdvisor is around $10,000 each year. In addition to this, we don't charge any commission fee from our sellers for each sale they make.
Also Read: Breakdown of Unfair ChannelAdvisor Pricing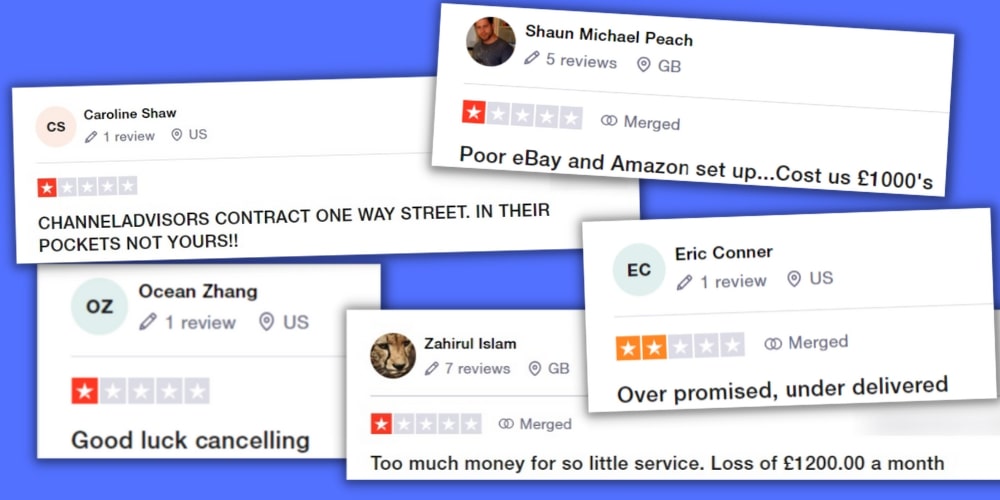 Challenge 5: Commission Rates on Each Sale
Another ChannelAdvisor complaint that you will always hear from its sellers is about the commission rates. When you sell with ChannelAdvisor, they will charge a percentage of commission rates from the sales you make. Also, these prices will keep on increasing as your business grows. So, it's another expense that you have to bear in order to use ChannelAdvisor's services. For example, if your monthly revenue is $100,000 and you have to pay 2 to 3% of commission rates, then $2000-$3000 is still a huge amount that you will be paying to ChannelAdvisor for each sale. The commission rates may vary as per your revenue.
How Our Solution Resolves it?
With CedCommerce, you don't have to worry about paying a single penny from your monthly sales. We only believe in providing the best service so you can earn higher sales and profits. So, we don't take any share of your monthly revenue. Plus, our affordable service allows you to get the same multichannel service in the amount you are paying as commission rates to ChannelAdvisor.
Also Read: Get Rid Of Unfair ChannelAdvisor Commission Rate
Challenge 6: Customization Service isn't Fully-Customized
With ChannelAdvisor, you will find a service called 'Design your Solution' where they claim to provide you a fully-customized solution as per your needs. So, they ask you a set of questions related to your online business. And at the end of the questionnaire offers you a solution that best suits your needs. In other words, they have a set of existing solutions which they offer you according to the problems you mention in the questionnaire. But here you still pay for the features and functionalities (in the name of customization) that are additional and your business model doesn't require. So here the ChannelAdvisor challenge is that their customization service isn't fully-customized.
How Our Solution Resolves it?
Our solutions are designed on Magento which is a highly-customizable open-source platform giving freedom to modify products as per your needs. Whereas, ChannelAdvisor offers Saas-based software where there is no to very little chance of customization. So when we say we are offering customization, it means you can change everything in our solution as you seem fit. Also, with the customization service from CedCommerce, you only have to pay for the features you want in your solution and nothing additional. You can list all your requirements to our account manager who will then start working on your task dedicatedly.
Challenge 7: Auto-Renewal Before Actual Billing Date
Auto-renewal of service charges and fees is one of the common ChannelAdvisor issues. Sellers often complain that ChannelAdvisor's service renewal date comes one month prior to the actual billing date. At this time, they will automatically renew your annual subscription plan without sending you any notice or informing you. In short, it means your subscription is renewed before you have actually used the service for the remaining month. This feels like an extra financial burden for any seller looking to expand their online business with ChannelAdvisor. Some sellers even claimed for getting their subscription auto-renewed on a credit card even without receiving any services.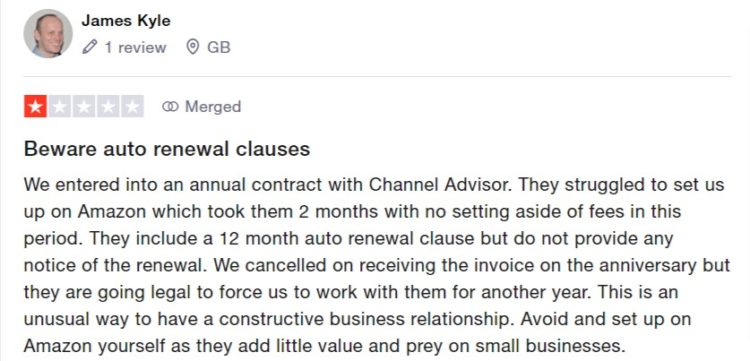 How Our Solution Resolves it?
CedCommerce will not put this pressure on you. And, you will only pay the subscription fees once your service with CedCommerce has expired. So, you are the decision-maker for managing your finances and not us.
Challenge 8: Outdated Marketing and Advertising Strategies
ChannelAdvisor is following outdated marketing and advertising strategies to market your products to potential customers. The ChannelAdvisor sales team claims to double your sales and turnover every month. But many sellers have complained that they have suffered losses instead of earning any profit. In one of the reviews we received, the seller said that they first talk you into buying the premium service and signing a contract to earn maximum profit. But after taking the service, they realized that ChannelAdvisor's audience targeting and sales strategies aren't as effective. So, you will only end up investing more than you get back as revenue.

How Our Solution Resolves it?
CedCommerce believes in offering what they claim. And when you take up our multichannel services, our expert team helps you market your products to the best digital marketing channels. So, you receive maximum exposure from the targeted audience. In addition to this, we will also help you build a strong social media presence.
Also Read: Why CedCommerce is the Best ChannelAdvisor Alternative for Magento-based Selling?
Conclusion
These are some common ChannelAdvisor challenges and issues faced by their sellers. If you, too, are fed up with the eCommerce challenges after using ChannelAdvisor products and services, then it's time to start looking for an alternative. CedCommerce is one of the best options out there. Our Magento multichannel selling solutions are developed keeping in mind all the above-mentioned challenges of ChannelAdvisor sellers. And to top it all off we do provide additional functionalities and a human touch which is majorly missing in ChannelAdvisor services, all at a fraction of the cost.