Get Rid Of Unfair ChannelAdvisor Commission Rate with Alternatives Like CedCommerce
Running short of time? Get PDF of the blog in your mail.

Play Now
ChannelAdvisor is a Saas-based multichannel solution provider that was once very famous among sellers. But with time, merchants realized that the ChannelAdvisor commission rates along with their subscription fees are putting extra pressure on their budget. As a result, its fame started to fade with time as other ChannelAdvisor alternatives entered the market, offering the same services but at more affordable rates.
So in this blog, we will discuss how ChannelAdvisor fees and commission charges are a real issue among its users and how you can get rid of them.
How much are the commission charges of ChannelAdvisor?
ChannelAdvisor charges a percentage of revenue as a commission rate when the amount exceeds a specific minimum GMV. But ChannelAdvisor hasn't provided any detailed information on fees on their official site. So, our Research and Development team decided to ask the existing and previous sellers about ChannelAdvisors challenges and commission rates.
After talking to these sellers, our team found that ChannelAdvisor charges around 4% commission rates when the monthly revenue exceeds the amount you have specified while signing the contract. Also, the amount gets on increasing as you expand your business and start earning higher returns.
For example, suppose you have specified your GMV as $40,000 per month while signing the contract with ChannelAdvisor. Then, you get a higher revenue of $60,000 next month. Now as per the contract terms, you are eligible to pay commission charges to ChannelAdvisor, which will be around $2,400 (4% of $60,000). And, you have to pay higher charges as your revenue increases in the coming months.
Apart from this, most marketplaces also charge some commission rates ranging from 3 to 25%. It usually depends on the product category you plan to sell on their platform. So now, if you add ChannelAdvisor (4%) and marketplace commission rate(minimum 3 to 4%), a total of 7% to 8% of your total revenue will be deducted directly.
If we understand from our example, you were paying $2,400 (4% of $60,000) to ChannelAdvisor alone. Now, after adding the marketplace commission rate of 4%, you have to pay double, i.e., $4,800 (8% of revenue).
Also Read: Common ChannelAdvisor Challenges Faced by Merchants
How are ChannelAdvisor's commission charges unfair?
Merchants looking to expand their business with ChannelAdvisor already pay a higher subscription fee, ranging from $10,000 to $18,000. In addition to this, you have to pay extra monthly charges for services they offer like VAT, training, installation, and more. Altogether, the amount becomes so high that the seller pays around $40,000 to $60,000 each month to use ChannelAdvisor multichannel services.
Now, when you finally start to earn some revenue after paying these high charges, you are again charged to pay commission rates. So now, the commission charges of ChannelAdvisor act as an extra financial burden for sellers.
ChannelAdvisor Pricing structure
Let's understand the pricing structure of ChannelAdvisor. According to ChannelAdvisor, they generate the most revenue from the subscription fees. So, the customer fees include,
Subscription fee, a recurring amount that customers pay for using ChannelAdvisor services
Implementation fees, like training and installation fees
Charge extra fees for 3 hours of training for each module (where they cover basics)
Commission fees on exceeding specific GMV or advertising spend on the process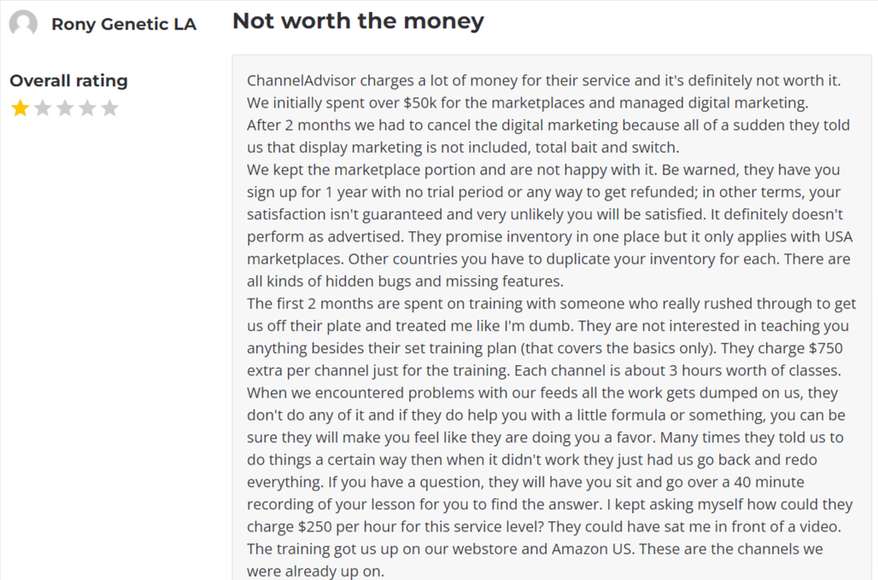 Also Read: A Breakdown of Unfair ChannelAdvisor Pricing
Why is CedCommerce a Better ChannelAdvisor Alternative?
CedCommerce is the best ChannelAdvisor alternative for merchants fed up with paying the higher fees to ChannelAdvisor. It is because our fee structure is not only better and affordable, but we also don't charge unfair commission rates from our sellers.
We believe in providing Magento multichannel selling services so that sellers can easily expand their business on other platforms and centralize their sales processes to earn higher revenue. So, you have to invest a lot less and get to keep all the revenue amount that you have earned every month.
CedCommerce Pricing Structure
Let's understand our pricing structure. It will give you a clear idea of how choosing CedCommerce as a ChannelAdvisor alternative can reduce the overall cost of your online business.
Fixed subscription fees, customers pay for Marketplace Integration and it starts from $499
Zero Implementation fees, we don't charge installation or training fees
No commission charges
Other services like marketing, customizations, and advertising, are optional and will only be charged when the user opts for all at a reasonable rate.
| | | |
| --- | --- | --- |
| Criteria | ChannelAdvisor | CedCommerce |
| Subscription fees | Starts from $12,000 | Starts $499 |
| Training fees | Charges $250 per hour | None |
| Commission charges | About 4% | None |
| Installation fees | Starts at $750 per module | None |
Also Read: CedCommerce vs. ChannelAdvisor – A Detailed Comparison
Final Thoughts
Are you fed up with paying higher commission rates to ChannelAdvisor for using multichannel services? Many ChannelAdvisor competitors are providing the services at better pricing. And, CedCommerce has proved itself to be the best one as we don't charge any commission rates. Plus, our subscription fees are way less than other multichannel service providers.

What are your thoughts on the high ChannelAdvisor commission rate?