10 Last Minute Christmas Selling tips for Magento sellers
Running short of time? Get PDF of the blog in your mail.

Play Now
Christmas shopping has been a magnificent source for sellers to earn over years. Since Christmas is the only festival that is celebrated in each and every corner of the world, anyone can benefit from this merry festival with just a few minor adjustments to their selling patterns. So without wasting any time, here are 10 Last Minute Christmas selling tips for Magento sellers that'll guarantee you success:
10 Last Minute Christmas Selling tips for Magento sellers:
Analyze The Customer Demands This Christmas Season
Decorate Your Online Store with Christmas Theme
Multichannel Listing of products
 Work On Promotions
Special Discounts
Christmas Gifts & Decorations (Bundled Products)
Get Creative with your product descriptions
Accept Various Paying Methods
Perform Website speed Test to check the performance
Plan for the coming year
Let us dive into the details.
Analyze The Customer Demands This Christmas Season
The first and foremost Christmas selling tip for Magento sellers is to understand the current & upcoming demands.
Unlike any other time of the season, Christmas follows a very different trend and shopping pattern raising unique customer demands.
So,
This Christmas Season, as a seller you need to be very sure which type of customer demands you need to meet. Understand what your customers buy.
I hope the infographic below may serve helpful for you to decide: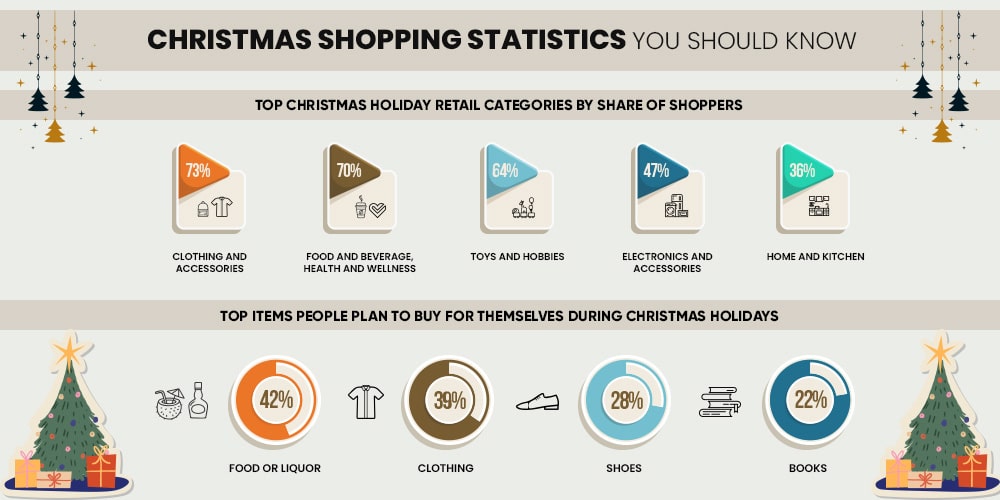 There are three broad categories in which customer demands can be divided. It's advisable to target any one of these categories.
These customer demands can be categorized as:
Fad Demands
Trending Demands
Evergreen Demands
I will be explaining the demands in detail.
Fad Demands:
These product demands are very short time demands that come with a blast and last very soon. These could not be easily forecasted as they start trending at a random rate.
For Example:
A Fidget Spinner came in trend in the year 2017 around the Christmas holidays and lost its popularity in a few months.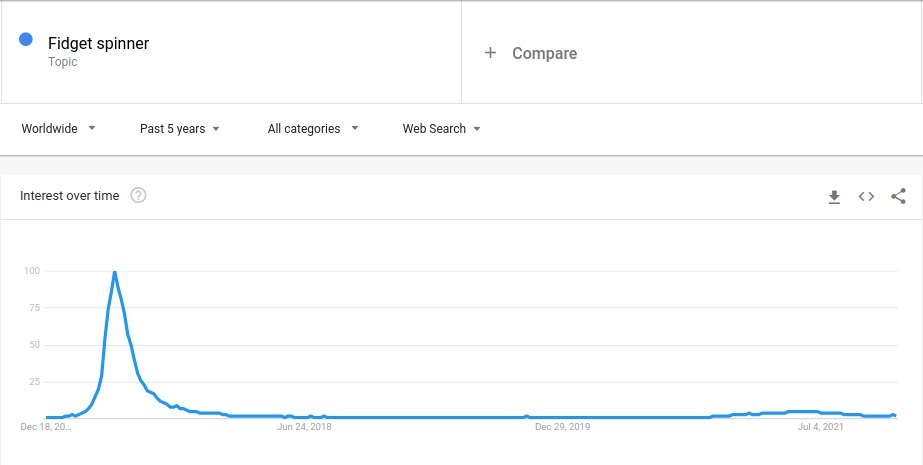 These demands start trending in a flash. You just need to act quickly or in no time they go out of craze and you will be left with nothing but regret. Fad demands last up to a year maximum.
From a sellers' perspective, Fads are an easy way to earn a lot of money in a short period of time.
Trending Demands:
These product demands are similar to infatuation. They arise because of some need and become a short-lived desire that sticks around for a little while.
For Example:
The Pokemon Go Game was released in July 2016. There was a huge buzz all around the world and it engulfed almost every mobile phone user. We are at the end of 2018 now and how many people still remember Pokemon Go?
These Trending Demands stick around for a little while, but ultimately they last in 3 to 4 years, tops. As a seller, you have to be aware when the trend is fading and very subtly need to get rid of all the products soon.
Evergreen Demands:
These demands are a result of a basic need or a tradition that is being carried out for years. These are long-lasting demands and they grow into a stable market that lasts forever.
For Example:
Christmas Decorations are an annual demand that arises every year during the month of December. The stats from Google Trends explains the evergreen demand for Christmas decoration around this time of year.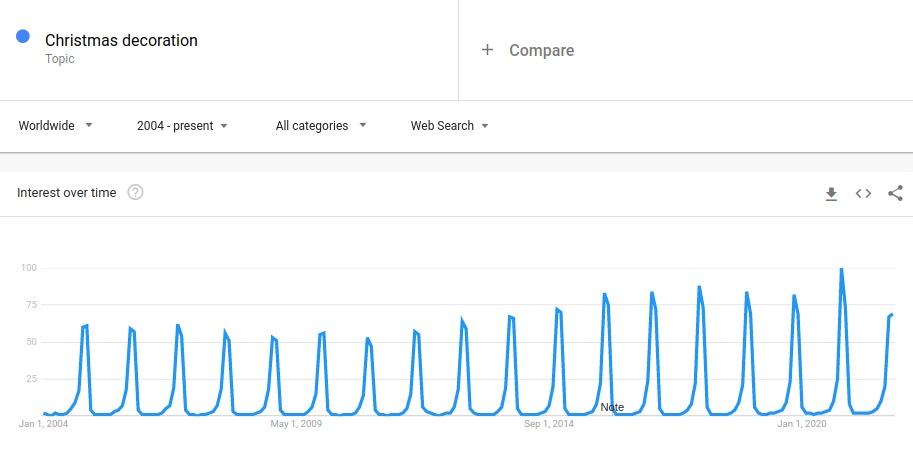 Do you know what the best part of these demands is?
These never actually go out of style because consumer demand continues to build over time. A seller can always count on this as this will never disappoint you.
Now coming to the second tip for selling in Christmas.
Decorate Your Online Store with Christmas Theme
Christmas is all about celebrations and festive spirit. Your website is the first thing that a customer notices while shopping.
You need to be very sure that your eCommerce website is attractive and attention fetching. And the best way to do so is to use a Christmas theme for your Magento site.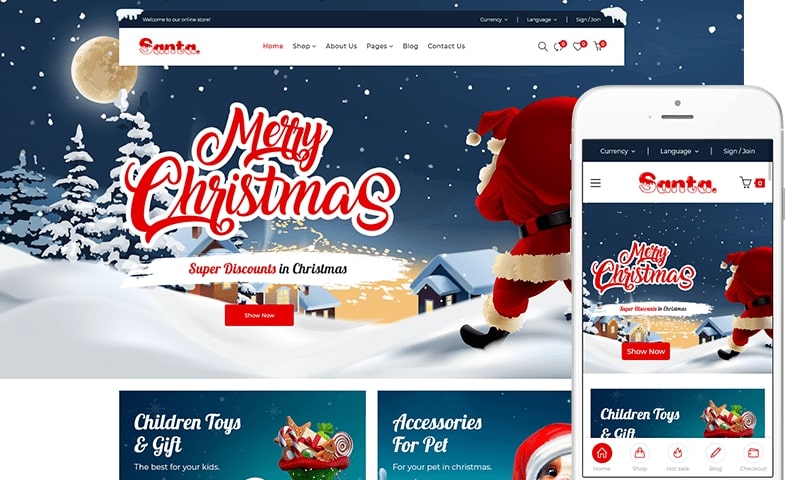 You can get many Christmas or Holiday based themes online for your store.
Be very careful while choosing since Your website must reflect a sense of festivity that your customers can not say no to.
Remember: Unless you are not a developer yourself, we suggest you consult a Magento developer to implement the theme for your store. The reason being you have to keep backups at multiple stages in order to revert the changes once the season gets over.
Multichannel Listing of products:
Since this Christmas season you are planning to go big then you must consider showcasing your Magento product to maximum audience. And in the case of eCommerce, you can get maximum customers at the marketplaces.
So our third Christmas selling tip for Magento sellers is to list products on more than one channel.
Remember this simple rule:
More Channels = More Customers = More Sales
To bridge the gap between your products and customers you simply need to list your products on multiple platforms.
Doing so manually may take time and this Christmas Season you don't have much to spare so try Magento Multi Channel Integration.
A real-time solution to connect your store/s to numerous global marketplaces seamlessly, saving you from handling multiple platforms.
Work On Promotions
Consider that You are selling a product at the most affordable price but how will your customers know about it?
Promotions!!
Selling the product isn't quite enough. You need to plan a promotional campaign about Christmas sales and the best tool to do so is social media.
According to a report by Crowdtap, 67 % of consumers have purchased a gift they saw on social media.
Start your social media campaign a few weeks before Christmas on Social media platforms such as Facebook, Twitter, and Instagram.
You can also give out discount vouchers to customers visiting your social media posts. This is one of the effective strategies as by doing so you ensured that the customer will at least once visit your Magento website.
Special Discounts to Customers
Getting new customers is comparatively harder than getting sales from existing customers.
An average shopper spends more than $100 on themselves during Christmas Shopping. And Special discounts are the best way of getting your previous customer's attention on your products.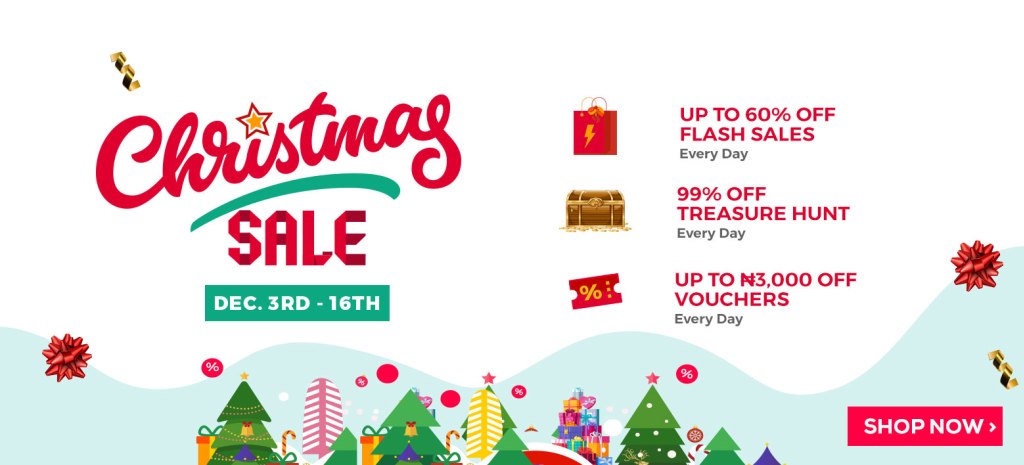 You can use email, phone, and social campaigns to get in touch with your existing customers.
Get Creative with your product descriptions:
This is a pro tip and can serve as the greatest booster for the conversion rates during Christmas sales.
Give additional juice to your Magento-based products with flashy product descriptions.
Done?
You have the theme and you have the festive product description.
Now you just need to lure the customers to your website and they'll automatically drool onto the product page. Rest is all taken care of.
Now let's discuss a few Technical tips that Magento sellers need this Christmas season:
Accept Various Paying Methods
Ensure that all the required payment gateways are embedded in your Magento 2 website.
Customers especially during the Christmas sale time can turn out to be very choosy when it comes to payment methods. Quite often a customer chooses to leave the shopping cart empty if their preferred payment method is not available.
Remember the payment methods should be considered based on the region where your target audience exits:
For example, if you are targeting the US region to sell then make sure to include these payment gateways in your Magento store:
PayPal.
Stripe.
Square.
SecurePay.
Worldpay.
Authorize.net.
2Checkout.com.
Braintree.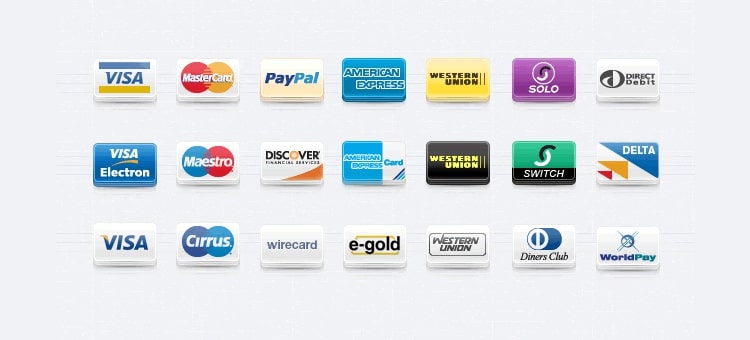 One more thing to remember – You must be comfortable with cash on delivery also because a mass number of customers wish to see the goods before payment.
Moving on to our next Christmas selling tip for Magento sellers
Perform Website speed Test to check the performance
Now, this tip is quite basic but needs to be listed.
A fast-loading website aka responsiveness of your Magento site is a must if you are planning not to lose a single customer this Christmas season.
So perform a full Magento website performance check and analyse metrics such as page loading speed, DNS lookup speed, server load, plugins compatibility, etc
Get a free Magento 2 website performance check here.
Now comes the second last Christmas selling tip for Magento sellers
Plan for the coming year
Since Christmas is the last holiday of the season, now you have to focus on the things to come ahead. You need to plan the whole next year and how are you going to enhance your sales in 2022.
You need to make sure that your store is ready in all aspects before heading to the new year.
Our last tip is generally part of the customer demand section. But since it's so important I mentioned it as a separate tip.
Christmas Gifts & Decorations (Bundled Products):
Christmas won't feel merry unless there are decorations. Every household big or small, rich or poor, rural or urban uses Christmas decorations to light up the festive mood.
62% of US shoppers buy gifts in the week before Christmas. (Fortunly, 2021)
According to a survey by wearetop10, Consumers spend an average of $200 each on decorations each Christmas season.
So, my advice is to add a gift section to your Magento website. This section must include decorations products such as stockings, Santa figures, decorative lightings, caps, ornaments, etc.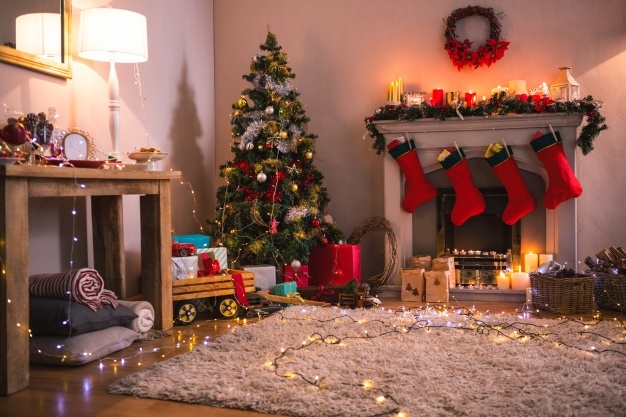 The festive spirit will automatically drive customers towards these products giving an additional boost to your sales.
Although I'd suggest not to stock up on these items, only limited products will do the trick. Trust me you are not gonna regret it.
I believe this wraps up all the Christmas selling tips for Magento sellers.
Conclusion:
The Biggest festival of the Year is on our doorsteps and as a Magento seller, it becomes your responsibility to realize the significance of this eCommerce opportunity and make the most of it.
Feel free to drop your valuable suggestions in the comments.