CedCommerce partners with Cdiscount Marketplace to facilitate automated multichannel selling operations to new merchants for free
Running short of time? Get PDF of the blog in your mail.

Play Now
CedCommerce and Cdiscount Marketplace open Europe's largest cross-border eCommerce markets; empowering merchants of all sizes to sell in an easy and automated manner, all for free.
Post-pandemic entrepreneurs and brands are shifting to online sales channels. Most of them find it challenging to scale their commerce in the eCommerce ecosystem. Be it about building a brand, expanding their business, or attracting even more customers. Merchants are finding setbacks at almost every step. This can be due to a lack of technical know-how and time constraints that limit them from exploring more. Merchants are they majorlyCedCommerce partners with Cdiscount Marketplace to facilitate automated multichannel selling operations to new merchants for free remain focused on generating sales. To combat all such multichannel sales frictions and help merchants and independent brands overcome the challenges, we at CedCommerce are working rigorously to build robust eCommerce solutions and make commerce accessible by all, no matter where they are.
"CedCommerce always believes in creating new opportunities for businesses. Especially in these post-pandemic times when they need it the most," said Mr. Abhishek Jaiswal, CEO, and co-founder at CedCommerce. "The collaboration with Cdiscount is an excellent addition to our already strong multichannel capabilities. This is a next step to help merchants better facilitate online ecommerce and cross-border operations.".
A step towards simplifying multichannel retail
This partnership between CedCommerce and Cdiscount Marketplace is one step towards opening Europe's largest eCommerce marketplace for individual merchants, and brands of all sizes. By providing them the access to cross border sales through one of Europe's leading and most powerful marketplaces. This new range of integration solutions built for merchants running their stores on Magento, WooCommerce and Opencart platform comes absolutely free of cost. These solutions enables them to quickly onboard, connect, and list their store catalog to Cdiscount Marketplace in an optimized and automated manner.
In addition, to support merchants in their effort to begin selling into Europe, the integrations further facilitate simplified and automated multichannel operations by enabling:
Expedited onboarding to help merchants sell quickly
One-click bulk upload process,
Steady Multi-Account Connectivity
Near real-time Catalog and Inventory Synchronization,
Centralized order management enables merchants to cancel, or fulfill orders within their store
Register for free to start selling on Europe's most trusted marketplaces today.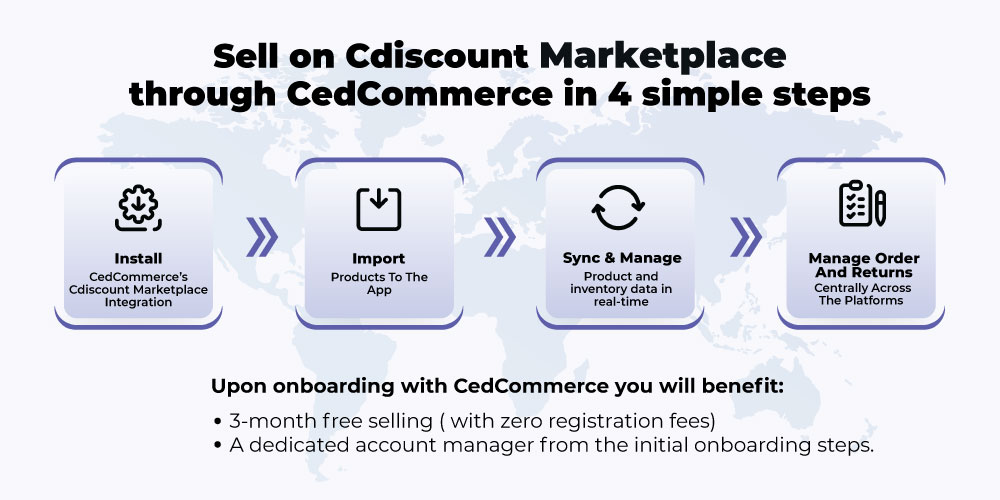 Why should you sell on the Cdiscount marketplace?
"At Cdiscount Marketplace, we are committed to providing growth and expansion opportunities to merchants worldwide" said Jonathan Gorges, Head of Cdiscount Marketplace " This strategic partnership with CedCommerce will allow international merchants to seamlessly connect on Cdiscount Marketplace and give them an easy access the European market"
Created in 1998 in Bordeaux, Cdiscount Marketplace has grown considerably to become the French leader of e-commerce. It has more than 23 million unique visitors per month. Today, holding over 10.2 million active customers, Cdiscount Marketplace currently has 100 million products in all categories. The marketplace is known to currently cater to 15,000 sellers from 70 different countries. It has the largest network of 24,000 pickup points in France.
This European marketplace is known to offer a wide variety of products in all categories including computers, telephony, home decoration, fashion, household appliances, and more.
To spice up your eCommerce game, Cdiscount Marketplace allows merchants to offer their products with no opening fees and no sales limits on their marketplace!
"Great service, we brought Cdiscount Extension and it works fine. We asked for some little customizations and they helped us very fast and for free. Really recommended!" quotes Fabio Palumbo, one of our renowned Cdiscount clients.
Moreover, the marketplace also offers merchants the possibility to send their products to their visitors in 9 European countries. With Cdiscount Marketplace, you can ship to Germany, Belgium, Italy, Spain, Luxembourg, the Netherlands, Austria, Ireland, and Portugal, or to other European platforms through the International Marketplace Network.
Above all, Cdiscount Marketplace also offers Fulfillment services to help merchants ship and manage inventory easily. Further, merchants observe an average increase in their sales volume of 80% with Cdiscount Marketplace's Fulfillment service.
Power up your eCommerce game with Cdiscountpro
With Cdiscountpro, merchants can connect to IMN and sell their products on the leading marketplaces that happen to be their partners. These partner marketplaces include Kaufland (Germany), ePrice (Italy), and eMAG (Romania). As a professional Cdiscount Marketplace seller, you now can access this single platform without any additional fees!
Sell on Cdiscount Marketplace to reach 23 million unique users per month. Leverage CedCommerce's 365/24/7 support service with dedicated English account managers to help you through your sales journey.
If you have any questions regarding expanding your business in Europe or wish to share your feedback. Please let us know through the comments section.