Why Your Business Need A Custom Native Mobile App?
Running short of time? Get PDF of the blog in your mail.

Today, native mobile applications are very important for the success of any business. This is one of the best methods to communicate with the target audience because it is always within your reach. Benefits of Mobile Application Development include better efficiency, scalability, security and ease of maintenance.
If you think that mobile applications are solely for big brands, you are wrong. Nowadays, more and more small and midsize businesses are following the mobile trends, understanding that an effective mobile strategy involves more than just a mobile-friendly website.
If you are still not sure and wondering why would anyone want to build their own mobile platform, here are some reasons for having native mobile applications for every company or you can say the benefits of a mobile app-
Be Visible to Customers at All Times
Mobile apps have the benefits to know the requirements of customers. Since mobile is such a medium through which we are always in touch with customers.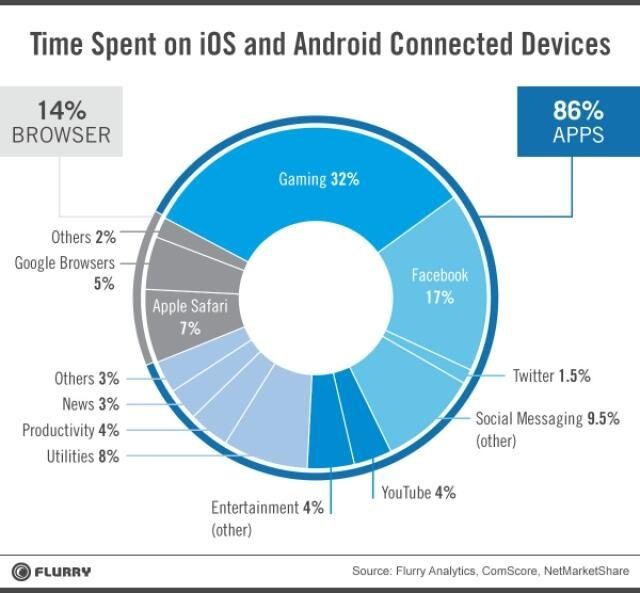 Source:  Flurry Analytics
According to Statista, it shows that the average population in the US spends more than 2 hours a day on their mobile devices. Having a mobile app you are visible to your customers 24 hours a day 7 days a week. 
Mobile Application Increases Sales
Mobile commerce is the next generation of e-commerce, that's why we are going to highlight major benefits of Mobile Application. It can increases sales if anyone try to follow these strategies like Push Notifications, Social Referrals, Loyalty Rewards, Generate Leads, etc.

You can see the examples in your daily life. One of the best examples is Domino's Pizza. The pizza giant saw a 28% increase in UK online sales in just six months after creating a mobile app and now more than half of a company' online orders are from mobile devices.
Establishes You as a Leader in Your Industry
If you are a small business and your business revolves around you, as a leader, you can still use existing apps to build authority and credibility — aspects that are all the more important for a personal brand.

Becoming a thought leader, an individual who drives innovation and new ideas in a given industry, is an objectively valuable path for any professional. Constructing a mobile application helps your company to stand out from your competition when you are new in the industry.
Enhances Communication
Mobile applications don't just improve personal communication, they improve workplace communication as well.

A mobile application is a powerful tool for communication in our daily lives as well as in business. An app provides a direct communication channel to customers, as well as a feature like Push Notifications that can easily inform users of shopping carts, new features, and upcoming events. Also, it offers to awareness of and communication with your brand.   
Helps Your Company Build a Stronger Brand
Mobile App branding is important for the success of an app. Mobile branding helps your customers understand what your companies core values are.

Since a mobile app is installed on mobile devices, it becomes easily accessible and consistently reminds the user of a brand, since it can be seen in mobile. To create more authority for your brand, get your own mobile app. Benefits of mobile application help to increase the brand awareness.
Mobile Application Opens the Door for the Next Technological Trend

The mobile app opens the door for the next technological trend. Example, AI has gained huge popularity in the market and it becomes one of the trendy topics in both business and science as various tech companies are interested in this technology. Keep with the times and your customers will like you for it.
Provide Direct Marketing Channel
As a marketer, mobile is a very powerful place for you to connect with your audience. Mobile apps provide general information, prices, booking forms, messengers, news feed, etc. One of the biggest benefits of mobile application is that you can share all the information that needs to be shared with your customers with utmost ease.
Other Benefits of Mobile Application
Reach out to younger demographics

Inform users of new products and offers

Stand out from the competition

Secure Your App Data

Integrate with Existing software
Conclusion
When Mobile technology is getting more advanced, can you imagine what would happen?
Developing a mobile app for your business can prove to be a costly affair. You might have to choose one of the two channels, based on your budget and business goals.
The biggest benefits of the mobile application are that it is easier for people to find it even when they have never visited your website. Native apps are faster, smoother and more responsive. These native mobile applications are trusted by the users because a native mobile application has to go through a multi-step clearance before they are listed in an app store.
About MageNative
Established in 2015, MageNative has been heavily involved with customized m-Commerce developments. The company offers a slew of solutions and has a vast, global client base.
Magenative also deals with Magento mobile app, Magento 2 mobile app, Shopify mobile app, WooCommerce mobile app and Delivery App which allows the store owners to create and deploy native mobile applications for Android and iOS smartphones. The company is also working on mobile solutions for more eCommerce platforms namely Opencart, Prestashop, etc.