Here is the sellers' list of bol marketplace prohibited items
Running short of time? Get PDF of the blog in your mail.

Play Now
What you can not sell on bol.com? And what can be sold with restrictions? The bol.com marketplace has a set of regulations and restrictions. Rules and restrictions ensure a safe and happy experience for the buyers. The bol.com prohibitions make the product range safe and reliable for its majority of domestic buyers. Additional sales conditions apply to a specific range of products. This condition is based on European selling standards and the Netherlands country-specific list of restricted or bol marketplace prohibited items.
The bol.com sellers must ensure that the products sold on the platform are ethically defensible. The marketplace doesn't allow products related to animal cruelty or posing any safety or health concerns before the bol.com buyers.
You might like- How to make your product bol.com best seller? Complete guide
What cannot be sold on bol.com- bol marketplace prohibited items
Several products are entirely prohibited in the bol.com marketplace. These prohibitions are enacted based on the factors like- trade safety rules laid down for merchants in the European Union and the Netherlands, the World Anti Doping Agency (WADA), possess a short shelf life, inflammable nature, and other factors.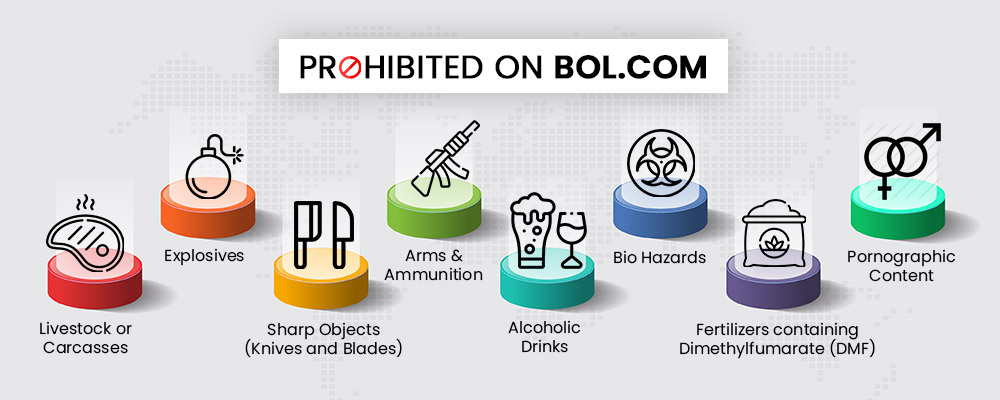 The bol.com marketplace prohibits livestock (live animals and carcasses), eggs and embryos of animals, fish and meals of animal origin. You can't sell tobacco products (cigarettes, cigars and chewing tobacco), intoxicating agents (like marijuana products). Sellers can not trade in pornographic content (especially child pornography), explosives, laser gadgets (of class ii, iii and iv), products with dimethyl fumarate (DMF) content and liquor on bol.com.
You might like- Boost your business on bol.com with FBB/LvB
The risk of E Coli bacteria contamination restricts a specific range of items. Contamination risk makes certain categories of seeds and sprouts prohibited items. Also, the bol marketplace strictly forbids mustard and fenugreek seeds and all sprouts.
Sold with conditions applied- bol marketplace restricted items
Restricted items contain a range of things which is permitted on bol.com but with conditions, like beverages and DHEA and goods containing cadmium content. You can sell Convention on International Trade in Endangered Species of Wild Fauna and Flora (CITES) related products with restrictions.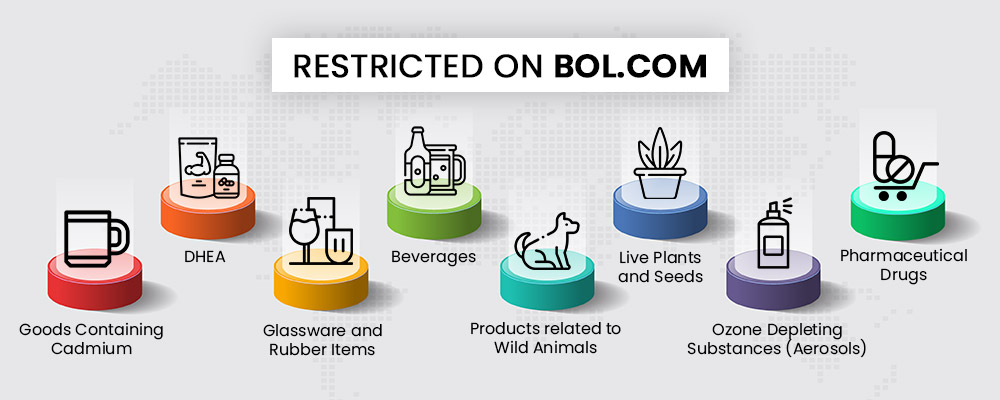 Other restricted items contain rubber and glassware, live plants, flower seeds, children's toys, clothing and furniture. Aerosol sprays contain CFC's and HCFC's, which can deplete the ozone layer. Therefore, you can sell them on bol.com with restrictions.
Offer Compliance with the Dutch and Belgian Laws – What makes a product bol marketplace prohibited item?
If you want to sell via bol.com, your offer must comply with the trading laws of the Netherlands and Belgium. You need to have licences from the authorities for the products you sell on bol. Importing, storing, and shipping should be safe and should not pose any hazard while handling. You must strictly adhere to all the guarantees, claims and warranty labels.
You might like- What's new in the bol seller API V3 version?
Dutch and Belgian marketplaces prohibit articles that are illegal (like arms and knives) or posing a health risk to the user. Also, any articles related to child abuse or child labour are strict no on the bol.com marketplace. Furthermore, the bol marketplace does not allow products containing material from protected plant or animal species or any kind of animal fur.
As a bol.com seller, you have to deliver the products that match with what you have claimed in your shop. Return statistics, customer feedback and queries will help the bol marketplace to understand the extent of customer expectations from your product. Customer satisfaction is of utmost priority and failing to provide the same for a prolonged time; bol.com shall ask you to remove the product from its platform.
Just like every other marketplace, bol.com also focuses on making shopping easier. You need to fulfil several prerequisites to ensure a better shopping experience for the buyer. The bol marketplace does not allow unpacked or customized articles, items with shelf life less than 100 days and fireworks. Also, the marketplace does not allow subscriptions, services, gift cards and memberships on its platform.
You might like- Complete guide to bol.com Product Feed Management
Bol.com prohibits discriminatory product information
The marketplace wants to make everyone feel welcomed irrespective of their colour or ethnicity. Promoting cultural harmony is the reason why bol.com does not allow any discriminatory, controversial or offensive content. Therefore, stereotypical caricatures which focus on skin colour or ethnicity are prohibited on bol marketplace.
Restrictive brand policy on bol.com
Gaining customers' confidence is the only secret to a successful e-commerce business. Therefore, bol.com guarantees the safety of customers in product handling. Also, as a seller, you have to ensure that your product range is safe and high quality.
Products like children's hoodies or garments with extended chords pose a choking hazard. Similarly toys with small loose parts too pose a risk of choking. Furthermore, products containing harmful chemicals or biohazards or smoke-producing agents can be a severe threat to the health of buyers. This is where restrictive brand policy comes to work.
You might like- Boost your business on bol.com with FBB/LvB
Thoroughly check travel Adaptors, power banks or items that could explode under certain conditions for the restrictions. Also, you cannot sell cheap and unbranded products on bol.com.
Remember, to sell on specific groups with additional restrictions and conditions, bol.com has developed a procedure in which the partners (sellers) can give a demonstration of the products' safety and quality requirements. For products that are similar to somebody's intellectual property, sellers need to explain the differences from the previously present product, to be able to sell.
How can CedCommerce help to sell ethically on bol.com?
CedCommerce, a third-party integration services solution provider will help you with all the aspects of selling on bol.com. Also, we advise our clients how to establish as a trusted seller on the bol marketplace. We can help you to begin your business as an e-commerce retailer on bol.com and other markets. Besides, our 24*7 assistance is an added advantage.
Additionally, CedCommerce promises its clients the best insights into the marketplaces and how to sell according to the marketplace rules. Furthermore, we are up with all the help and support for our clients via messengers(Skype and Whatsapp). Also, you can begin selling on bol.com marketplace through various platforms like Prestashop, WooCommerce, Magento and Magento 2.
We provide multi-channel selling and many more exciting features right from onboarding to sale. Get the best selling experience on bol.com by onboarding with us.
You might like- Learn the best practices to sell on Bol.com